Best Places To Visit In UT
Utah is an adventure travel paradise filled with remarkable geological wonders and unique formations. We're going to show you 20 of the most fun things to do and best places to visit in Utah, from impressive natural formations to some of the most popular US national parks.
We have traveled extensively throughout Utah and can't wait to show you the best of what we have experienced, so you can start planning your vacation today!
Here's how we will help you plan the perfect trip to Utah:
Alphabetical order list of the 20 best things you can do in Utah
Best things for families and couples to do in UT
Utah road trip itinerary example
Best time to visit Utah
Let's get right into the most fun things you can do on a visit to Utah!
*Please note this post may contain affiliate links. If you click on one, we may earn a small commission at no extra cost to you! Read more in our disclosure policy.*
1. Arches National Park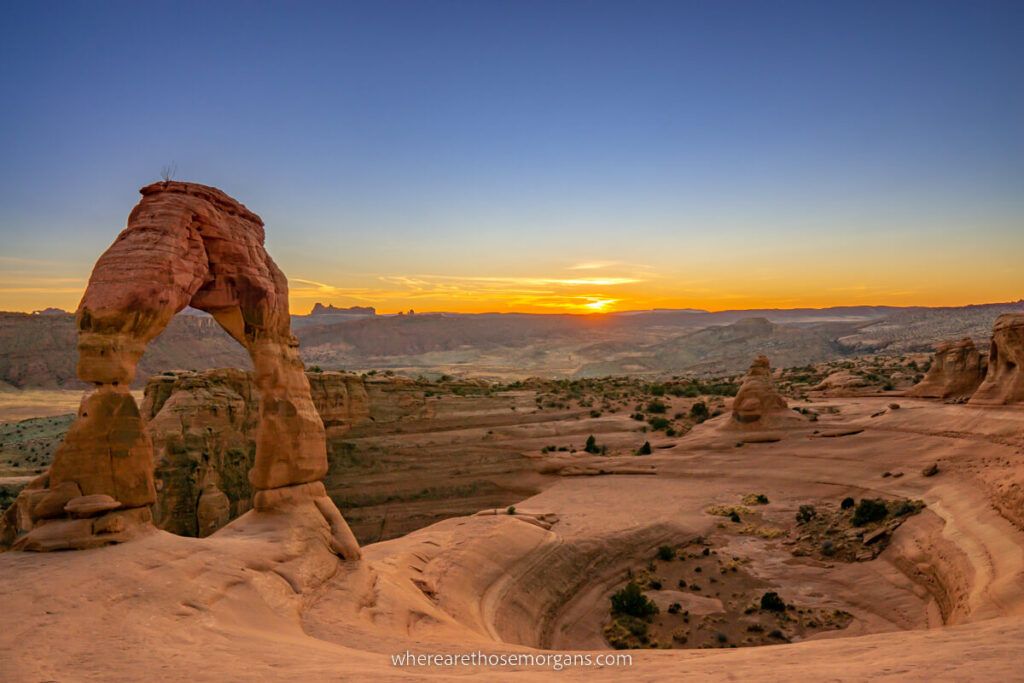 What Is Arches?
Arches is a magical landscape filled with dozens of unique arch shaped sandstone formations of all shapes and sizes. Delicate Arch, Landscape Arch and Double O Arch are among the most famous arches to find but the entire national park is fantastic to explore.
Why Is Arches A Fun Place To Visit In Utah?
Arches is the perfect Utah national park for families, couples, solo travelers, hikers and photographers. The park is small and easy to visit, it is exceptionally photogenic and there are a handful of excellent hikes, including Devils Garden Trail which we think is among the very best hikes in the US.
Best Things To Do At Arches, Utah
2. Bear Lake State Park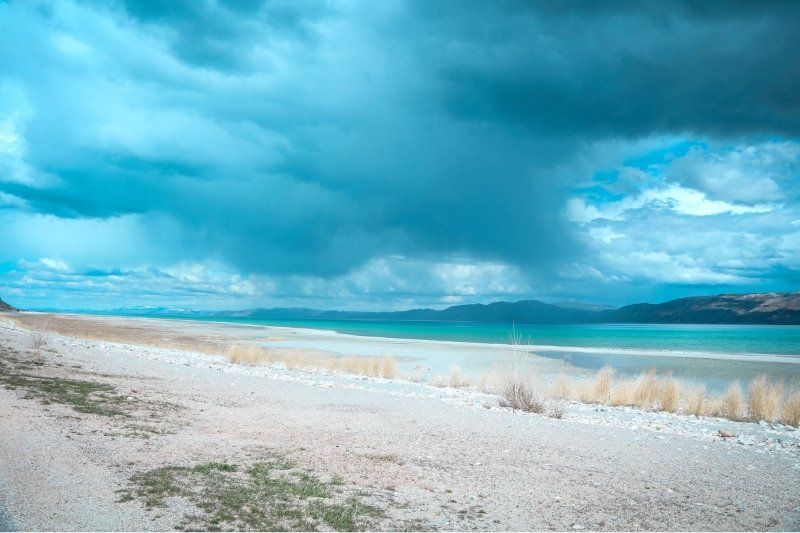 What Is Bear Lake?
Bear Lake is a calcium carbonate rich lake with brilliant blue colored waters split in half by the Utah and Idaho border. Garden City, Rendezvous Beach and Cisco Beach make up the major tourist areas on the Utah side of Bear Lake State Park.
Why Is Bear Lake A Fun Place To Visit In Utah?
Sail boats, jet skis, water sports and swimming make for the perfect long weekend break for locals. However, Bear Lake is also one of the top stops to make on the popular road trip route from Salt Lake City to Yellowstone and Grand Teton. Either way, there's a ton of fun ways to cool off on a hot day!
Best Things To Do At Bear Lake, Utah
Relax on the beach
Take a boat out onto the lake
Jet ski around the lake
Cross into Idaho to see the north side of Bear Lake
3. Bonneville Salt Flats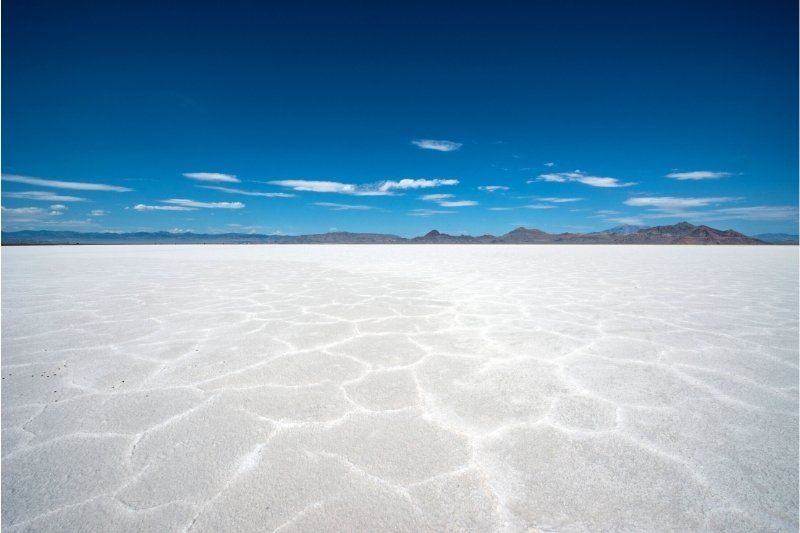 What Is Bonneville Salt Flats?
Bonneville Salt Flats is a wide open and flat 30,000 acre area consisting mainly of sodium chloride, which we know as table salt. A shallow layer or standing water is present in Spring, otherwise the salt flats are dry and crusty hexagonal shapes cover the expansive landscape close to the Nevada border.
Why Is Bonneville Salt Flats A Fun Place To Visit In Utah?
Bonneville Salt Flats are like a smaller version of the world famous Bolivian Salt Flats. So you can shoot those classic perspective photos in the salt right here in the US. Check the schedule of events at Bonneville Salt Flats to see if anything is happening during your trip.
Best Things To Do At Bonneville Salt Flats, Utah
Photograph and video the slat flats with or without standing water
Create fun perspective images with props
Watch land speed racing events on the salt flats
Run a race or take part in an archery competition
4. Bryce Canyon National Park
What Is Bryce Canyon?
Bryce Canyon is a staggeringly photogenic landscape consisting of a bowl shaped amphitheater filled with needle like spires called hoodoos. The park is small and easy to visit with a handful of short hikes, scenic drives and vista overlooks. Dawn and dusk are the best times to see Bryce Canyon.
Why Is Bryce Canyon A Fun Place To Visit In Utah?
Photographing Bryce Canyon amphitheater at sunrise is among the very best things you can do on a visit to Utah. It is an incredibly beautiful spectacle. Visitors can also hike down into the bowl to get up close with the eerie natural sandstone towers via man made switchbacks.
Best Things To Do At Bryce Canyon, Utah
5. Buckskin Gulch Slot Canyon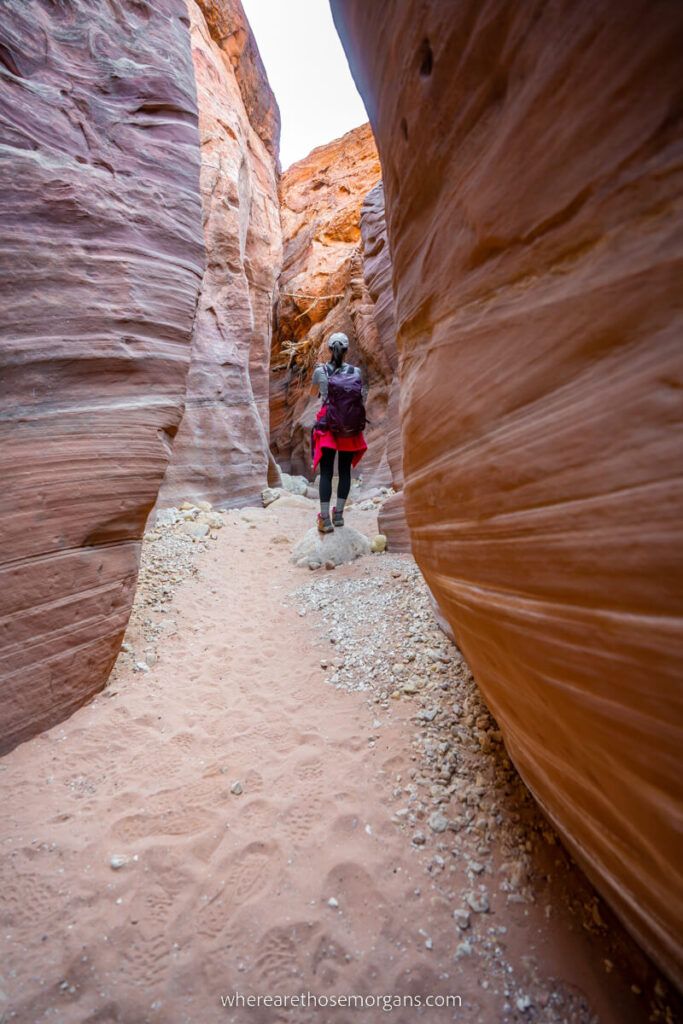 What Is Buckskin Gulch?
Buckskin Gulch is the longest slot canyon in the United States. Hikers can either hike a short way into the slot canyon and return or take on a multi day trek from Wire Pass in Utah to Lee's Ferry in Arizona over 40 miles away. Most will use Kanab UT or Page AZ as a base for this hike.
Why Is Buckskin Gulch A Fun Place To Visit In Utah?
Hiking through the long and narrow Buckskin Gulch slot canyon is a unique experience. Day hiking a few miles into the canyon is among the best things to do in Utah for visitors of all ages and abilities thanks to its easy and flat path. However, adventurers should pack a tent and camp inside the slot canyons.
Best Things To Do In Buckskin Gulch, Utah
6. Canyonlands National Park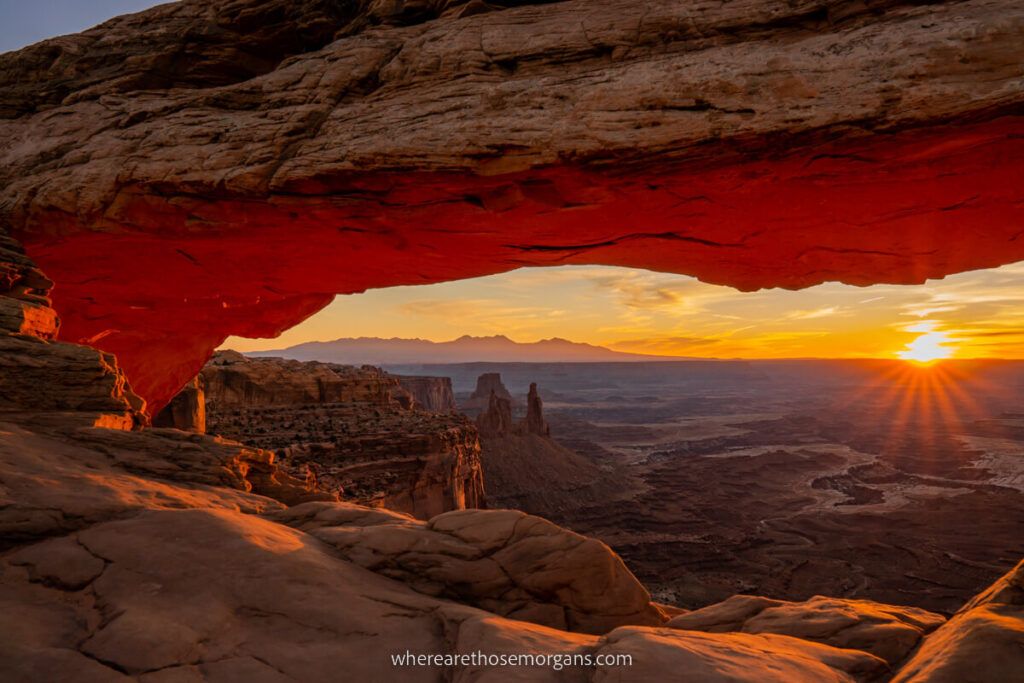 What Is Canyonlands?
Canyonlands is the largest national park in Utah. It is split by the Green and Colorado Rivers into 4 districts known as Island in the Sky, The Needles, The Maze and The Rivers. Canyonlands is one of the least visited but most underrated national parks in Utah.
Why Is Canyonlands A Fun Place To Visit In Utah?
Canyonlands is the best place to visit in Utah if you're looking for a true off the beaten path experience in a remarkable landscape. You can hike quiet rim or canyon trails, get into serious backcountry wilderness, drive 4WD trails, take boating trips on the rivers and photograph stunning formations.
Best Things To Do At Canyonlands, Utah
Photograph the famous Mesa Arch at sunrise
Drive 4WD White Rim Road
See Grand View Point, Green River Overlook and Shafer Overlook
Visit The Needles and The Maze districts
Whitewater rafting on the rivers
7. Capitol Reef National Park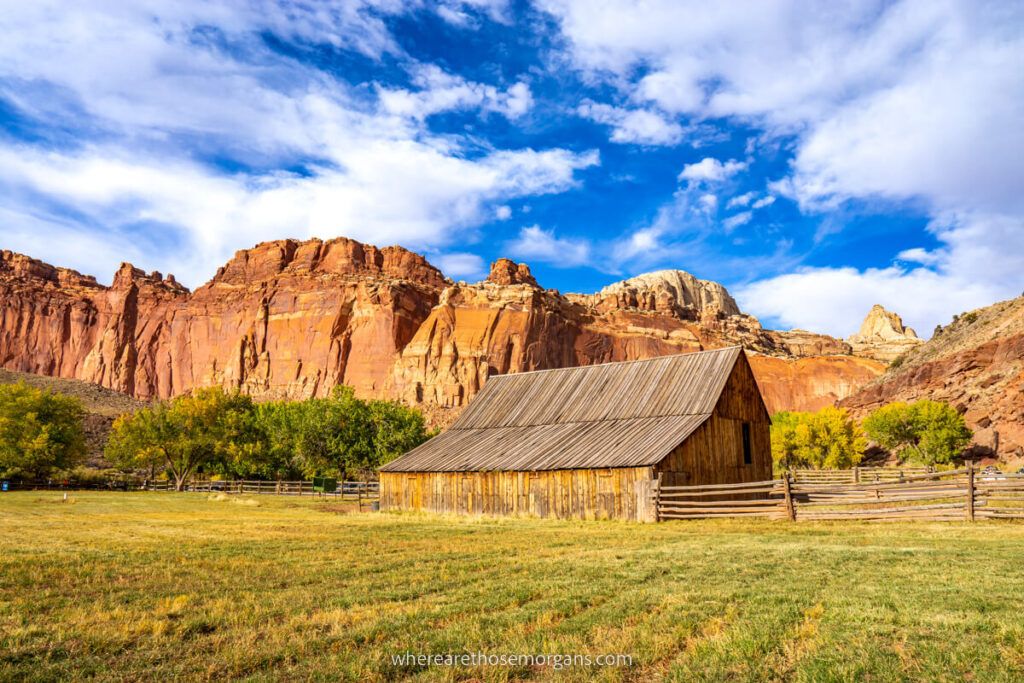 What Is Capitol Reef?
Capitol Reef National Park is the second largest national park in Utah. However, most of the top attractions in the park are located near Torrey UT and this popular area is small enough to visit in one day. The topography around Capitol Reef is completely different to the other Utah parks.
Why Is Capitol Reef A Fun Place To Visit In Utah?
Capitol Reef is the most family friendly national park to visit in Utah featuring plenty of fun things to do for the kids. Short interpretive hikes, orchards and petroglyphs are perfect for younger children but there are longer hikes, scenic drives and photogenic features for adults to enjoy.
Best Things To Do At Capitol Reef, Utah
Hike family friendly Hickman Bridge Trail
Photograph Fruita Barn with sandstone cliffs backdrop
Drive Goosenecks Road to Sunset Point
See the Petroglyphs Panels
Drive Capitol Reef scenic road
8. Cedar Breaks National Monument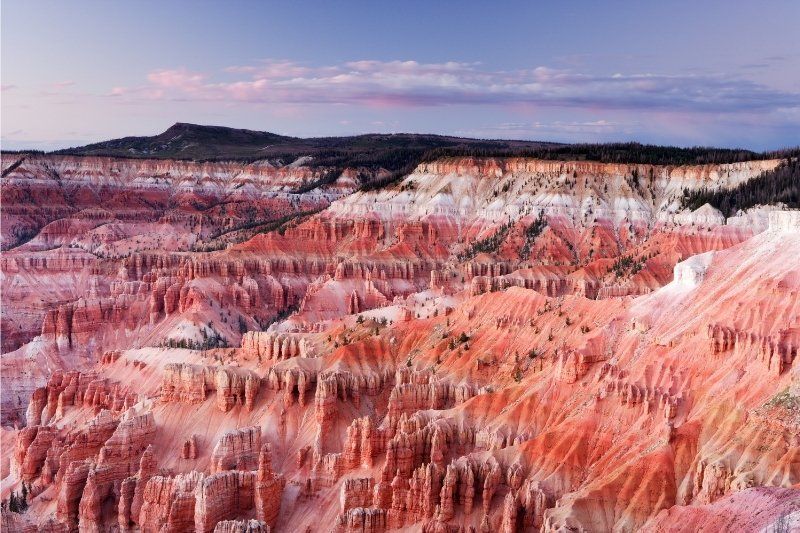 What Is Cedar Breaks?
Cedar Breaks National Monument is a smaller but more colorful version of nearby Bryce Canyon National Park. It is located at 10,000 feet elevation close to Bryan Head winter ski resort, which isn't far from Zion or Bryce Canyon. However, Cedar Breaks receives just a fraction of those huge crowds.
Why Is Cedar Breaks A Fun Place To Visit In Utah?
Cedar Breaks is a genuine hidden gem found on one of the best road trips in the USA, driving around Utah's amazing natural landscapes. The striking Cedar Breaks amphitheater is colorful and exceptionally photogenic. This is one place not to miss if you're looking to get off the beaten path.
Best Things To Do At Cedar Breaks, Utah
Hike Sunset, Alpine Pond Loop and South Rim Trails
Drive and walk to every overlook for new perspectives
Photograph the milky way under a dark night sky
Ski, snowshoe and snowmobile in Winter
9. Coral Pink Sand Dunes State Park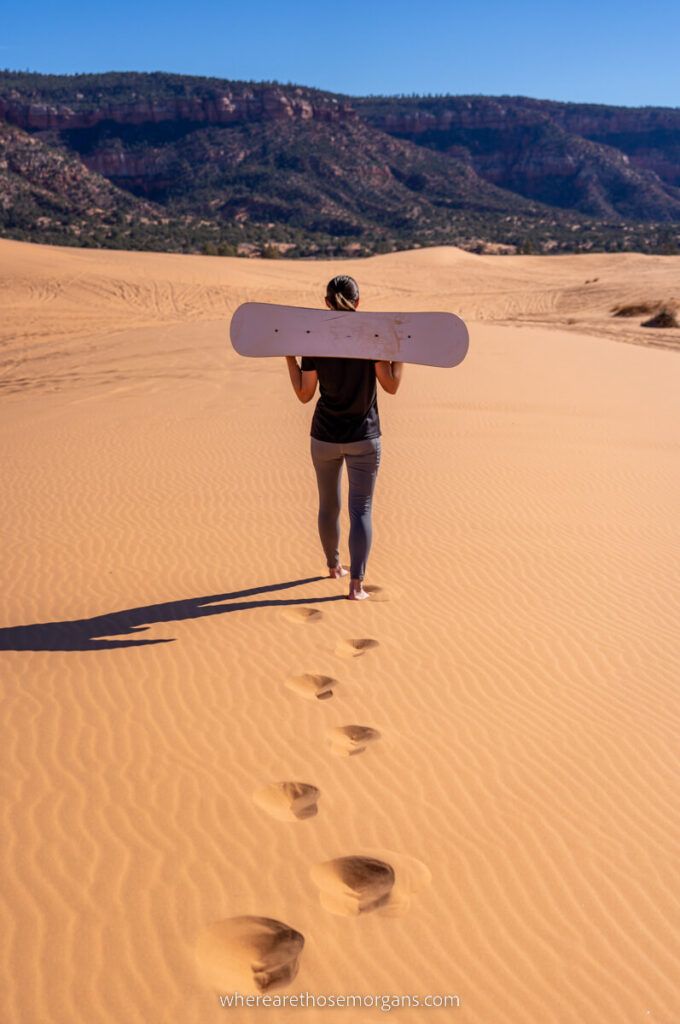 What Is Coral Pink Sand Dunes?
Coral Pink Sand Dunes is a fantastic State Park located between Zion and Kanab in Utah. Unique pink hued sand dunes next to towering red cliffs provide photography and adventure opportunities with sandboarding and driving ATV's among the most popular activities.
Why Is Coral Pink Sand Dunes A Fun Place To Visit In Utah?
Coral Pink Sand Dunes is a must stop place to visit when driving between Kanab and Zion in southwestern Utah. You only need a few hours to hire a sandboard and hit the biggest dunes for ultimate fun in the sand. This was one of our favorite 'unexpected' stops the second time we were in Utah.
Best Things To Do At Coral Pink Sand Dunes, Utah
Hire a sandboard or sled and surf the sand dunes
Drive an ATV across the dunes getting air time
Hunt for the hidden Bigfoot statue
Photograph the dunes during twilight hours
10. Glen Canyon National Recreational Area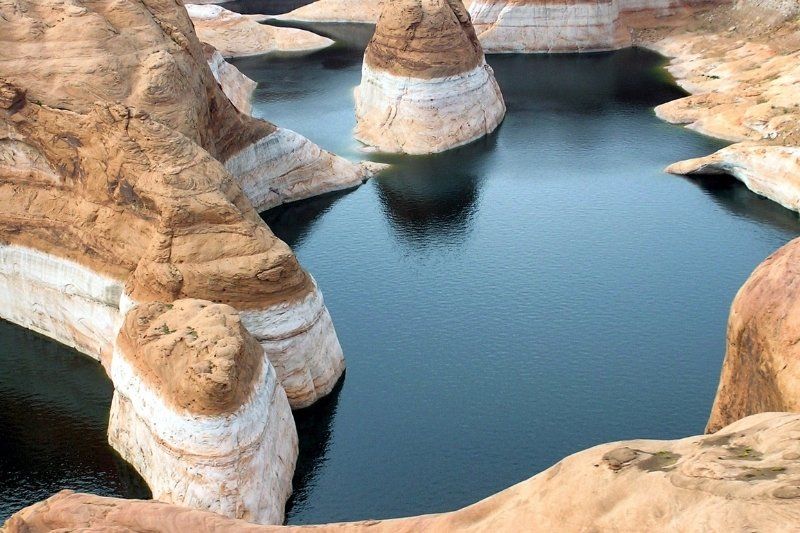 What Is Glen Canyon?
Glen Canyon National Recreational Area is a 1.25 million acre expanse stretching from Lees Ferry in the Vermilion Cliffs of Arizona to the Orange Cliffs of Canyonlands National Park in Utah. There are multiple entrances leading to different formations and tourist attractions both on water and on land.
Why Is Glen Canyon A Fun Place To Visit In Utah?
Glen Canyon is a hugely underrated place to visit in Utah because the nearby national parks get all the attention. If you're looking for more off the beaten path adventures, spend a few days hiking, camping, boating and hunting arches around Glen Canyon.
Best Things To Do At Glen Canyon, Utah
Hike several trails around Bullfrog
Drive Hole in the Rock road (high clearance) to several scenic hikes
Find as many natural bridges and arch formations as you can
Take a boat or hike with permit to Rainbow Bridge National Monument
Cross the border into Arizona to see Lake Powell and Horseshoe Bend
11. Goblin Valley State Park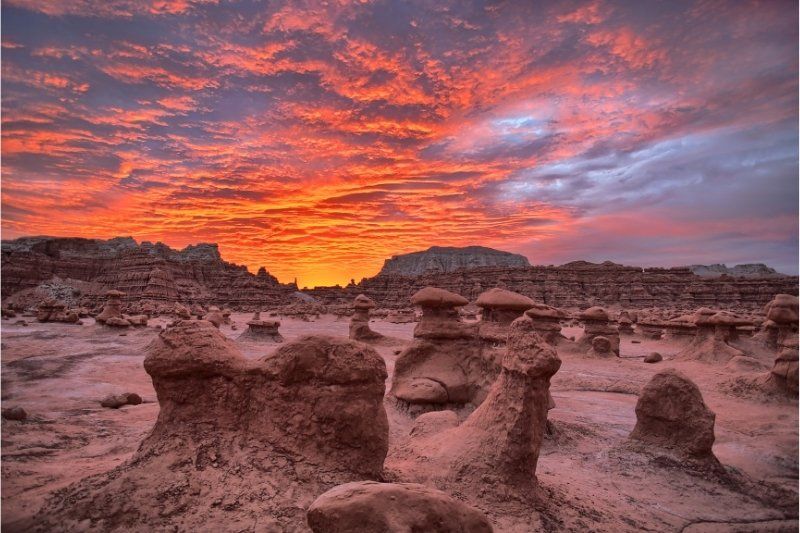 What Is Goblin Valley?
Goblin Valley State Park is a unique and wild landscape sandwiched in between Capitol Reef and Canyonlands national parks near Hanksville. Intriguing and oddly shaped hoodoos and mushroom shaped formations scattered across the terrain create a wonderfully photogenic landscape.
Why Is Goblin Valley A Fun Place To Visit In Utah?
Goblin Valley is an easy and short stop on the drive between Capitol Reef and Moab. Grab your camera and get lost in the three unofficial valleys of goblins, finding fun perspectives of the stunted hoodoos. This is a perfect place to visit in Utah for those traveling with kids.
Best Things To Do At Goblin Valley, Utah
Explore the open free roaming Valley of Goblins
Hike Carmel Canyon, Curtis Bench, Entrada Canyon and Goblin's Lair Trails
Photograph The Three Sisters formation
12. Grand Staircase Escalante National Monument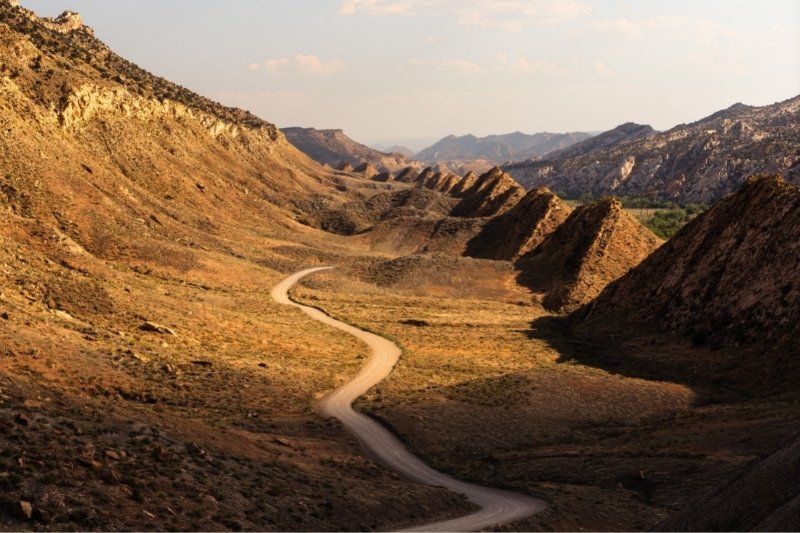 What Is Grand Staircase Escalante?
Grand Staircase Escalante is a 1.87 million acre unspoiled natural landscape located in southern Utah. The name Grand Staircase is quite literal, as a series of plateaus descend in vertical elevation from Bryce Canyon to Grand Canyon like a giant staircase.
Why Is Grand Staircase Escalante A Fun Place To Visit In Utah?
Grand Staircase Escalante is a desolate and lightly traveled paradise for hikers who want to get way off the beaten path. There are slot canyons, arches, backcountry trails, cliffs, waterfalls and jeep trails to find in this vast emptiness.
Best Things To Do At Grand Staircase Escalante, Utah
Explore the Escalante Canyons, Grand Staircase and Kaiparowits Plateau regions
Drive scenic drives with nobody else in sight
Hike backcountry trails in total solitude
Visit Kodachrome Basin State Park near Cannonville
13. Homestead Crater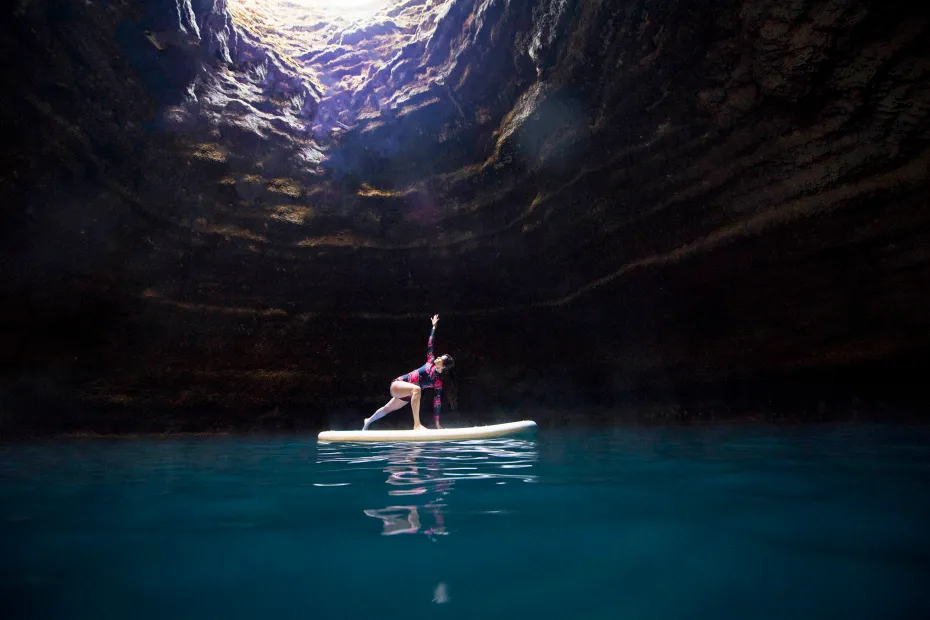 What Is Homestead Crater?
The Homestead Crater is a geothermal spring found 55 feet underground with a gigantic cone shaped hole allowing light into a cave in which mineral water rests. It is located within the Homestead Resort in Midway UT, not far from Park City.
Why Is Homestead Crater A Fun Place To Visit In Utah?
If you're looking for truly unique things to do in Utah, look no further. You can swim, soak, take a paddle board yoga class and even scuba dive inside Homestead Crater. The hour glass shaped hot spring is 65 feet deep and yes, the water is warm!
Best Things To Do At Homestead Crater, Utah
Relax with a light swim or soak
Take a SUP yoga class
Scuba dive to the bottom of the hot spring
14. Kanab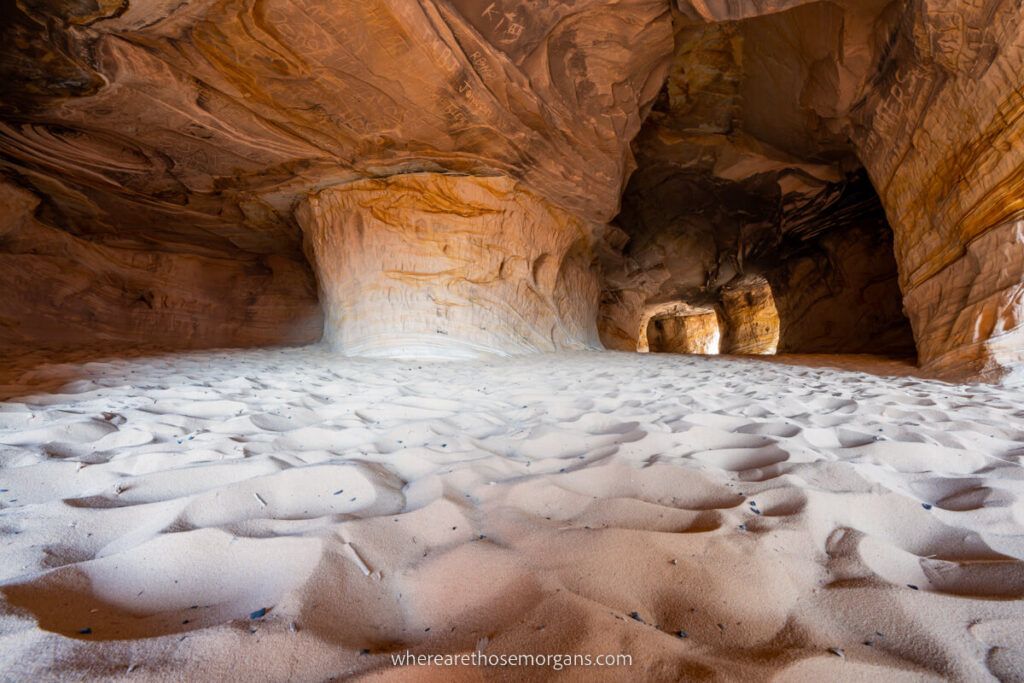 What Is Kanab?
Kanab is a small city in southern Utah close to the Arizona border. It is located between Zion and Grand Canyon, with dozens of incredible natural landscapes within striking distance. Many people use Kanab as a base to hike The Wave which crosses the border into Arizona.
Why Is Kanab A Fun Place To Visit In Utah?
Personally, we think Kanab is among the very best places to visit in Utah for adventure seekers. It is the perfect base to use for hiking amazing trails, photographing unique landscapes and enjoying nature at its finest. The best part about Kanab is affordable accommodation and fantastic places to eat.
Best Things To Do In Kanab, Utah
15. Monument Valley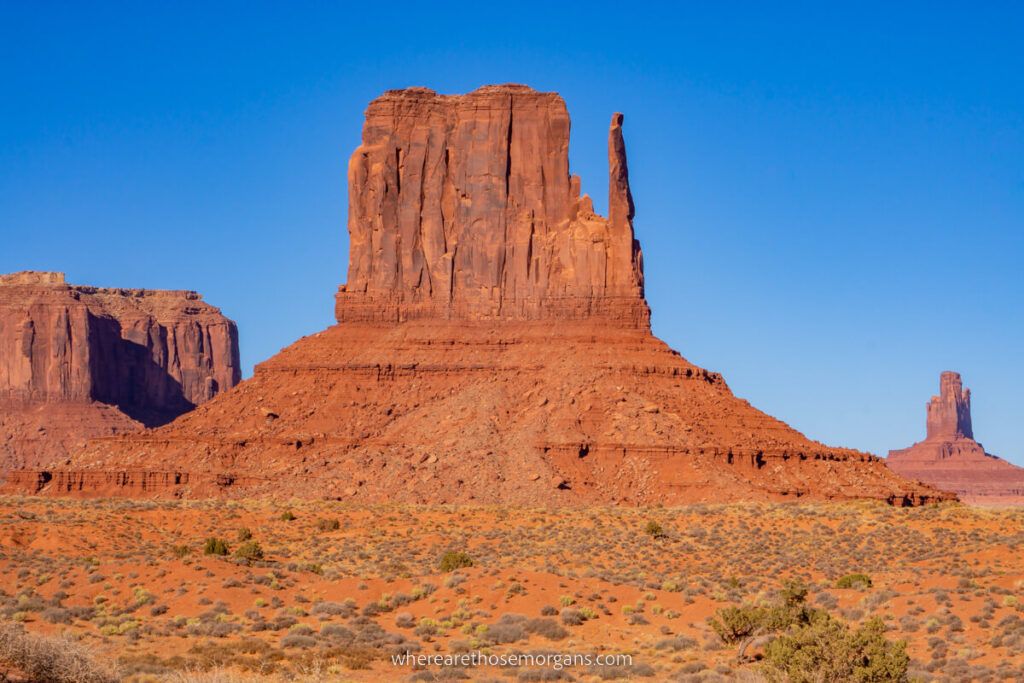 What Is Monument Valley?
Monument Valley is a famous desert landscape with enormous sandstone buttes towering into the sky on the Utah-Arizona border. A dirt loop road in Navajo Tribal Park allows visitors to see the buttes from several vantage points.
Why Is Monument Valley A Fun Place To Visit In Utah?
Monument Valley is an iconic place to visit in Utah and it was made even more famous by Forrest Gump in the 1990's. The famous sandstone buttes are mightily impressive and photogenic. The long straight road leading to these buttes is a classic US road trip image and shouldn't be missed.
Best Things To Do At Monument Valley, Utah
Drive the Navajo Tribal Park loop to every vista
Photograph the most famous buttes
See Monument Valley from the iconic Forrest Gump point
Visit at sunrise or sunset for the best photos
16. Park City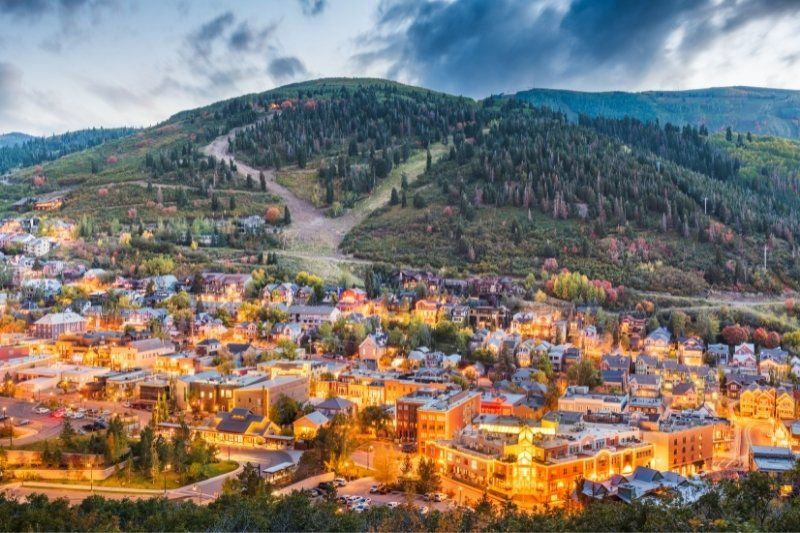 What Is Park City?
Park City is a year round outdoor adventure resort located just 32 miles east of Salt Lake City. It is globally renowned for winter sports and hosting the 2002 winter olympics but Park City is also full of life during the warmer seasons. Park City hosts the annual Sundance Film Festival.
Why Is Park City A Fun Place To Visit In Utah?
Park City is the best place to visit in Utah – and one of the best in the US – for skiing, snowboarding and all other types of winter sport. The small mountain town is filled with excellent dining options and places to stay, and its historic main street showcases Park City's restored mining cabins.
Best Things To Do In Park City, Utah
Summer – Hiking, hot air ballooning, fishing, golfing, horseback riding, rafting
Winter – Skiing, snowboarding, ice skating, tubing, snowshoeing
17. Salt Lake City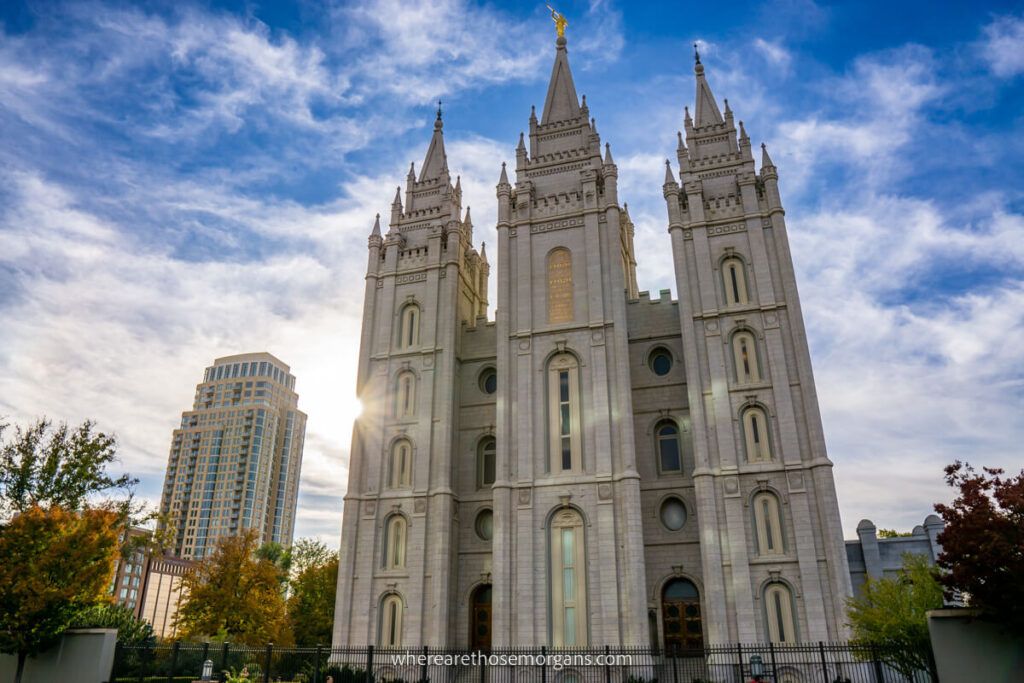 What Is Salt Lake City?
Salt Lake City is the capital and most populous city in Utah. It is home to a major international airport, excellent museums, fantastic food, pro sports teams and an array of outdoor adventure activities. SLC is well known for its rich religious culture and architecture.
Why Is Salt Lake City A Fun Place To Visit In Utah?
Many travelers to Utah and even Wyoming will use Salt Lake City airport as a transit hub. However, we highly recommend spending at least one day exploring the city. It is clean, attractive, full of energy and perfect for the whole family.
Best Things To Do In Salt Lake City, Utah
Walk around Temple Square
See the organ at Salt Lake City Tabernacle
Visit the Natural History Museum of Utah
Hike in the nearby mountains
Watch Utah Jazz NBA at Vivint Arena
18. Snow Canyon State Park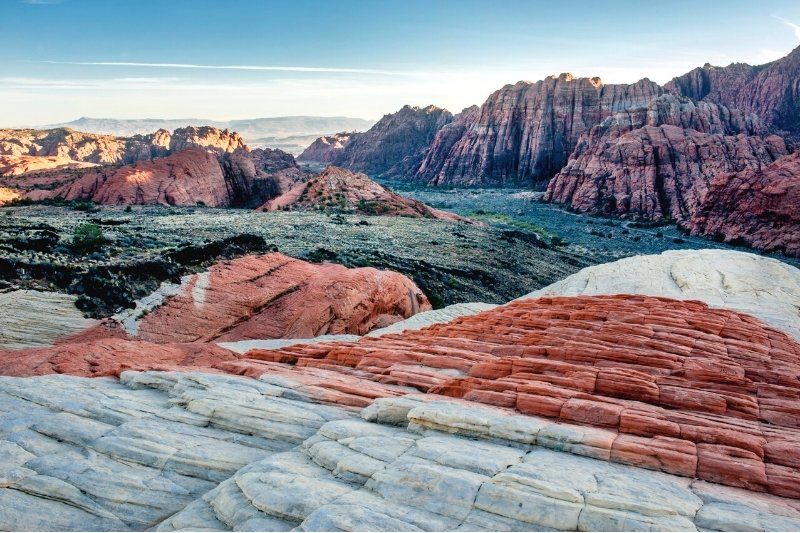 What Is Snow Canyon?
Snow Canyon State Park is a locals favorite and genuine hidden gem natural landscape located just 15 minutes drive from St. George. It features striking canyons and valleys, petrified sand dunes, 27,000 year old lava tubes and lava fields.
Why Is Snow Canyon A Fun Place To Visit In Utah?
Snow Canyon is exceptionally photogenic and it is one of the most fun places to take the kids in Utah. The best part is a distinct lack of crowds, particularly compared to nearby and similar Zion. Snow Canyon might well be classified as a national park itself if it was in a different state.
Best Things To Do At Snow Canyon, Utah
Hike Petrified Dunes, Jenny's Canyon, Lava Tube, Johnson Canyon and Scout Cave Trails
Take the kids rock hopping around the petrified sand dunes
Jump on a bike and cycle the 18 mile Snow Canyon Loop
Photograph the impressive formations and canyons
19. Timpanogos Cave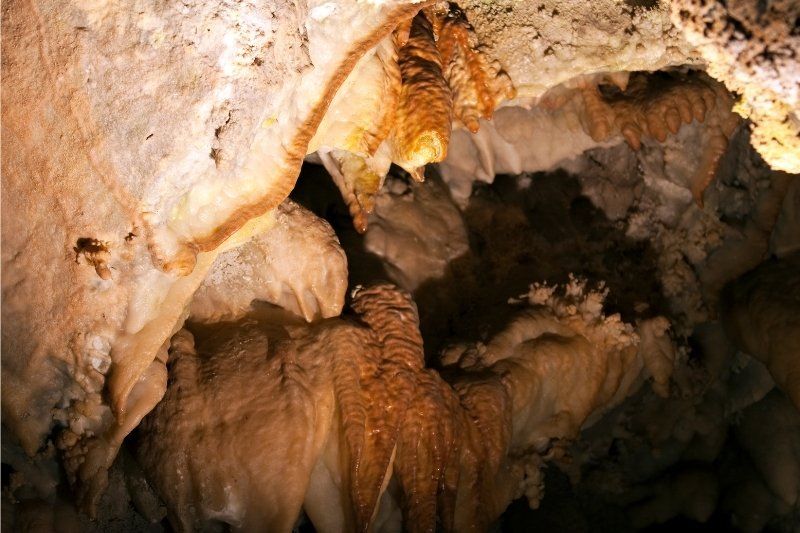 What Is Timpanogos Cave?
Timpanogos Cave National Monument preserves a series of three caves known as Hansen Cave, Middle Cave and Timpanogos Cave. The caverns are accessed via a strenuous 1.5 mile paved hike with 1,100 feet elevation gain, before entering the caves as part of a compulsory ranger led tour.
Why Is Timpanogos Cave A Fun Place To Visit In Utah?
Timpanogos Cave is a wonderful place to take the whole family. The hike up is tough going but countless stunning vistas help you forget about the climb! Once you reach the top it is all about the underground wonderland featuring an array of spectacular stalactites, stalagmites, calcite and helictites.
Best Things To Do At Timpanogos Cave, Utah
Take a guided tour of the Timpanogos Cave Trail
Photograph the stunningly decorated cave interiors
20. Zion National Park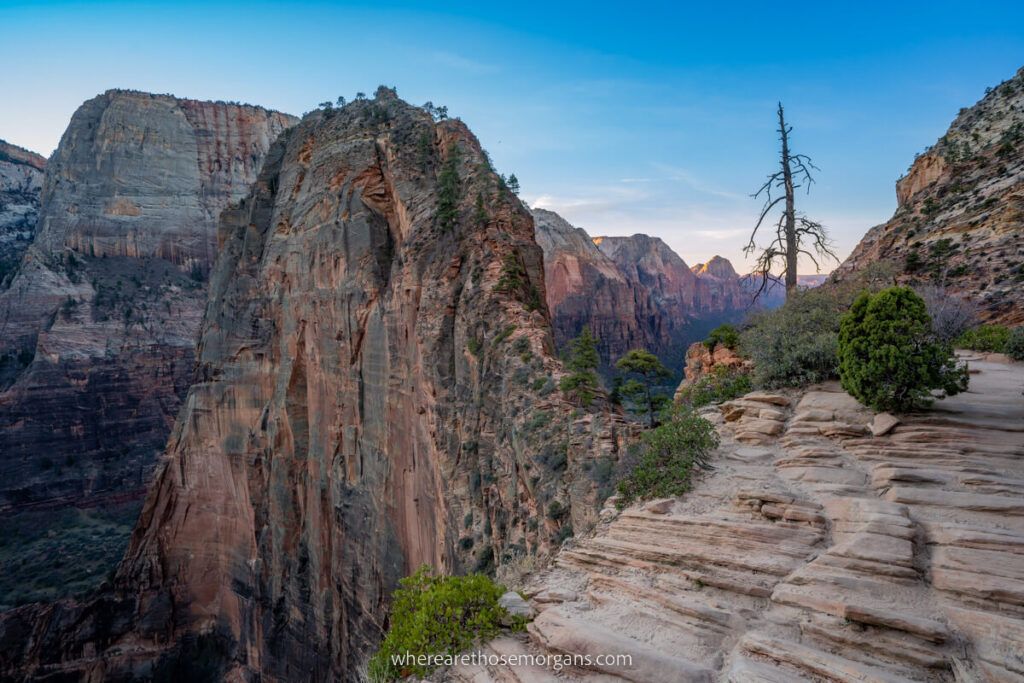 What Is Zion?
Zion is the most popular and most adventurous place to visit in Utah. Inside the main Zion canyon, gigantic sandstone cliffs flank a narrow gorge in which visitors can hike exhilarating trails and photograph stunning formations. Zion is one of the top bucket list places to visit in the USA.
Why Is Zion A Fun Place To Visit In Utah?
Zion is a paradise for adventure hiking, with the likes of Angels Landing, The Narrows and The Subway being among the most fun things to do on a trip to Utah. The park is small and busy, but there are plenty of fantastic hikes in Zion for all levels to enjoy.
Best Things To Do At Zion, Utah
Best Things To Do In Utah With Kids
Are you visiting the Beehive State with the kids? Let's take a look at the most fun things you can do as a family in Utah:
Explore easy going Capitol Reef
Sandboard and sled on the soft Coral Pink Sand Dunes
Visit the wide open landscape of Goblin Valley
Walk on the petrified sand dunes at Snow Canyon
Take a ranger led tour of Timpanogos Cave
Fun Things To Do In Utah For Couples
Taking a couples trip to Utah? Let's take a look at the top things you can do as a dynamic duo:
Hike, photograph and enjoy all 5 national parks
Take cool perspective photos at Bonneville Salt Flats
Hike a few miles into Buckskin Gulch slot canyon
Get away from the crowds at Cedar Breaks
Spend a few days doing the best bits around Kanab
Drive the loop at Monument Valley
Ski or hike around Park City
Map Of The Best Things To Do In Utah
Above you can find our interactive Google Map for the best places to visit and most fun things to do on a vacation to Utah.
Click or touch the map to activate, zoom in and out, scroll around and familiarize yourself with the area. You will find icons at the exact locations of all things to do in Utah mentioned in this guide.
Planning Your Utah Road Trip Itinerary
Planning a Utah road trip itinerary is fairly straightforward with many of the top attractions located in the south of the state and just a few around Salt Lake City.
Most visitors will lean towards starting and ending in Las Vegas, with a loop road trip taking in the Mighty 5 national parks.
However, if you want to experience the best of Utah, we recommend you start in Las Vegas and end in Salt Lake City or vice versa. You can drive a wonderful anti clockwise loop through the south before taking I-15 north to SLC.
Hiring a car at one airport and dropping off at the other won't be a problem, plus you'll be able to find cheap airlines flying into and out of both Las Vegas and Salt Lake City domestically and internationally.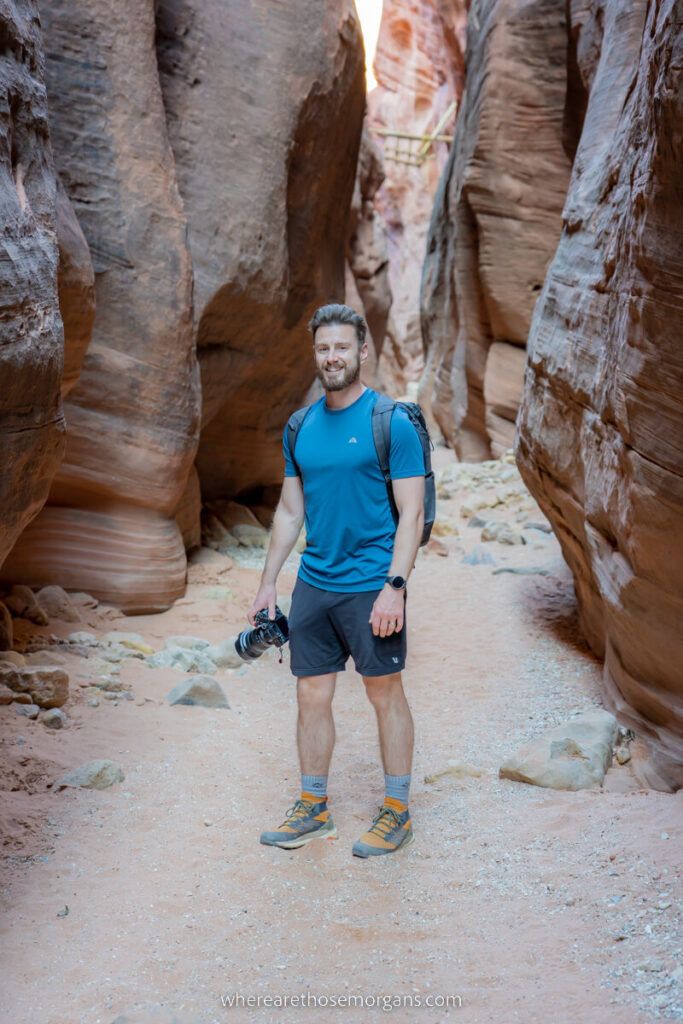 Utah Road Trip Example Itinerary
Let's take a brief look at an example 16 day Utah road trip itinerary featuring most of the fun things to do in the Beehive State.
Snow Canyon and St George – Day 1
Drive early from Las Vegas to St George via both Valley of Fire State Park in Nevada and Snow Canyon State Park in Utah
Stay in St George or drive further and stay one of the best hotels in Springdale near Zion
Zion – Days 2 to 3
Hike Angels Landing, Emerald Pools and other smaller trails on day two
Spend day three hiking The Narrows and Canyon Overlook
Kanab – Days 4 to 5
Drive to Kanab via Coral Pink Sand Dunes in the morning

Spend the afternoon hiking Belly of the Dragon, Dinosaur Tracks and Moqui Caverns

Spend day five hiking either Buckskin Gulch or the incredible The Wave in Arizona
Moab – Days 6 to 8
Day six is a driving day to Moab via Toadstool Hoodoos, Horseshoe Bend and Monument Valley
Spend day seven in Arches National Park hiking Devils Garden, Windows and Delicate Arch
Day eight is an early start to see Mesa Arch at sunrise, followed by the rest of Canyonlands
Capitol Reef – Day 9
Leave Moab and drive to Capitol Reef via spending the morning at Goblin Valley
Use the afternoon to see the best of Capitol Reef National Park
Stay somewhere near Torrey
Grand Staircase Escalante and Glen Canyon – Day 10
Early start to drive scenic byway 12 as far as Escalante
Rent a Jeep in Escalante to explore the best of Grand Staircase and Glen Canyon
Stay in Escalante
Bryce Canyon – Day 11
Drive to Bryce Canyon and spend the morning hiking Queens Garden Navajo Loop
Drive the scenic road to all vistas
Watch sunset from the rim
Stay in Bryce Canyon City
Cedar Breaks – Day 12
Wake up to watch an amazing sunrise over Bryce Canyon amphitheater
Drive higher in elevation to Cedar Breaks for a similar but quieter experience
Hike and photograph the landscape all afternoon
Stay in Cedar City
Park City – Days 13 to 14
Drive to Park City via I-15 and stop at either Timpanogos Cave or Homestead Crater
Spend day eighteen exploring Park City
Salt Lake City – Days 15 to 16
Day nineteen is all about exploring SLC
Take a drive over to Bonneville Salt Flats for your final day
Drop the car off and fly home
If you are planning to combine Utah and Wyoming on a longer road trip, you can continue north out of SLC to Grand Teton via Bear Lake.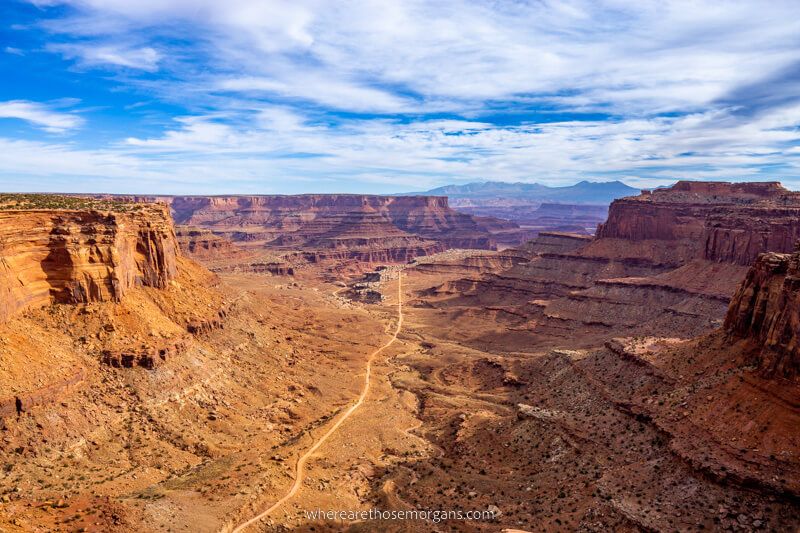 Best Time To Visit Utah
Spring and Fall are the most comfortable seasons to visit Utah, but both peak seasons in the area result in higher hotel prices and overcrowding issues at the most famous tourist spots.
April, May, September and October are the busiest months in Utah's popular natural landscapes. You will find every thing to do in this list will be crowded or hard to book, plus hotel prices will be inflated.
Summer months are hot and winter months are cold in these places, which does reduce the crowds and costs a little. However, the trade off for fewer crowds and cheaper prices is extreme weather conditions.
Our Most Popular Utah Guides
Arches and Canyonlands – How to visit both Arches and Canyonlands in one day
Zion and Bryce Canyon – The perfect three day Zion to Bryce Canyon road trip itinerary
Zion – Five ways you can spend one day in Zion National Park
Visit More US States
Arizona – Our popular guide to the 20 best things to do in Arizona
Top 20 Fun Things To Do In Utah
Here's a summary of the top 20 things to do and places to visit in Utah:
Arches
Bear Lake
Bonneville Salt Flats

Bryce Canyon

Buckskin Gulch
Canyonlands
Capitol Reef
Cedar Breaks
Coral Pink Sand Dunes
Glen Canyon
Goblin Valley
Grand Staircase Escalante
Homestead Crater
Kanab
Monument Valley
Park City
Salt Lake City
Snow Canyon
Timpanogos Cave
Zion
We hope this guide listing the best things to do in Utah helps with planning your visit to the American Southwest!
Please let us know if you have any questions about visiting Utah below in the comments and have a great trip.
Happy Travels,
Mark and Kristen