Calabash Cove St Lucia – a boutique all inclusive resort
When you arrive at Calabash Cove after a long journey to Saint Lucia, the first thing that greets you is the breathtaking Caribbean view, designed to melt away stress and put you in a holiday mood. Blue layers upon blue, as the reflective floor tiles draw your eye through to the turquoise sea and sky. As Owner-Manager Konrad Wagner told me, "We wanted to let the Caribbean in" when he designed the lofty, open reception area of Calabash Cove, cooled by sea breezes and framing the glowing sunset.
Calabash Cove St Lucia is located on the island's north west Caribbean coastline which has the best beaches on the island, offering sandy coves and clear, calm water. The resort offers both all inclusive and breakfast only packages, and since it's adult only, is ideal for couples looking for some well earned time to themselves.
As St Lucia all inclusive resorts go, this is a boutique property, with just 26 spacious suites and cottages, so it never feels busy or crowded. Lush gardens surround the waterfront cottages and Manor House, creating an atmosphere of calm, colour and fragrance, where the views draw you down to the infinity pool and beach below. Popular with couples and honeymooners, Calabash Cove is above all a place to relax.
This article may contain affiliate links that provide commission on purchases you make at no extra cost to you. As an Amazon Associate I earn from qualifying purchases.
Our Water's edge cottage at Calabash Cove
Our stay in a Water's Edge Cottage at Calabash Cove St Lucia was a truly luxurious experience and we loved every minute of it! Not only did we have a separate bedroom, living room, outdoor sitting area and plunge pool, but our cottage overlooked the ocean. It truly was as close as you could be to the water's edge without actually being on the beach!
Although our Balinese style wooden cottage was attached on one side to a similar cottage, the way that everything was arranged and the lush garden surrounding us, made it feel incredibly private. Our outdoor area included two day beds, table and chairs and a hammock to laze away the afternoons in between dips in our own small plunge pool. If we'd wanted even more relaxation, there was also a large jacuzzi in our bathroom and an indoor / outdoor rainforest shower, which was super practical if you'd just come back covered in sand from the beach.
The traditional style mahogany cottage had pretty fretwork around the top, which is a Caribbean feature designed to let the breeze through, although in this case the rooms were completely enclosed. This meant that we could close off the sitting room and bedroom in the evening to stop unwanted insects buzzing in, while keeping the doors open in the day to let the air waft through.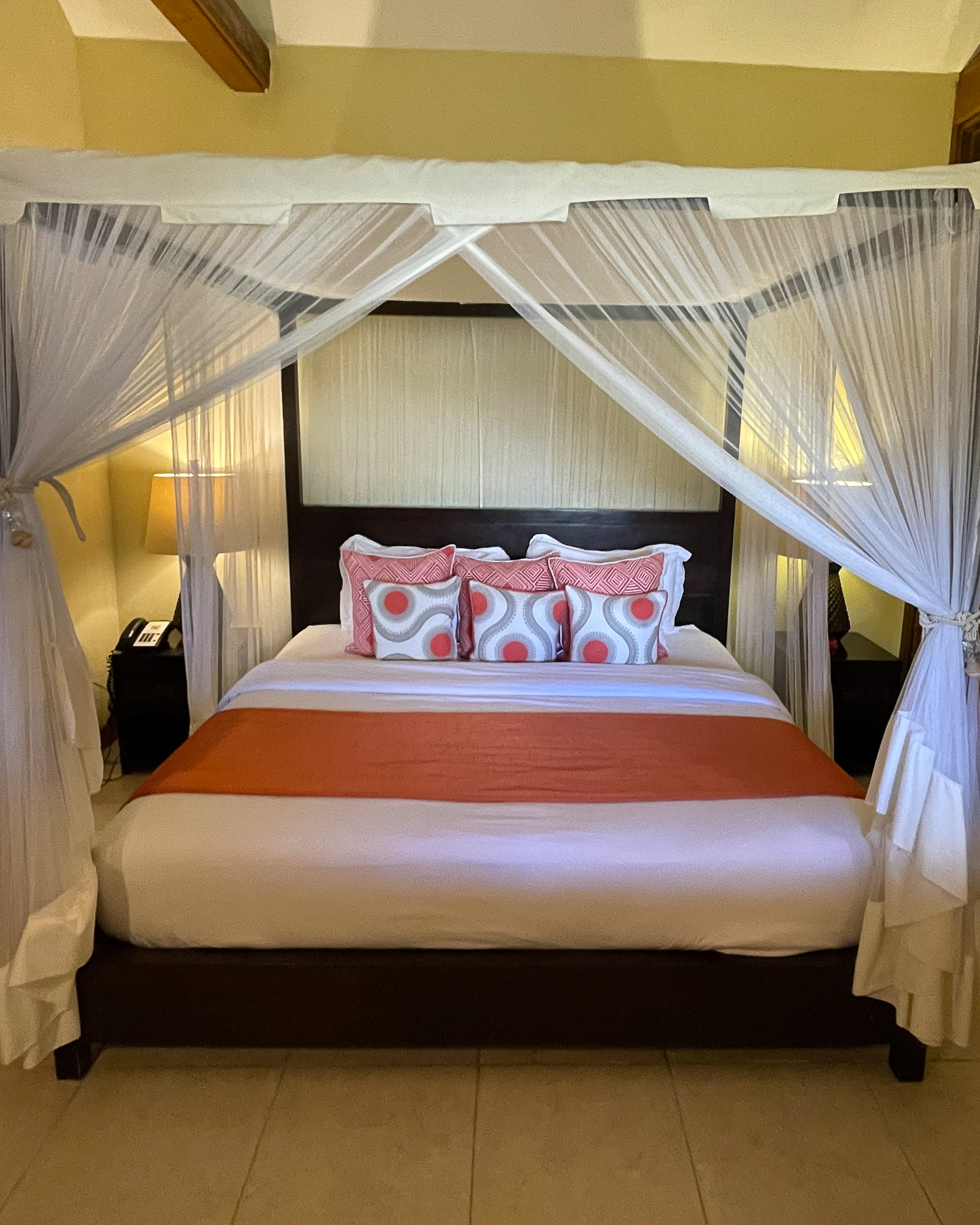 Our elegant four poster bed offered the extra precaution of a mosquito net, with air conditioning in the bedroom as well as a fan in the sitting room. It was a great design for maximum comfort, while retaining that light and airy feeling that you want in the Caribbean heat. The cottage was decorated in traditional Caribbean style, with dark wood furniture, natural materials and accents of tropical brights. Each cottage is slightly different in its layout and decorative scheme.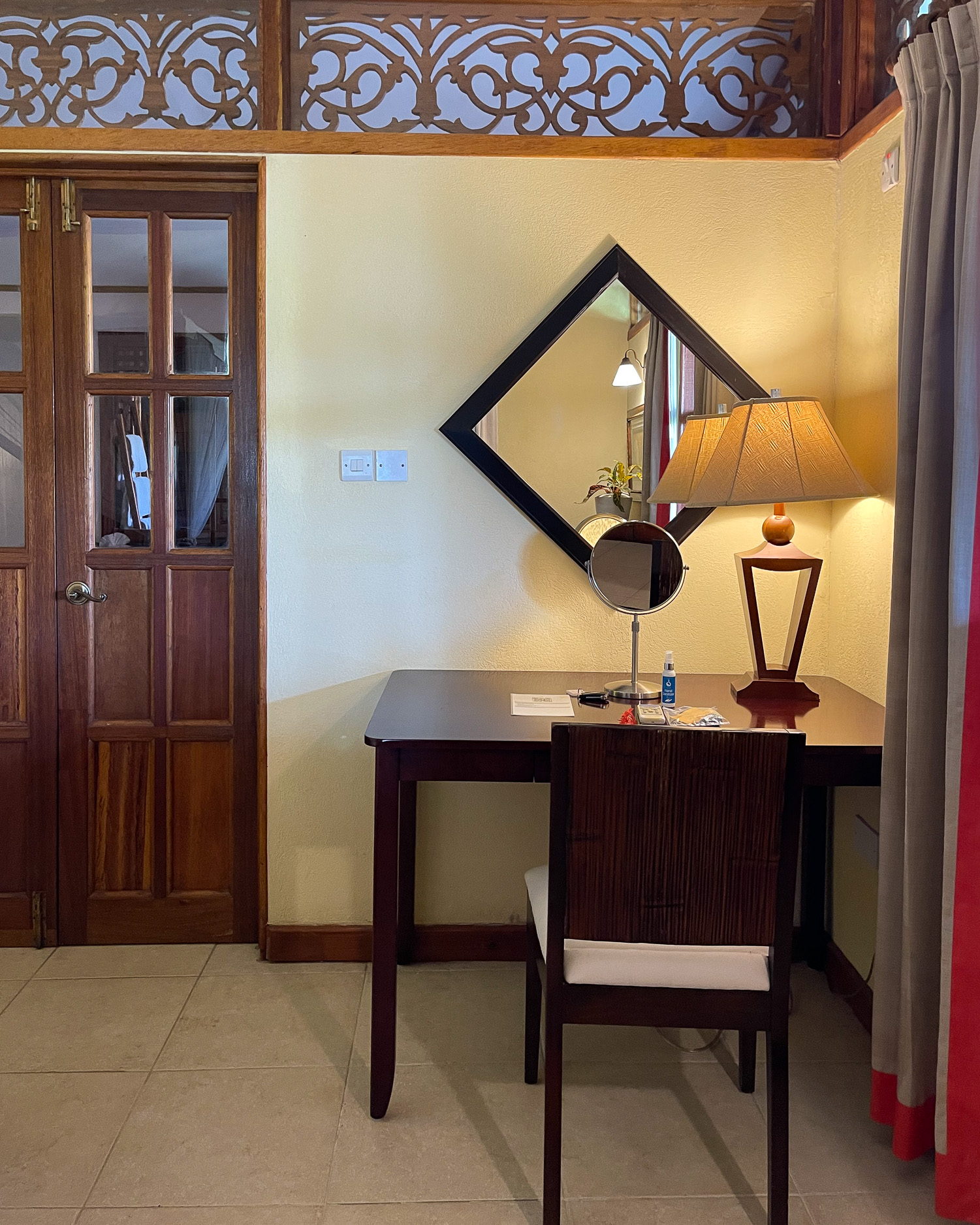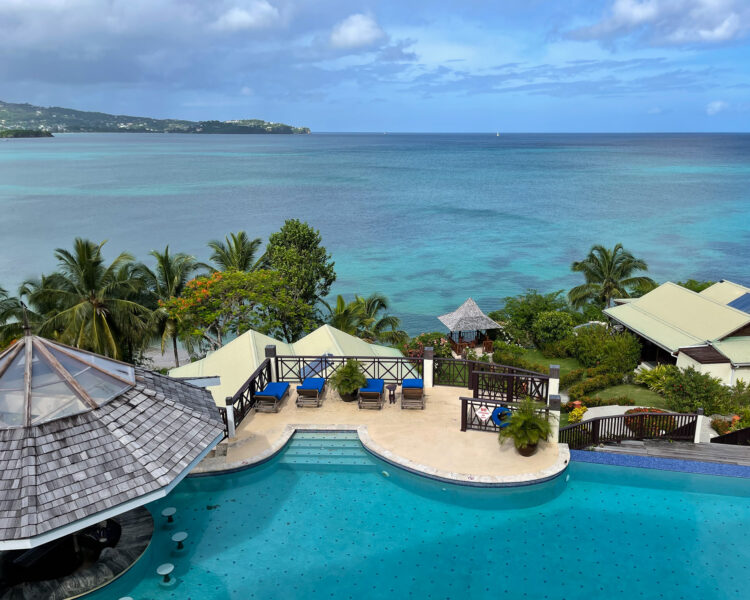 Our bathroom at Calabash Cove
At the back of the cottage, our bathroom was similarly elegant and traditional in style, with dark wood fittings and a large jacuzzi bath. We enjoyed using the outside shower that adjoined the bathroom, with its sense of freedom and fresh air. It ensured that we could shower away any salt and sand, rather than bring it into the cottage.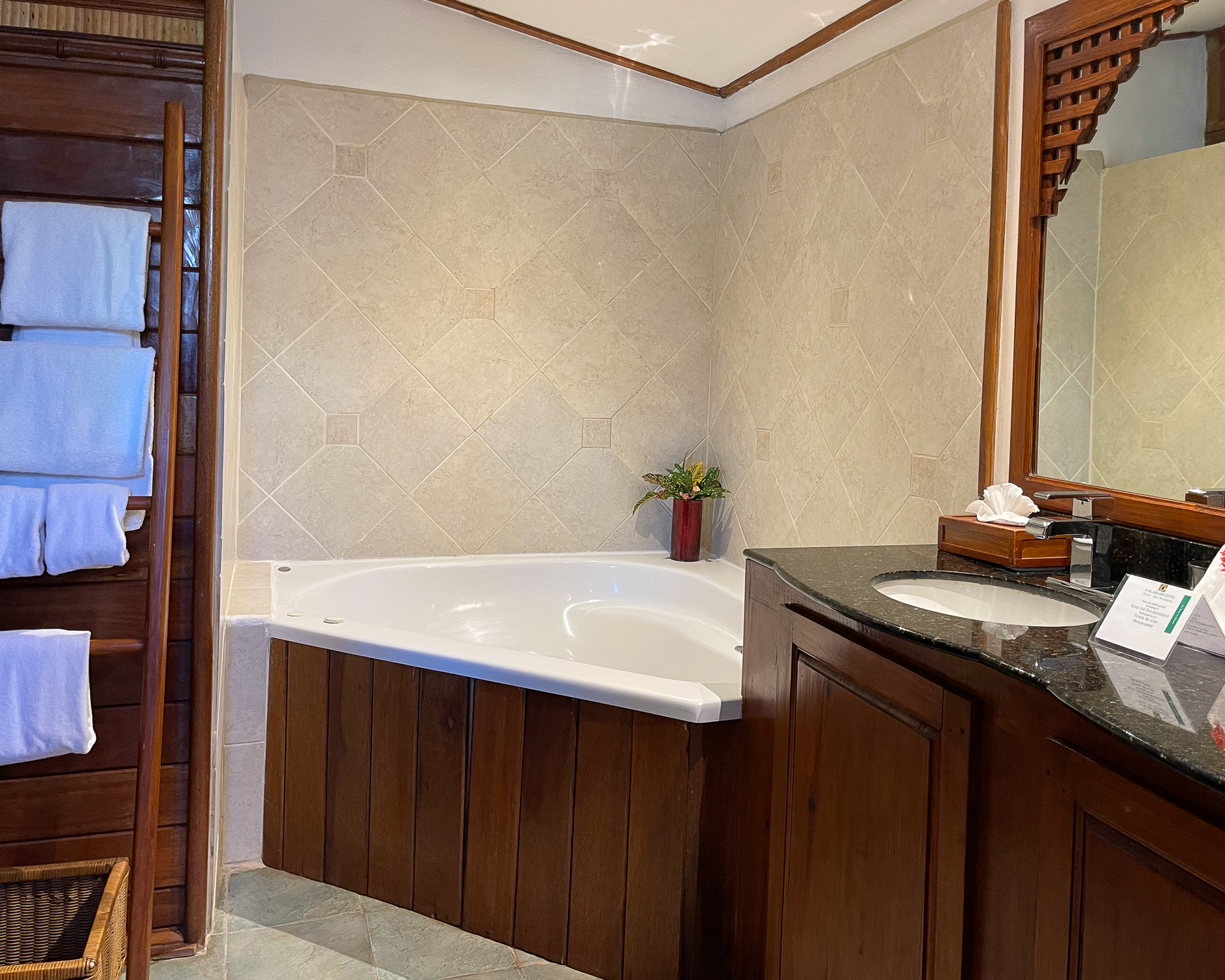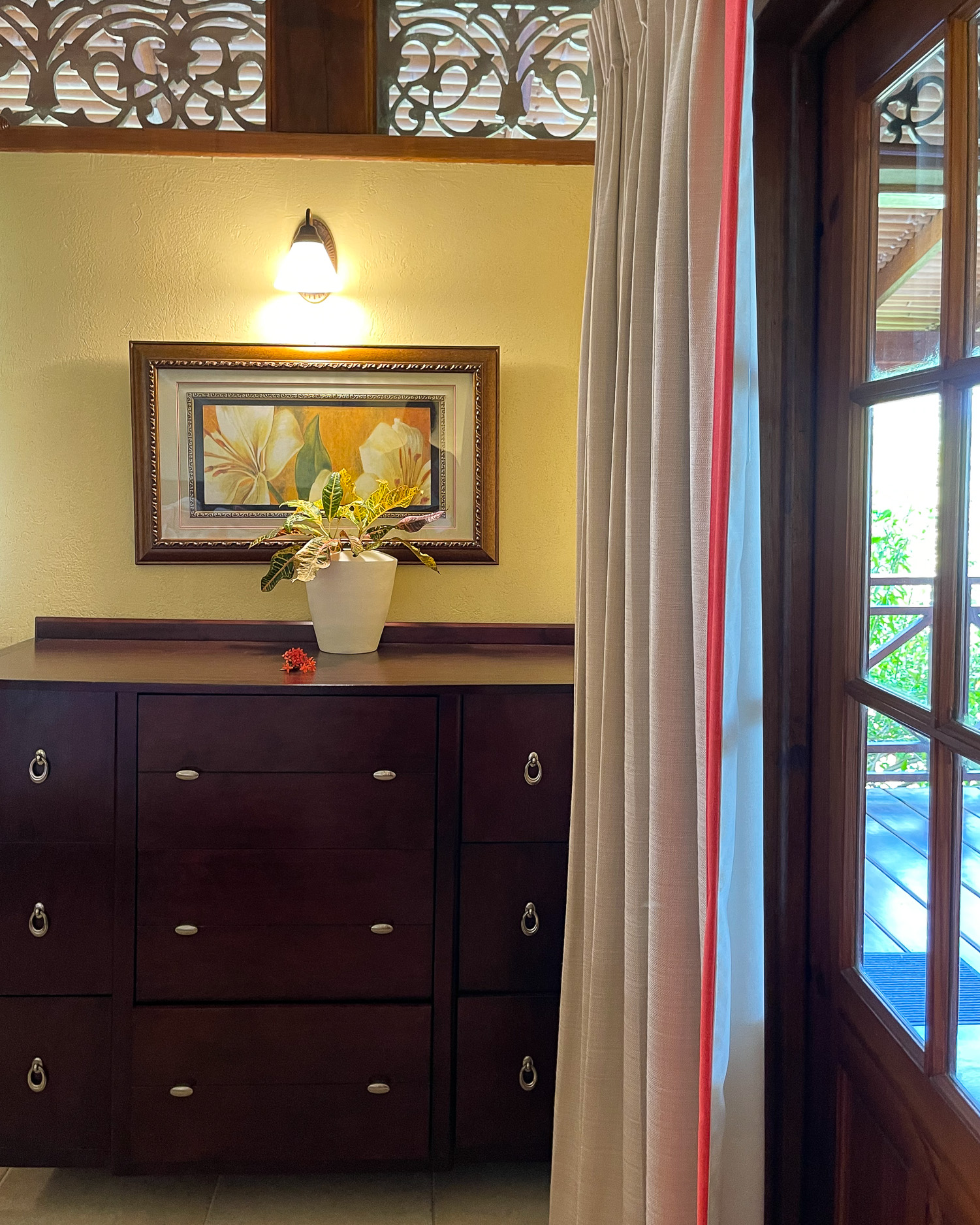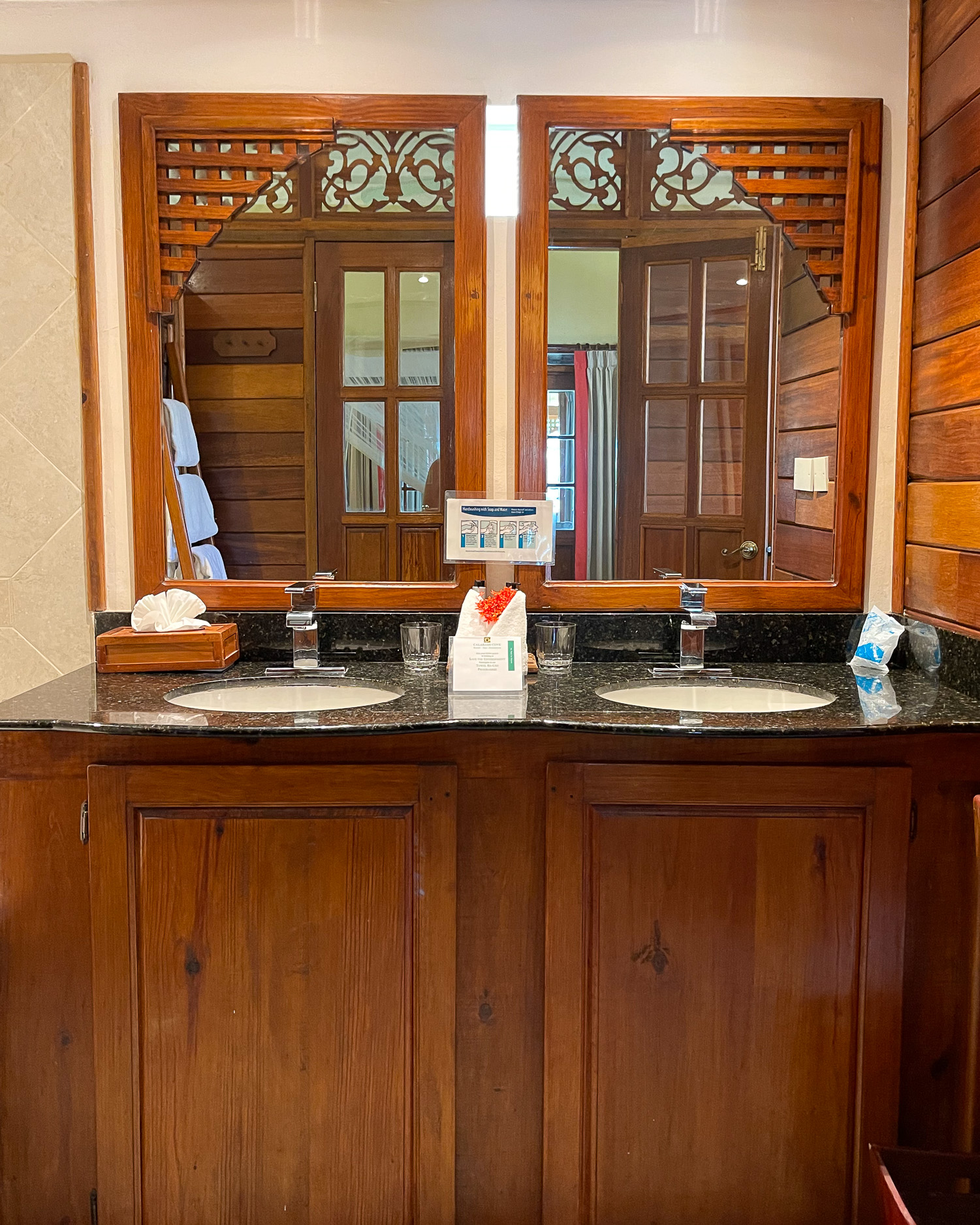 The beach at Calabash Cove
While all the beaches of Saint Lucia are public, there's no real outside access to the beach of Bonaire Bay except by boat, making this a private and secluded place to relax and swim. The hotel's sun-beds are set on the beach under shady canopies, or you can choose to sunbathe on the grassy lawned area just behind the beach.
At one end of the beach is a wooden boardwalk, the end of which is used for private dining. It's a super romantic spot for sunset dinner or drinks. We enjoyed swimming in the calm waters to a small floating platform where we lazed around with the water lapping over us.
Turtles are known to nest on this beach and you may see them swimming in the water, although sadly we didn't spot any. Complimentary kayaks and paddle boards are available for guests to use, in case you want to explore a bit further and paddle yourself round to the next cove.
The Sweetwaters pool at Calabash Cove
Whichever way you look at it (from the restaurant above, from the swim up suites or from the pool side loungers) the Sweetwaters pool at Calabash Cove is gorgeous place to relax and cool off. At one end is a terrace with plenty of sun loungers and shady cabanas, at the other a swim up pool bar that serves a selection of cocktails.
Beyond the bar is a dining area for those who want to grab a poolside lunch or snack. You can swim up to the 100 ft infinity edge and just hang there for a while to soak up those Caribbean views. The beautifully kept gardens extend around the pool, with flowering shrubs and palm fronds softening the edges.
C-Bar at Calabash Cove
To one side of the dining area is the C-Bar, with comfortable sofa seating and a row of easy chairs designed to drink in those stunning sunset views. The bar staff will be only too happy to mix you a cocktail from the extensive list, many of which use locally produced rums, liqueurs and fruit juices.
If you can't decide or have a cocktail favourite that's not on the list, they will mix you something special according to your taste. C-bar is a relaxing place to sip your drink as the sun goes down over the ocean to the accompaniment of a live singer or pianist, before taking your place at the dinner table.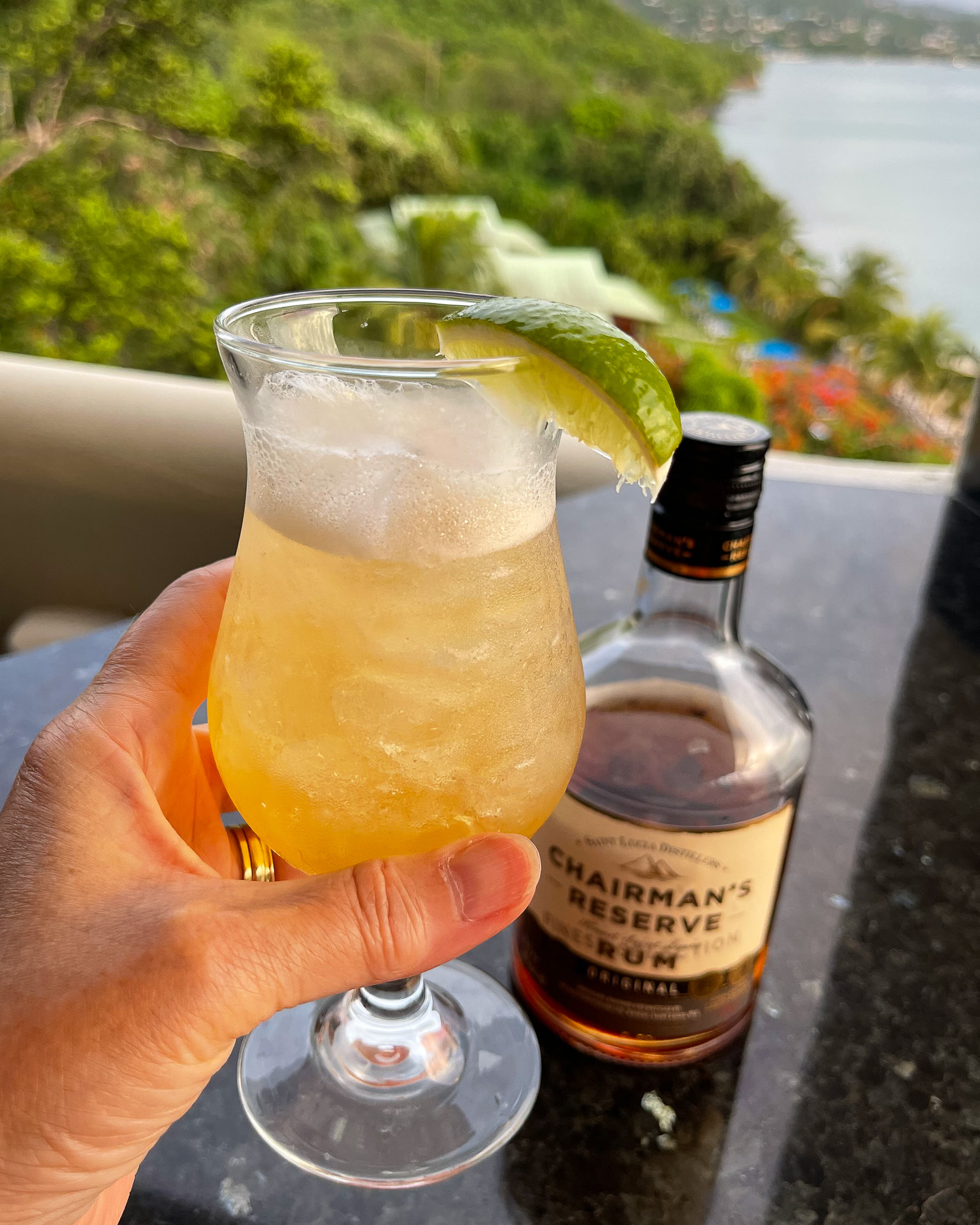 Unconditional All-inclusive dining at Calabash Cove
The ethos of Calabash Cove St Lucia is to allow guests to relax completely, without having to worry about the cost of each drink or finding change for tips. That's where the unconditional all-exclusive dining concept comes in – allowing you to book an all inclusive package up front, including everything you'd hope for, with little need of extra add-ons or up-sells.
While there are many all inclusive hotels in St Lucia, not all inclusive packages are created equal. At Calabash Cove all-inclusive means that you can enjoy top class dining in the Windsong Restaurant, with menus that draw on locally sourced meat, fish and produce. Room service is included, as is lunch, daytime snacks and drinks at the swim up pool bar.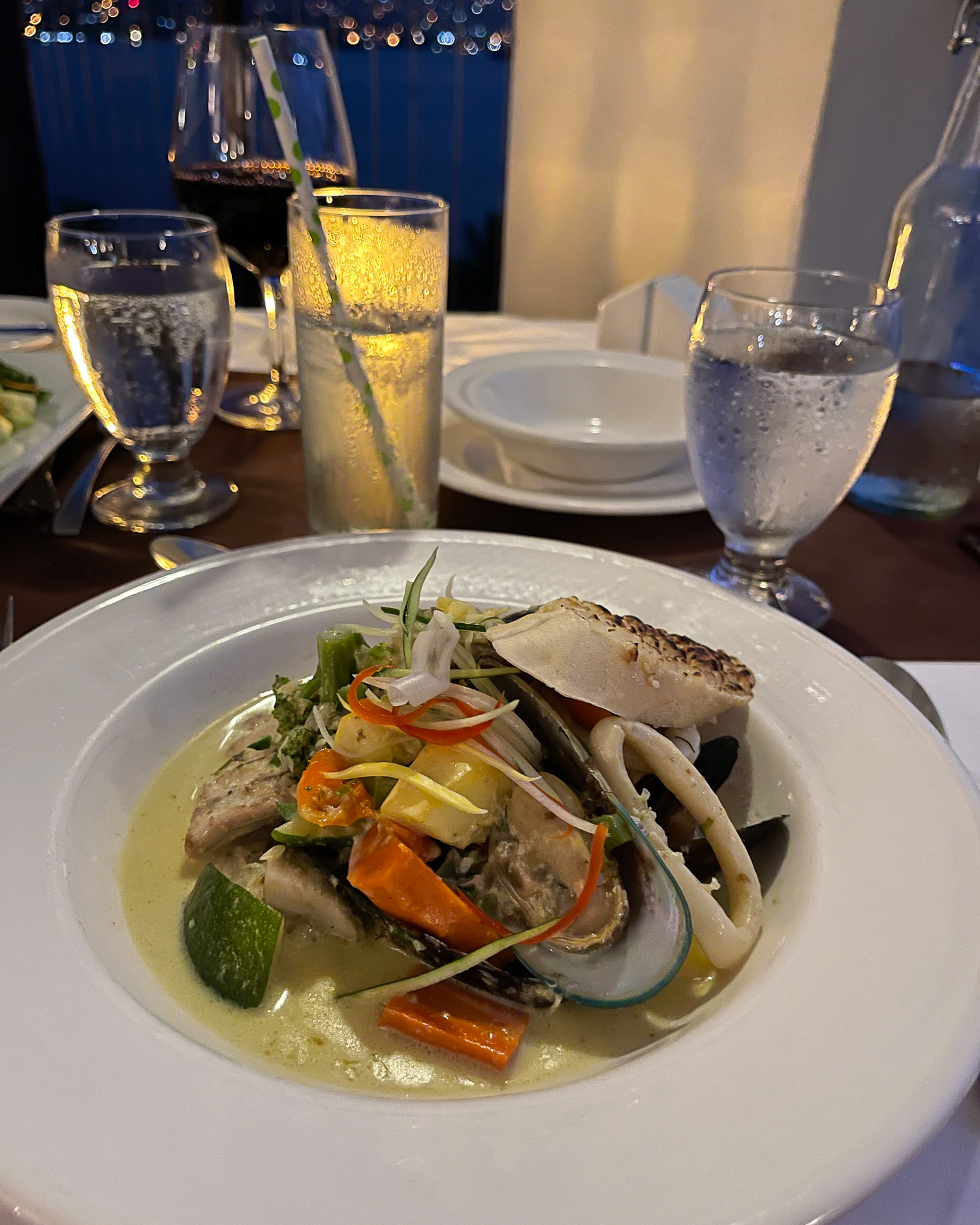 On the drinks side where many establishments would cut back, Calabash Cove offers high quality wines, cocktails, beer and other drinks throughout the day, bottles of wine on the table if you wish and a fully stocked in room bar, with top brand liquor options. The all inclusive package includes gratuities and if you book for 7 nights or more directly with the resort, your airport transfer is included too.
While choosing an all inclusive stay works well for those who plan to spend most of their time in the resort, it may not be for everyone. All inclusive means you don't have to worry about budgeting while in the resort. But if you are not a big eater or drinker, or plan to spend a lot of time out of the resort exploring, then Calabash Cove Resort and Spa also offers a breakfast only rate. In this case you can sign for your dining and drinks as you go, with all menu options showing prices against them.
Breakfast at Calabash Cove
Our breakfast at Calabash Cove is served in the Windsong Restaurant and it was a pleasure to have a lazy start to the day and enjoy the view, with table service. The breakfast menu encompasses Continental style items (pastries, yoghurt, cereal, toast) as well as cooked dishes such as omelet, English style cooked breakfast, Eggs Benedict and pancakes.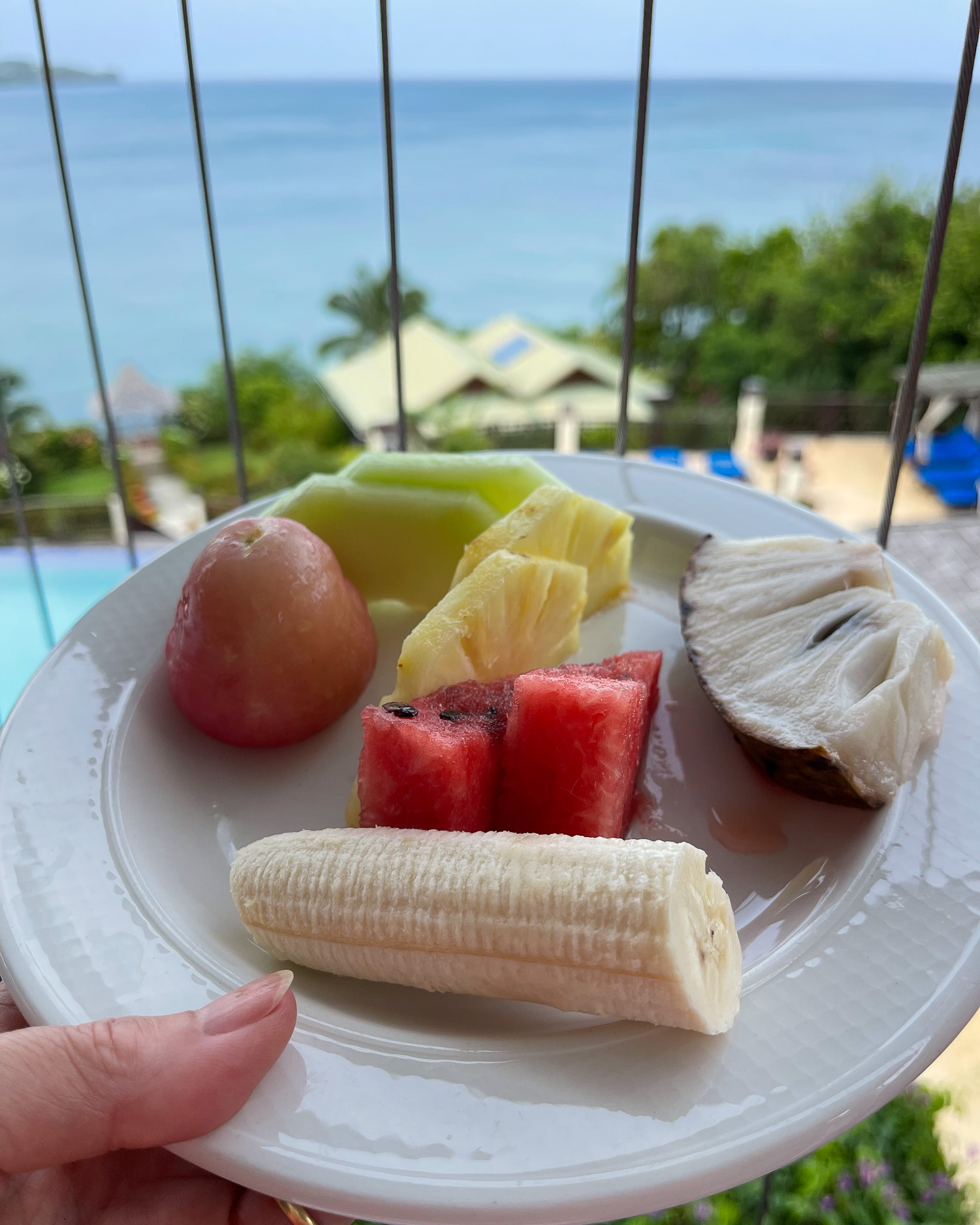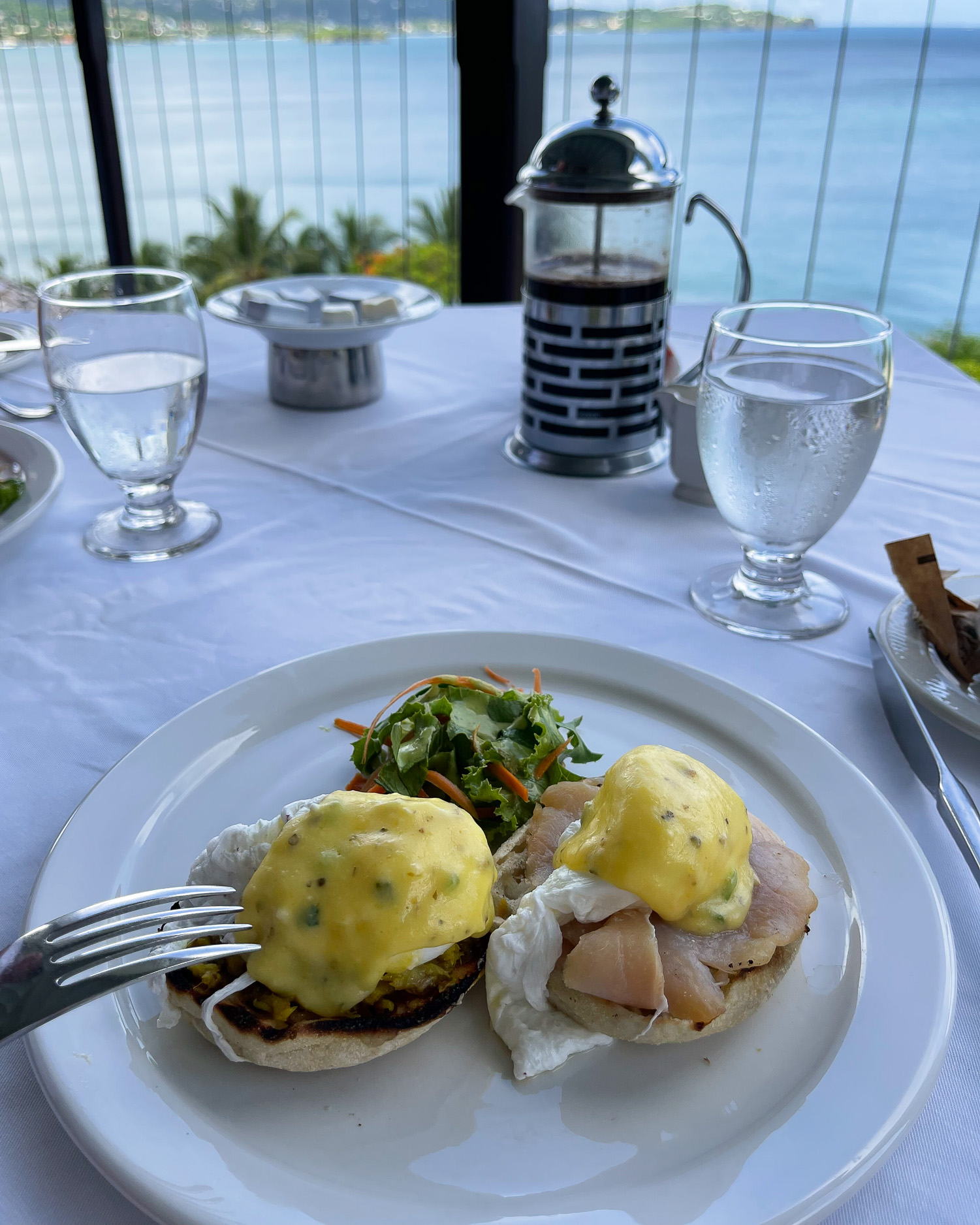 Whatever else we chose, we always ordered a fruit plate, with a selection of seasonal fruit. Small birds hopped around the tables to keep us company, although we soon realised that they were less interested in us than in stealing the sachets of sugar! The Lavazza coffee machine in our cottage was also appreciated, enabling us to make a really good cup of coffee, something we found surprisingly hard to find around Saint Lucia.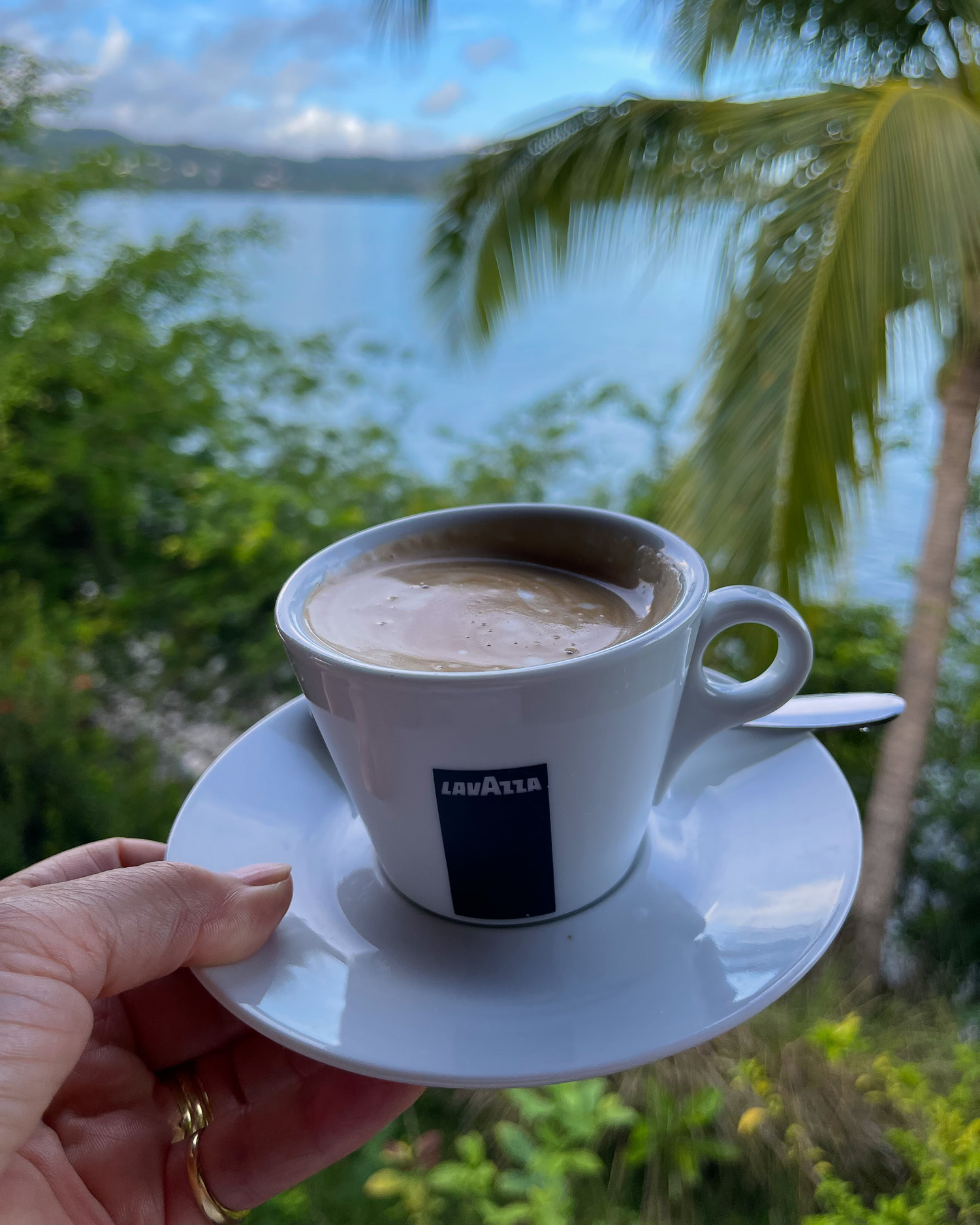 Dining at Calabash Cove
Windsong Restaurant at Calabash Cove is known as one of the best restaurants in St Lucia, and we found that the food lived up to the amazing setting with its Caribbean views and sunset moments. The menu is designed for international tastes with Caribbean and Asian influences, and each night there are daily specials to maintain our interest.
If you like your rib eye steak, fettuccine, caesar's salad and chicken satay, you'll find them on the menu, but there's plenty of local produce and Caribbean flavours too. We loved trying the fish in Saint Lucia, since it's super fresh and locally caught. So we tended towards dishes like the Saint Lucian seafood pot au feu or the Cocoa rubbed yellow fin tuna, which were delicious and beautifully presented.
Every night there is live music in the restaurant, from a pianist, singer or instrumentalist, which made the experience more special and atmospheric, without overpowering the relaxed ambiance.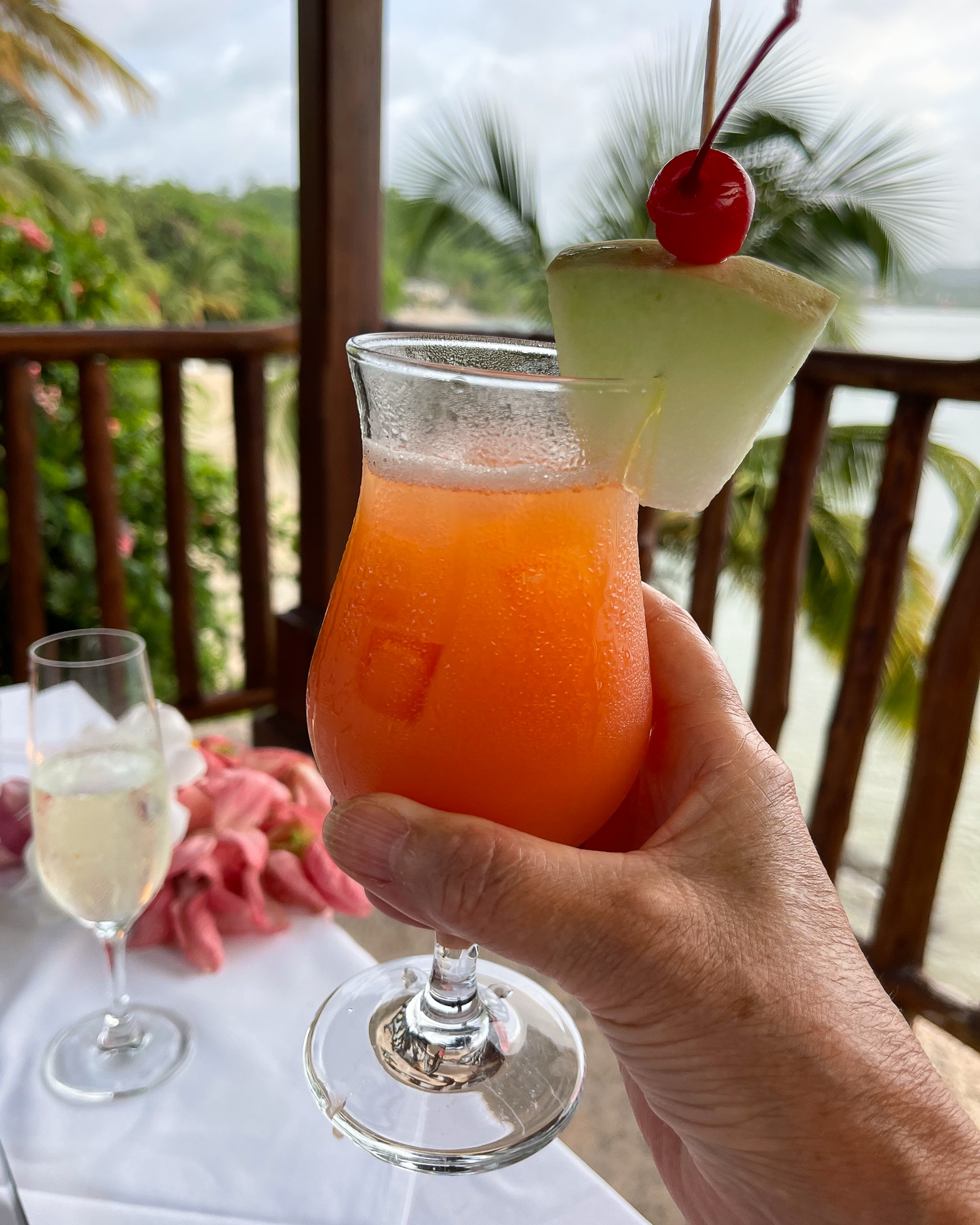 One of the highlights of our stay was the water's edge private dinner that we enjoyed to celebrate my birthday. At Calabash Cove there are private dining options either on the beach boardwalk, or as we did in the small covered pavilion overlooking the beach.
Our selection from the delicious celebration menu was served by a personal butler, to the sounds of the waves washing below us and the sun setting over the Caribbean sea. Complete with rum cocktails, a bottle of bubbly and a desert plate decorated with my own birthday candle, I felt thoroughly spoiled on my birthday!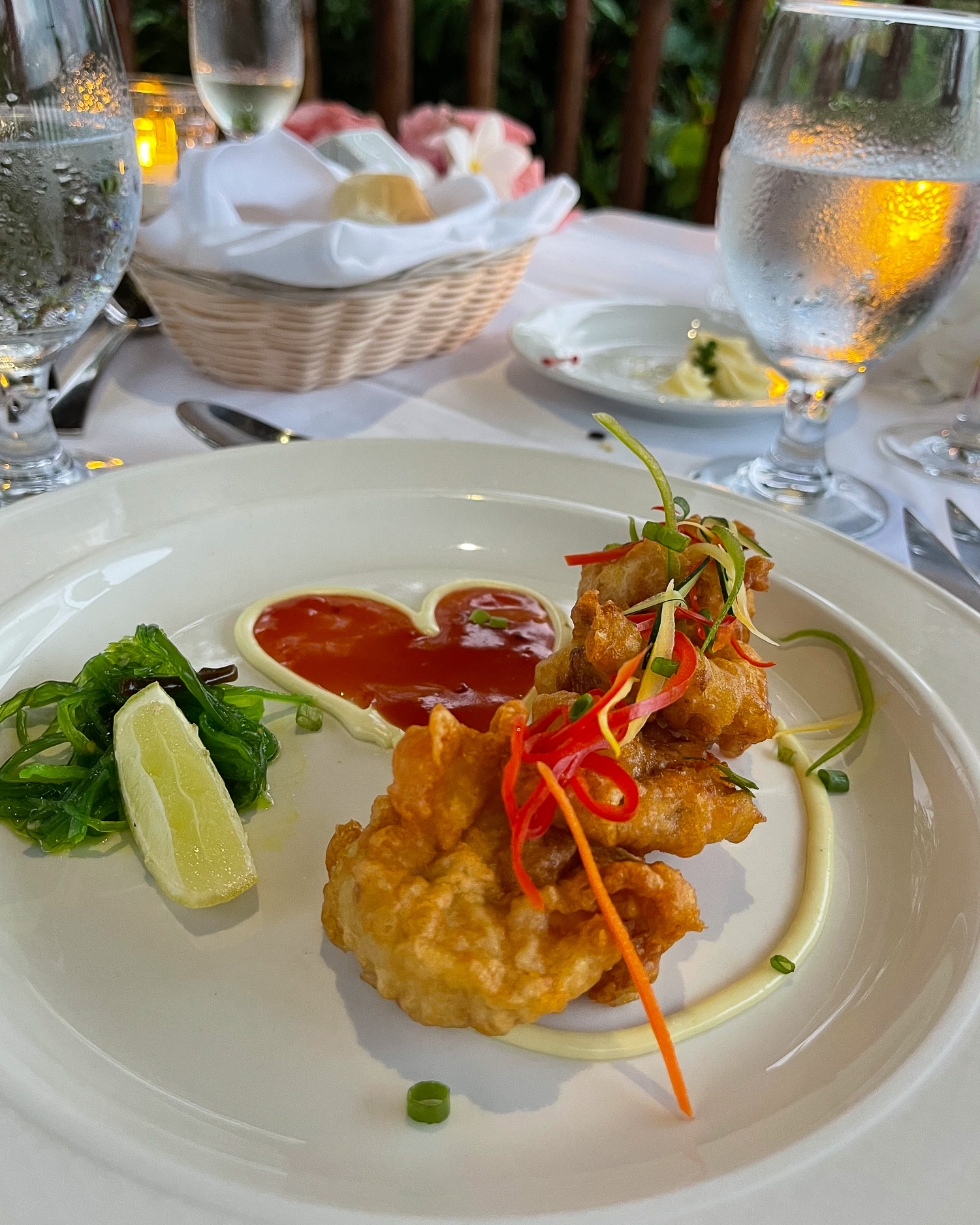 More rooms at Calabash Cove
During or stay we had a peek at some of the other bedroom styles and these include two main options;
Sunset Ocean View Junior Suites
There are 13 luxurious suites of a minimum 62 square metres, each with their own balcony facing the ocean. Some of the rooms are in the Manor House building, overlooking to pool and the sea beyond, while others are in separate accommodation overlooking the beach.
Both locations offer a split level floor plan, with their own oversized jacuzzi, but those overlooking the beach have a slightly larger balcony. The decor in the Ocean View junior suites is sophisticated and contemporary, with dark Caribbean style furniture and bright tropical accents.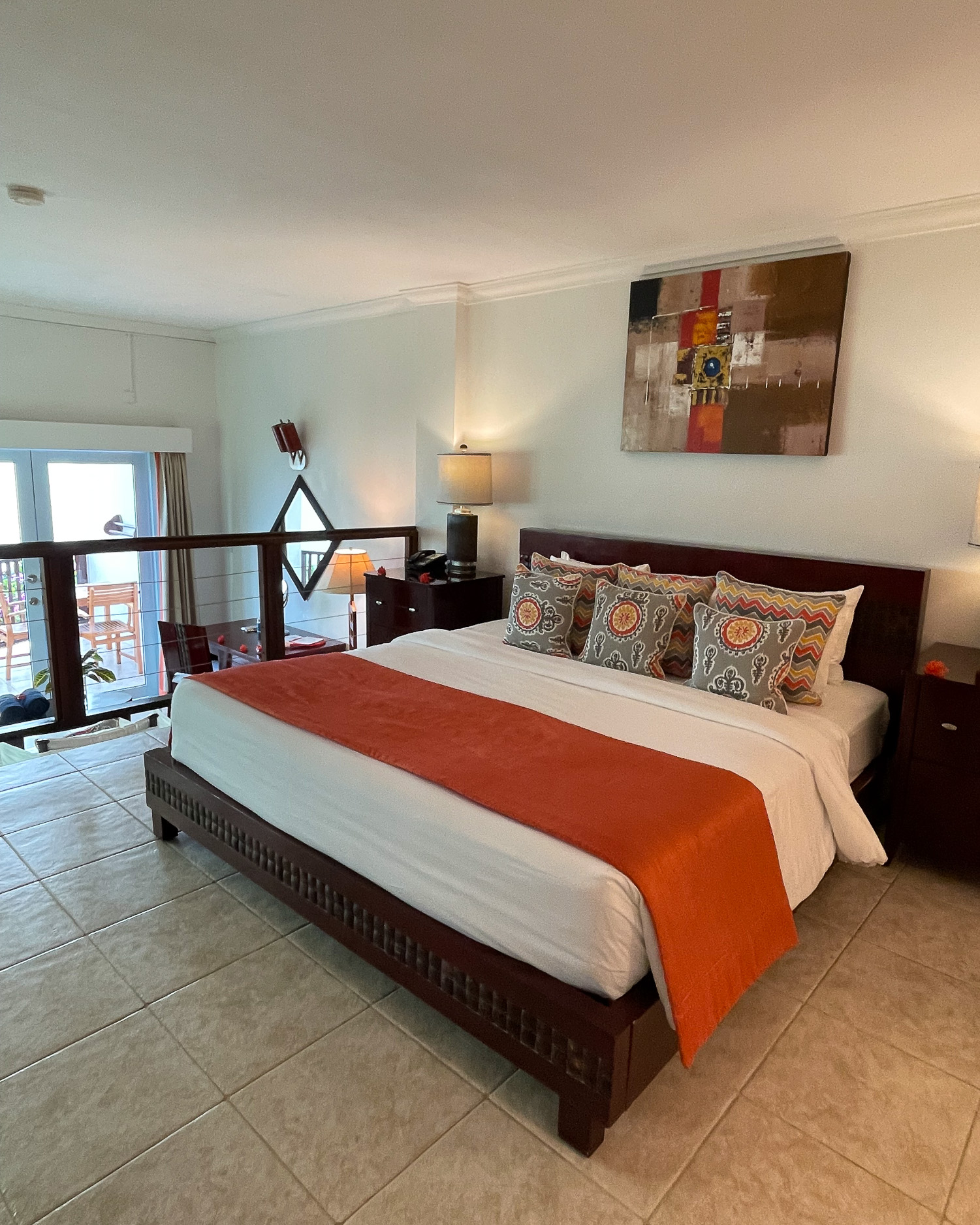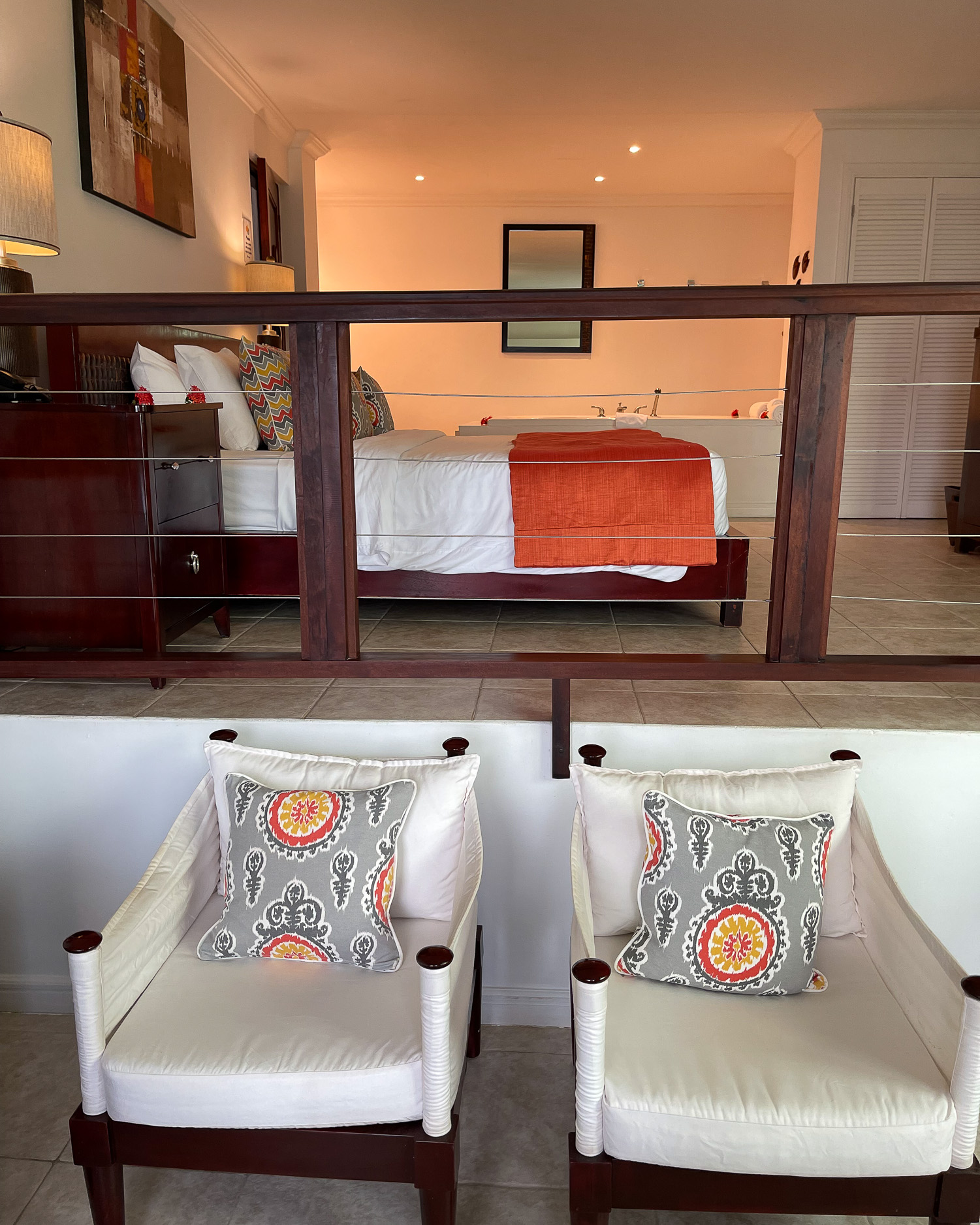 Swim up Junior Suites
There are 4 Junior suites that have direct access to the pool, allowing you to relax and sunbathe on your terrace, then take a dip whenever you like. A slightly smaller bedroom size is made up for by the private poolside terrace, making these suites around 60 square metres. The suite offers a romantic four poster bed, seating area, and the decor uses fresh, bright tropical colours.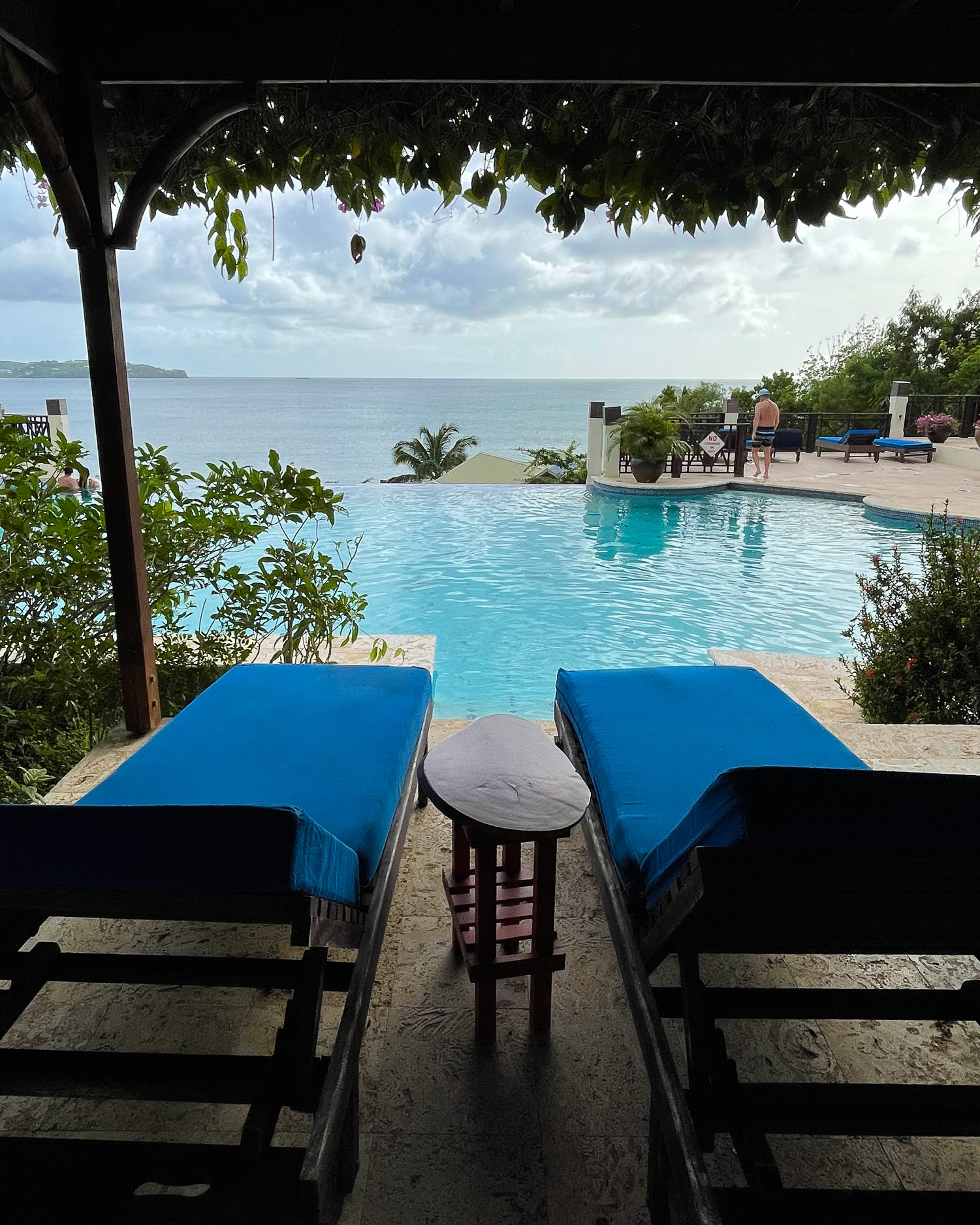 Ti Spa at Calabash Cove
Calabash Cove's cosy Ti Spa is tucked away under the Manor House building, with an outdoor relaxation area adjacent to the Sweetwaters pool. Treatments can be offered either in the spa's treatment room, in a guest's own cottage or the water's edge gazebo, to a relaxing backdrop of ocean breeze and gently lapping waves.
Many of the signature treatments and body scrubs are create at the resort, using fresh local plant and fruit based blends. Try the island fruit scrub with tropical fruit, natural oils and sea salt, or the chocolate scrub using local cocoa beans and sugar to gently exfoliate the skin.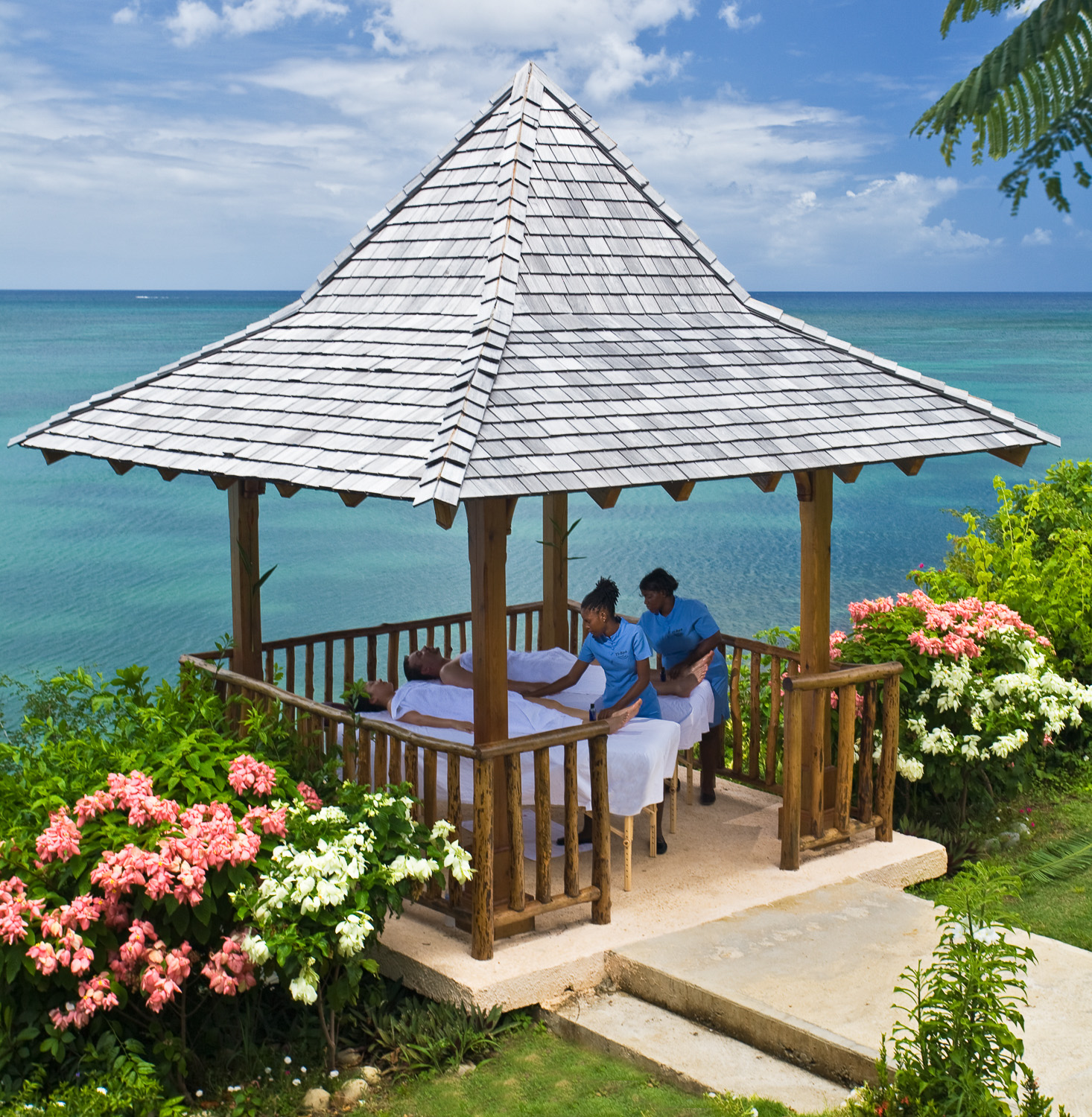 Cove Gardens at Calabash Cove
The Cove Gardens encircle the cottages and Manor House of Calabash Cove with lush plantings and tropical colour. Scented flowers, exotic shrubs and shady trees provide a sense of calm and wellbeing, framing the gorgeous views of the Caribbean. The gardens incorporate a miniature cane field, herb garden, banana grove and pineapple bed, as well as quiet spots for rest and meditation. Paths meander through the lawns and planted borders, leading to your accommodation or down to the beach.
We noticed a team of gardeners working on different areas of the garden, renewing the planting schemes that thrive in the tropical climate. The flowers and fruiting trees are a paradise for native birds, and we watched hummingbirds from our verandah, darting in and out of the branches. Calabash Cove has a policy of not using insecticide mists, in order to encourage the birdlife that so entertained us and many other guests.
Service at Calabash Cove
The style of service at Calabash Cove is friendly, professional and informal, taking its cue from the Austrian owner and General Manager, Konrad Wagner. Konrad made his home in Saint Lucia 20 years ago, and bought the partly developed Calabash Cove in 2009 following many years of managing Sandals Resorts on the island. It's obvious that Konrad is a people person, bringing to Calabash Cove not only his extensive hospitality experience but also an understanding of what guests need for an outstanding and memorable stay.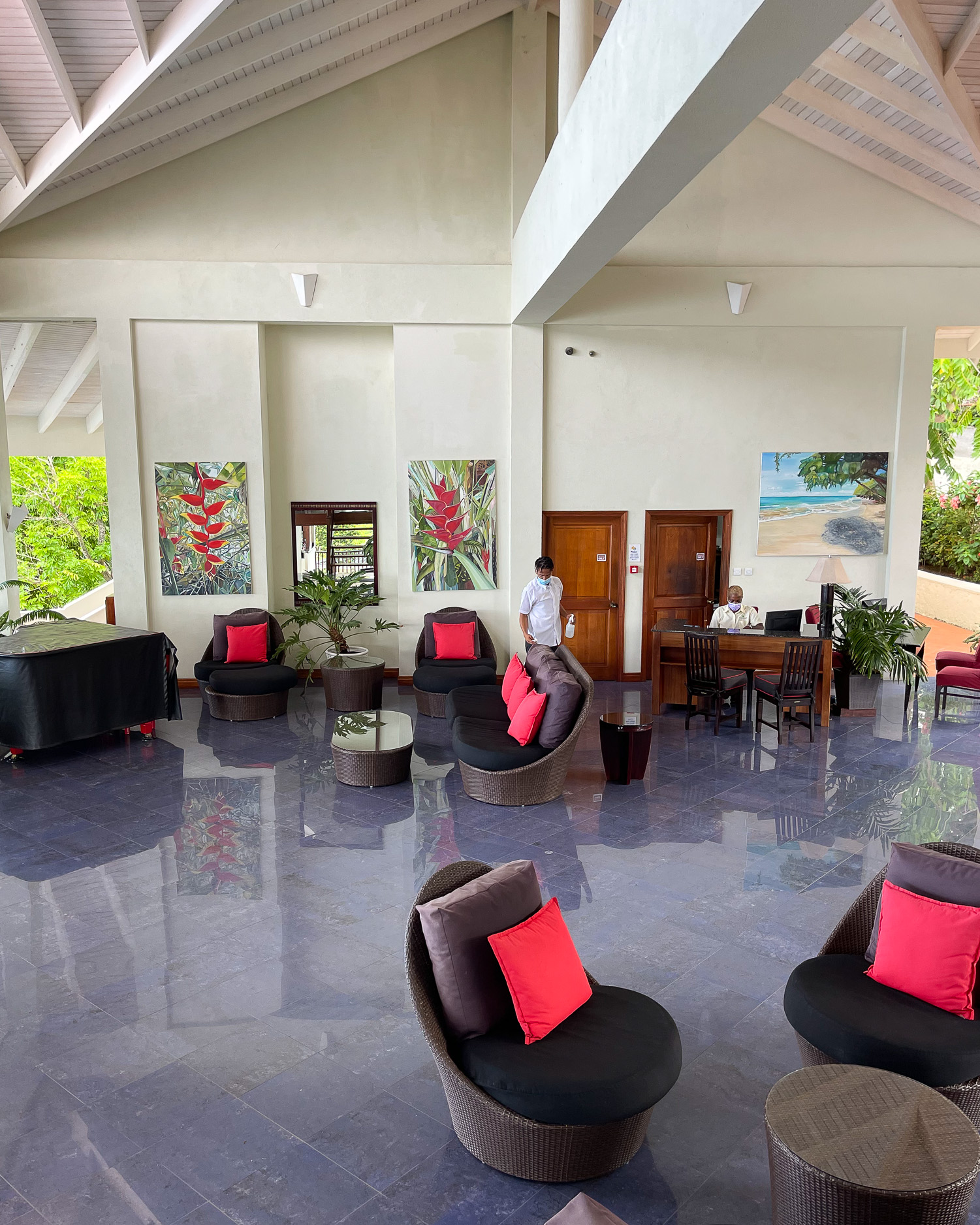 All the staff we encountered were friendly and helpful, but our interactions went beyond the superficial 'good morning' or 'you're welcome' , making us feel that they truly wanted us to have a great time at Calabash Cove. The atmosphere here is welcoming but understated, so don't expect big fanfares, but rather staff who are quietly doing their job and only too happy to help with whatever you need.
Weddings and Honeymoons at Calabash Cove
Throughout the Caribbean, Saint Lucia is known as the "Honeymoon Island" with scenic beauty, idyllic beaches and a number of resort hotels designed to pamper couples looking for a romantic experience. Calabash Cove is a great place for your St Lucia honeymoon, since its secluded location and small size make your stay very personal and relaxed.
This must be one of the best resorts in St Lucia for couples who want to stay somewhere smaller and more intimate, while not compromising on high levels of service, delicious food and a gorgeous setting.
The hotel also offers a number of different honeymoon packages, including treats such as a couple's massage in the Ti Spa, candlelit beachside dinner or champagne and flowers in your room. If you are thinking of a St Lucia wedding, the hotel can provide a full wedding planning service, covering flowers, beachside ceremony, cake, champagne as well as an unforgettable stay and dining for you and your guests.
Sustainability at Calabash Cove
These days Sustainability is a big factor for us all when choosing a hotel. While in the past sustainability might have been a 'nice to have' I feel uncomfortable about staying in a hotel that isn't making serious efforts in this area. Calabash Cove scores highly on sustainability, despite the fact that Saint Lucia lacks an infrastructure for centralised recycling.
Some of the sustainability initiatives that are visible to guests include:
We were pleased to see plastic water bottles have been phased out – these have been replaced with glass bottles in the restaurant and rooms filled with filtered still and sparkling water
Toiletries in the room are in big refillable bottles
Plastic straws are not used in drinks or cocktails
Disposable cutlery is not used in the hotel. Any containers for lunchboxes are made from recyclable paper or bamboo.
The food and beverage offering features Saint Lucia sourced produce from local farmers and fishermen.
They don't fog the grounds with insecticide as it affects the bird life
Behind the scenes there are other positive sustainability practices that we learned from the website or by talking to management
Under the hotel is a large water tank that collects rainwater to supply the hotel. Waste water is also treated at the hotel and used for irrigation.
Hot water is generated by solar power with no gas or oil heaters in the hotel.
Kitchen oil is reused to heat water for the laundry.
Lights use energy saving LED bulbs
Phosphate free detergents are used throughout the hotel
Grass cuttings are composted and used in the gardens, food waste is given to local farmers to re-use.
Although Calabash Cove doesn't shout about their sustainability credentials, its great to see that they are doing their bit for the environment.
Location of Calabash Cove St Lucia
Calabash Cove is located in the north west Caribbean coastline of Saint Lucia, overlooking the sandy beach of Bonaire Bay. Following the main road north from the island capital of Castries, a small residential road turns off towards the coastline and in 5 minutes you arrive at Calabash Cove, set on the hillside overlooking the sea. This lovely, unspoiled stretch of coastline between Castries and Pigeon Island, is home to many of the best hotels in St Lucia, situated in a string of secluded coves and bays.
Hewanorra International Airport is located in the south of Saint Lucia and is around 1.5 hrs drive by taxi from Calabash Cove, so it's best to ask the hotel to arrange a taxi transfer. If you book directly with the hotel for 7 nights or more, the cost of airport transfer is covered by the hotel.
Many guests opt for a 2 hotel stay on Saint Lucia so that they can explore both the north and south of the island, splitting their time between Calabash Cove and another resort hotel near Soufriere, such as Jade Mountain, Anse Chastanet or Ladera Resort.
Things to do near Calabash Cove
With such a beautiful setting, you may be tempted to spend most of your time at Calabash Cove just enjoying the relaxing atmosphere. After all, that's the main point of an all inclusive resort such as this! But if you want to get out and explore a little, here's what you can find near the hotel.
Rodney Bay – A 15 minute drive north brings you to Rodney Bay, with its marina surrounded by shopping, bars and waterside restaurants. We enjoyed lunch at the peaceful oasis of Island Mix, an art gallery stocking local crafts and souvenirs, where the cafe overlooks the water.
Gros Islet – If you want nightlife, take a taxi to Gros Islet for the Friday night Street party, when the whole neighbourhood is buzzing with rum bars and BBQ stalls, and the reggae music gets turned up loud!
Pigeon Island – this 44 acre national heritage park is a peninsula with the ruins of the 18th century fortresses built by the English to defend St Lucia from any threat from the French garrison in nearby Martinique. There are beaches and cafe within the park, as well as the two clear viewpoints that you can climb, for views over the island.
Rainforest Adventures – A 25 minute drive will take you into the island's interior, where you can go zip lining in the rainforest or spot local flora and fauna from the aerial tram that travels high over the forest canopy.
Castries Market – the island capital of Castries is just 15 minutes away, so it would be a pity not to visit. We'd recommend a morning wandering around Castries Market, to enjoy the colourful fruit and veg and pick up some foodie souvenirs like hot sauce or cocoa sticks. The cathedral, set in Derek Walcott Square, is also worth visiting for the beautiful painted interior.
There are many other excursions that you can also take to visit the area around Soufriere – check out my article for all the best things to do in Saint Lucia
Who will enjoy Calabash Cove ?
Calabash Cove is a luxury, all inclusive boutique resort and is ideal if you are mainly looking to relax during your time in Saint Lucia.
Saint Lucia is renowned as a honeymoon destination and we noticed that most of the guests were couples of all ages – from 30-something to 60-somethings.
The hotel's style is very relaxed and low key and seems to suit a cosmopolitan traveller looking for barefoot luxury.
The resort is adults only, so if you are travelling with your family this is not the place for you.
We noticed that Calabash Cove has a very inclusive attitude for its guests; we saw guests of different colours, nationalities and ages and the resort is welcoming of same sex couples.
Due to the hillside location, there are lots of steps and no lift, so if you have mobility issues, check with the hotel first before booking.
Book your stay at Calabash Cove Resort and Spa
To book your stay directly with the resort check out the Calabash Cove website or follow them on social media Instagram: @Calabashcovestlucia Facebook: @Calabashcovestlucia Booking enquiries can be made by email: [email protected]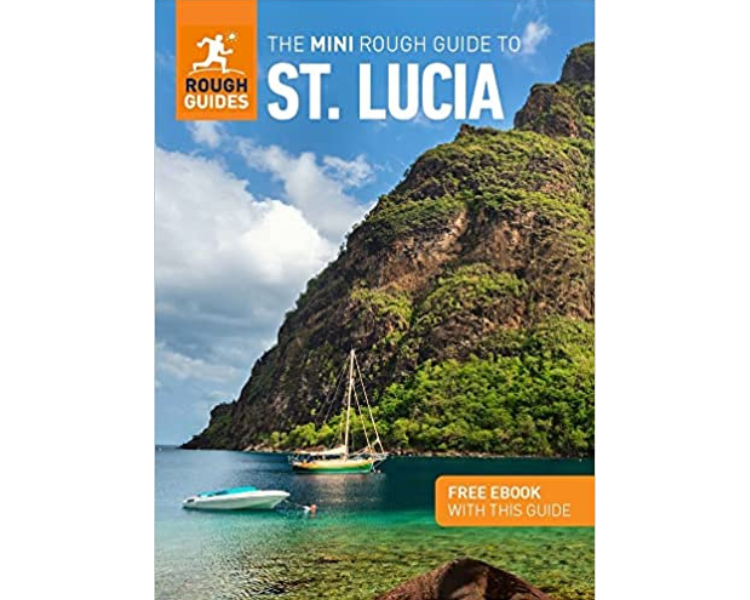 Plan your trip
You'll find more information to plan your trip including accommodation, things to do and last minute deals at Travel Saint Lucia
If you are looking for less expensive, local accommodation that's great for independent travellers, check out the Saint Lucia Collection de Pepites, with listings of smaller scale properties, apartments, villas, guest houses, B&Bs.
If you need a transfer from the airport to your hotel check out this Private transfer to/ from Hewanorra Airport
If you need a guidebook to help plan your stay, we recommend the Mini Rough Guide to St Lucia
Pin it
More places to stay in Saint Lucia
Here are some more of the hotels in St Lucia that we stayed in and can personally recommend – you can also search for other hotels in Saint Lucia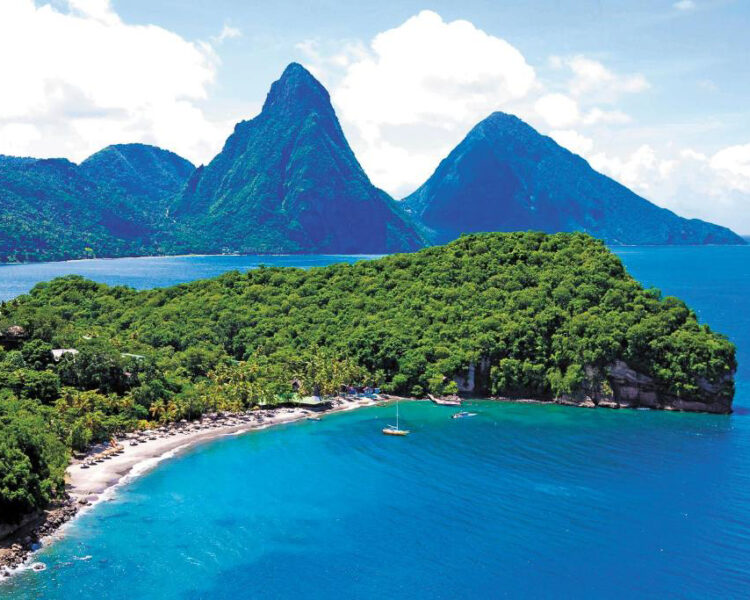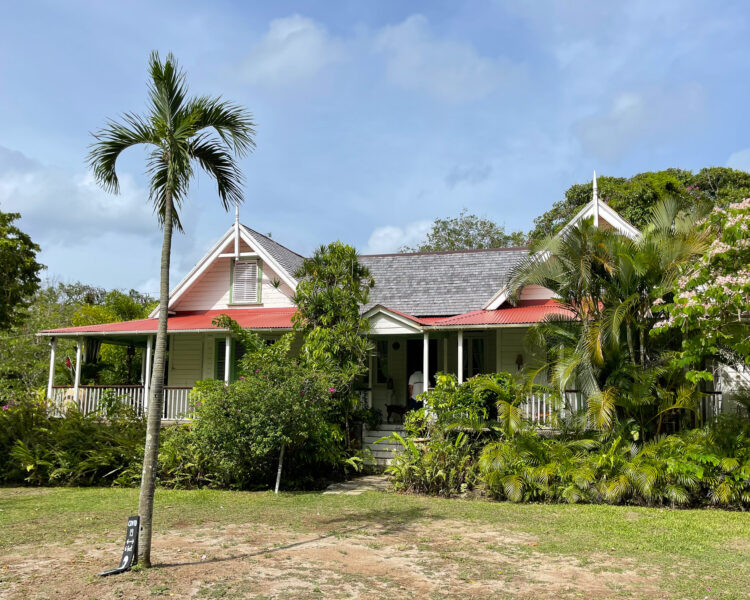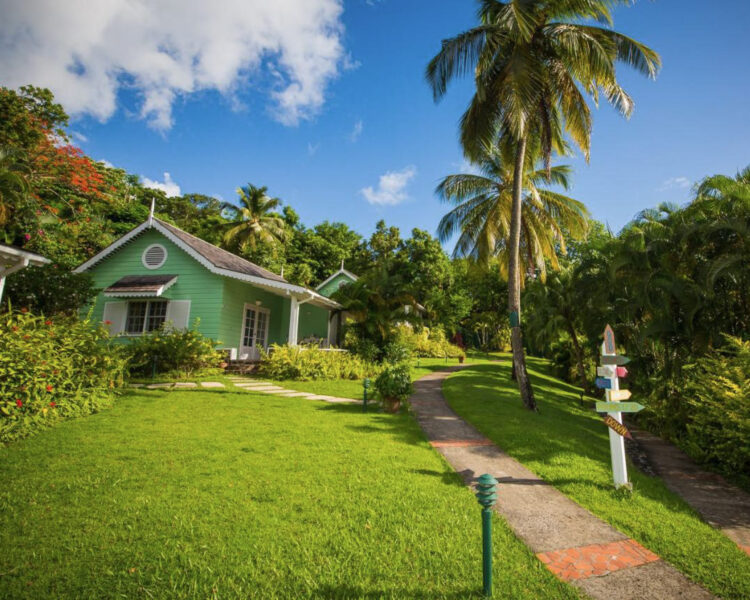 Read Next
Read about St Lucia Food – the best dishes, restaurants and food tours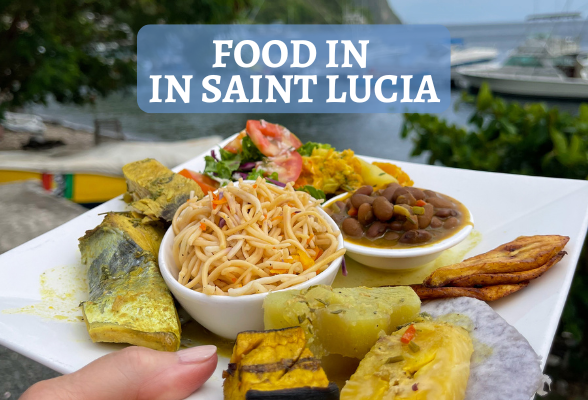 Heather's press trip to Saint Lucia was hosted* by Saint Lucia Tourism, who provided some of the experiences mentioned.
* More info on my policies page
This article is originally published at Heatheronhertravels.com