Jade Mountain Resort – the ultimate luxury hotel in St Lucia
Set on the jungle covered hillside, the space, privacy and views of the iconic Pitons, make Jade Mountain Resort the ultimate luxury hotel in St Lucia. Most of the 29 sanctuaries include their own infinity pool, allowing you to waft unseen by anyone, surrounded by nature, sea and sky. As a "resort within a resort", Jade Mountain guests also enjoy the use of all the facilities of Anse Chastanet resort below, including two lovely beaches. With such a stunning and secluded setting, no wonder Jade Mountain is the favourite couple's destination for honeymoons, landmark birthdays and anyone with something special to celebrate!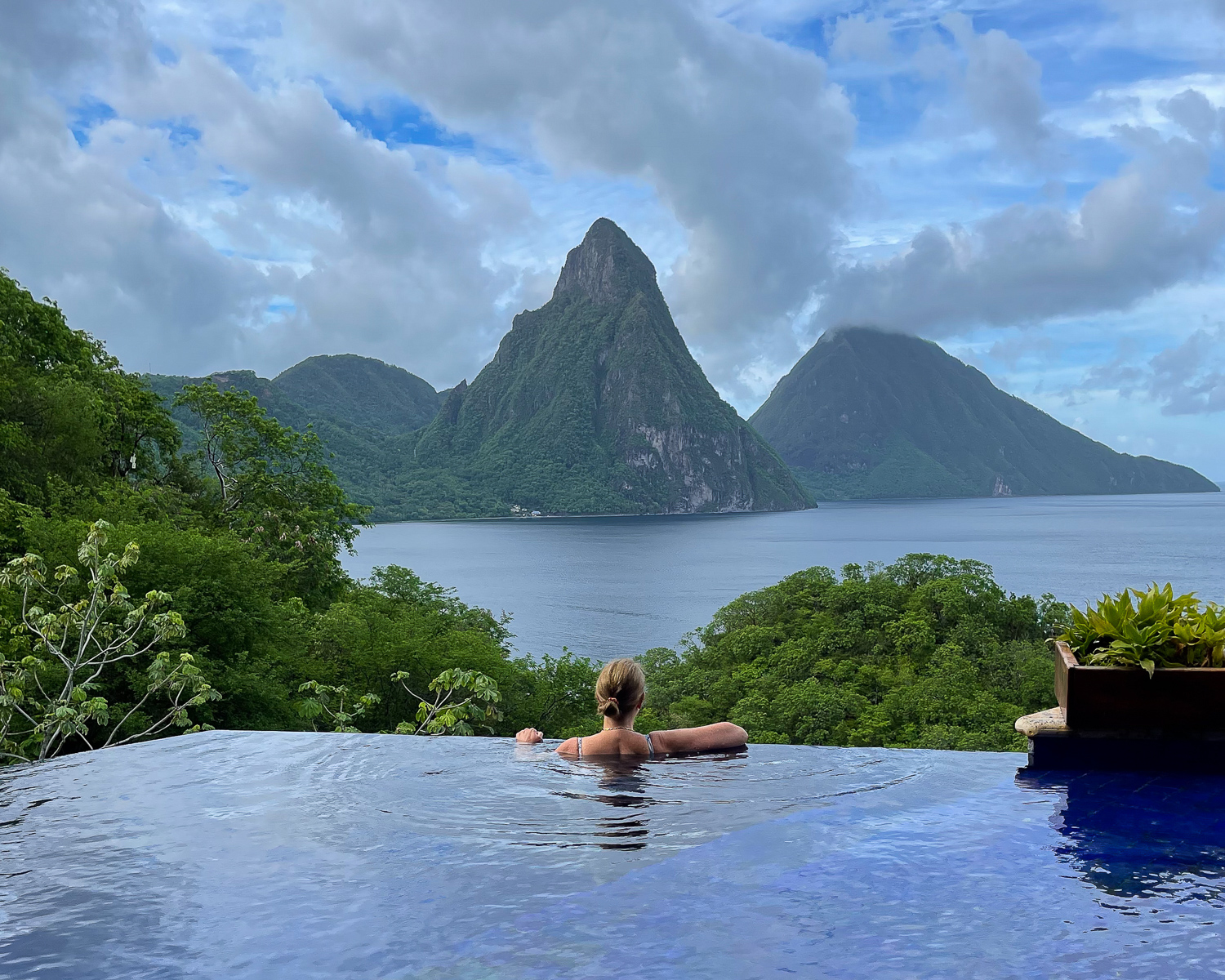 This article may contain affiliate links that provide commission on purchases you make at no extra cost to you. As an Amazon Associate I earn from qualifying purchases.
The design of Jade Mountain
Opened in 2006, Jade Mountain is the vision and masterwork of architect Nick Troubetzkoy, who together with his wife Karolin Troubetzkoy owns both Anse Chastanet and Jade Mountain Resorts. Built on the improbably steep side of the mountain above sister resort Anse Chastanet, Jade Mountain is all about light, space and above all those iconic Piton views.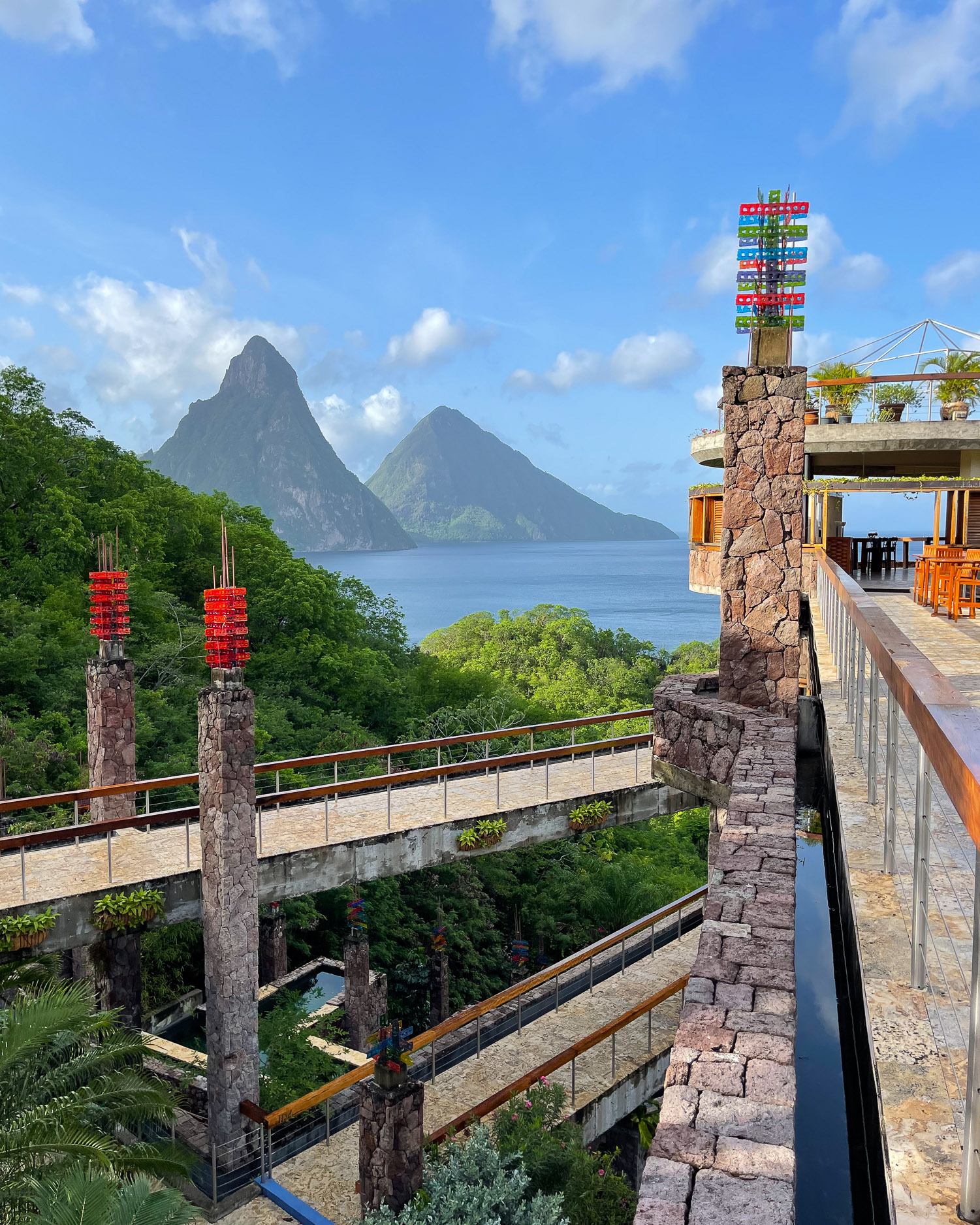 The 29 sanctuaries (as the suites are called) have 15ft high ceilings to create a sense of space, with one side open to the outdoors. This indoor – outdoor concept is integral to the design, giving the feeling of being surrounded by nature. At Jade Mountain rather than looking out at the view, you feel that you are in the view.
Dramatic bridges lead to each sanctuary, giving them a sense of exclusivity and seclusion. Walkways criss-cross with the edges softened by creepers and tropical planting spilling over each level. Perhaps the architect drew inspiration from those Escher drawings of never ending staircases? If the "Hanging Gardens of Babylon" were reimagined as a hotel, it surely would be Jade Mountain.
Despite the challenging mountain terrain, the exact site of Jade Mountain was selected to maximise the views of the landscape towards the Pitons and ocean. If the building had shifted too far right or left, the views would have been obscured by cliffs or hillsides.
Once the footprint of the structure was determined, the need to maximise the views meant that the only way was up, to stack the floors vertically. Amazingly for such a complex building project, the design was adjusted and revised as it developed, to create, as Nick Troubetzkoy later commented, " a grand, organic work of art, growing in the landscape".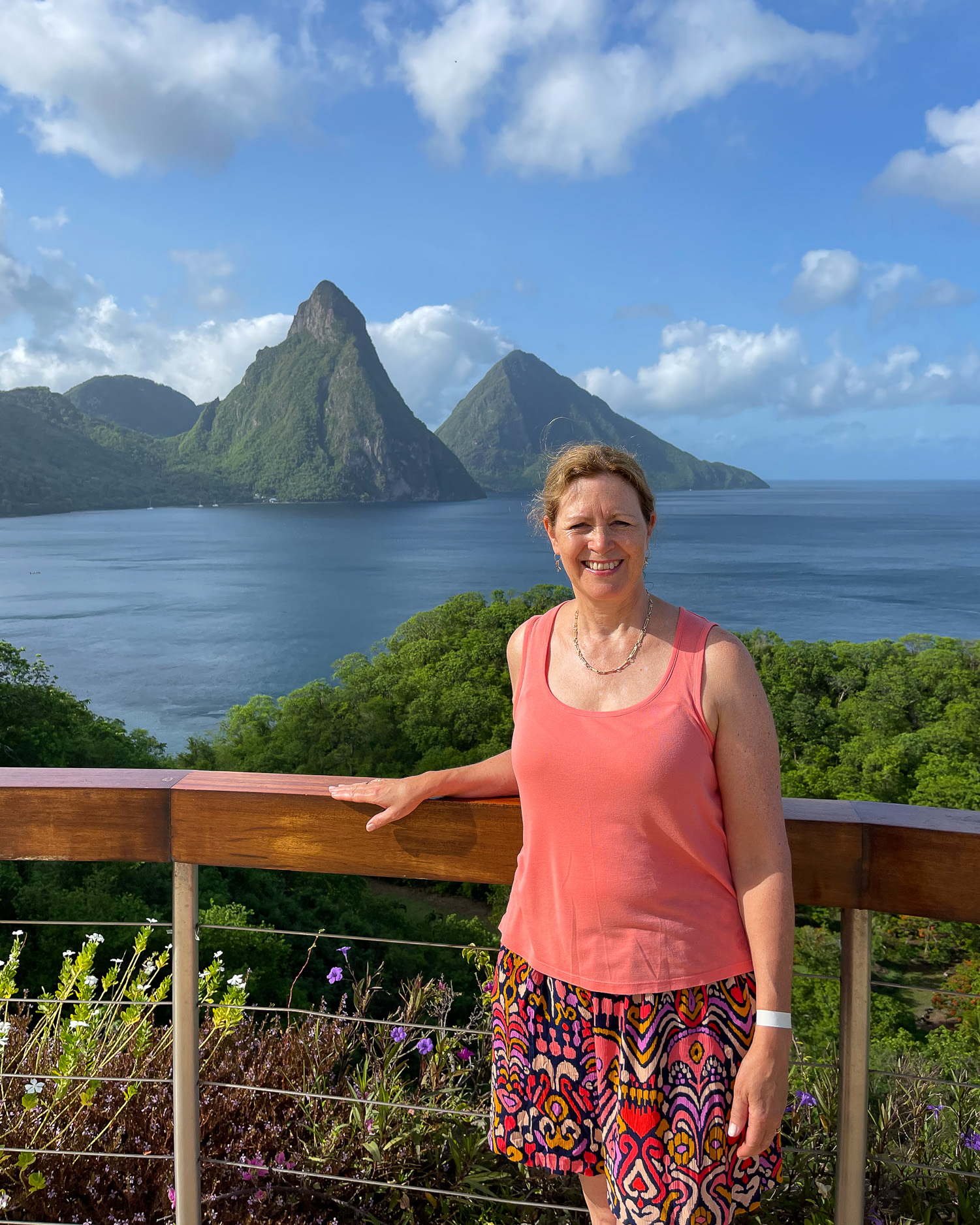 The Sanctuaries at Jade Mountain
Built on the precipitous hillside to maximise the location and views, the design of Jade Mountain evolved organically, with curving lines and an open air concept. All the sanctuaries have one side open to the outdoors, with a stone terrace area as a buffer to protect guests (and the polished wooden floors) from tropical rains. Each of the 29 sanctuaries is individually designed, with a slightly different layout, but all offer the open air living and stunning Piton views.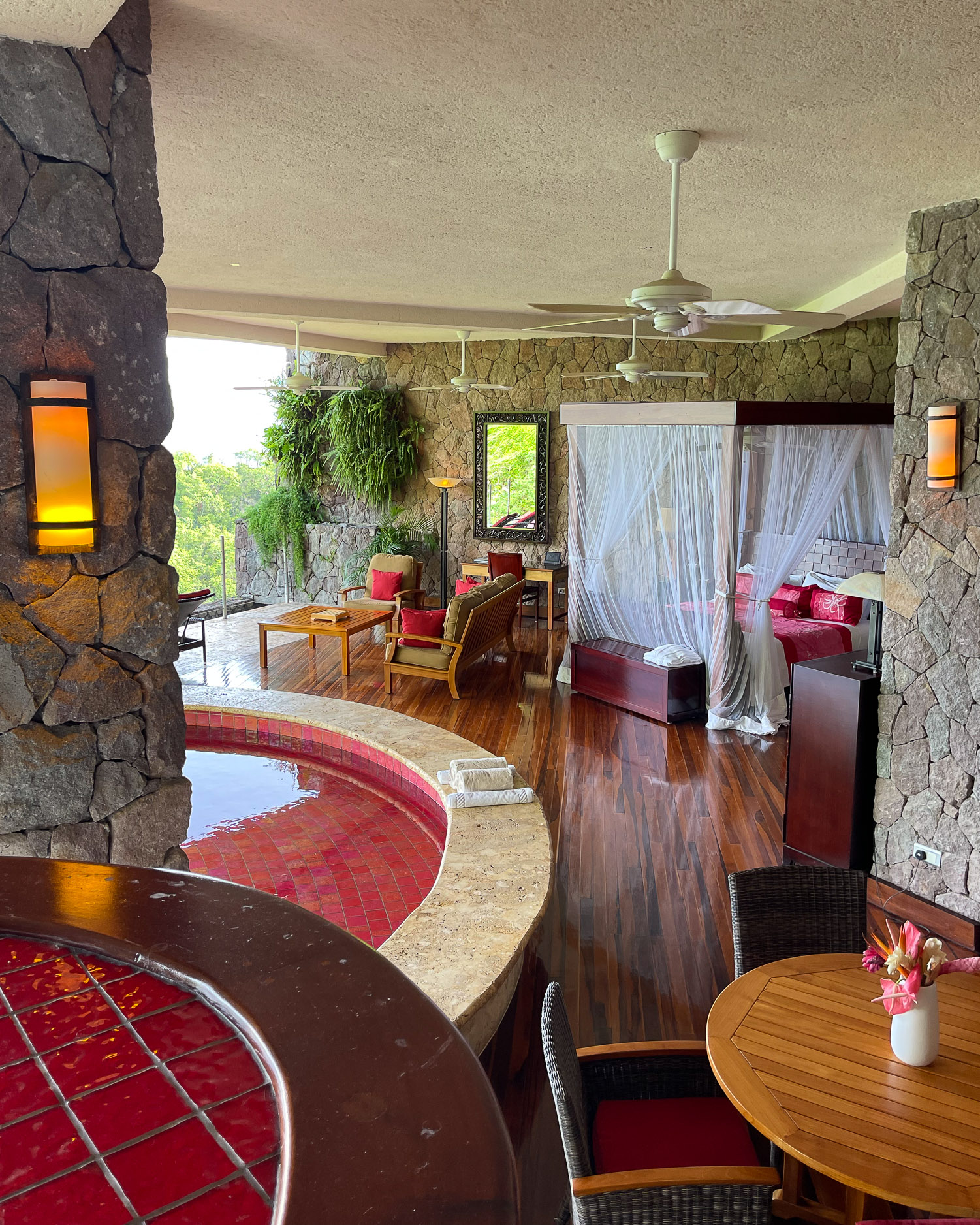 The different categories of sanctuary are determined mainly by size and location, rather than any major difference in the level of fittings or decor. King size beds are decorated with colourful batik style cushions and throws, a spacious sitting area is furnished with rattan sofas, sun loungers, a dining table and chairs and the bathroom is raised and open plan. Natural materials have been used throughout, with tropical hardwoods sustainably harvested from the Caribbean for floors and furnishings, while quarried coral and stone is used on walls and other surfaces.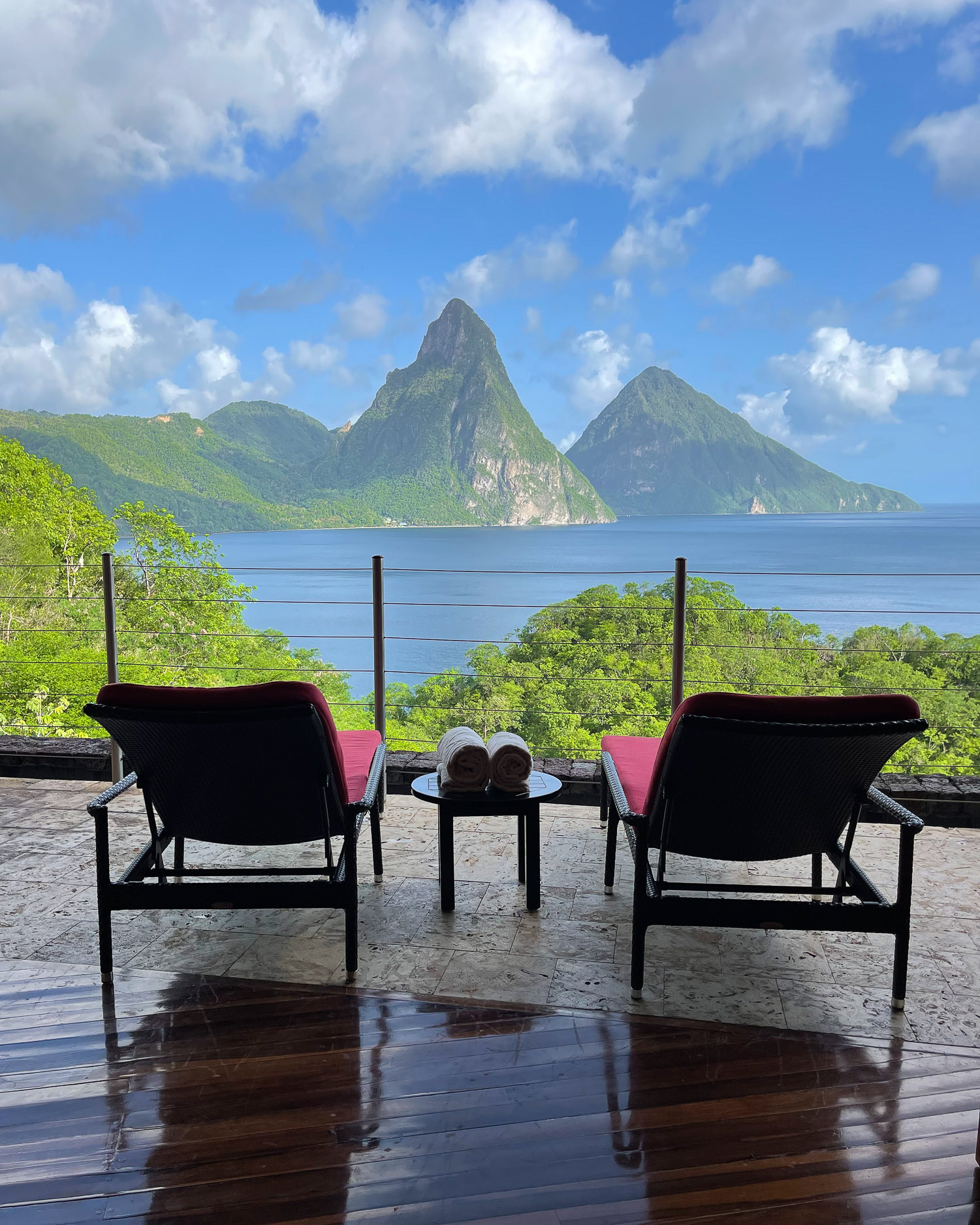 Categories of sanctuary at Jade Mountain
Galaxy – these are the highest category at Jade Mountain. There are 3 Galaxy sanctuaries on the hotel's south-west corner, with the most commanding views. Average size is 2000 square feet with an infinity pool of 900 square feet
Sun – these are located on the north east and south-west corners of the hotel, commanding panoramic 270 degree views. Average size is 1800 – 2000 square feet with an infinity pool of 900 square feet.
Moon – these are located in different levels of the hotel. Average size is 1600- 1950 square feet with an infinity pool of 650 square feet.
Star – these are located in different levels of the hotel. Average size is 1400 – 1800 square feet with an infinity pool of 450 square feet.
Sky – there are 5 Sky whirlpool suites, that offer a large jacuzzi bathtub with views of the Pitons, but do not have a private infinity pool. Average size is 1650 square feet and one of the Sky suites offers glass windows and air conditioning.
Room amenities at Jade Mountain
With sustainability in mind, local materials have been used wherever possible. During the building phase, the resort set up its own rock quarrying and crushing operation to ensure a supply of local building materials. The 'local first' philosophy also extends to the individually designed furniture and doors, made from tropical hardwoods in the resort's own workshops.
Other room amenities include
Top quality and individual designs of bathroom fittings from Hans Grohe and Duravit
Free standing shower towers with a rainforest shower head, 6 different water jets and a hand held shower.
Chromatherapy whirlpool tubs that offer Piton Views and use colour and light to create a therapeutic and relaxing effect.
A fridge and tea / coffee making facilities complete with a range of herbal teas and locally grown coffee.
Hair dryer, iron, ironing board
Frette bathrobes, slippers and towels
Our stay at Jade Mountain
For some of our visit, we stayed in one of the Sun Infinity pool suites, and really enjoyed the use of the huge infinity pool, to waft around, relax and just drink in those views. The sanctuaries feel incredibly private, since you can see no-one and no-one can see you, even when you look out from the terrace over the canopy of tropical forest and vegetation. The sanctuaries are incredibly spacious, as big as the average city apartment. Warm tropical air circulates around you day and night, giving the sense of being at one with nature.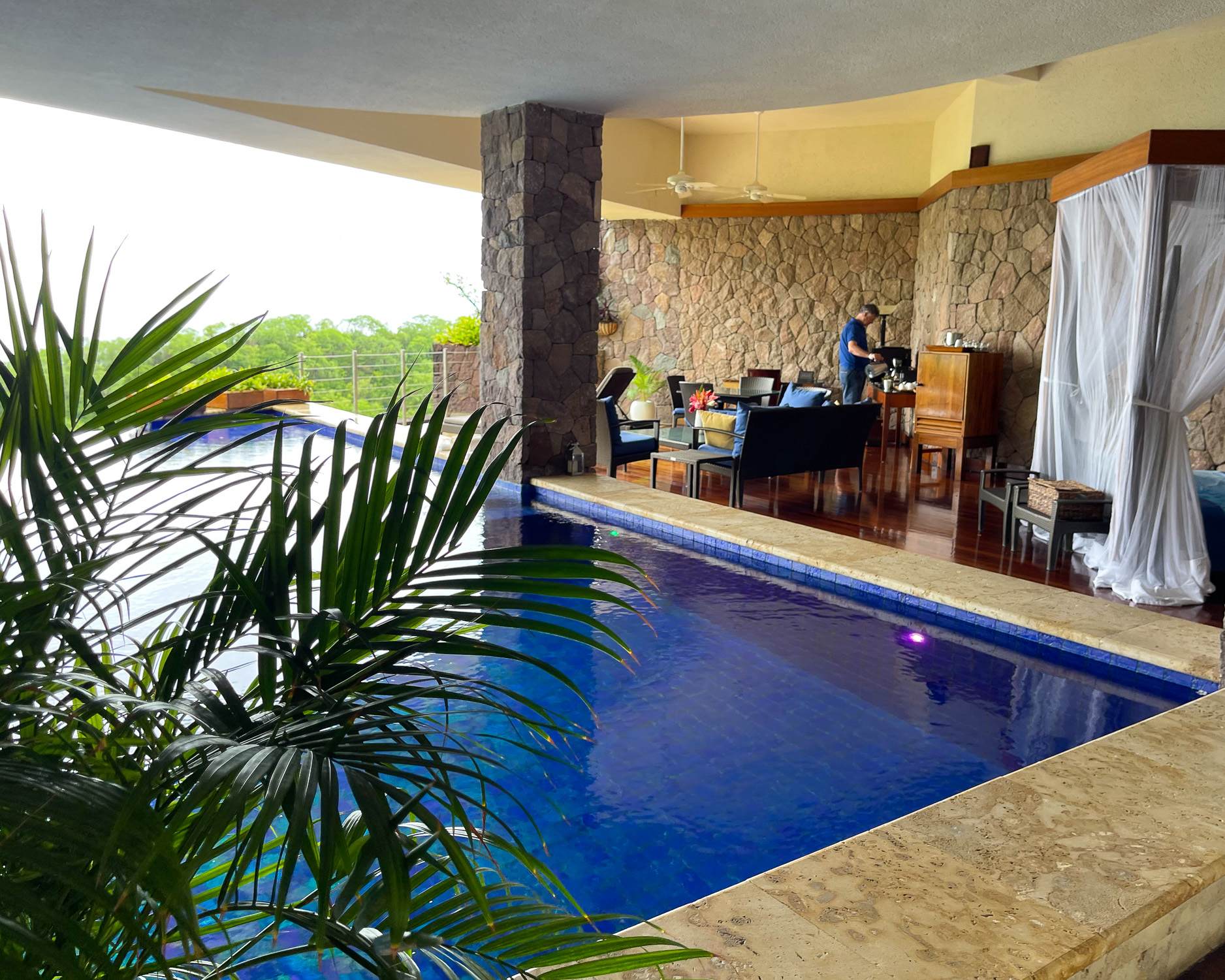 Sky Sanctuary at Jade Mountain
We also stayed in one of the Sky sanctuaries, which are located on the ground level of Jade Mountain. These also have beautiful views and despite being on the lowest level of the hotel, you can look down on the tree canopy below. The Sky sanctuaries are the only ones that don't have their own private infinity pool, but instead they have a large jacuzzi, big enough for two people to relax, with views of the Pitons.
It was a lovely suite, with all the space and amenities we could wish for. However, I do think that the private infinity pools are what make Jade mountain special, so I'd personally recommend upgrading to one of the sanctuaries that have their own pool. If you don't like the idea of being entirely open to the elements, it's worth knowing that one of the Sky sanctuaries has windows and air conditioning, if this is what you prefer.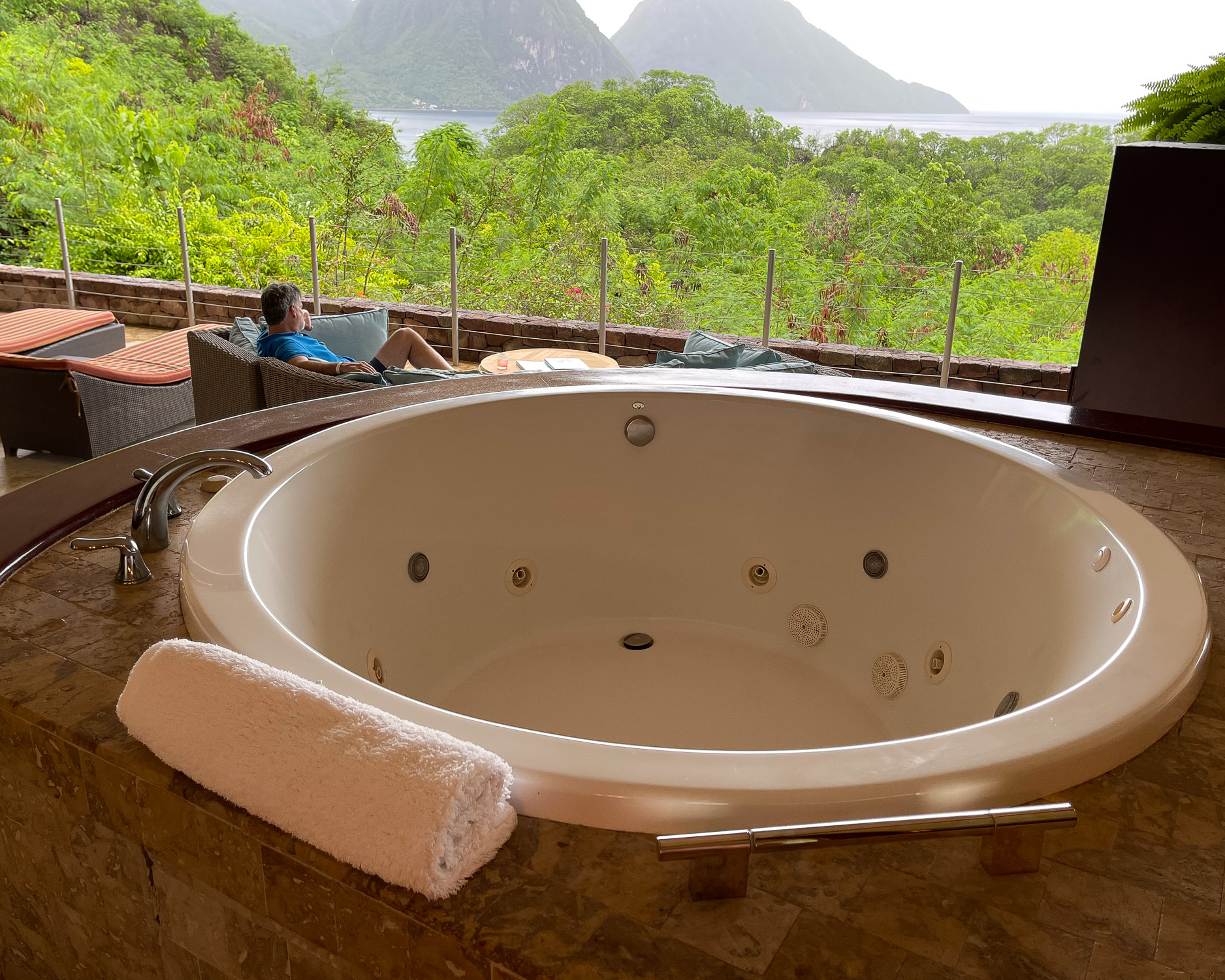 Your Major Domo at Jade Mountain
One aspect of Jade Mountain that we really enjoyed was the services of our "Major Domo", as butlers are known at the resort. The Major Domos elevate the already excellent service to an ultra-luxurious level and are there to help you with anything that will make your holiday more enjoyable. At the start of your stay, you will be given a small "firefly" mobile phone, which gives you a 24 hr direct line to your Major Domo, and he or she will be happy to assist you at any time.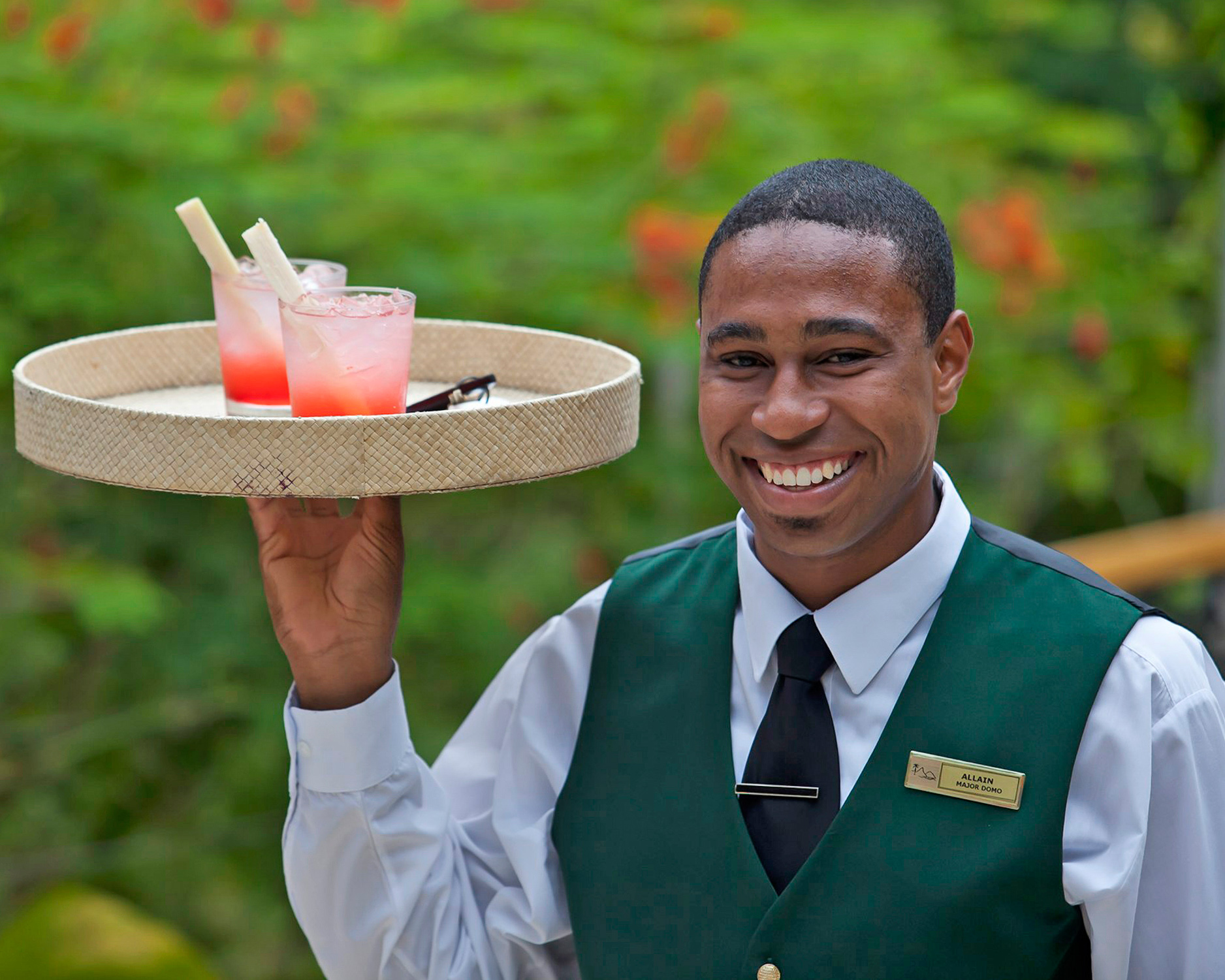 We used our Major Domo to guide us to different areas of the resort, to make restaurant and activity reservations, to order a shuttle down to the beach and back and to order breakfast in our sanctuary, which he carried from the kitchens on a huge tray and set up for us.
Of course their services can extend to many other areas, such as unpacking your cases, organising special events, and delivering room service meals to your sanctuary. The friendly but professional interaction with the Major Domo is, I suspect, one of the things that guests find most memorable about their stay at Jade Mountain.
Infinity Pools at Jade Mountain
Undoubtedly one of the major draws of Jade Mountain are the infinity pools with the Piton Views framed by lush vegetation, where you can swim in complete privacy. They have such a Wow! factor that I suspect many couples book Jade Mountain on the strength of those infinity pools alone, such is the power of the Instagram photo! All the sanctuaries have their own infinity pool and jacuzzi, other than the Sky sanctuaries that have just a Jacuzzi.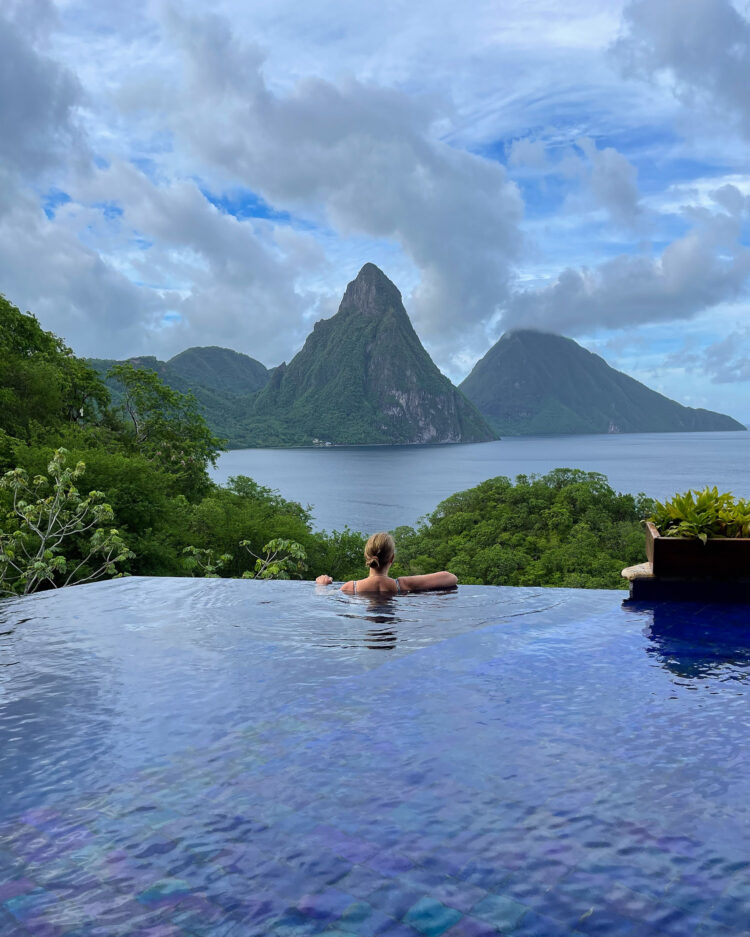 Glass iridescent tiles are a major feature of the infinity pools, each with its own colour scheme, that carries through the whole sanctuary. Depending on the light and time of day, the tiles can appear as a block of colour, or they ripple with a rainbow of different shades. Guests may also use the fibre optic lighting to illuminate the pool at night, with a range of different colour settings.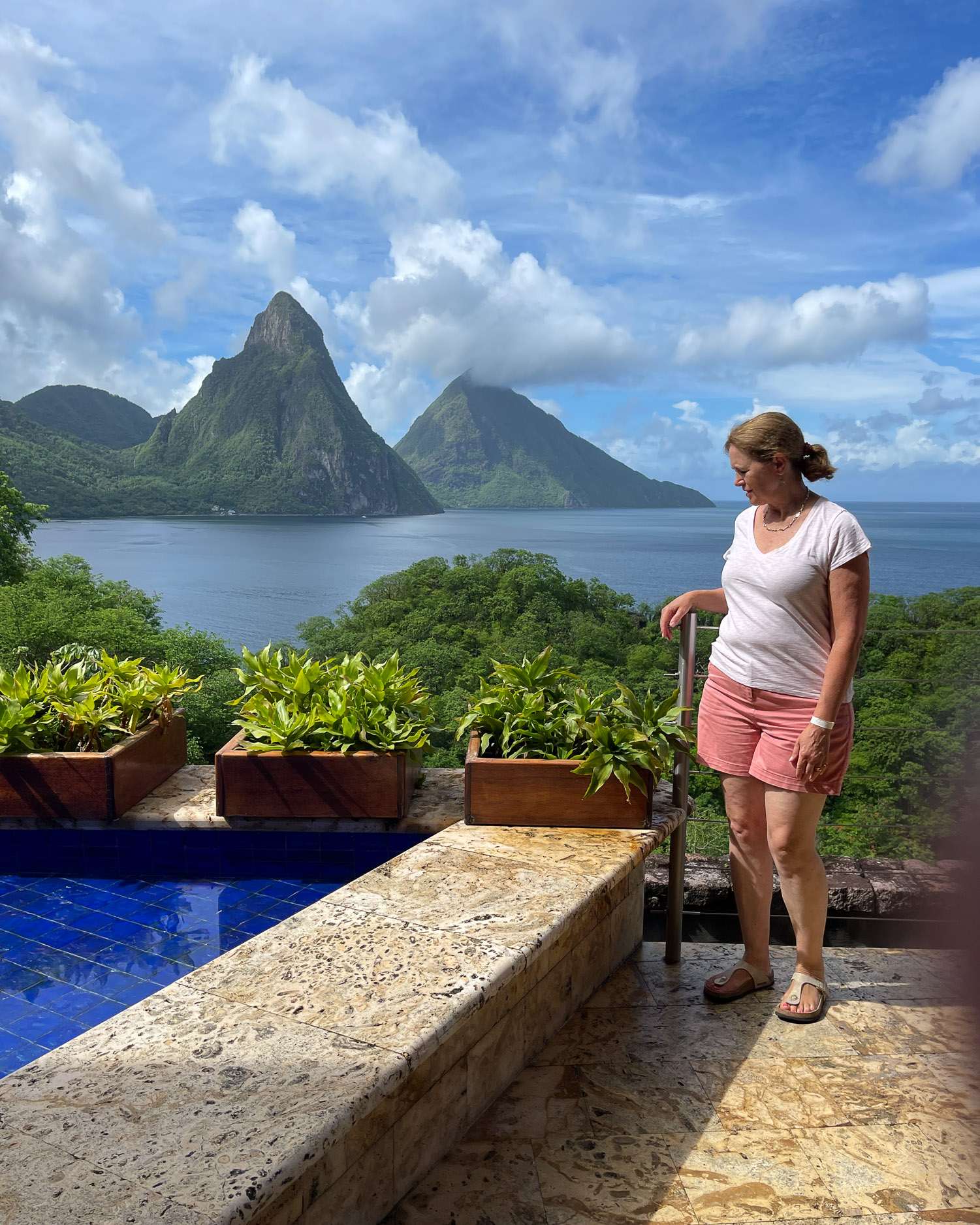 The pool water spills into a channel running out of sight below the sanctuary, that drains into a system of filtration tanks cascading down one side of the hotel. Water is refreshed around 6 times per day, being sent through a filtration system of zeolite sand and sterilised with ozone.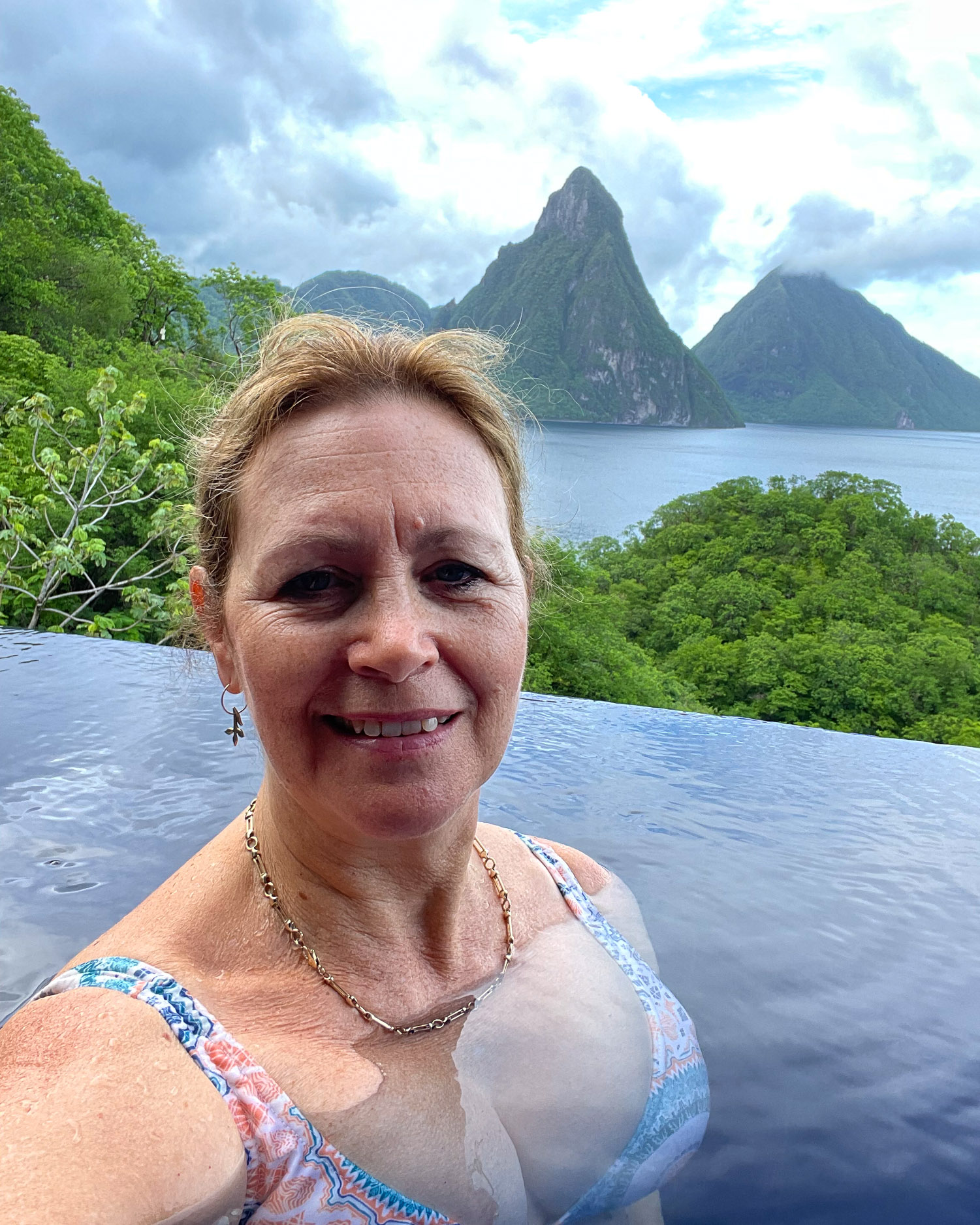 It felt incredibly relaxing to waft around in our private pool, enveloped in nature and the postcard-worthy Piton views that surrounded us. At Jade Mountain it feels like you own the whole view of sea and sky – it's been created just for you!
Bathrooms at Jade Mountain
Each sanctuary is slightly different in its design, and this follows through to the bathrooms which are open plan, in line with the open air concept of the sanctuaries. The colour theme of the sanctuary follows through to the iridescent coloured glass tiles, with coral stone tiles used together with natural wood.
We enjoyed the large "his and hers" sinks, and the powerful free standing shower with different jet settings. Of course there are plenty of soft towels and towelling robes so you can lounge around after a swim or dip in the Jacuzzi!
We were pleased to see that the VOYA toiletries were in large, refillable bottles, a sustainable approach that's increasingly being adopted by luxury hotels. VOYA products are used within the hotel's Kai en Ciel Spa and use wild Irish seaweed for their organic skincare and toiletries range. Our selection included Lime and Mandarin scented body wash, body lotion, shampoo and conditioner as well as a few vanity set items.
Breakfast at Jade Mountain
Breakfast can be taken either in the resort's restaurant, Jade Mountain Club or in your sanctuary and we tried both options. The Continental Breakfast covers hot beverages such as tea and coffee, juices, breads and pastries, muesli, yoghurts and cheese or cold meat platters. There are also numerous cooked options, such as poached eggs, classic English style breakfast, omlets, porridge, crepes and French toast.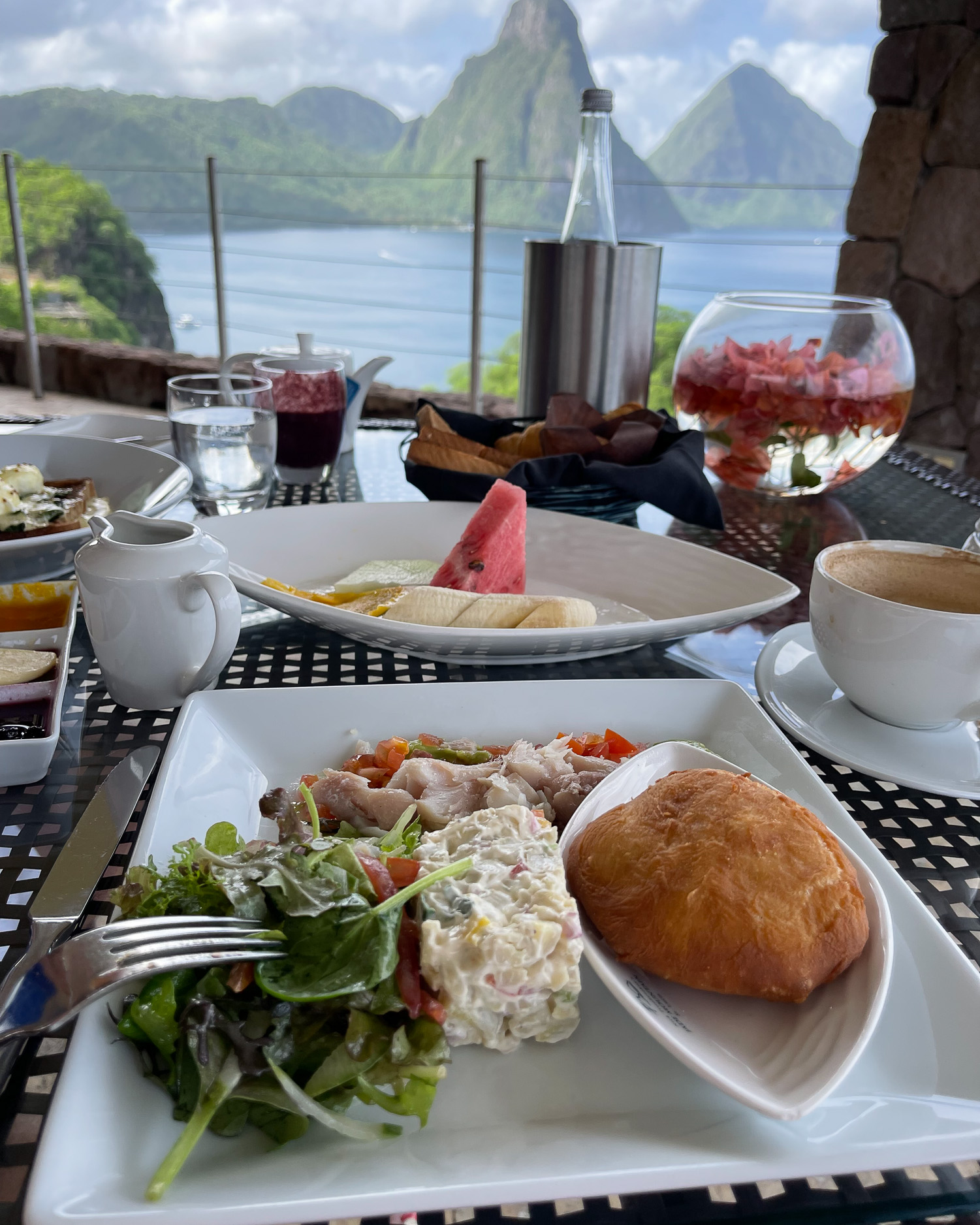 I opted for the St Lucia Green Fig and salt fish, as I was curious to try St Lucia's National Dish. It's served with a traditional bake on the side and the green fig is actually unripe banana, served in a mayonnaise dressing like a salad. With a platter of local fruits and a coffee, this was a delicious breakfast, made even nicer by the amazing Piton views from the restaurant. Many of the menu items use local ingredients, with fruits and vegetables grown at the resort's Emerald Estate and St Lucian favourites such as Johnny cakes, bakes and coconut bread.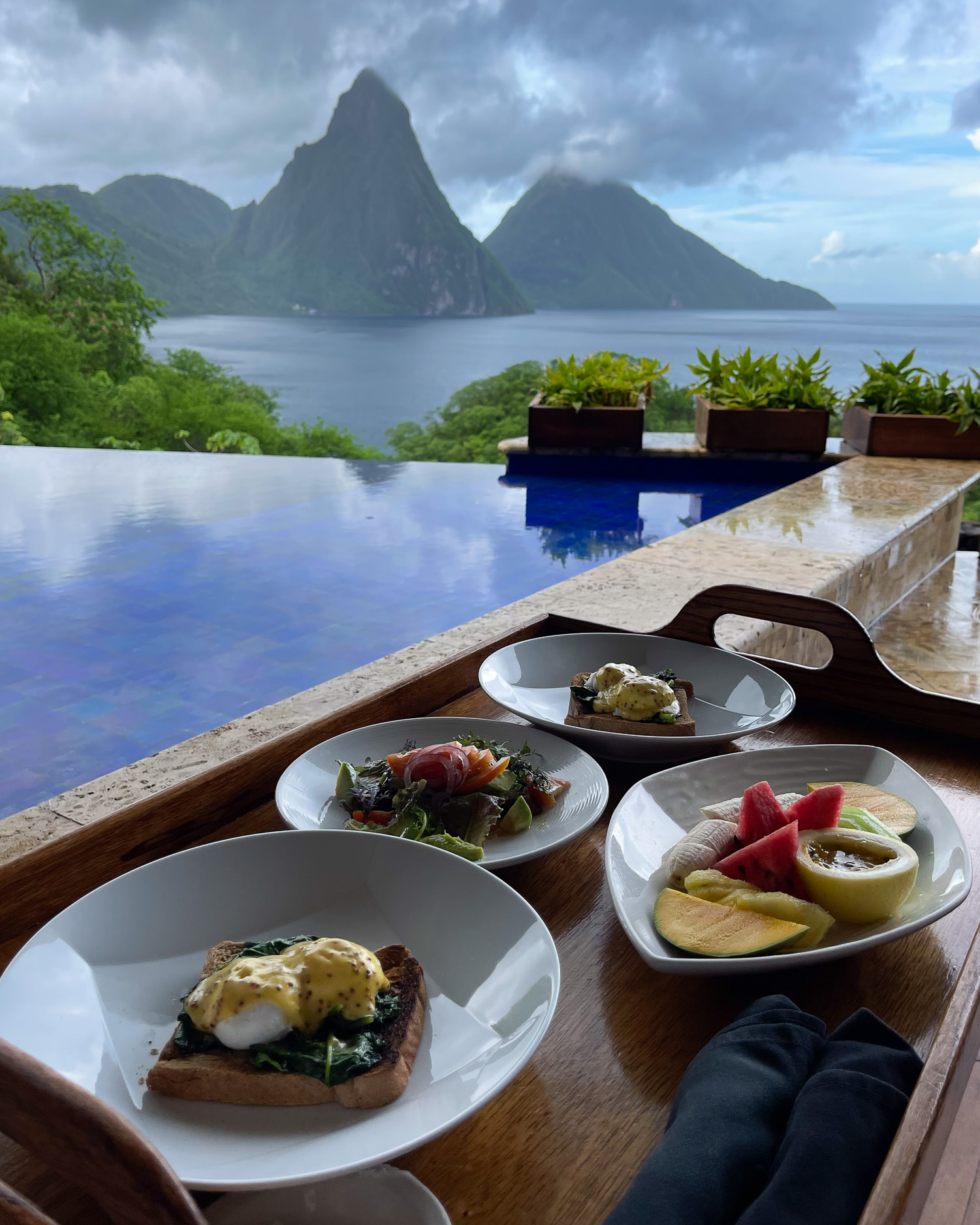 We soon realised, that one of the luxuries of staying in the amazing sanctuaries at Jade Mountain, is that you can have exactly the same breakfast delivered to you to eat in your room. The benefit is that there's no waiting for your order to be taken or served and everything arrives at once.
You can specify the time you'd like breakfast and it arrives within a 30 min window, with hot dishes covered to keep them hot. We were also amazed that the Major Domos have to carry the heavy breakfast trays on their shoulder, from the kitchen at the top of the hotel, to our sanctuary at the bottom, using all the steps and stairways since there is no lift. What a workout – Bravo!
All of the options are included if you've opted for a meal plan, such as the All inclusive (AI) or Breakfast and dinner (MAP) plans, otherwise the Full breakfast is $36 US and the Continental Breakfast is $28.
Dining at Jade Mountain
As you'd expect, the food is exceptional at Jade Mountain, overseen by James Beard award winner Chef Allen Susser as Executive Chef. The "Jade Mountain Cuisine" on offer here is a fusion of Caribbean and international flavours, using the best produce the island can offer.
The resort's restaurant Jade Mountain Club, is located at the top of the resort building, with magical views. A central pool adds a refreshing element of water and colour, separating the bar area from the main dining area. Decor and table settings are elegant but understated, the star of the show being the incredible views and natural beauty that unfold from the restaurant terrace.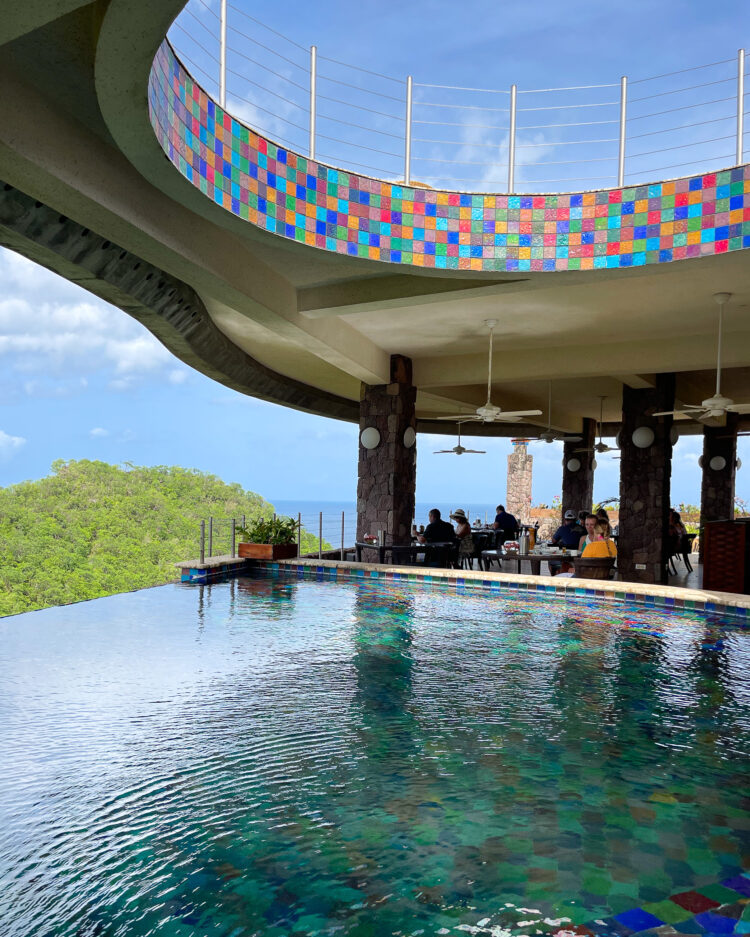 Many of the fruit and vegetables used are grown at the resort's own Emerald Farm at nearby Soufriere, which takes the "Farm the Table" theme to a whole new level. Anse Mamin Plantation, where guests can walk freely, also supplies fruit like mango, guava, oranges, tangerines, avocados, coconut, yams and sweet potatoes for the restaurant table.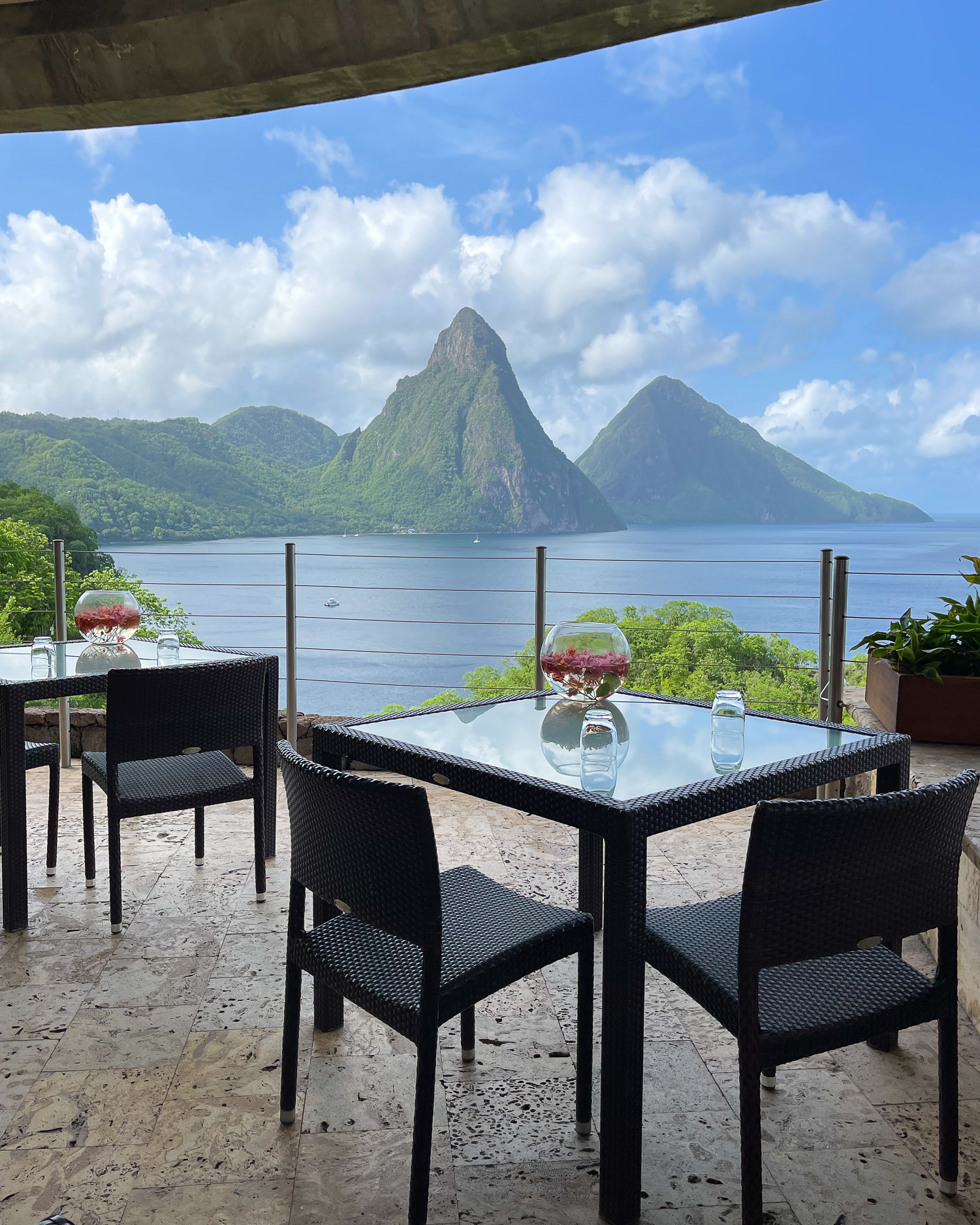 Jade Mountain Club's style, especially in the evening, is one of relaxed fine dining, with harmonious flavours and beautifully presented dishes. The menu is varied, and while local produce and flavours predominate, there are also international tastes such as Parma ham bruschetta as a starter or gourmet Aberdeen Angus burger with truffle aioli on the room service menu.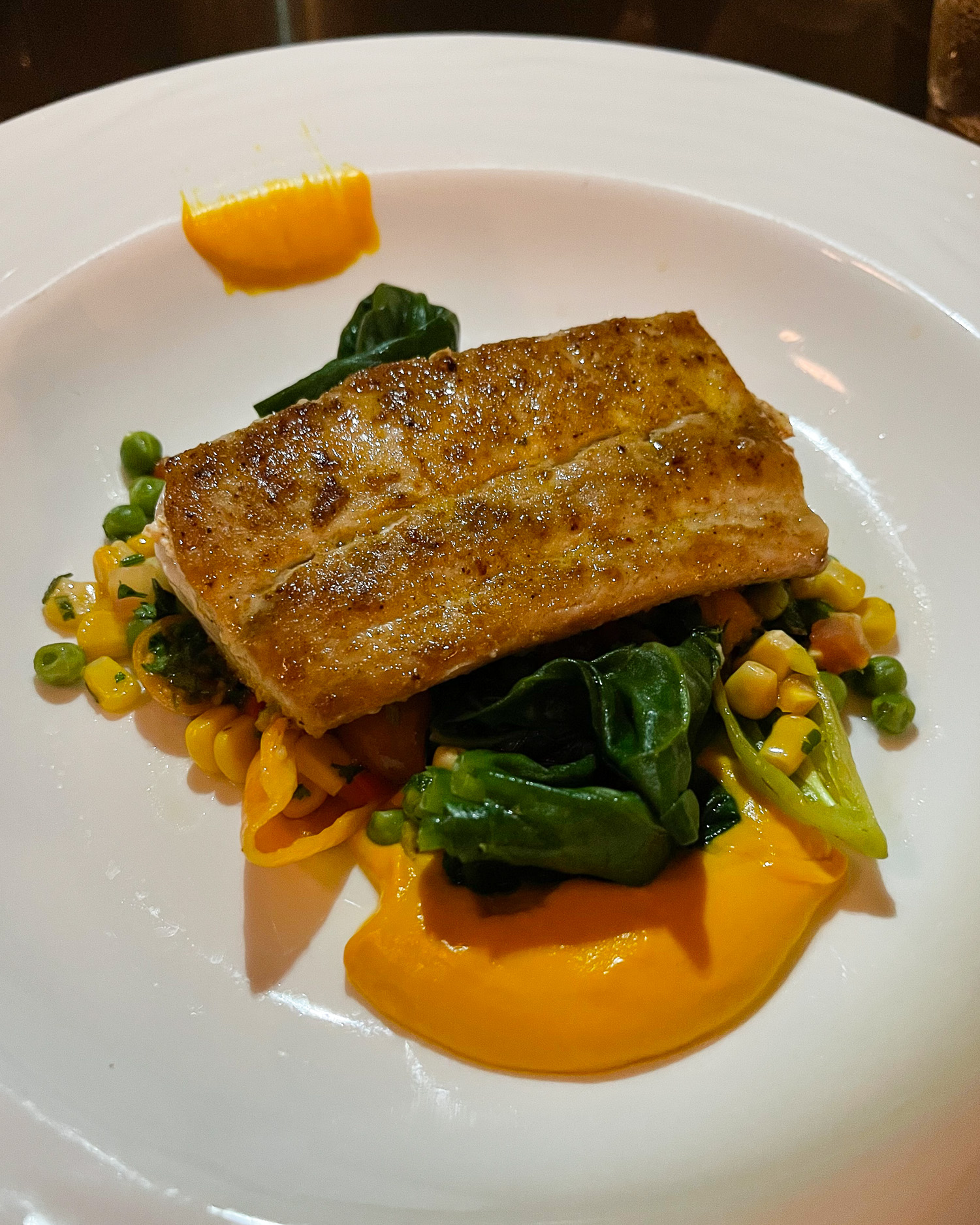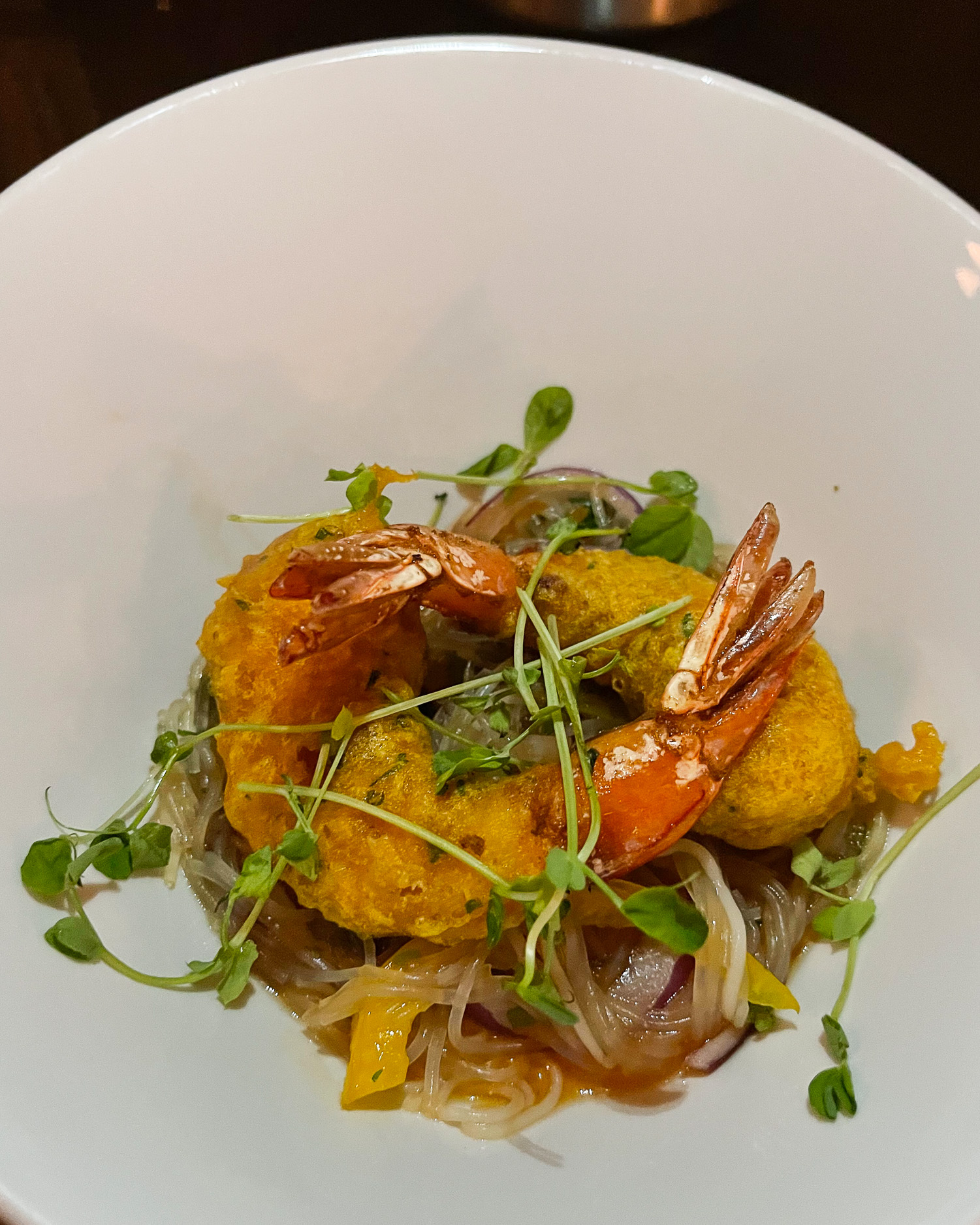 As we like to eat local as much as possible, my favourites were the fish dishes, like Lemongrass mahi mahi with pumpkin puree, green bean succotash and seafood bisque, followed by the Emerald Estate chocolate lava cake, with mango gelato and passionfruit coulis.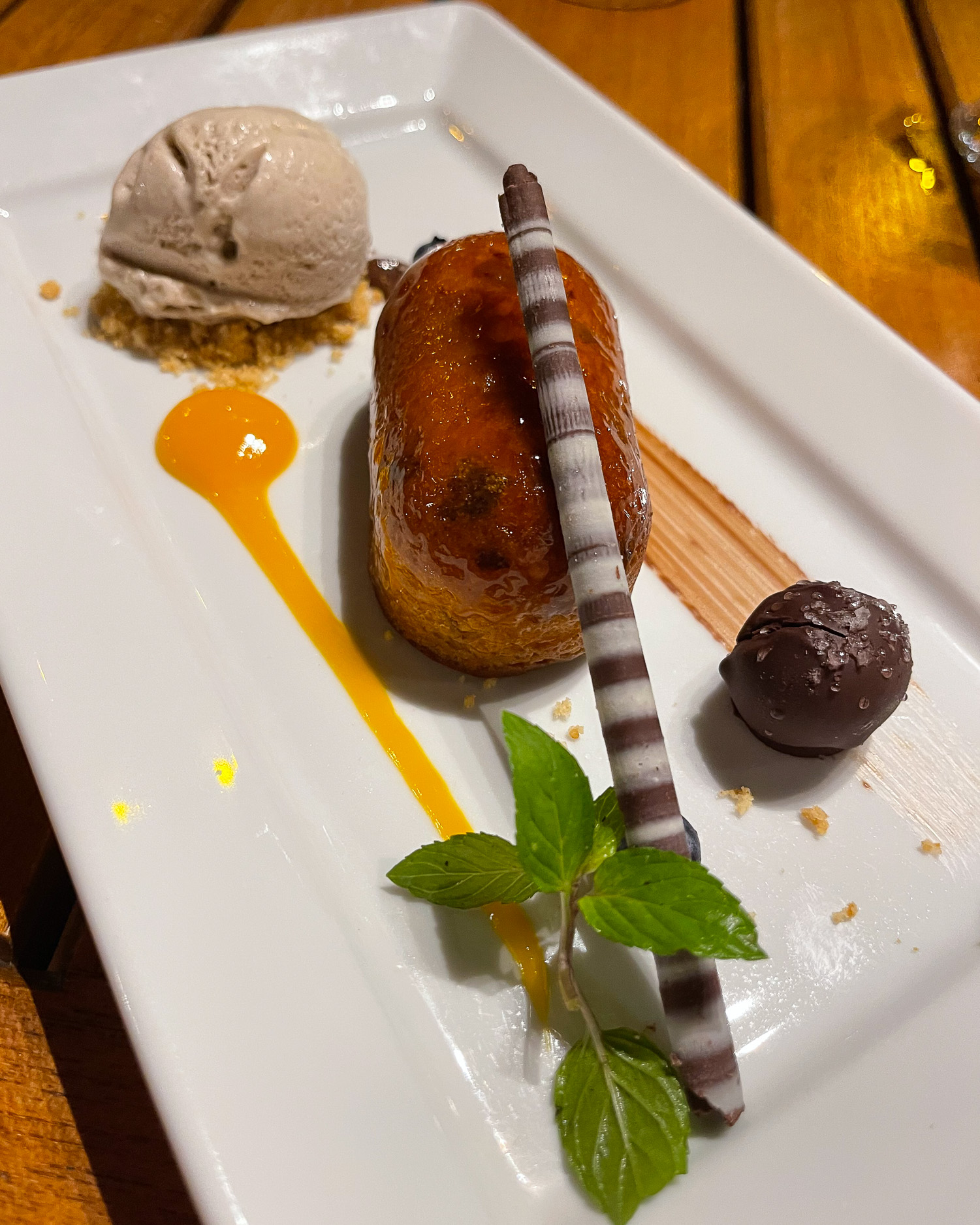 More dining experiences at Jade Mountain
While the Jade Mountain Club restaurant is exclusively for guests staying in the 29 sanctuaries, anyone staying there can also dine in any of the sister resort Anse Chastanet's restaurants. Add to this numerous special dining experiences and you can be sure that your stay at Jade Mountain will offer a truly gourmet experience.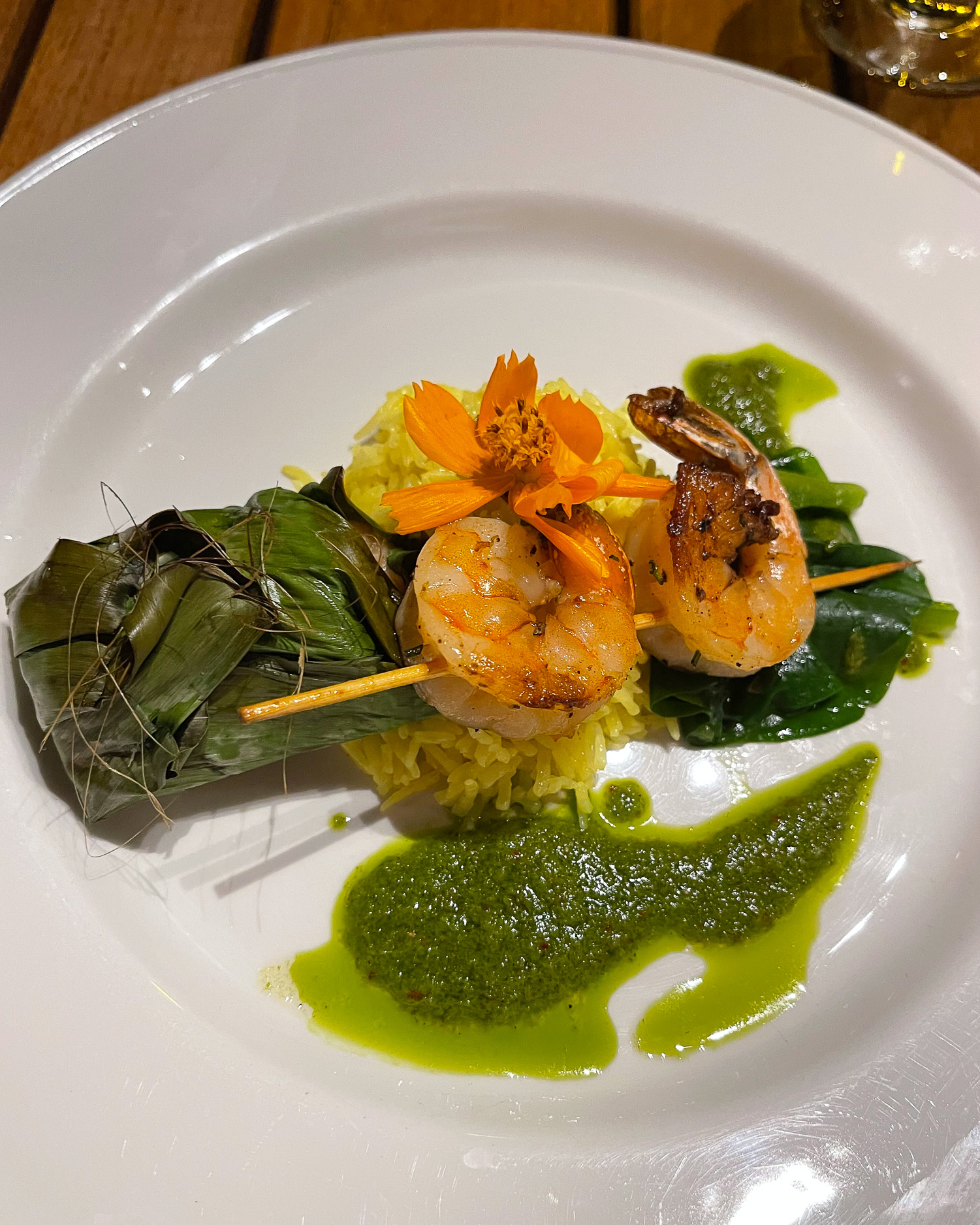 Dining experiences available at Jade Mountain include:
In Sanctuary Dining – Any of the dishes on the Jade Mountain Club menu can be served in your own sanctuary by your Major Domo. If you want to create an extra special experience, there are numerous options, including a 6 course menu with wine pairings, or the "Chef on wheels' option where a special dinner is created in front of you in your sanctuary.
Dining under the stars – A romantic dinner can be enjoyed under the stars, either on Anse Mamin beach or on the Jade Mountain Celestial Terrace.
Lionfish Dinner – we really enjoyed the special Lionfish Dinner that takes place every Friday on Anse Chastanet Beach, with a tasting menu of dishes using this tasty firm textured fish. Since Lionfish is an invasive species that threatens the reef, guest can help to "eat them to beat them"
Seasonal Events – Throughout the year, there are numerous culinary themes and events at Anse Chastanet and Jade Mountain that influence the menus and dishes on offer. In July you can enjoy "Mango Madness", when the fruit is at its most ripe and juicy, used in deserts, drinks and special menus. May draws on the energy, music and creativity of the annual Jazz, food and arts festival. October is Creole Heritage and Chocolate month, when the Emerald Estate cacao infuses many dishes and traditional dishes are celebrated.
Anse Chastanet Dining – guests at Jade Mountain can enjoy the full range of Anse Chastanet restaurants. We tried dinner by the beach at Aspara Restaurant, offering East Indian fusion dishes, drawing on the culinary influences that arrived on Saint Lucia with indentured workers from India in the 19th century. Other options are the Emerald Restaurant offering gourmet vegan cuisine, Trou du Diable beach restaurant, bar and grill, Jungle Beach Grill for lunch on Anse Mamin beach, and Treehouse Restaurant serving Caribbean fine dining and a Balawoo local seafood menu.
The Celestial Terrace at Jade Mountain
On the upper level at Jade Mountain Resort, the Celestial Terrace is the place to relax, chat and enjoy the breathtaking views. This open terrace is a space that's used in many ways, not least as a place to enjoy a sunset cocktail and indulge in a spot of star gazing as dusk falls.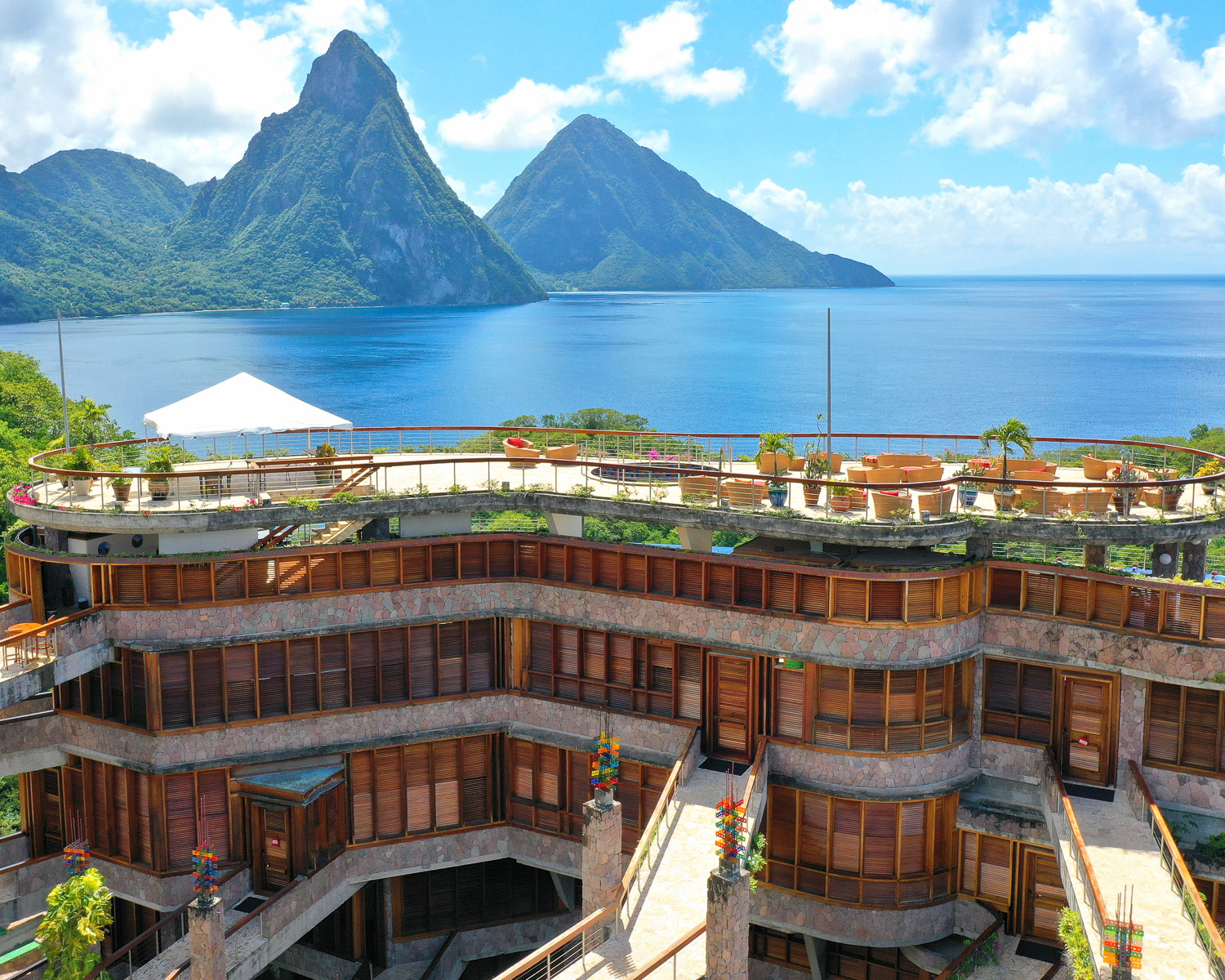 The terrace is also a romantic space that's often used for wedding celebrations, or private dining under the stars. When you stay at Jade Mountain, this is one place you'll want to take lots of photos of those Piton views, framed by the sea and tropical forest.
Yoga classes are held on the terrace on the early morning, where you can practice with a view of the Pitons.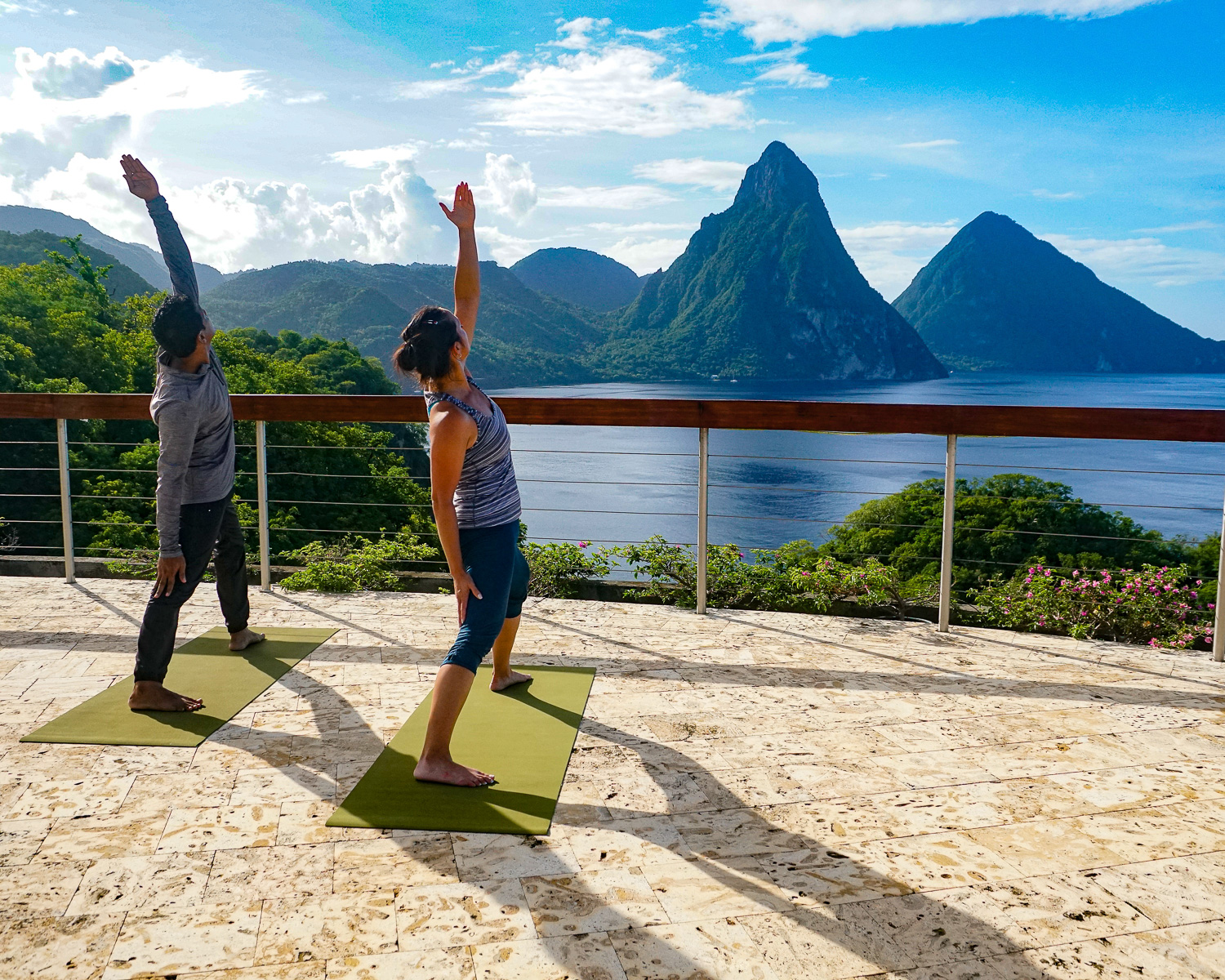 Beaches at Jade Mountain
Guests at both Jade Mountain and Anse Chastanet, enjoy the use of not one but two lovely beaches. While all beaches in St Lucia are public, both beaches feel quite private, as they are around the headland from the nearby town of Soufriere and access is less easy for visitors not staying at the resort.
Anse Chastanet Beach
Immediately below the resort is Anse Chastanet Beach, where the resort maintains sun loungers for guests, who also have the use of the Trou du Diable Beach bar and restaurant. This wide, palm fringed beach offers calm, clear waters for swimming with a Dive Centre and excellent snorkelling in a protected area at one end. From Jade Mountain Resort, there's a shuttle on call to take you down to the beach, or of course you can walk down the hill through Anse Chastanet Resort.
Anse Mamin Beach
A short distance around the headland from Anse Chastanet is Anse Mamin Beach, where we enjoyed a lovely swim. There's a Robinson Crusoe feel about Anse Mamin, backed on each side by cliffs covered with lush vegetation and fringed with palm trees that lead into the Anse Mamin Plantation. Guests from both Jade Mountain and Anse Chastanet enjoy the use of sun loungers, towels and the Jungle Grill and Bar, serving drinks and burgers throughout the day.
This most romantic of beaches, is where honeymooners often book a special private dining experience, served at dusk on the beach. Anse Mamin Beach can be reached in a pleasant walk along the coastal path that links both beaches, or by the hotel's shuttle directly from Jade Mountain.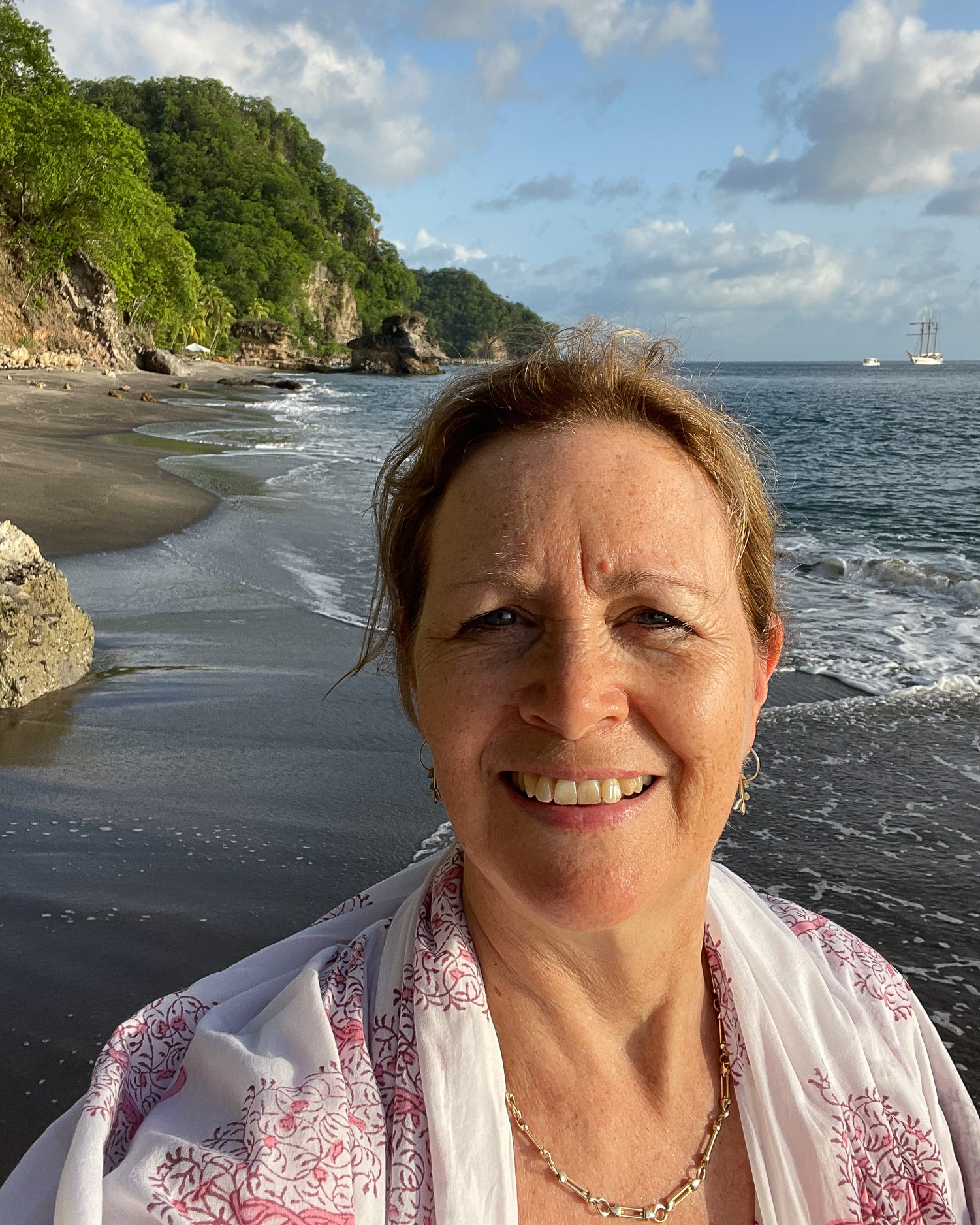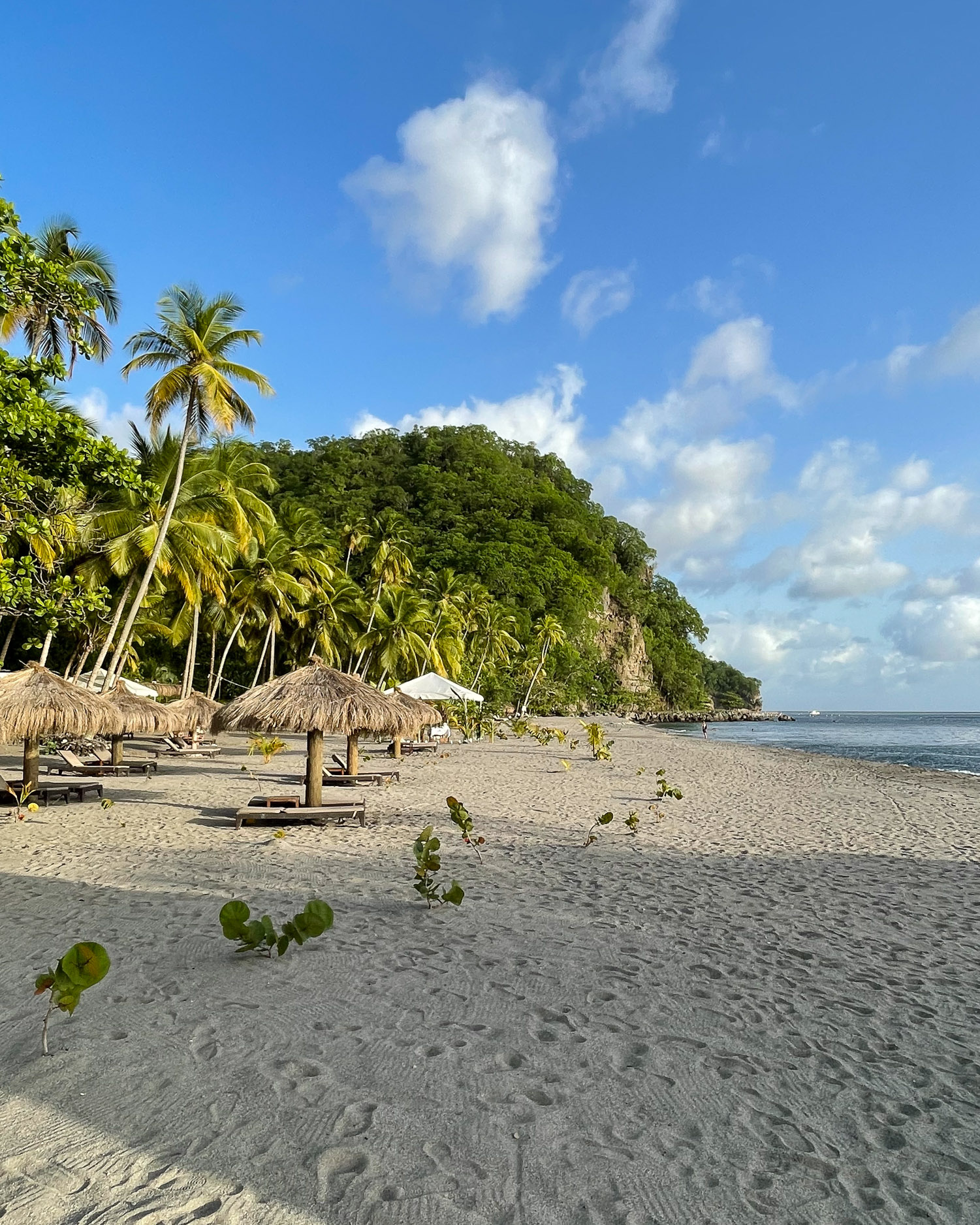 Activities at Jade Mountain
Guests at Jade Mountain can enjoy a huge range of activities and experiences, since all facilities are shared with sister resort Anse Chastanet that sits below at beach level. These include:
Tennis in the resort's court by Anse Chastanet beach
Diving at Scuba St Lucia Dive Centre on Anse Chastanet beach
Snorkelling on the reef by Anse Chastanet Beach and off Anse Mamin beach
Water sports such as coastal kayaking, paddle boarding, sunfish sailing, windsurfing
Jazzy sunset cruise on the resort's 60 ft catamaran
Mountain biking on the trails in Anse Mamin Plantation where there are also daily escorted walks, hikes and bird watching tours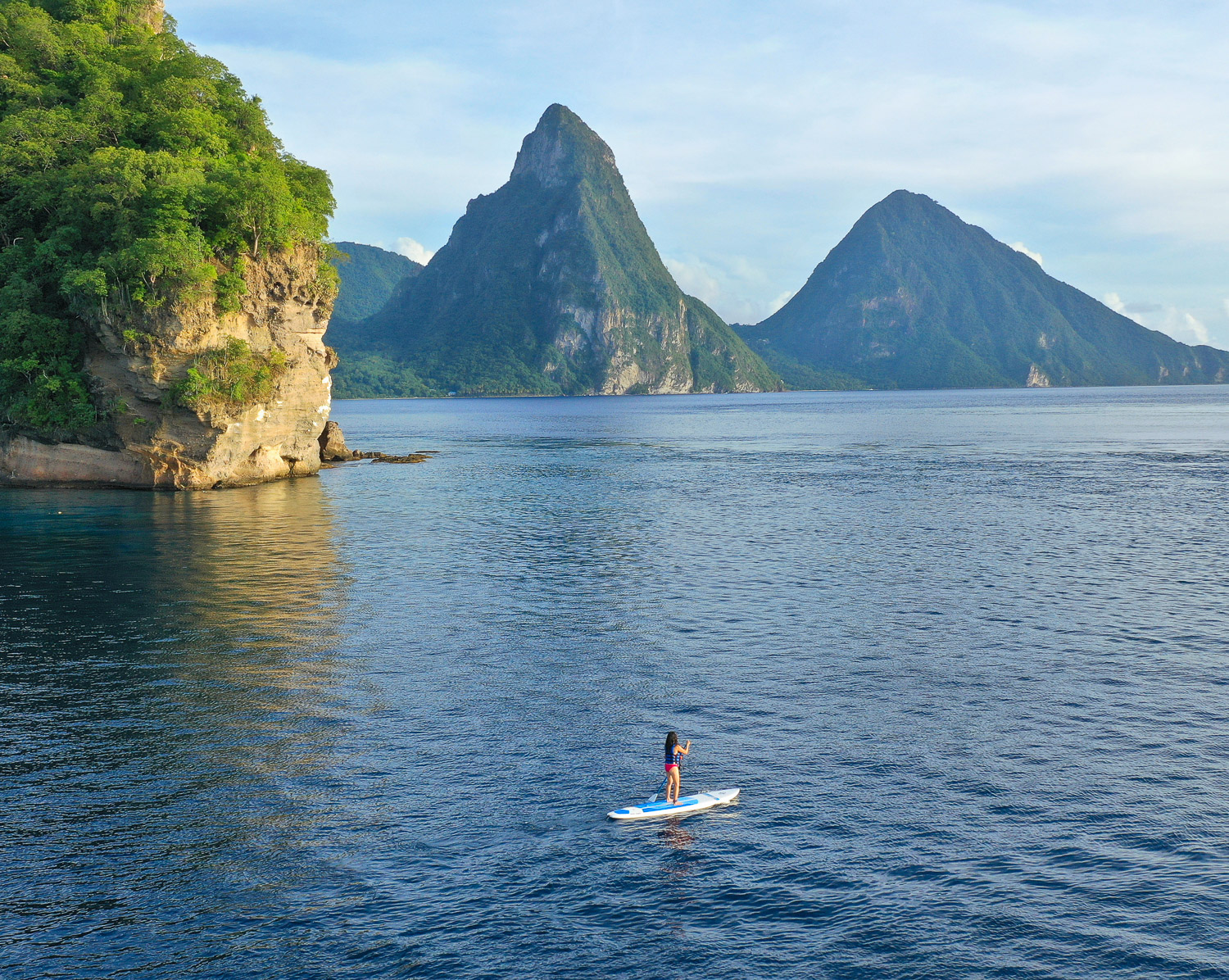 Anse Mamin Plantation
Anse Mamin Plantation sits just behind Anse Mamin beach, an old French colonial plantation that is privately owned by Anse Chastanet and Jade Mountain Resorts. This is for the use of hotel guests, who can take a complimentary guided tour arranged by the hotel, or just wander and explore on their own. Within the plantation are atmospheric ruins of the old sugar mill, cocoa shed and stables, with further paths leading up to the reservoir that supplies the resort with water.
Guests also have use of a mountain bike through Bike St Lucia, which is owned by the resort and has a base at the plantation entrance. There are a number of cycling trails within the plantation, many that are suitable for novices, others like the Tinker Trail that are only for the experienced rider.
Access to Anse Mamin plantation is along a coastal path that runs between Anse Chastanet and Anse Mamin beach for a 15 minute walk. Alternatively the mini bus shuttle can drop you from Jade Mountain, or you can take the hotel shuttle boat from Anse Chastanet beach.
Cocoa Lab at Jade Mountain
Jade Mountain and Anse Chastanet have their own farm and plantation at Emerald Estate, where cocoa beans and other crops are grown to use in the hotel kitchens. This enables them to offer a unique 'bean to bar' chocolate experience, allowing guests to taste and make their own chocolate.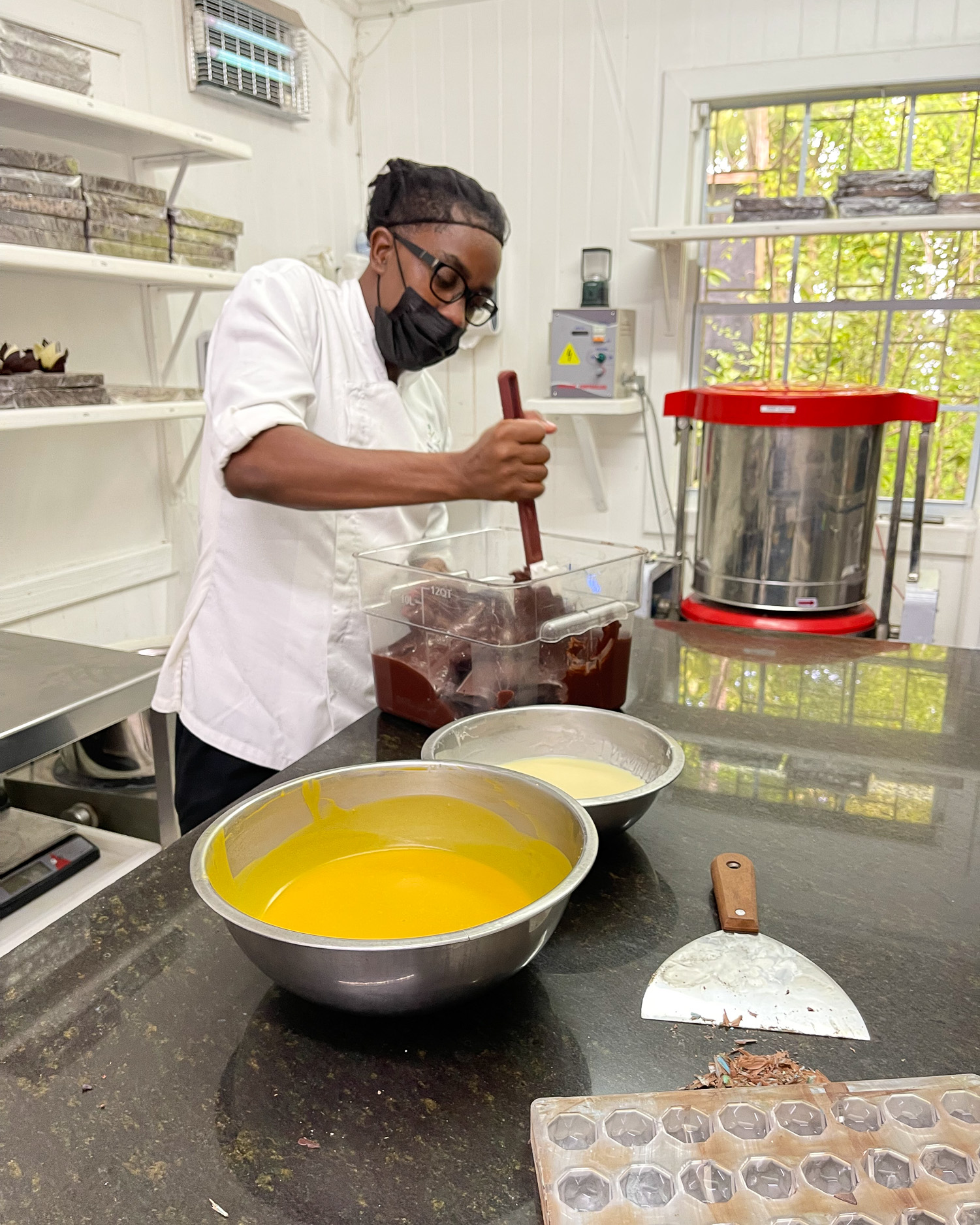 Guests first visit the Emerald Estate, in nearby Soufriere, to see how the cocoa is grown and processed, the beans being extracted, fermented, dried and then roasted. Back at the Chocolate Lab located in Jade Mountain, the cocoa nibs are ground and guests have a chance to make their own chocolate bars, as well as learning how the other specialty chocolates are created.
Emerald Farm
In the hills above Soufriere, just 20 minutes from the resort is Emerald Farm, supplying produce to both Jade Mountain and Anse Chastanet. Since 2007, the farm has been growing organic vegetables, salads, fruit, herbs, nuts and spices for use at the resort. This is also where a micro-brewery in collaboration with Antillia Beer is located, brewing craft beer to serve in the beach bar at Anse Chastanet beach.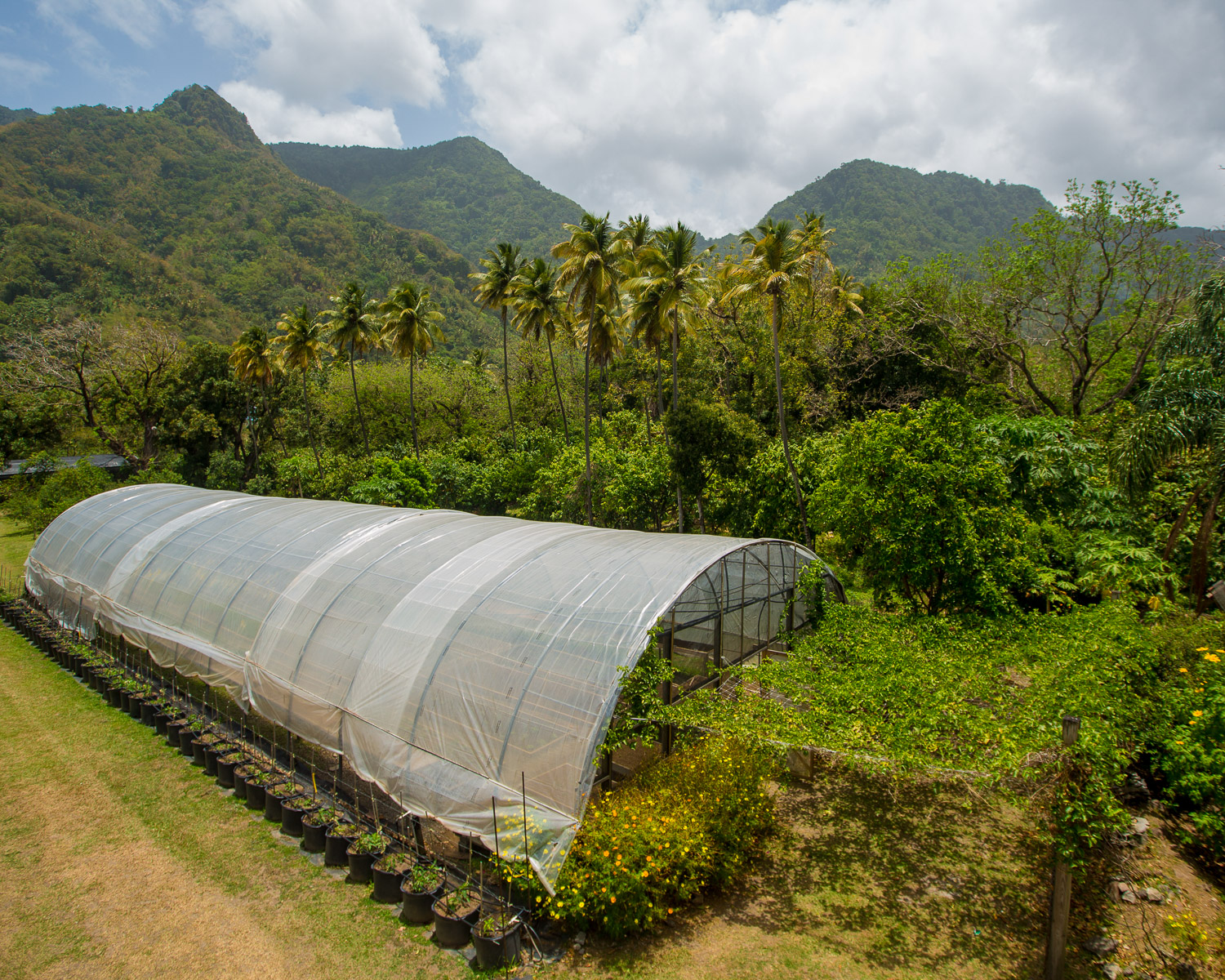 The farm's 1000 cocoa trees produce chocolate, used in the restaurants and sold as bars and bon bons in the resort's gift boutique. Guests can visit Emerald Farm to see how chocolate is made from bean to bar. Try the tangy taste of the cocoa bean pulp known as "Jungle M&Ms", and see the beans drying on racks in the sun, before returning to the hotel's Chocolate Lab to turn the roasted cocoa nibs into chocolate.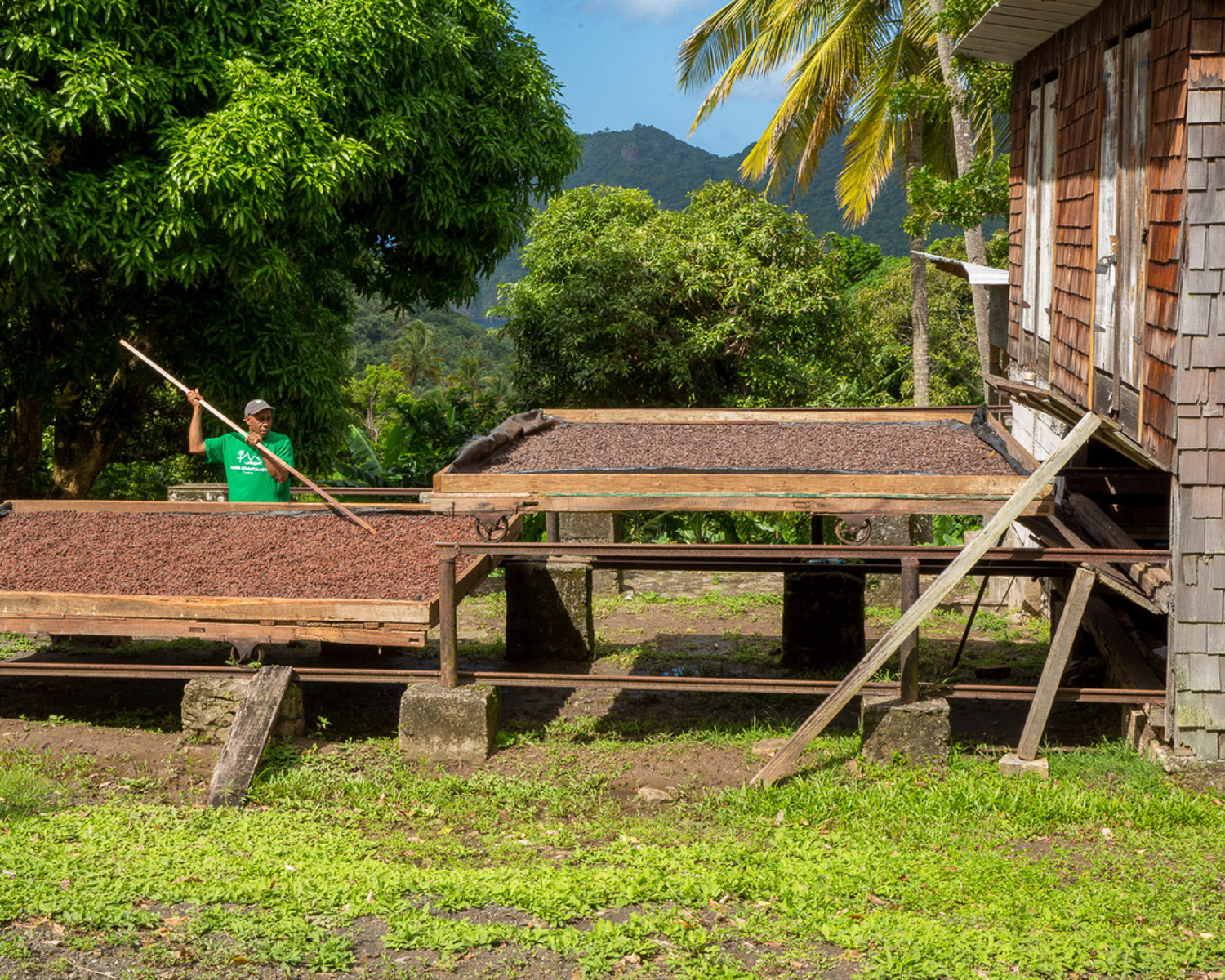 Lionfish Dinner at Anse Chastanet
One of the special experiences on offer for guests at Anse Chastanet and Jade Mountain is a weekly Lionfish dinner, which is served by candlelight on Anse Chastanet beach. We really enjoyed this unique tasting menu, although due to rain showers during our visit it was held in the resort's Treehouse restaurant.
Lionfish is an invasive species of fish with a voracious appetite that can easily clear the reef of young fish. Although beautiful to look at, the venomous spines mean that there are no natural predators to keep Lionfish numbers under control. This causes an increasing threat to reefs throughout the Caribbean.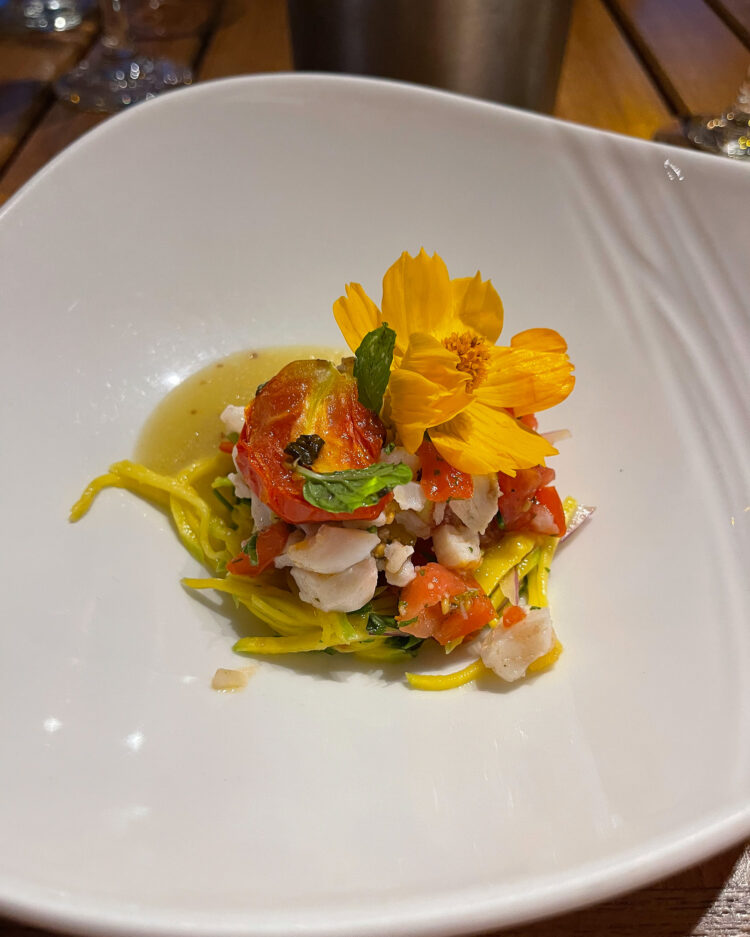 By offering special menus, hotels create a market to incentivise fishermen to catch it, while guests are encouraged to 'eat it to beat it'. The executive chef at Anse Chastenet has created a tasting menu using the lionfish in different ways and we were served a series of delicious dishes.
The delicate flavour and firm flesh of the fish was used in dishes such as lionfish and pickled green mango salad, pangrilled coconut spiced lionfish, lionfish pot stew and lionfish and shrimp skewers. At the end of the dinner we were given a cookery book full of lionfish recipes, and of course you can substitute other firm white fish if you want to cook these at home.
Dive Centre at Anse Chastanet Beach
One of the leading Dive Centres in Saint Lucia is owned by the resort and located on Anse Chastanet Beach. Scuba St Lucia is a PADI 5 star Dive Operation and is perfectly located close to the marine reserve that was established in 1955 to preserve the beauty of St Lucia's reefs. The reef starts just a few metres from the water's edge at Anse Chastanet beach, which is also a beautiful spot for guests to go snorkelling.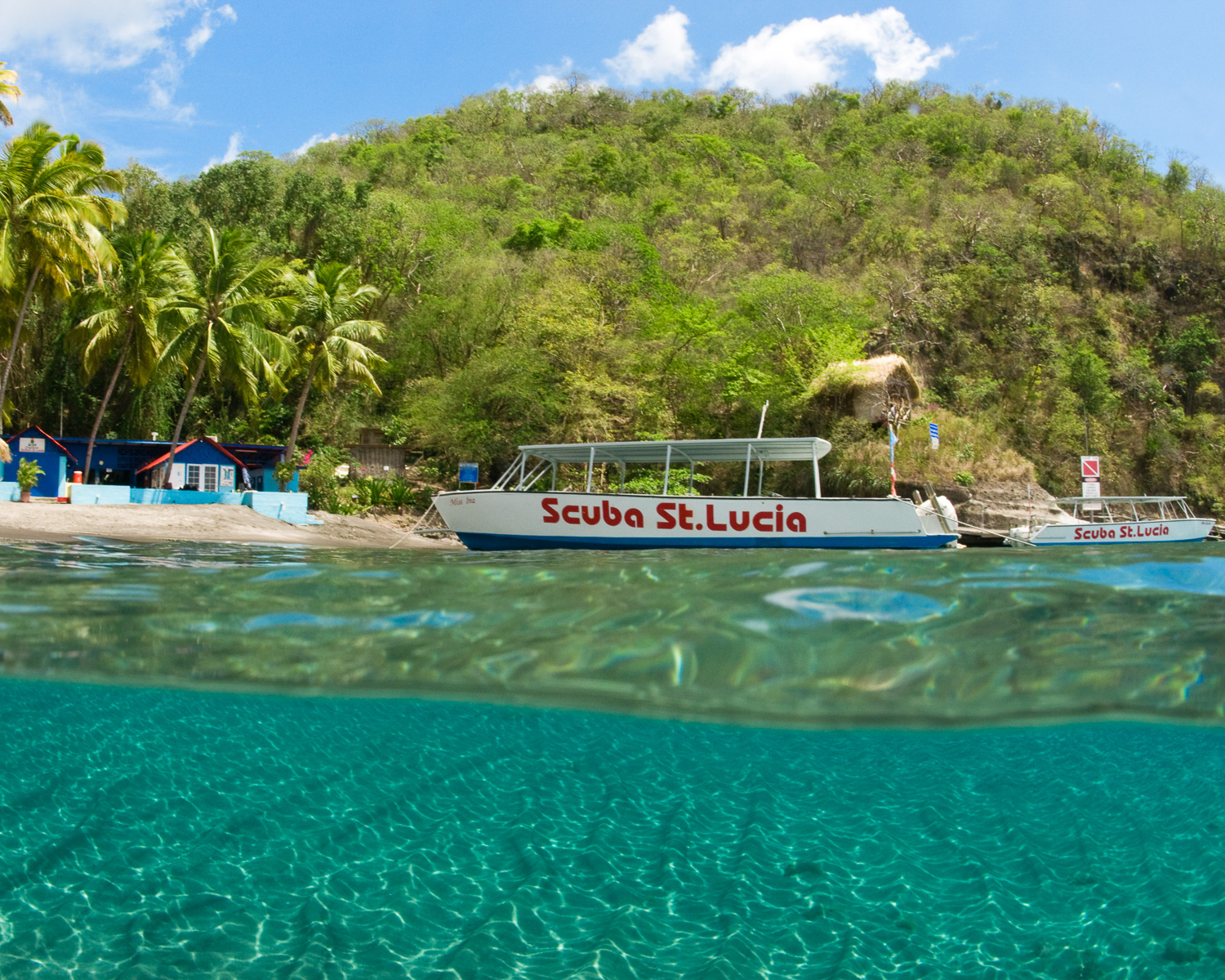 Guests at Jade Mountain can enjoy both beach and boat dives, with turtles and 150 species of tropical fish, swimming in the clear, calm waters above the reef. Boat dives will take experienced divers to many of St Lucia's top diving spots, including those beneath the majestic Piton mountains. A full range of Scuba courses are offered at the Dive Centre, with introductory scuba courses offered most days and more advanced courses available by arrangement.
Kai En Ciel Spa at Jade Mountain
The Kai en Ciel Spa (which means "House in Heaven" in Creole) is located at Jade Mountain, with beautiful views towards the Pitons. Here you can enjoy treatments, using natural ingredients from Emerald Farm, aromatherapy products from Aromatherapy Associates, and Ayurvedic products from Tara.
The spa offers two air conditioned treatment rooms, as well as hair, manicure and pedicure stations. All spa treatments can also be enjoyed in your own sanctuary, and the couples treatments like the "Alchemy of Two" romantic spa ritual, are a favourite of honeymooners.
Guests can also use the Kai Belté Spa (House by the sea) at Anse Chastanet, located by Anse Chastanet Beach, which offers a further five air conditioned treatment rooms overlooking the sea. As a St Lucian specialty, why not indulge in one of the Chocolate themed treatments, for a chocolate fix without the calories, such as a Chocolate facial or a Chocolate Citrus Body Polish?
Next to Kai en Ciel Spa is a small fitness studio, featuring Cybex cardio and strength equipment. The relaxing atmosphere of Jade Mountain is reinforced by Yoga Classes, with private Yoga sessions available in your own sanctuary, with one of the resort's three Yoga Instructors.
Glass art at Jade Mountain
During the build of Jade Mountain, architect Nick Troubetskoy and his design team worked with David Knox of Lightstreams Glass Tile to create the glass tiles used in the infinity pools and gardens of the resort. The tiles shimmer with a colourful iridescent effect, changing colour depending on the angle of light and time of day.
Each of the sanctuaries have their own colour scheme, creating a tapestry of colour that changes like a chameleon with the light. 27,000 square feet of these coloured tiles were used in the pools, bathrooms and gardens of Jade Mountain. In each sanctuary, a different single colour is used, in other places such as the Jade Mountain Club pool colours are mixed together, or make a gradually changing rainbow in the tiled garden pools that snake along the length of the resort.
The second element of glass that is used throughout the property, are the "Columns to Heaven" glass sculptures that sit on top of the stone supportive columns, making a totem pole effect. Also created by David Knox, these coloured glass ladder tiles are used in other ways around the building, to create the lamps outside our rooms, and the glass wall decoration near our sanctuary.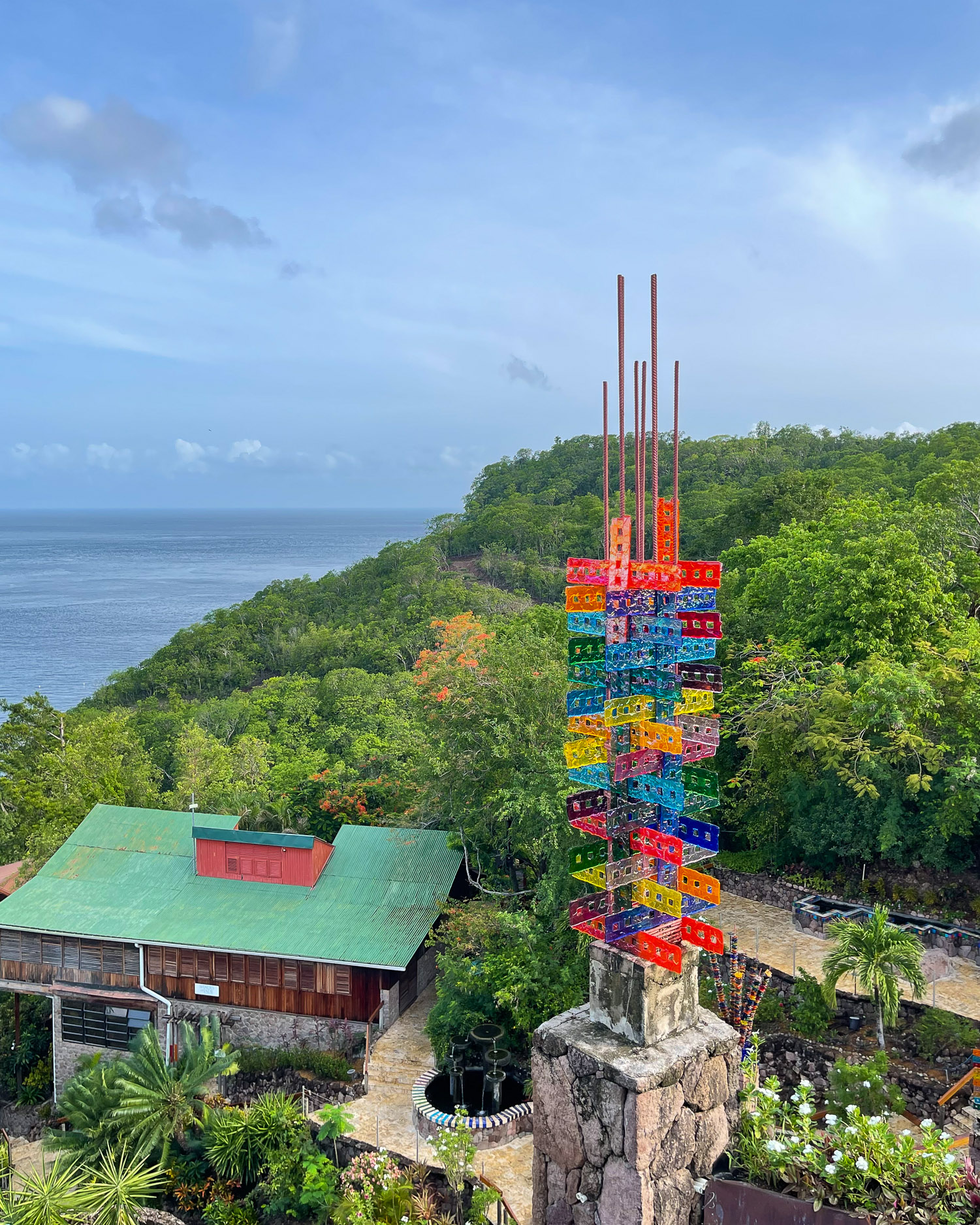 I found it interesting to notice the differences in the artistic approach between Anse Chastanet and Jade Mountain Resort. While Anse Chastanet is enriched by the paintings, tile murals and wood sculptures of numerous artists, at Jade Mountain the building itself is like a sculpture, beautified by the use of colourful glass tiles, but needing no more decoration that could distract from the amazing views and natural setting.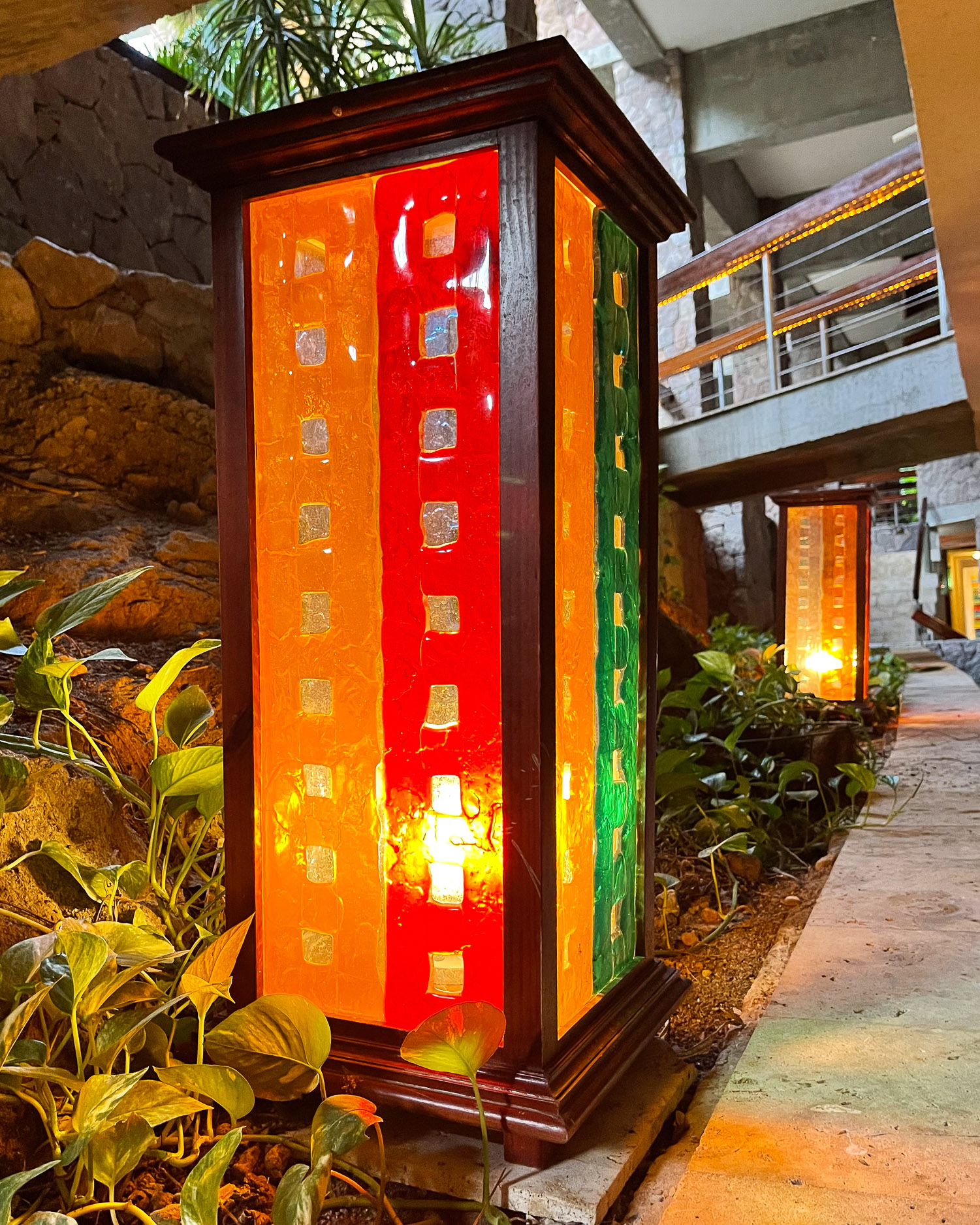 Art at Anse Chastanet
Art lovers will enjoy not only the beautiful iridescent glass at Jade Mountain, but the work of numerous local and international artists on display in the sister resort of Anse Chastanet. For many years, the resort has collaborated with visiting artists through their "Art in the hotel" programme, resulting in artworks on display in the public areas that you can also enjoy while staying at Jade Mountain.
The hotel runs an art gallery by Anse Chastanet Beach where you can purchase prints, paintings and sculptures by the artists you see around the hotel. Discover more in my article about St Lucia Artists – where to find murals, artists and galleries in St Lucia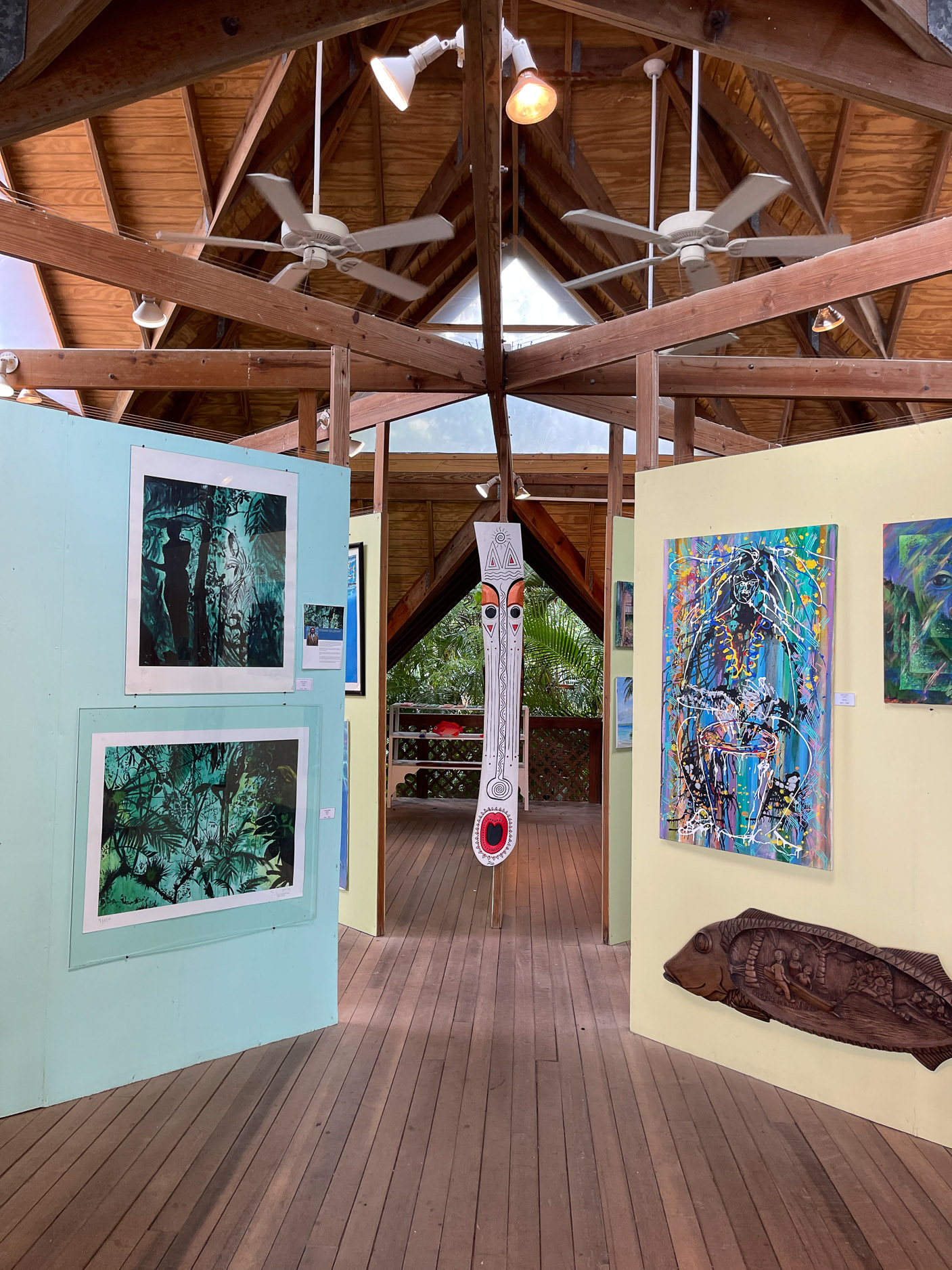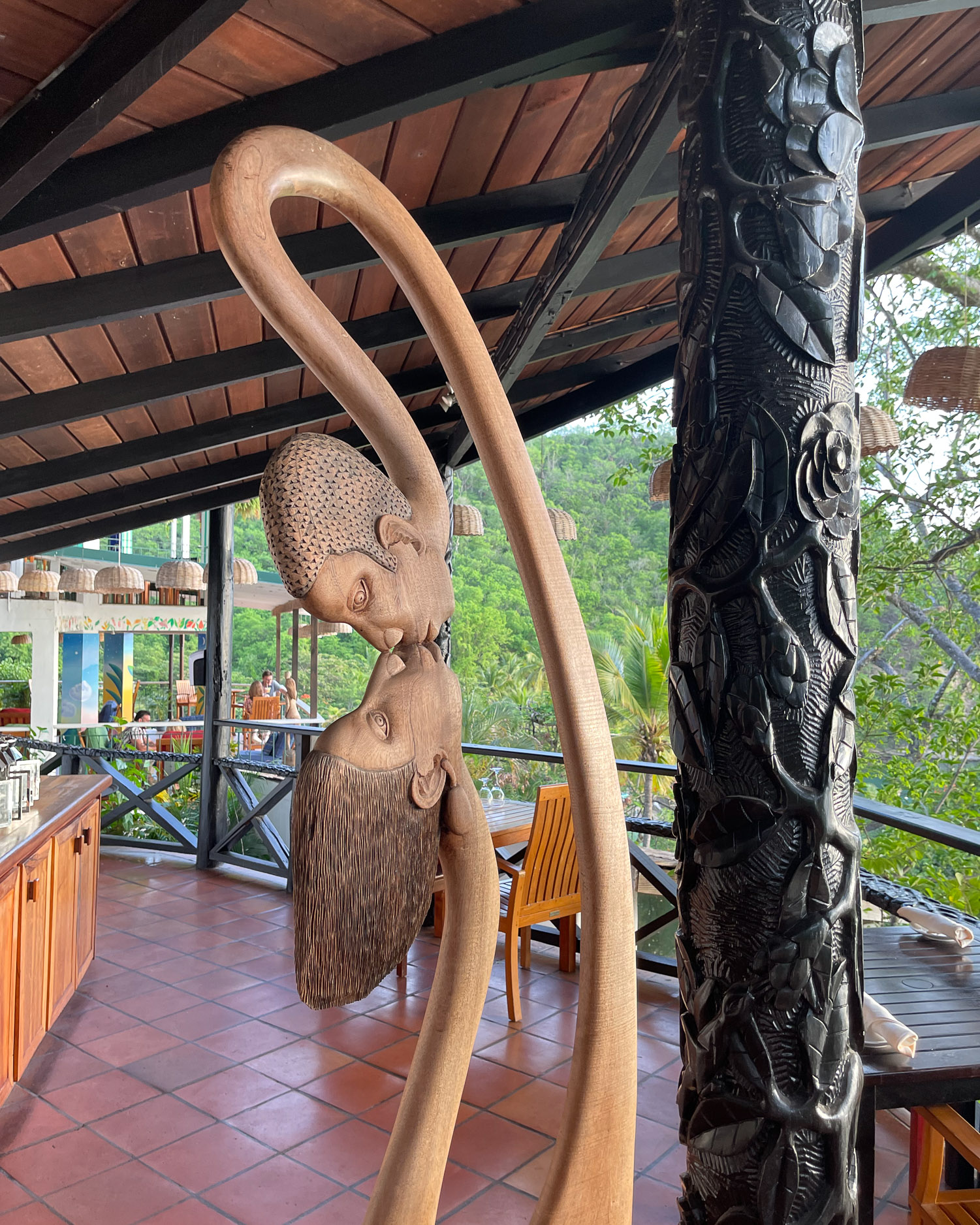 Look out for master works by wood sculptor Laurence Deligny, such as the large "Rainforest" sculpture and romantic piece "The Kiss" in the Treehouse restaurant, as well as totem poles and carved stair rails, on your route to and from the beach.
In the reception and restaurant are colourful tiles and paintings by German artist Stefan Szczesny, the result of early collaborations. The Emerald restaurant is decorated with murals by Claude Sandoz and charming large scale images of local children by Jonathan Gladding hang from the ceiling of the beach restaurant.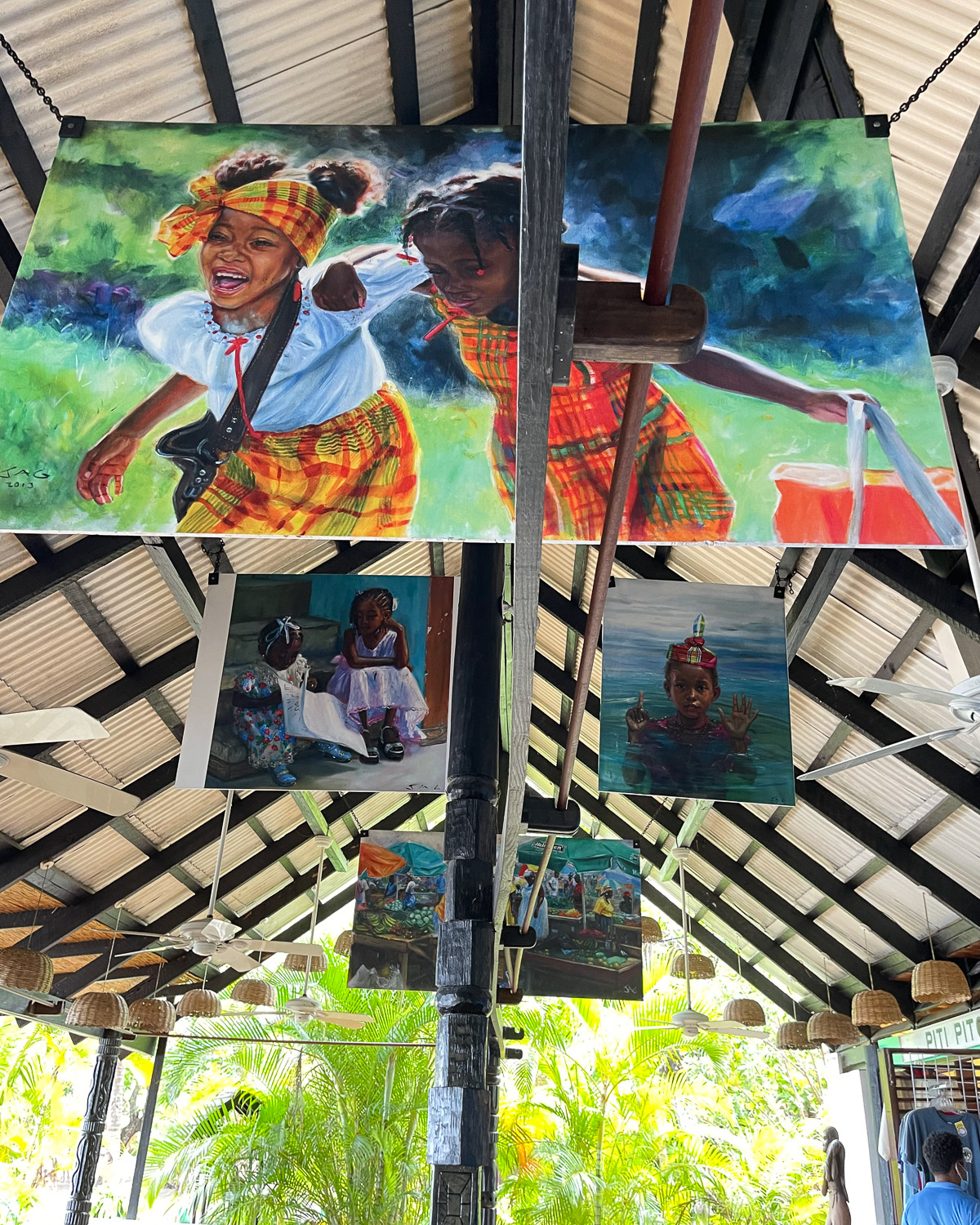 Art classes on the beach are offered for guests, run by local art teacher and muralist, Naja Misaki Simeon, whose artist name is "Sakey". His mural on the wall of the tennis court near the beach reflects the flora and fauna of St Lucia, and recent projects include a long wall mural in Soufriere with community motifs, a project that was sponsored by Anse Chastanet.
Read more about St Lucia Artists – where to find murals, artists and galleries in St Lucia
Weddings and Honeymoons at Jade Mountain
Jade Mountain is undoubtedly one of the most iconic and romantic places you could hold a Caribbean wedding, especially if you are looking for a special and intimate celebration. The hotel can arrange every details for you, from the legal documentation required, to helping you choose the best location for your vows and wedding party within the resort. At Jade Mountain wedding ceremonies are limited to one per day, so you will be assured of a unique and very special day.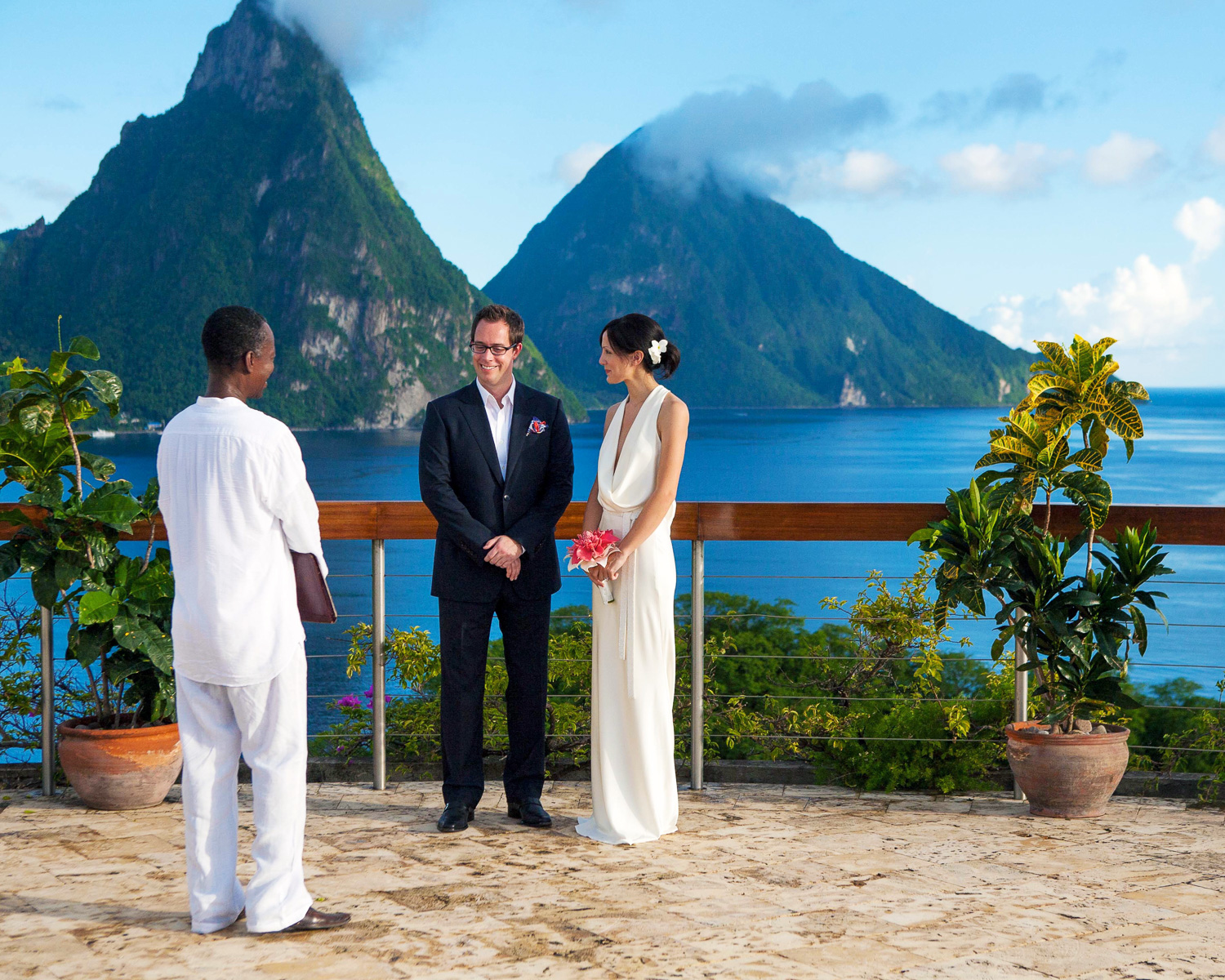 Wedding ceremonies can be held in a number of different locations, such as on the Jade Mountain Celestial Terrace, on Anse Mamin Beach, or within Anse Mamin plantation, which also makes an atmospheric location for wedding photography. And of course, Jade Mountain is a very popular destination for honeymooners who want to relax and spend time together in a stunning location of St Lucia.
For more information on weddings at Jade Mountain and Anse Chastanet, visit the resort's wedding website, Elope to Paradise Weddings.
Sustainability at Jade Mountain
Sustainability has from the beginning been central to how the resorts of Anse Chastanet and later Jade Mountain were conceived, built and operated. It is obvious from what we read and observed at Jade Mountain that this is something that owners Nick and Karolin Troubetzkoy and the management team take very seriously. Jade Mountain has been awarded a Gold level LEED rating, to reflect the highest standards of environmentally sustainable design.
There are many different aspects to sustainability, but some of those that we are aware of include;
Building – Local materials were used wherever possible in the construction of Jade Mountain. The resort was able to draw sand and gravel used in the concrete construction from its own estate, as well setting up local mining and rock crushing operations. Tropical hardwoods for floors, doors and louvre windows were sourced within the Caribbean as were the coral stone used in the rooms and stone cladding, which was sourced on the property. The resort also set up its own carpentry workshop, to make much of the furniture used in the hotel.
Energy efficiency – The open air concept of Jade Mountain means that air conditioning is not used, but instead natural ventilation creates a cooling flow of air, assisted by ceiling fans. The open room design and orientation facilitates the use of natural light within the sanctuaries. Where diesel power is used, the emissions are offset using a Green tags system to fund environmental projects.
Transportation – Employees are provided with hotel shuttles to bring them to work and bike storage and showers are also provided. Around the hotel, LEV or fuel efficient vehicles are used and guest shuttle services are available, which reduce the use of individual vehicles for both guests and employees.
Food and Beverage– Much of the food and beverages used at the resort is locally sourced on St Lucia or grown at the resort's own Emerald Farm. The menus celebrate local, seasonal flavours and incorporate many Saint Lucian dishes and produce.
Water – The resort has renovated an old reservoir on the hillside above Jade Mountain, which now supplies both Jade Mountain and Anse Chastanet with its own supply of 1.5 million gallons of water. They also recently opened their own water bottling plant, using reusable glass bottles to provide filtered and purified still and sparkling water to guests, to reduce single use plastic bottles. Water from the infinity pools is filtered through a series of attractive pools that run down on one side of the main building. Grey and black water is collected and treated through anaerobic tanks, reed beds and constructed wetlands, the cleaned water then being used for irrigation.
Toiletries and chemicals – Soap, shampoo and other toiletries are biodegradable. Guest toiletries are offered in large, refillable bottles to reduce plastic waste. Cleaning products are non-toxic, non-corrosive and biodegradable.
Reduce, Reuse and Recycle – Hotel supplies are purchased in bulk, to reduce the need for individual packaging. Paper is recycled and organic matter composted. Plates, utensils and glassware is reused to avoid the need for disposable items.
Location of Jade Mountain Resort St Lucia
Jade Mountain is located on the south-west coast of Saint Lucia, close to the old island capital of Soufriere. The resort can be reached from Soufriere via a road that runs along the side of the mountain and over the rocky spur to arrive at the lower reception point of Anse Chastanet and Jade Mountain. It is also possible to arrive by water taxi from the town of Soufriere. From here, guests are taken by mini van shuttle direct to their rooms at either resort, since Jade Mountain is located above Anse Chastanet on the hillside.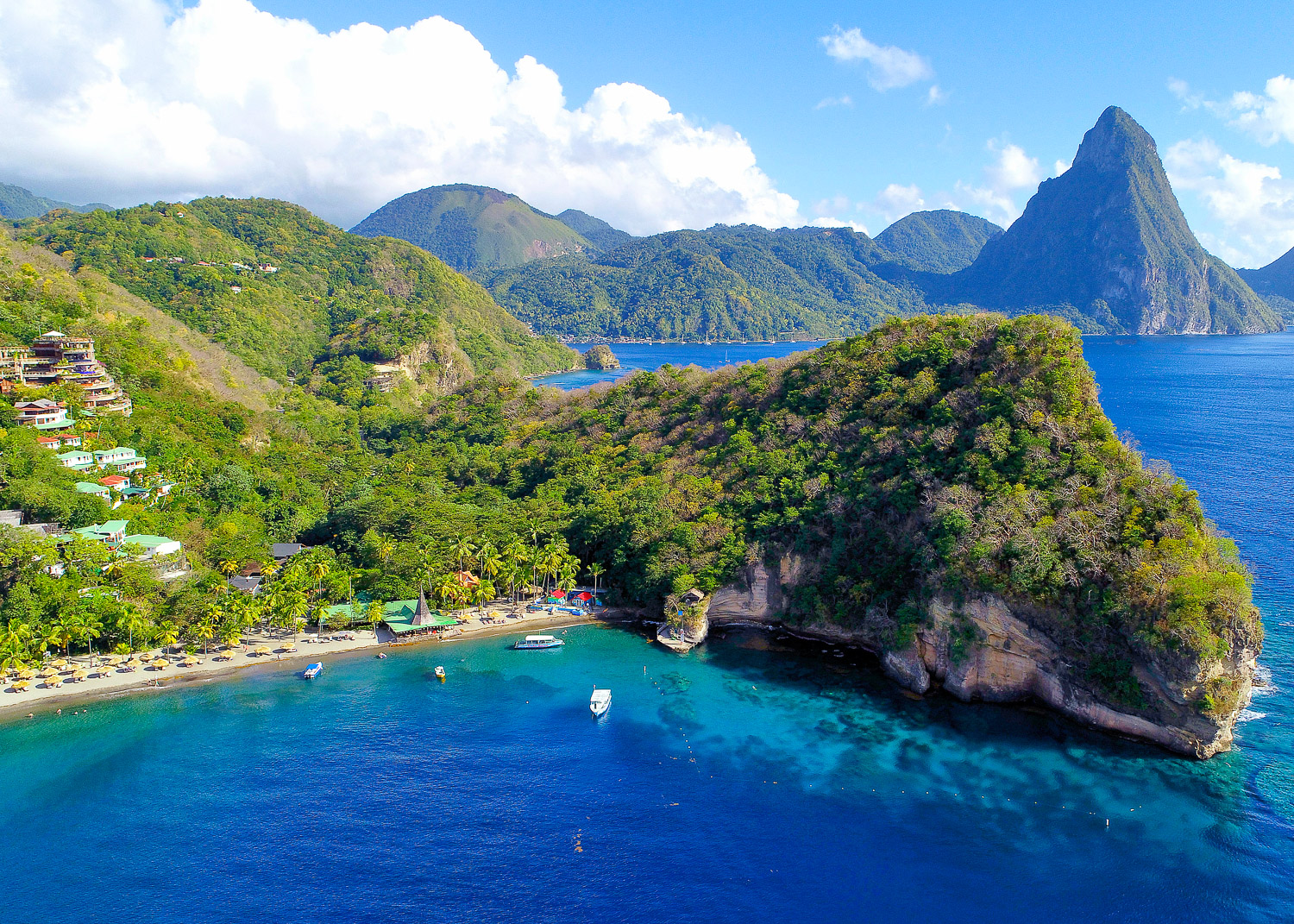 The closest airport is St Lucia's international Hewanorra Airport, with numerous incoming flights from the UK, USA and Europe. From the airport, which is located in the south of St Lucia, the driving time is around around 1 hour and airport transfers can be arranged for guests. Helicopter transfer can also be arranged and Jade Mountain has its own helipad.
Things to do near Jade Mountain Resort
Jade Mountain and Anse Chastanet are destination in themselves, where there is an incredible amount to see and do within the resort and surrounding estate. I'd guess that most guests arriving here are not so much interested in sightseeing, as in relaxation, swimming, beach time and enjoying all that the resorts have to offer.
Having said that, it would be a shame to leave St Lucia without experiencing some of the Caribbean culture and interesting attractions outside the resort, and there are many to be found around the area of Soufriere. At Jade Mountain, your Major Domo will be able to inform you of any excursions that are being organised by the resort and arrange guides or transport to take you wherever you'd like to go.
Some of the things nearby that I recommend seeing include;
Sulphur Springs and Drive in Volcano (Soufriere) – Close to Soufriere are thermal sulphur springs that you can bathe in, where you'll be offered buckets of mud to smear yourself with, supposed to be excellent for your skin and make you look 10 years younger! A little further up the road is the world's only drive in volcano, where you can view the boiling mud pools from the safety of a viewpoint and learn about the island's volcanic past.
Tet Paul Nature Trail (Soufriere) – an easy walking trail along a ridge, with plenty of interesting botanical plants and amazing views of the Pitons.
Castries – The island's capital is worth a visit, especially to enjoy the fresh produce on sale in Castries market, stock up on spices or locally made souvenirs and admire the beautiful painted interiors of the cathedral on Derek Walcott Square. I can personally recommend this 2-3 hour walking food tour of Castries from Citywalkers, who also run shopping and history tours.
Rainforest adventures (Babboneau) – in the centre of the island, take the aerial tram or zipwire through the rainforest, followed by a guided walk to learn about the forest flora and fauna. You can pre-book tickets for the aerial tram here. A zipwire experience is also available at the Morne Coubareil Historical adventure Park, near Soufriere.
Pigeon Island – take an excursion to the north of the island, to spend the day at this historic park and national landmark, with beaches, old military fortifications and viewpoints to climb.
For more information, read my article about 20 fabulous things to do in Saint Lucia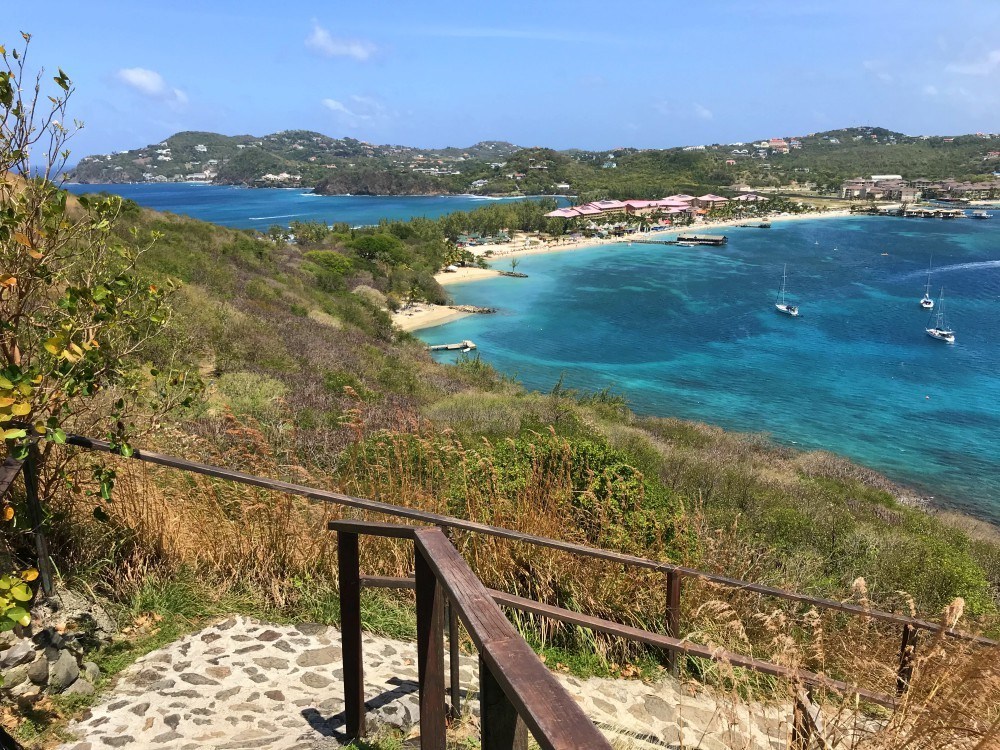 Who will enjoy staying at Jade Mountain Resort?
The resort is incredibly romantic and designed for couples of all ages, who want privacy and time to themselves.
The atmosphere is quiet and secluded, for those who want to enjoy a peaceful stay surrounded by nature.
Jade Mountain is a favourite for honeymooners, and is also popular for smaller weddings and anyone with something to celebrate such as a wedding anniversary or landmark birthday.
Good to know
Jade Mountain is Adults Only so not suitable for those travelling with babies or family groups (although sister resort Anse Chastanet is open for children aged 10+)
The sanctuaries, restaurant and spa are built on multiple levels, connected by stairways and there is no lift. Hence it's not the ideal location for anyone with serious mobility issues. However there is a shuttle available from the top and bottom levels of the resort, to take guests to the beach and other parts of the resort.
The open air concept may not be for everyone if you dislike insects. Although the rooms are sprayed at night and beds provided with mosquito nets, some people will just not want to be near so many bugs!
The unique location, exclusivity, design and level of service make Jade Mountain an ultra-luxury resort, with prices to match. Prices with a breakfast and dinner package range from around $1500 to $3600 per night low season and $1900 to $4000 per night high season, although look out for packages and offers for certain dates. Check the Jade Mountain website for more information.
Jade Mountain could easily be combined with a stay at sister resort Anse Chastanet – relax, unwind and enjoy the privacy of Jade Mountain for 2-3 nights as a treat, then spend the rest of your stay at Anse Chastanet where you can be a little more active close to the beach and water sports. Other resorts that would be great to pair with Jade Mountain for a dual location holiday include Calabash Cove in the north of St Lucia, where we stayed.
Book your stay at Jade Mountain Resort
To book your stay directly with the resort check out the Jade Mountain Resort Website or follow them on social media Instagram: @JadeMountainStLucia Facebook: @JadeMountainStLucia Booking enquiries can be made by email: [email protected] Jade Mountain may also be booked via travel agents and companies that specialise in luxury holidays.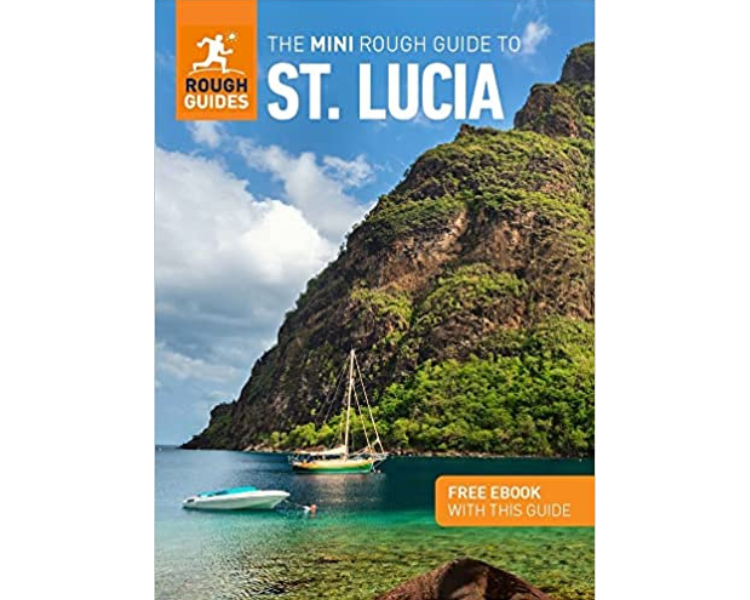 Plan your trip
You'll find more information to plan your trip including accommodation, things to do and last minute deals at Travel Saint Lucia
If you are looking for less expensive, local accommodation that's great for independent travellers, check out the Saint Lucia Collection de Pepites, with listings of smaller scale properties, apartments, villas, guest houses, B&Bs.
If you need a transfer from the airport to your hotel check out this Private transfer to/ from Hewanorra Airport
If you need a guidebook to help plan your stay, we recommend the Mini Rough Guide to St Lucia
More places to stay in Saint Lucia
Here are some more of the hotels in St Lucia that we stayed in and can personally recommend – you can also search for other hotels in Saint Lucia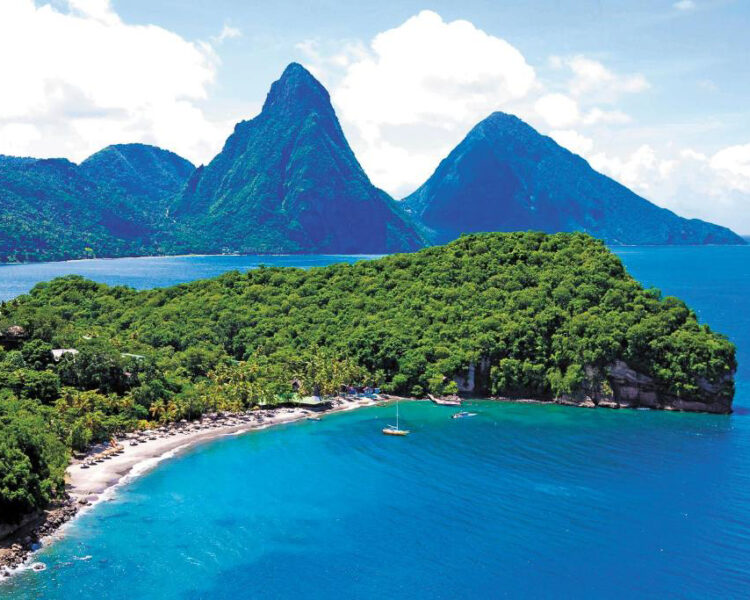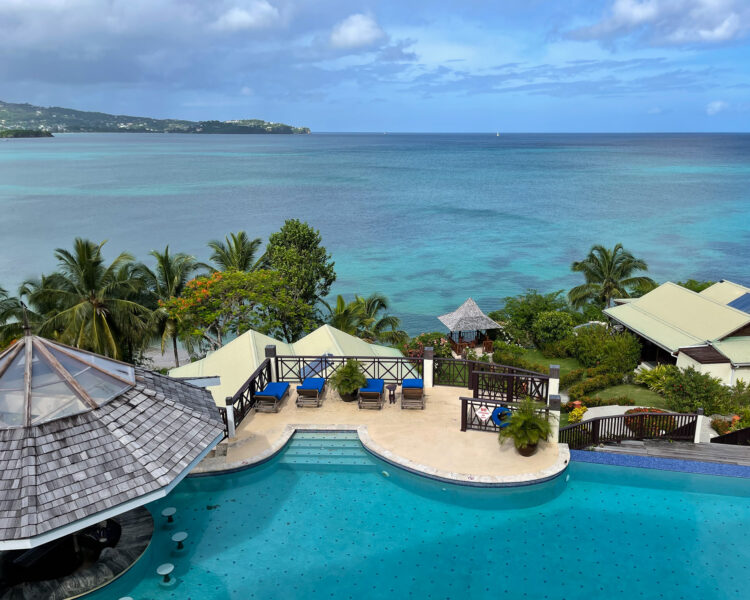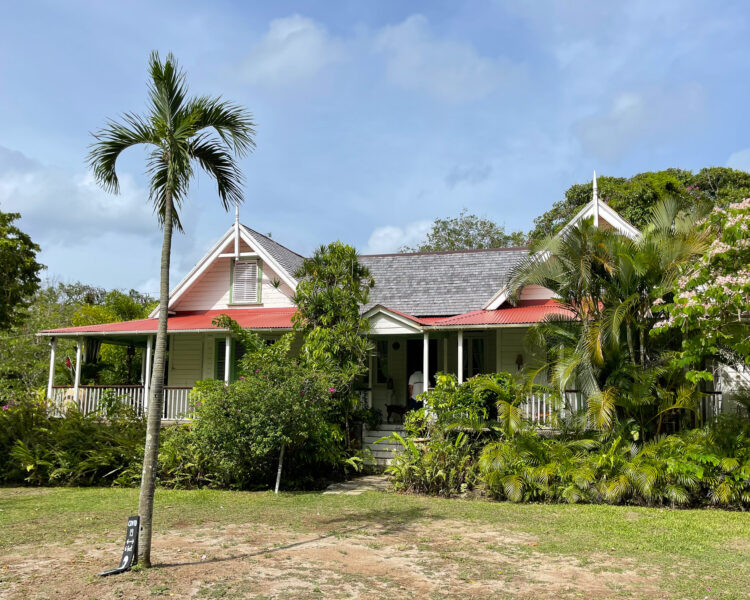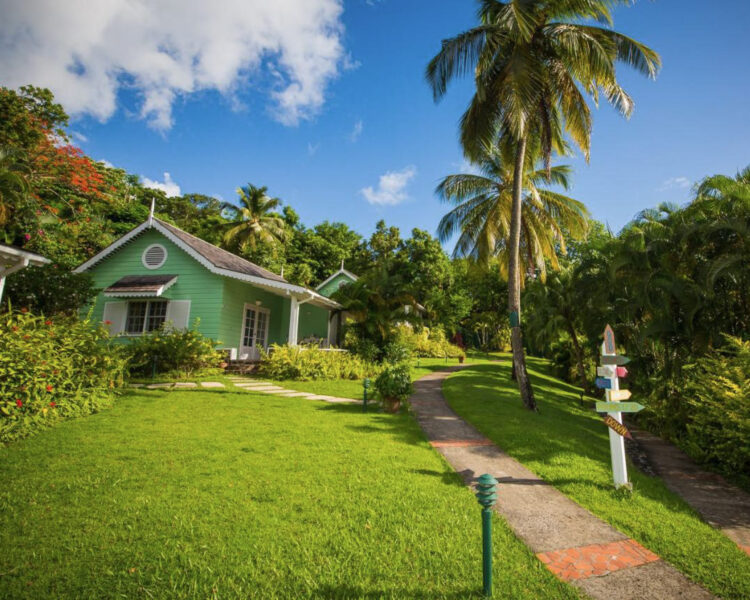 Pin it