St Lucia food – the best dishes, restaurants, and food tours
The food in St Lucia blends together a coal pot of English and French colonial history, with Creole influences that originated in the slave plantations and bountiful spices, tropical fruits and vegetables. While you can find international cuisine in the resort hotels, the island's heart is in the Caribbean favourites of BBQ chicken from a roadside stall, fried fish that's freshly caught by the local fishing boats and fruit juices made from the tree in your back garden. So let's crack open a bottle of Piton beer and get started on the St Lucia food you'll want to try when you visit!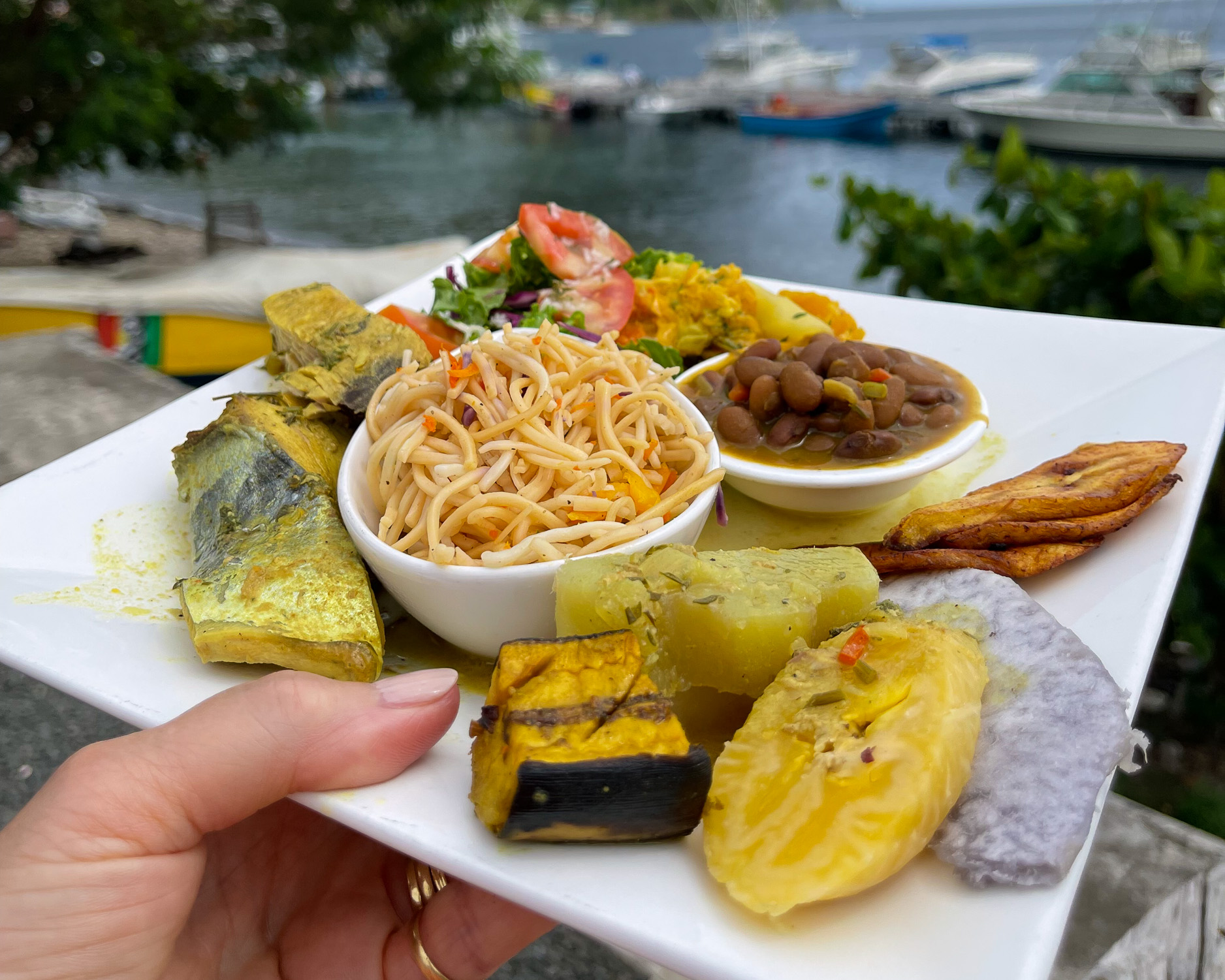 This article may contain affiliate links that provide commission on purchases you make at no extra cost to you. As an Amazon Associate I earn from qualifying purchases.
Top 10 foods in St Lucia
If you want to experience the food of St Lucia, here's where to start:
Taste the traditional dishes in a local Creole restaurant – including the Saint Lucia national dish of green fig and salt fish, snack on bakes for breakfast, eat boiled plantains or breadfruit.
Try a plate of BBQ chicken or pork with all the sides (ground provisions, salad, macaroni cheese). Roadside stalls or food trucks serving grilled meat often set up on Friday and Saturday, as locals treat themselves before the weekend.
The fish is fantastically fresh and locally caught – from fried fish at a Creole restaurant near one of the fishing villages of Labourie, Choiseul, Dennery or Anse la Raye to an exclusive lionfish tasting menu at Anse Chastanet.
Explore Castries market to discover all the tropical fruits you never knew existed or stop for a snack of bananas and a chat at one of the roadside fruit stalls.
Quench your thirst naturally with coconut water from a green coconut or a bottle of locally made fruit juice.
Try a Piton Beer for refreshment in a beach cafe, or try the flavoursome craft beer from Antillia Brewery.
Rum is the spirit of Saint Lucia, whether you try it in a rum punch, sophisticated rum cocktail or spiced rum from a local rum shack.
Take a plantation tour from the many available around Soufriere, to learn how every plant has its medicinal as well as culinary uses.
Learn how chocolate is made in a bean to bar tour, snack on the 'Jungle M&Ms' and pound the cacao nibs to make your own chocolate bar.
Enjoy a romantic private dinner on the beach served by your own butler – we can all find something to celebrate!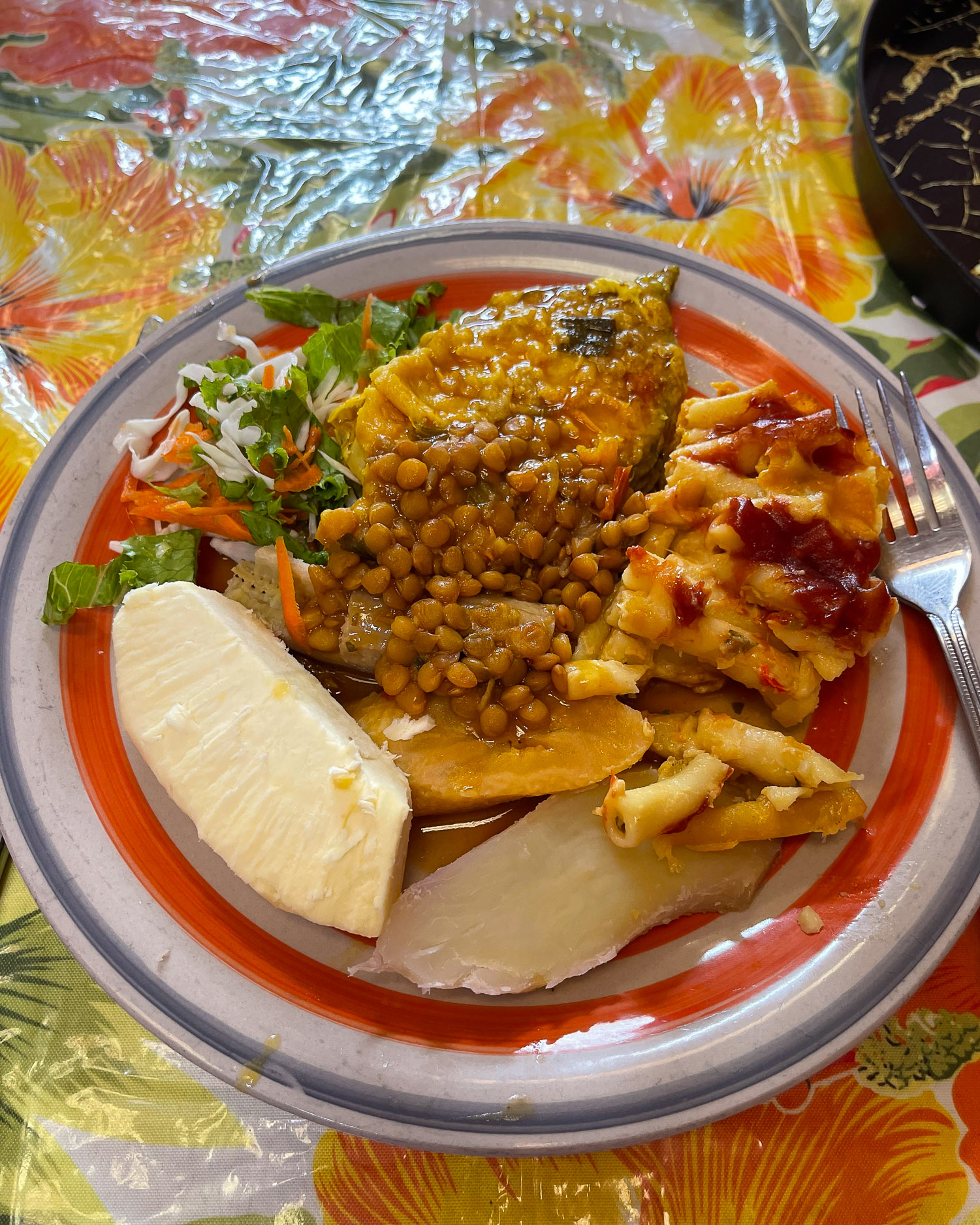 Traditional food in St Lucia
St Lucia's traditional dishes often date back to the days of slavery, when cheaper cuts of meat or dried salt fish were combined with locally grown fruit, vegetables and spices to create tasty home cooked meals. These are the dishes that any St Lucian will reminisce about, as cooked by their grandmother or served at family mealtimes, especially during festivals and Creole month in October.
Green fig and salt fish
Known as the national dish of St Lucia, green fig and salt fish is to be found all over the island, both at traditional restaurants and resort hotels. It's often eaten at breakfast and we tried our version at Jade Mountain with an amazing view of the Pitons!
The 'green fig' is actually unripe banana that's boiled and sometime served as a salad, while the salt fish is dried salt cod, that's rehydrated and boiled with local spices. You'll often find a bake served on the side, to complete the meal. The origin of the dish is said to hark back to the times of slavery, when salt cod was imported from Canada as a cheap food for slaves working on the plantations, but it's now become absorbed into local tradition.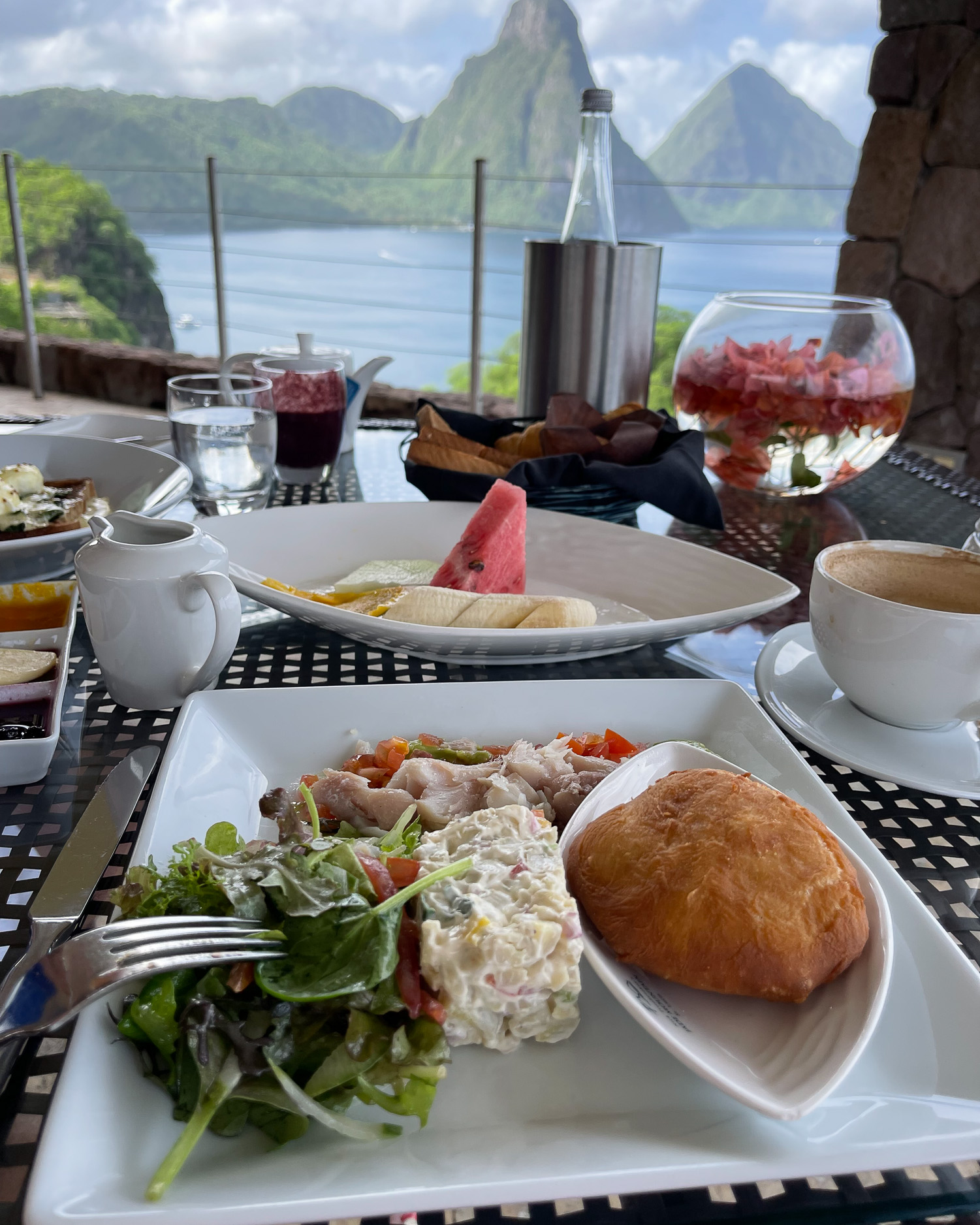 Smoked herring and breadfruit
Herring seems an unlikely Caribbean favourite, as it's not a local fish, yet one of the popular St Lucian dishes is smoked herring and breadfruit. In the past, this was imported by ship from more northerly climes, and the saltiness of the herring goes well with the breadfruit and a salad of cucumbers, peppers and other veg. We tried ours at Pink Plantation where the lunch menu features traditional tastes and food of Saint Lucia.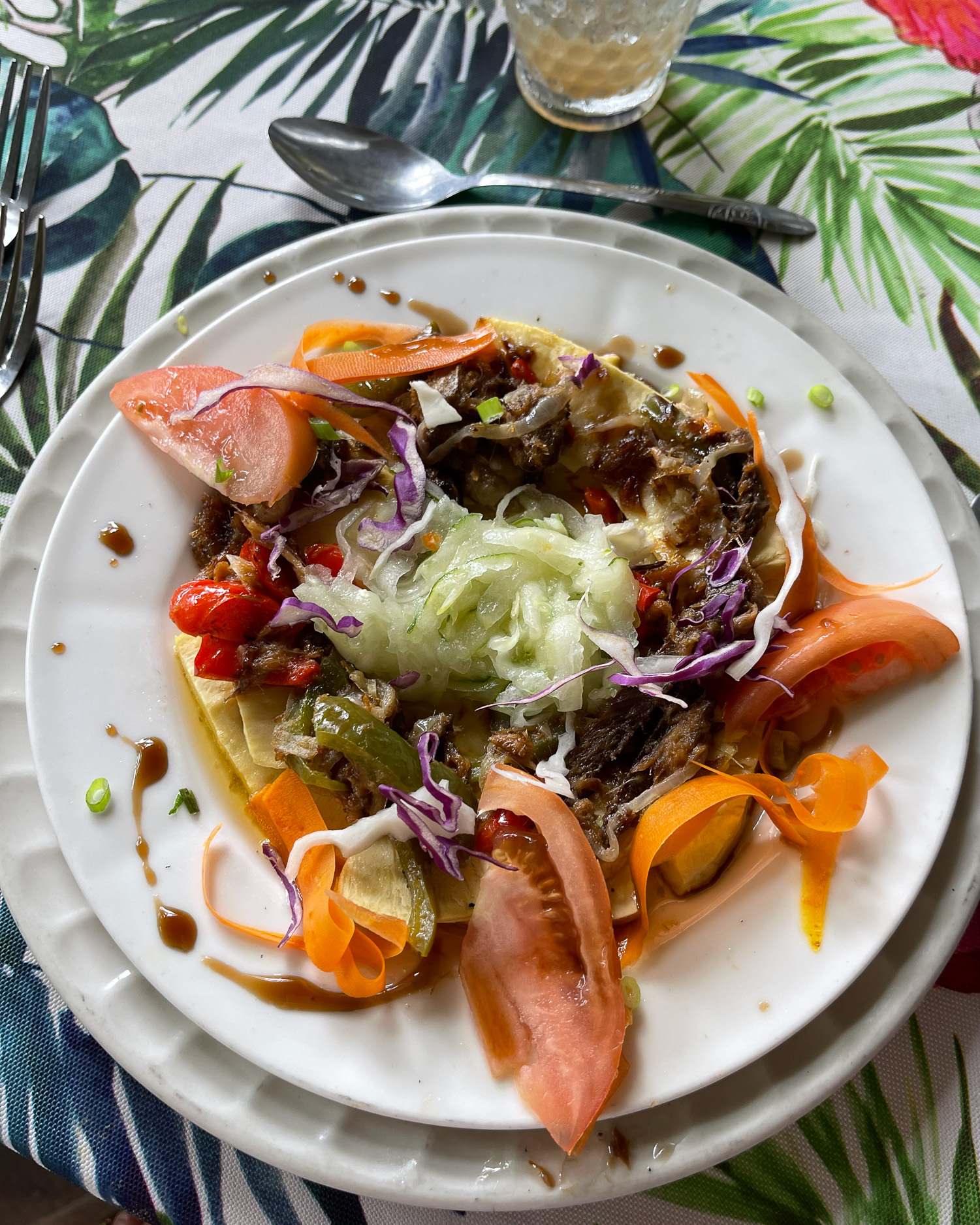 Bouillon or Bouyon
This one pot stew typically includes lots of vegetables, lentils and dumplings as well as being flavoured by different kinds of meat. The name Bouillon come from the French word for soup or 'to boil'. In the past the stew would have been boiled over a clay coal pot, using herbs and spices as well as cheaper cuts of meat, like pig tail or lamb neck to add flavour.
We tried ours in the food section of Castries Market, where it's a popular lunchtime dish. In the same market you can see coal pots on sale, a clay pot used for slow cooking over a charcoal burner, which is still used today for anything that needed a long cooking time to draw out the flavour.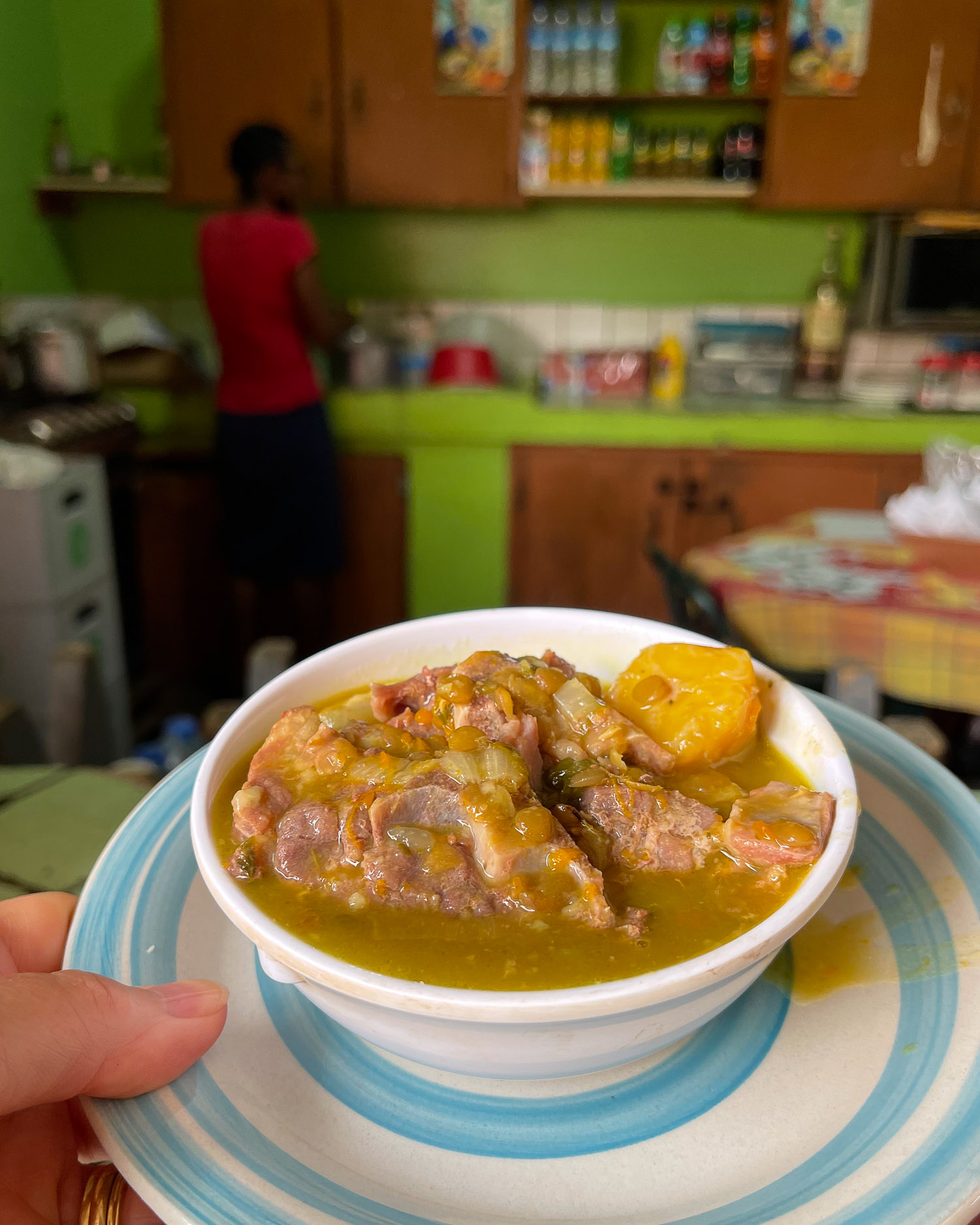 Also look out traditional stews and meat dishes in St Lucia such as:
Mannish water – not water at all but a stew made with goat meat.
Pepperpot – a meat stew that includes bell peppers.
Boudin or black pudding – a sausage made with pig's blood, rice and spices.
Cow heel soup – a soup of vegetables, okra, dumplings and split peas, boiled with cow heel, which is nutritious and gives the soup a gelatinous quality.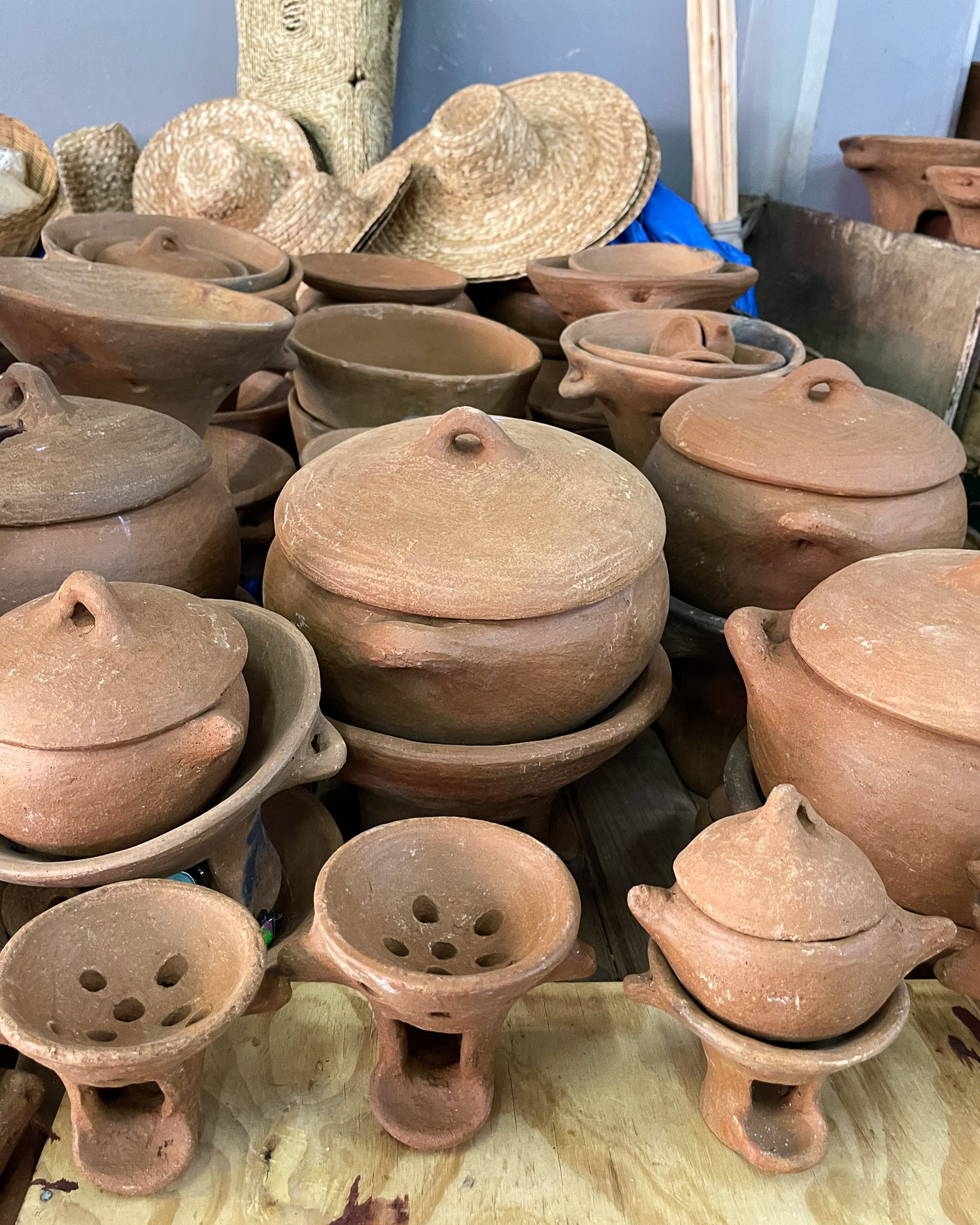 BBQ or Jerk chicken
At weekends, Saint Lucians love to meet with family and friends at home or on the beach, to share a lunch of BBQ meat and fish. The most popular meat used is chicken or sometimes pork, which is marinated in a sauce that's spiced up with scotch bonnet peppers, before being grilled over charcoal. Around the island you may see roadside BBQ stalls or food trucks, that set up especially on Friday and Saturday, as locals wind down for the weekend.
People stop by the stalls to pick up the BBQ meat to take home to the family, accompanied by sides of salad, ground provisions, lentils, rice, macaroni cheese or fig (green banana) salad. If you stop to buy some BBQ, there are usually tables nearby, where you can sit and eat from the disposable take away container in which the meal is served.
We tried some very tasty BBQ from the food truck in the parking area by Morne Rd, in Cul de Sac close to Castries, near the Massy Stores. It was by chance that we noticed a steady line of locals queuing to be served, always a sign of something good!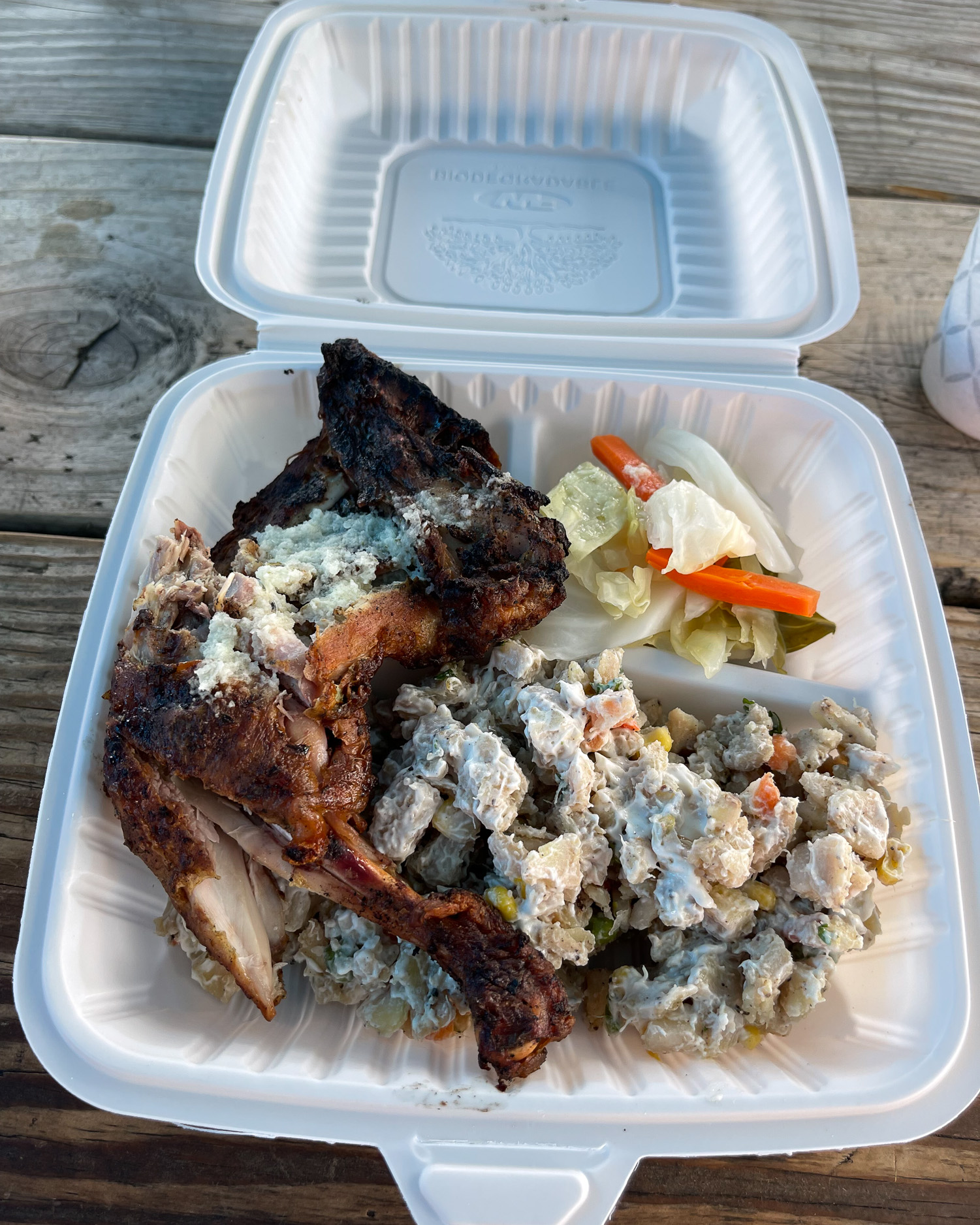 Fried fish in St Lucia
Fresh fish is plentiful in Saint Lucia, so it's worth making the most of it while you are there. Local cafes will buy direct from fisherman in the markets at the quayside of fishing villages like Dennery, Choiseul and Anse la Raye. If you stop in the morning at those villages, you'll see the fish being prepared in the open sided market, for sale to restaurants and wholesalers.
Popular fish to look out for on menus is Dorado or Mahi Mahi, Tuna, Marlin, and sometimes lobster although there is a strict season for this from November to February. In local style cafes, the fish is fried and given a topping of salsa, then served with the typical sides or rice, lentils, salad and macaroni cheese. You'll see a menu chalked up outside local cafes offering a set price 'meal' with meat or fish accompanied by a range of 'sides'.
Other seafood that's commonly found is conch or 'lambi', which is served much like meat, slow cooked in a stew with vegetables and spicy sauce.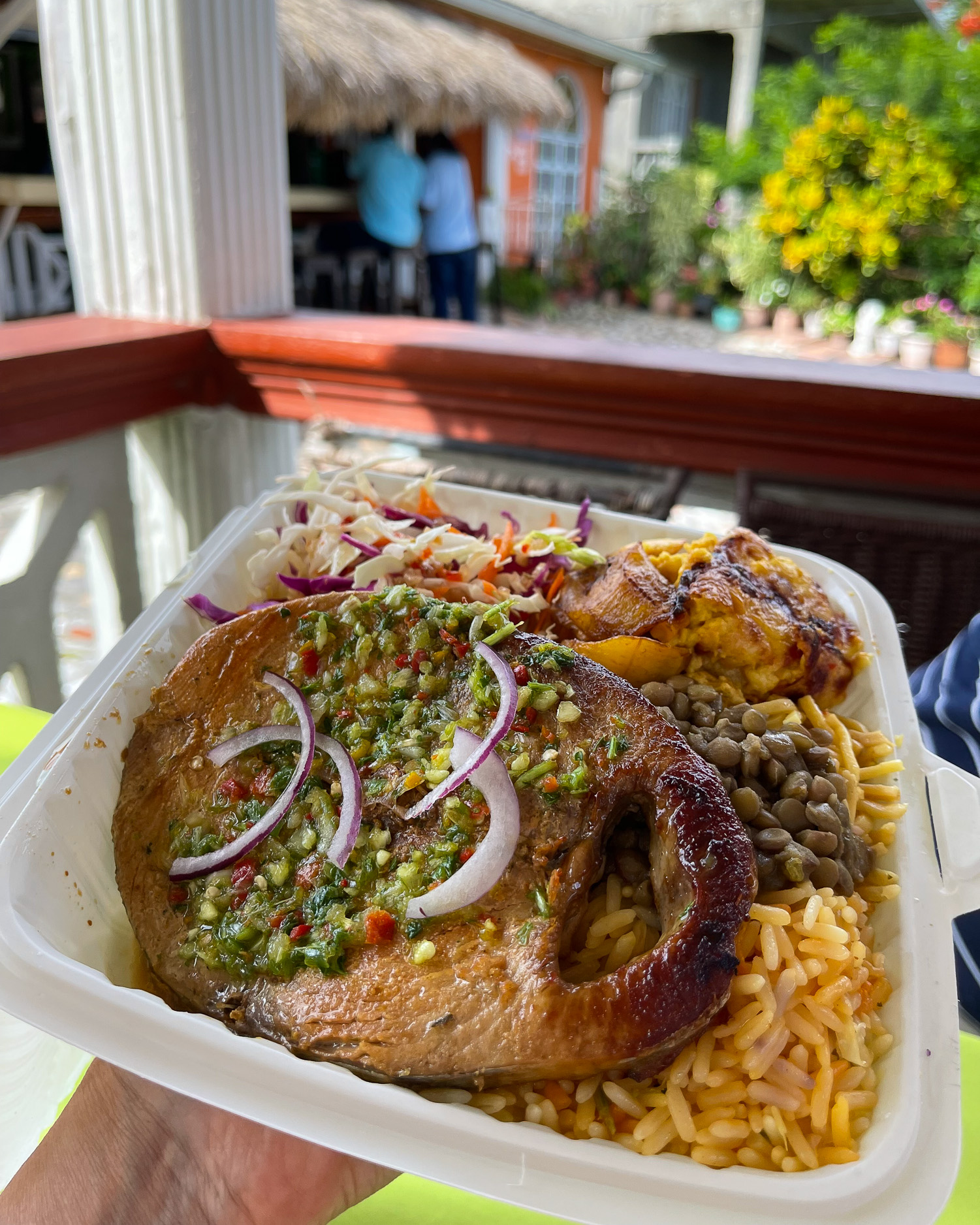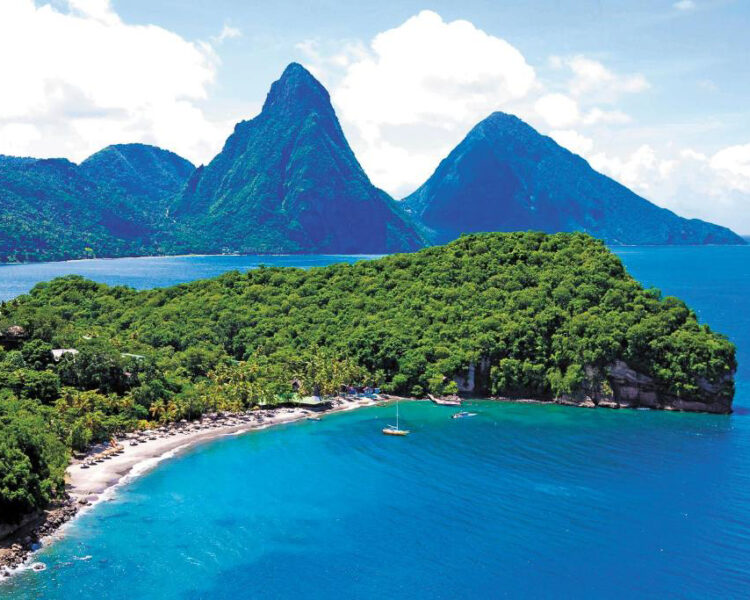 Ground provisions
Ground Provisions are often offered as a side dish for grilled fish or BBQ chicken. This general term encompasses starchy vegetables such as breadfruit, plantain, green banana, sweet potato or Dasheen (taro), that are boiled and served as we would a potato. There's usually a selection on offer, but if you don't specify you'll be served a little bit of each.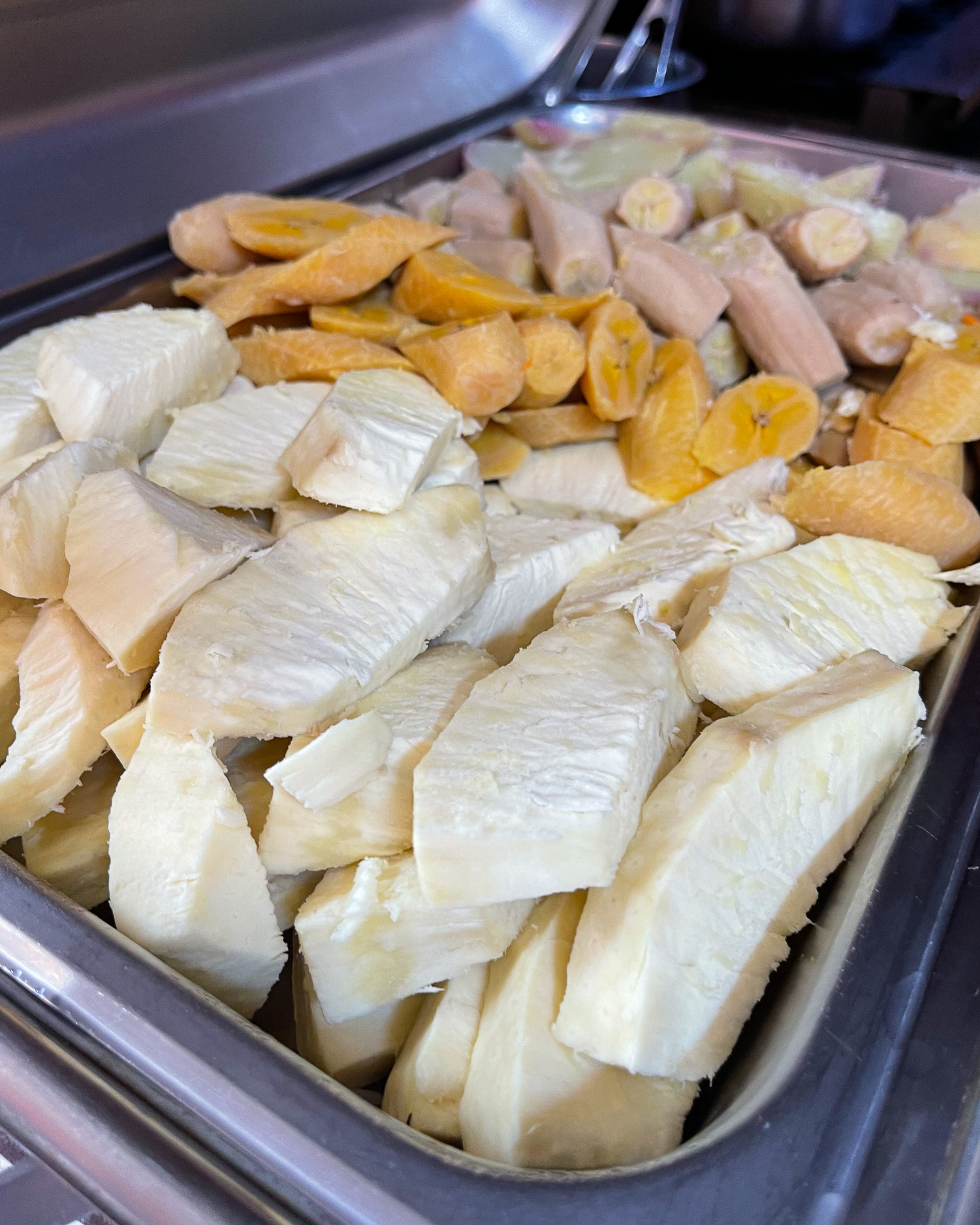 Street food in St Lucia
A great place to try traditional St Lucia food is the cooked food section of Castries market. In addition to the traditional dishes we've mentioned, there's plenty of street food for lighter bites or snacks.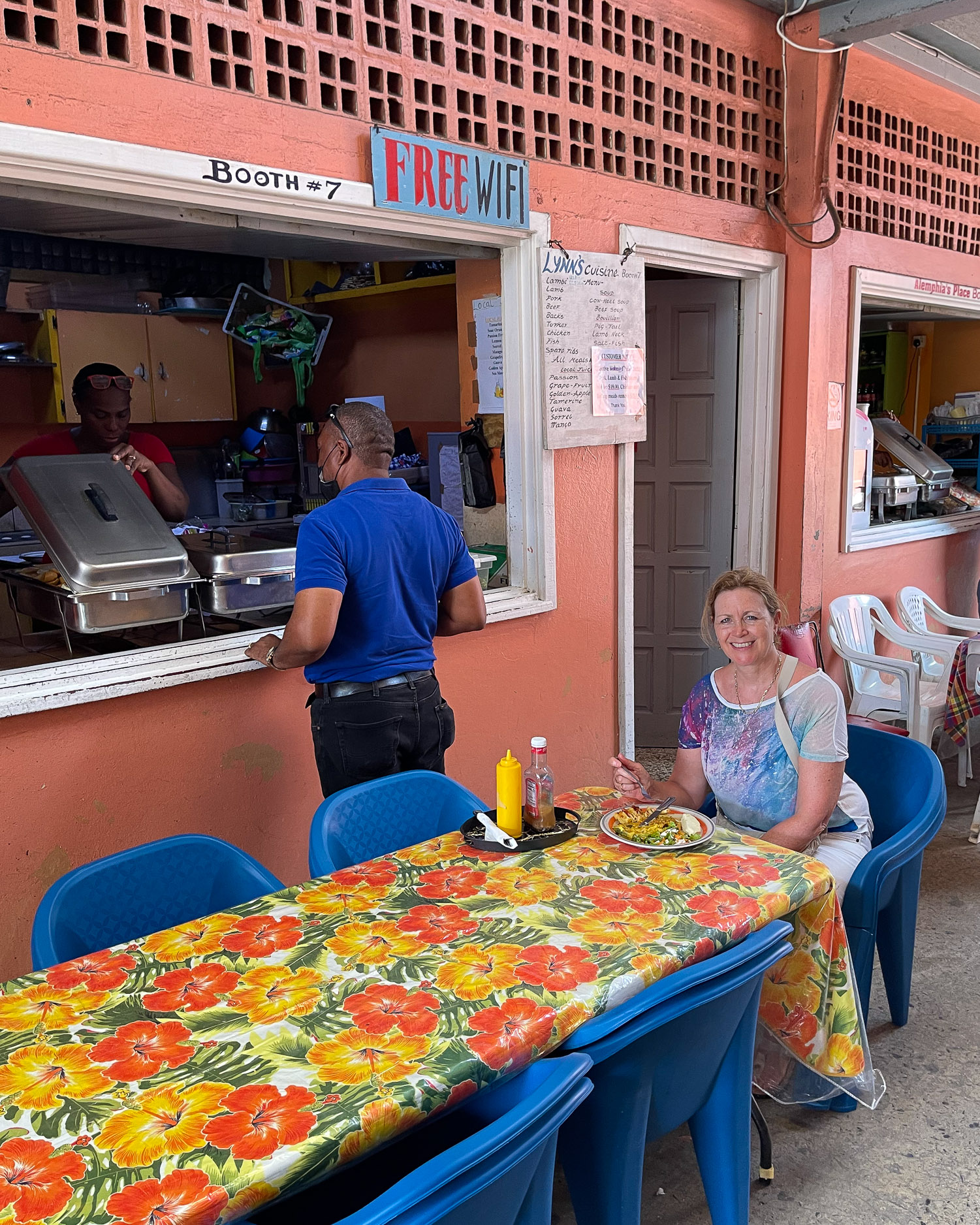 Bakes are rounds of dough that are normally deep fried, with a texture is somewhere between a bread roll and a doughnut. These are the most popular element of a St Lucia breakfast, sometimes served with the St Lucia national dish of green fig and salt fish. At lunchtime you might find them split open with a filling like a sandwich or cooked with a filling of yellow lentils like daal.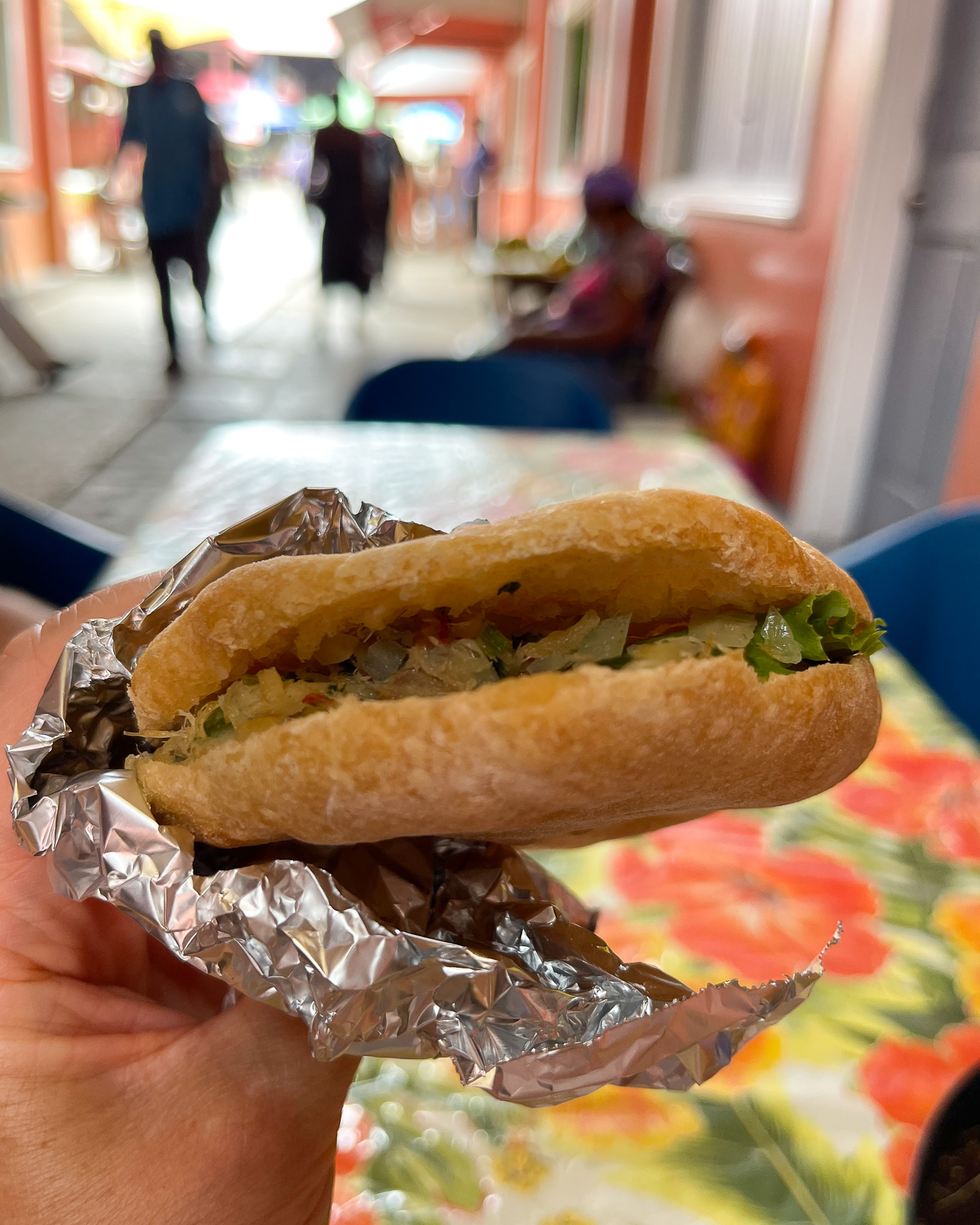 Accra are another popular St Lucia street food. They are bite sized fish cakes made with a batter, finely chopped vegetables and salt cod, which are deep fried. They puff up into a tasty snack that's served with a spicy dipping sauce and were traditionally served as a breakfast snack or around Easter time. We tried ours as a lunchtime dish at Island Mix in Rodney Bay.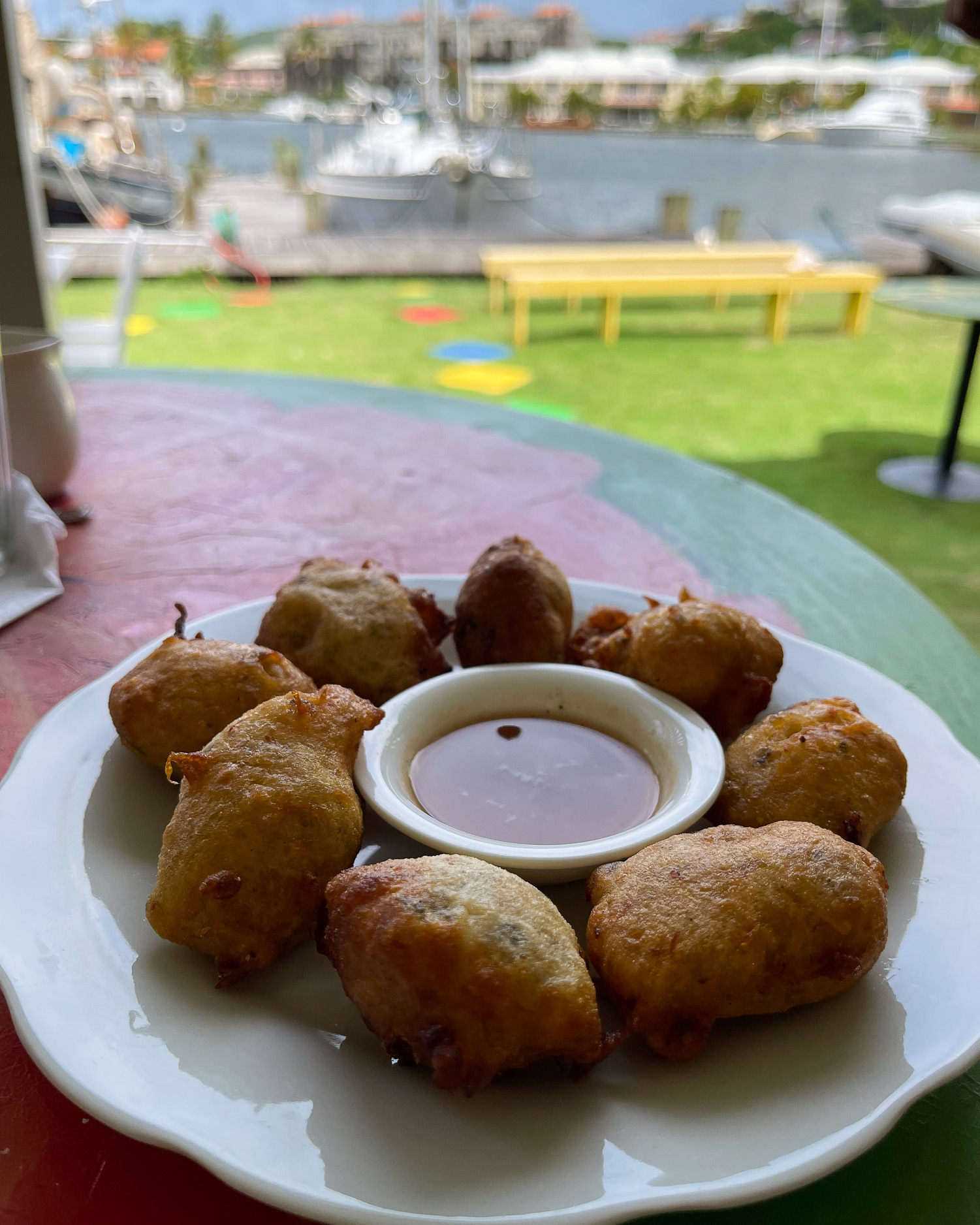 Roti is found all over the Caribbean and is a favourite lunchtime dish. A hot wrap like a tortilla is folded around a filling, often chicken in a lightly curried sauce, although fish, shrimp, veg or other fillings can be used. The wrap is folded into a square and served on a plate or to take away in a foil packet. We tried ours at Fond Doux Estate where it was on their lunchtime menu, with a side of plantain chips.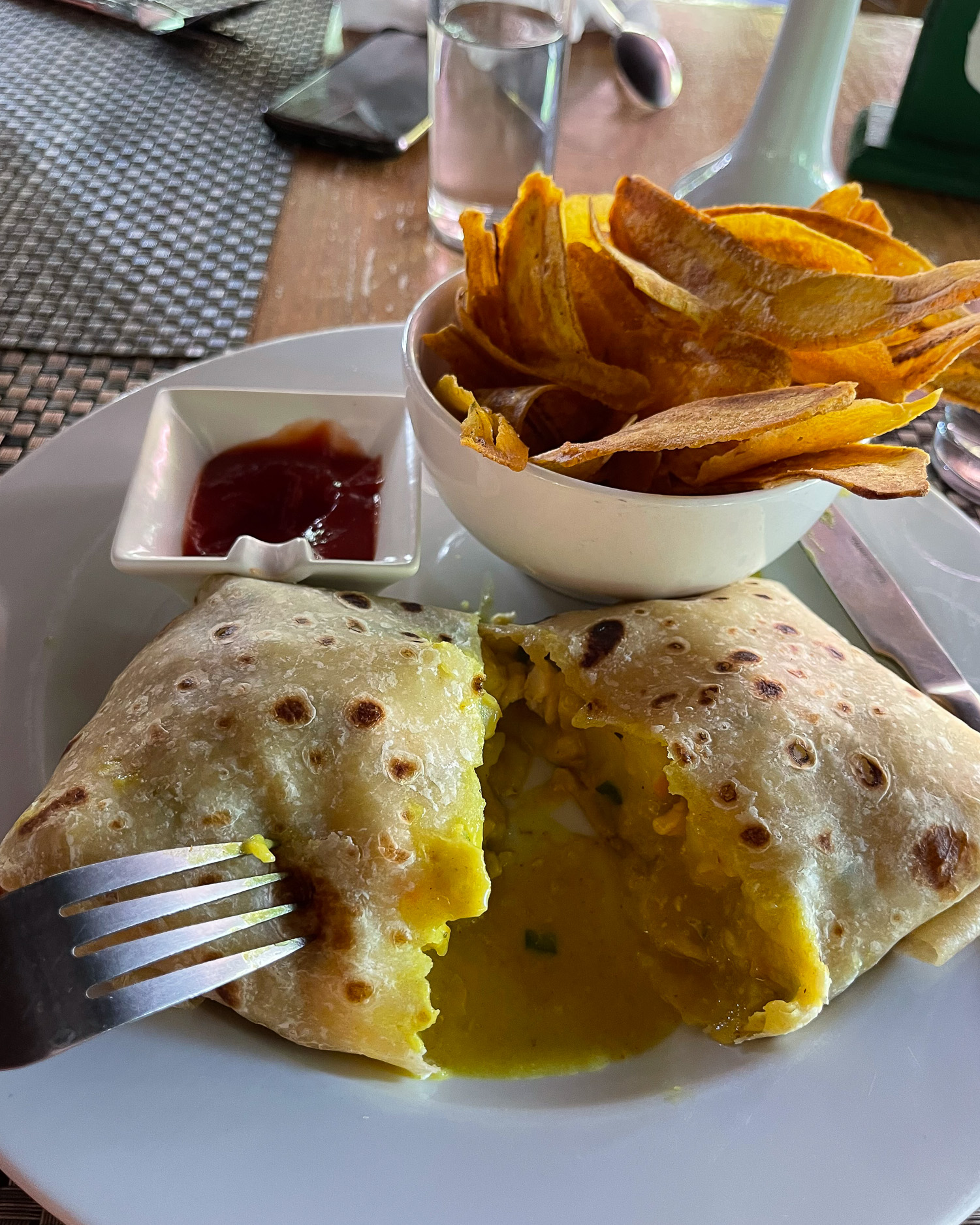 An unusual snack which we saw sold at a roadside vegetable stall was bread nuts, which were cooking in hot water. We tried a portion and they look and taste a bit like a roast sweet chestnut, with shells that you peel off to eat the creamy nut inside. On reading up about them, we discovered that they are the hard kernel of a fruit from the Milk tree that grows throughout the Caribbean, the pulp of which is removed to reveal the brown nut which is boiled.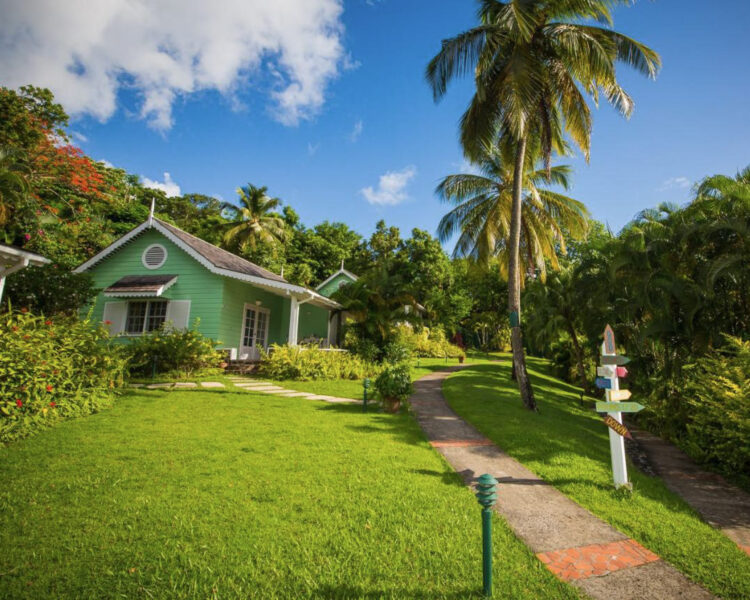 Cakes and sweets in Saint Lucia
As someone with a sweet tooth, I always look forward to finding new local pastries and deserts when I travel. However I must say that I found slim pickings on our visit to Saint Lucia, possibly not helped by there being an island wide sugar shortage at the time of our visit.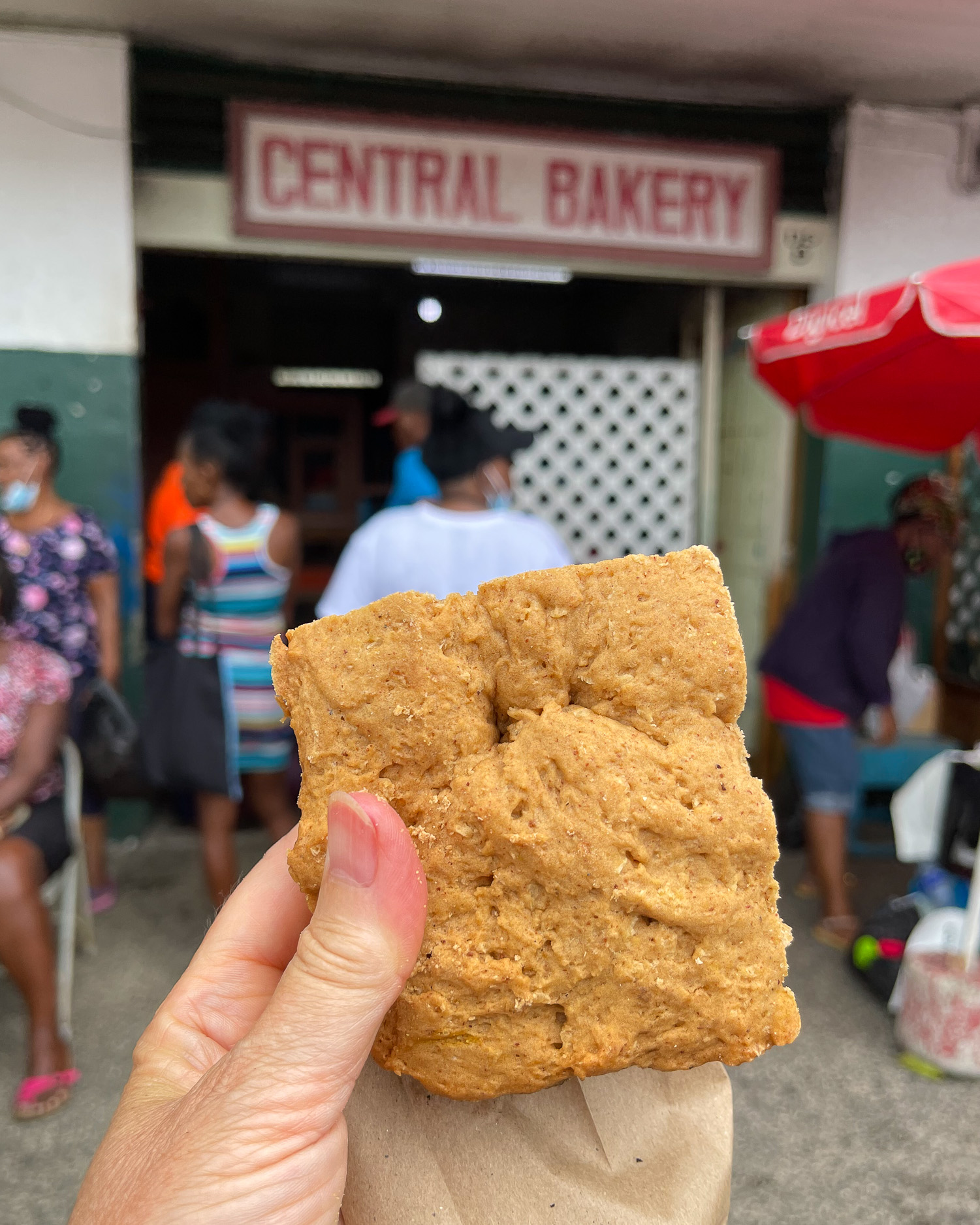 Traditional St Lucia cuisine seems to focus more on savoury dishes, with sweet things made for special occasions and festivals such as 'Creole month' in October. For example, we heard about Pemmie or Paime, a sweet snack made for Creole day celebrations, from pumpkin, coconut, sugar and cornmeal that's wrapped in a banana leaf and boiled.
We stopped at a couple of local style bakeries, including the well known Central Bakery opposite Castries Market. On sale was some dense coconut cake and rock cakes, but nothing very enticing. I've heard that banana bread is also popular in St Lucia, which makes sense since the island is a big producer of bananas.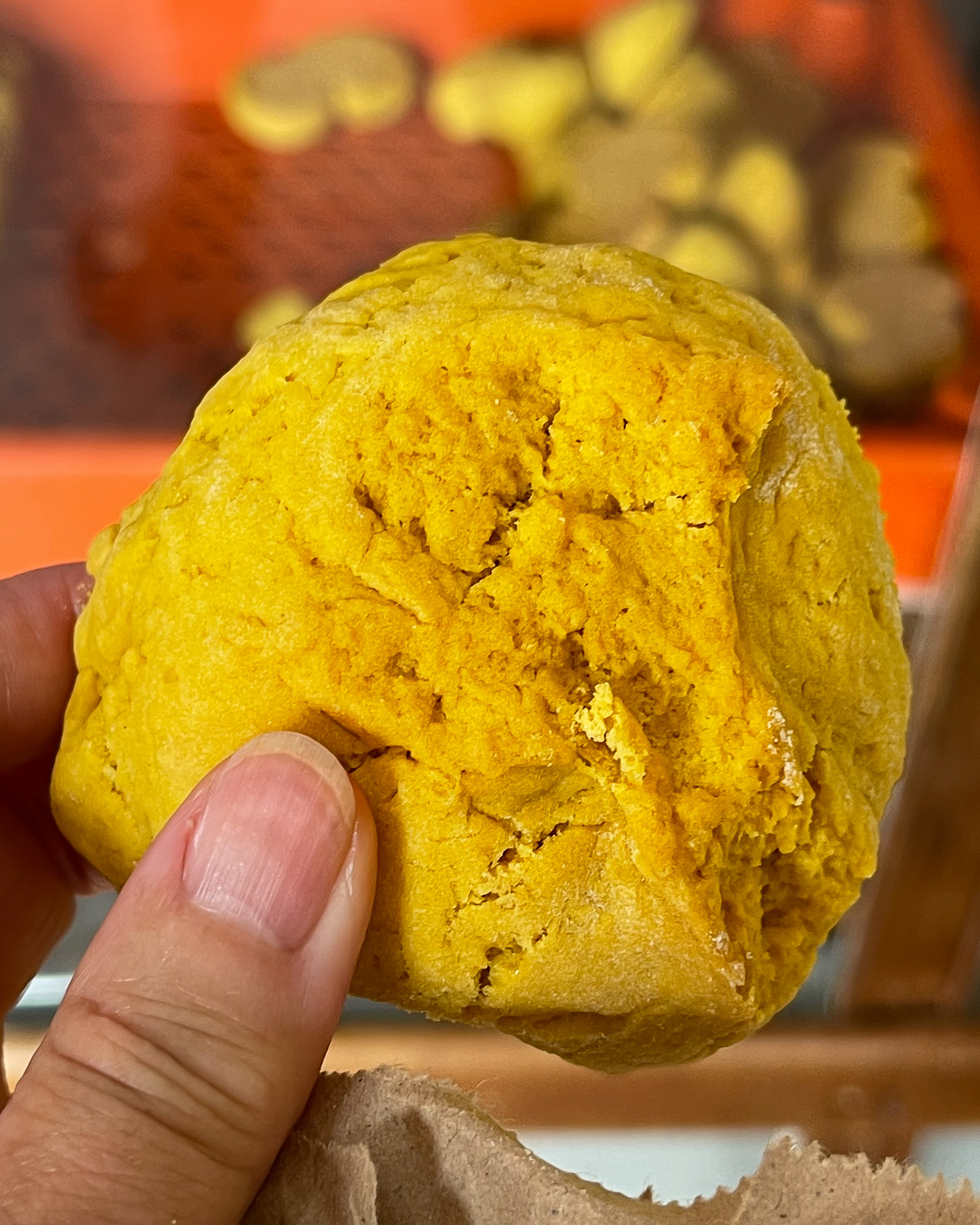 Our best bakery find was at Plas Kassav near Canaries, where they make round cassava bread in different flavours – mine was cherry and raisin and was delicious. I've also heard good things about 7th Heaven Bakery in Rodney Bay, which serves a wider range of Swiss inspired cakes, artisan breads and patisserie, so this would be the place to go if you are missing your European style cakes.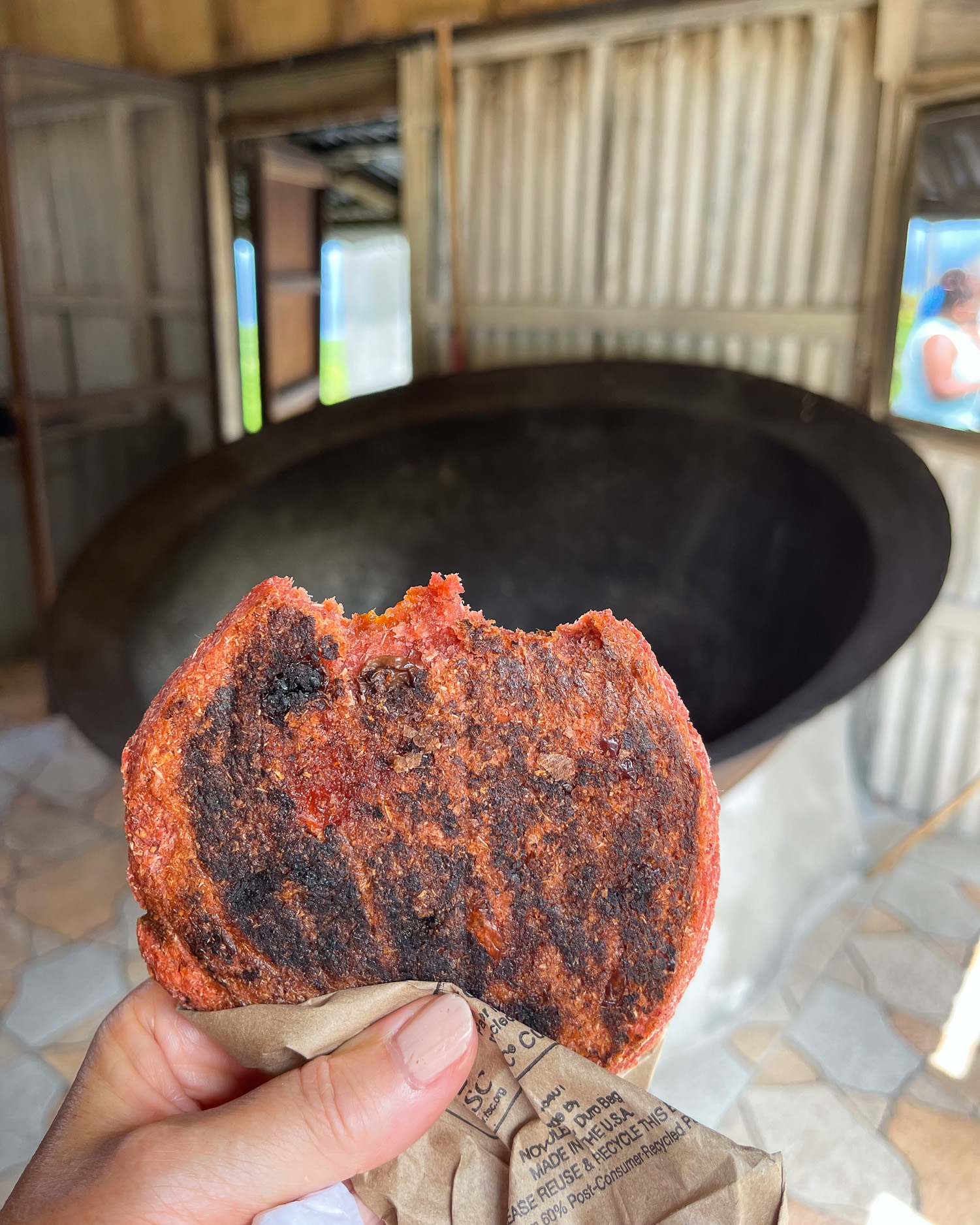 Saint Lucia's take on a local sweet treat seems to be more on the lines of candied fruit, such as the sweet/ sour tamarind balls that we tried in Castries market or the candied red cherries that we bought from a roadside stall.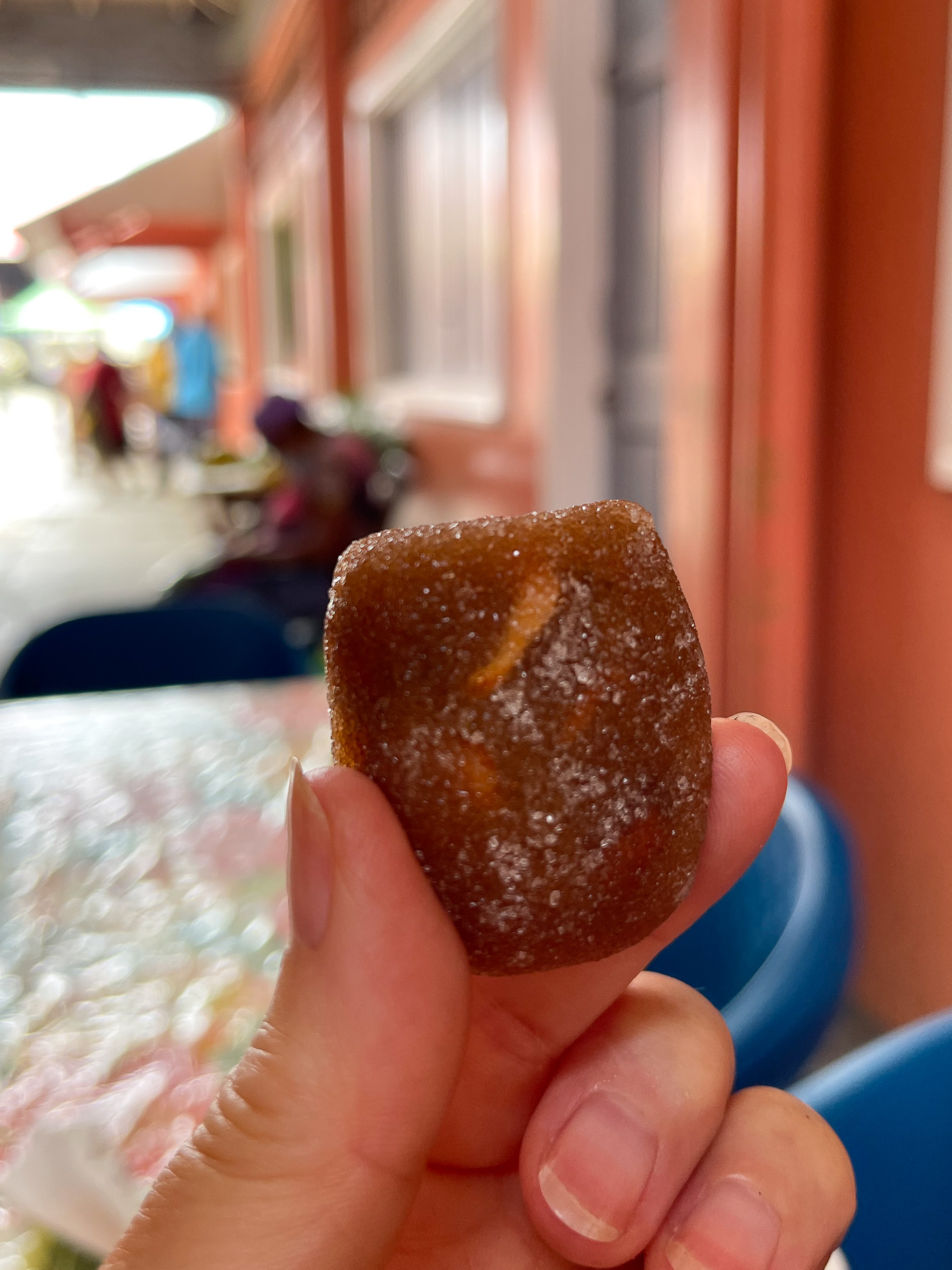 Ice cream in Saint Lucia
There's not much of a culture of ice cream in Saint Lucia, so this tends to be something that's offered in tourist areas, rather than being a traditional dish. However we did find some excellent home made ice cream at Plas Kassav, a small roadside bakery in Anse la Verdure that specialises in cassava bread and other cassava products.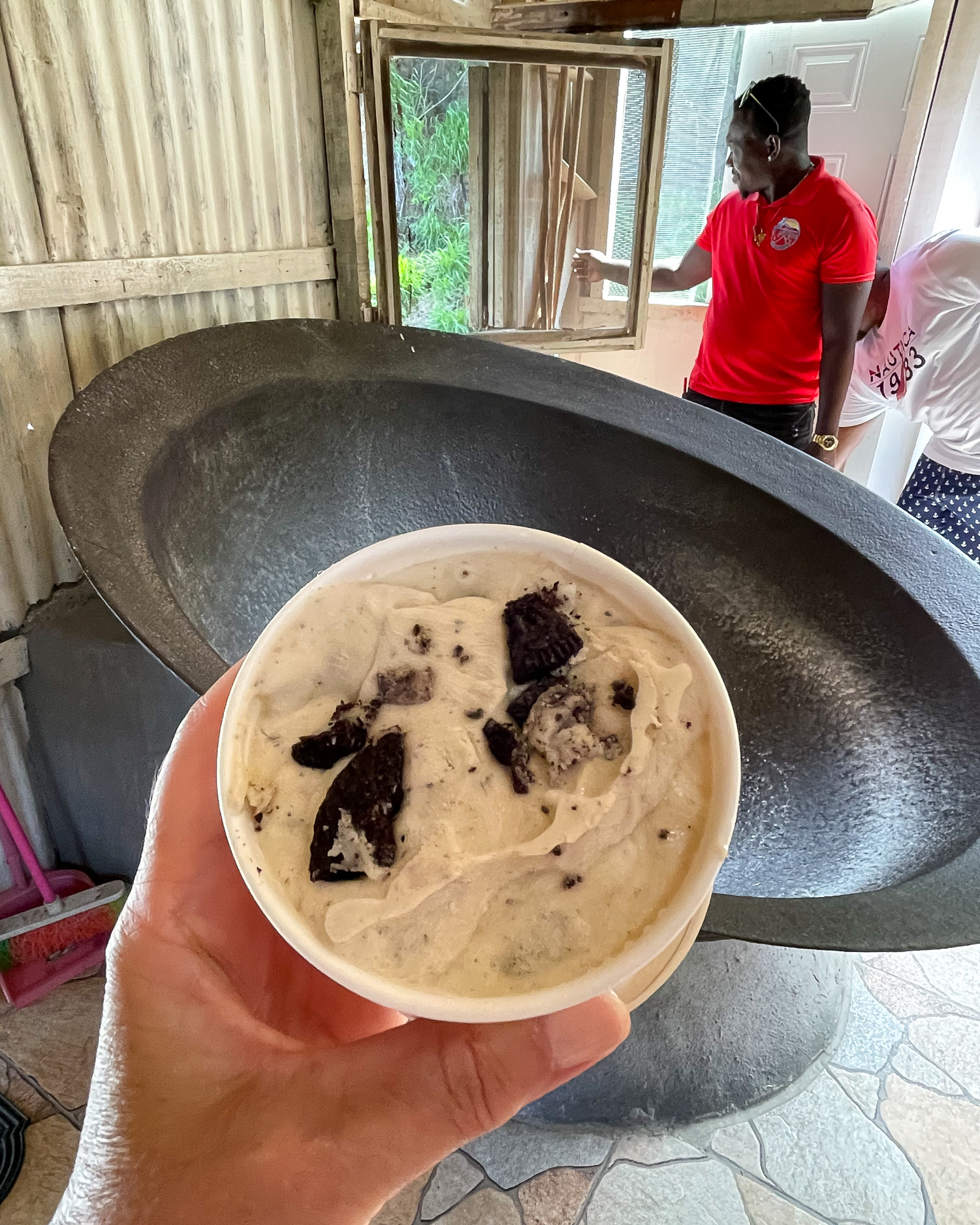 At Project Chocolat we also enjoyed a European style whipped ice cream that was infused with cocoa, served with a variety of syrups and toppings. In Rodney Bay which is a popular tourist spot, we heard they had good home made ice cream at 7th Heaven Bakery and Elena's Italian Cafe.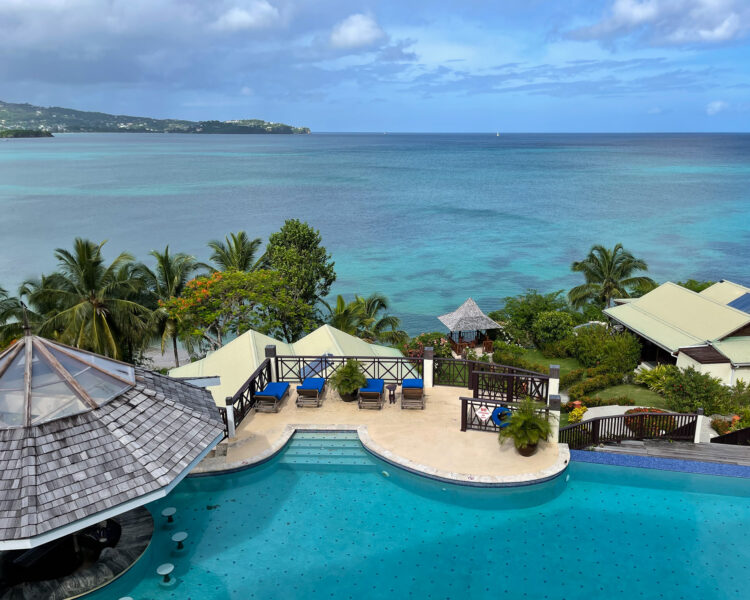 Fruit in St Lucia
If you enjoy sweet things like me, you may have to turn your attentions away from sugary treats and towards the bountiful tropical fruits available in Saint Lucia. From 'Jungle M&Ms' (the pulp around the seeds of the cocoa pod) to 'coconut marshmallow', it's the fruit of the island that kids and grownups alike turn to to get their sweet fix.
Each tropical fruit has its season, but there's a wide range to choose from all year round. One of the joys of eating at our hotels was to try the different St Lucia fruits in a breakfast fruit platter. Bananas seem to be ubiquitous all year round, but we also tried papaya, mangoes, melon, passionfruit and wax apple.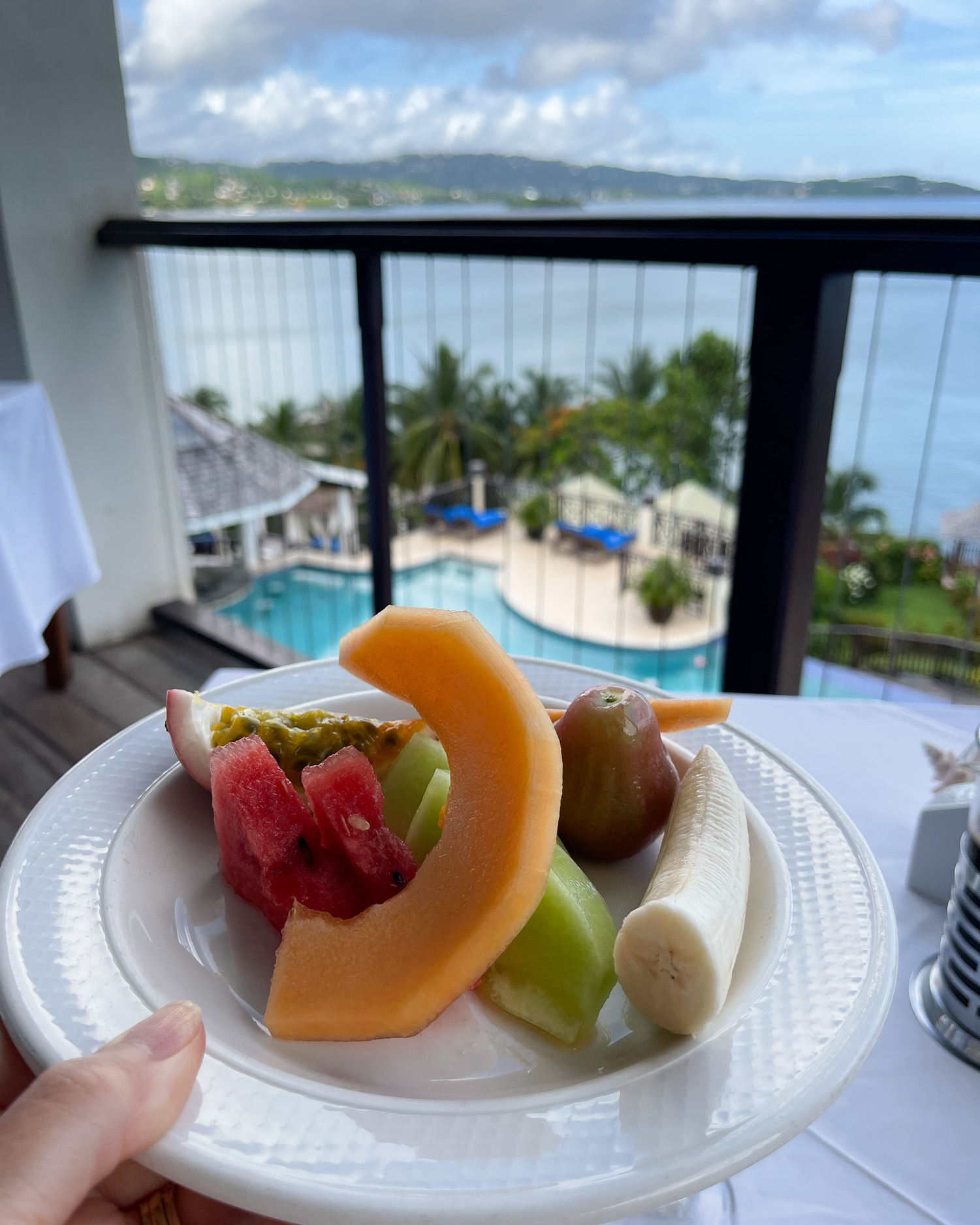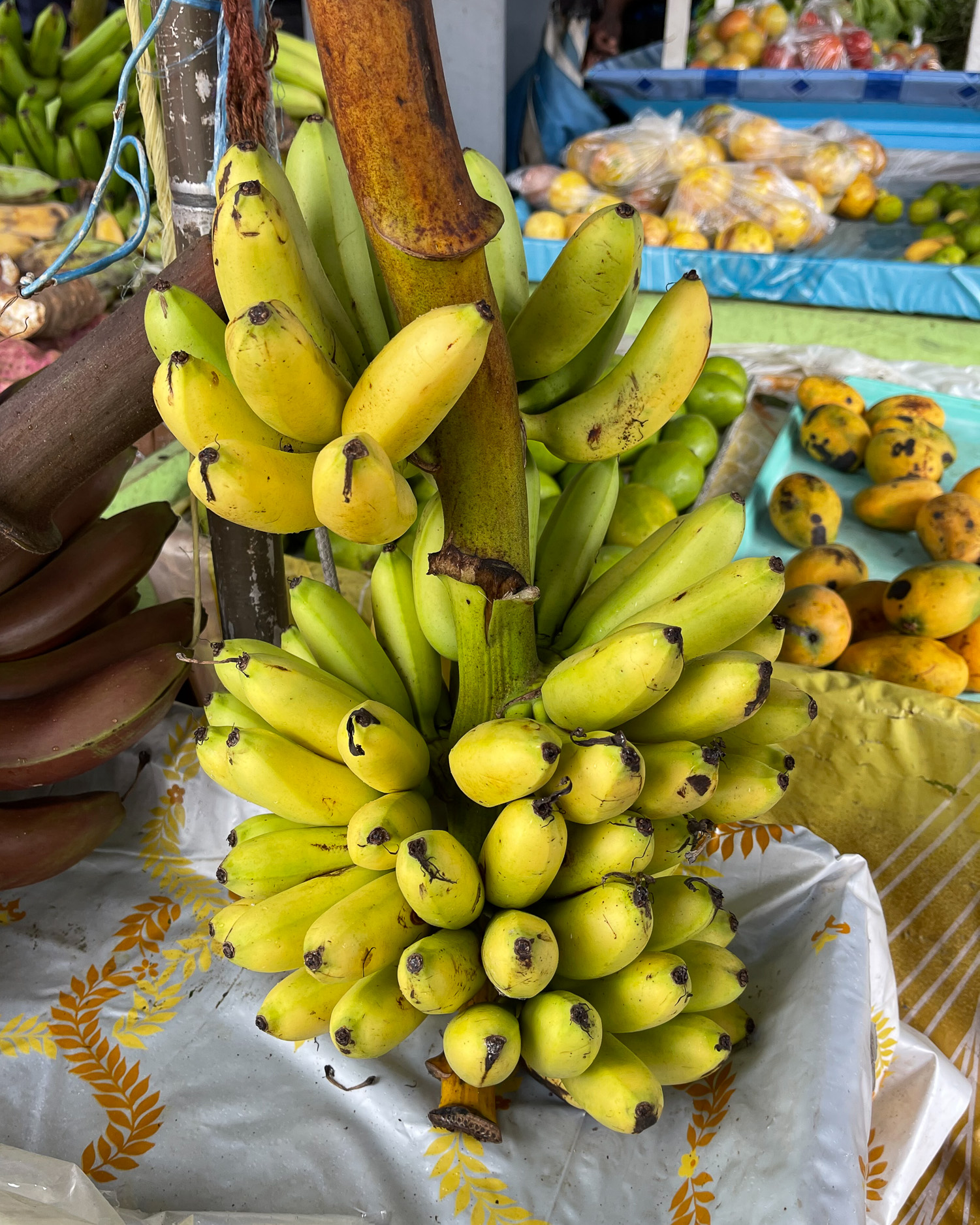 A quick glance at the fruit available in Castries market or at roadside fruit stalls will tell you what's going to be ripe and in season. Our visit in July coincided with mango season, with plentiful supplies of the sweet, juicy fruit on sale and falling from trees in local gardens. When one fruit like the mango is so plentiful during its season, hotels will often feature it in their menus, and in June there was a 1 day 'mango festival' in the centre of Castries.
Later in the year, citrus fruits are in season from September to November, when you can look out for oranges, grapefruit, pommelo and limes. Avocados have their season around August to October, and at that time you might see avocado balls, where the fruit is mashed and mixed with 'farine', a flour made from cassava, to make a snack that's enjoyed through 'Creole month' in October.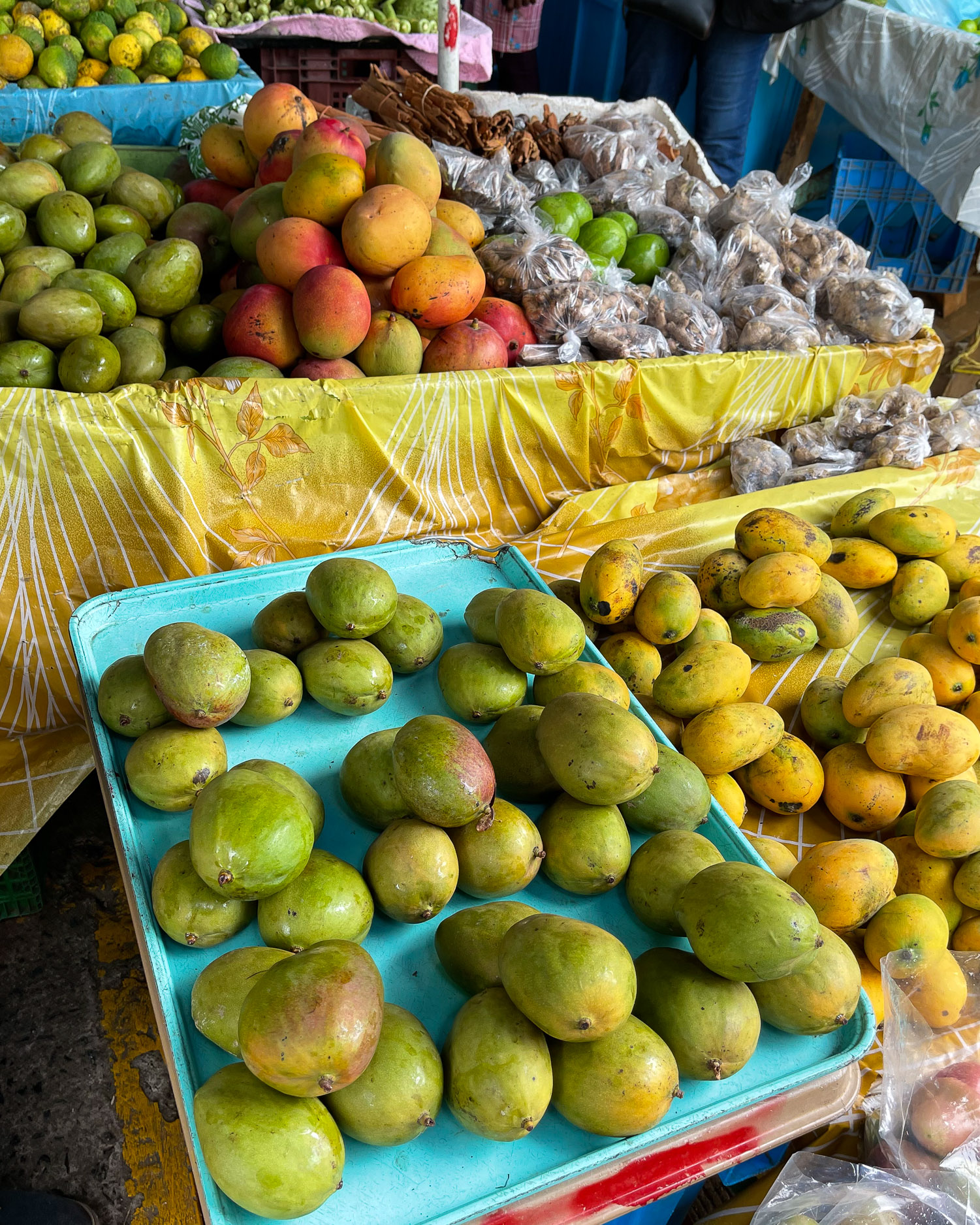 Some fruit in St Lucia is more commonly used to make drinks, like the fruit juices that you'll find on sale in markets and on roadside stalls. Look out for a cool box beside a roadside stall where the juices are normally kept and ask the vendors what they have available. Tamarind is one fruit that's more commonly used to make juice, but we also tried mango, papaya, golden apple, guava, passionfruit, pineapple, soursop and cherry juices.
Coconuts are also grown everywhere on Saint Lucia – so make sure you don't park under a coconut tree! Green coconuts are sold from stalls in busy areas, with the vendors using a machete to expertly slice off the top to reveal the fresh coconut water within. Did you know that if a fresh coconut is left for a while, the water inside evaporates, leaving a spongy 'coconut marshmallow' that kids would eat instead of sweets?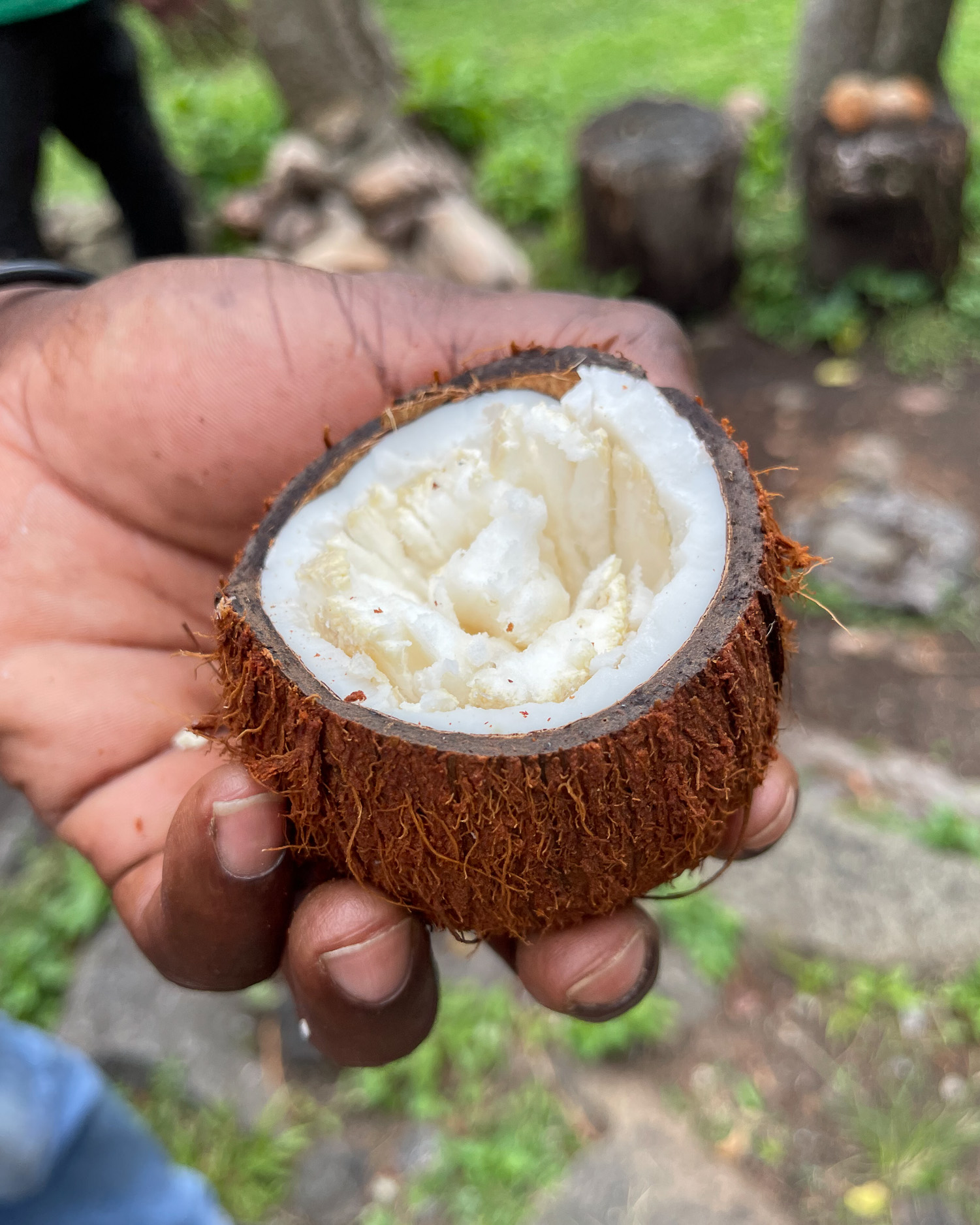 Markets in St Lucia
If you love to feel the bustle of a food market when you travel, head straight to Castries market where you'll find the biggest selection of fresh fruit and vegetables on the island. There's also a part of the market that's devoted to spices, sauces and condiments and another section that sells local souvenirs and clothing. This is a great place to pick up foodie souvenirs such as home made hot sauce, locally produced coconut oil (great for the skin) and sticks of cocoa tea.
While there are some fish vendors within the covered area of Castries market, the most interesting action is at the fish carts on the roadside edge of the market, where smaller traders sell their catch. If you stop to chat to them they'll be happy to tell you the names of the different fish on sale.
Outside Castries, there's a covered market at Soufriere, close to where the buses stop, with smaller vendors setting up their stalls to sell local fruits, spices and souvenirs. In other parts of the island, you'll find individual stalls selling fruit and vegetables outside houses, at road junctions and anywhere where there's enough passing trade.
If you are driving around the island and need a snack, these stalls are a great place to stop for bananas or other fruit as well as fresh fruit juices. It's also worth checking what else they might be selling . We saw hot sauces, local honey, coconut oil and candied cherries, depending on what the stall holder likes to produce, as a money generating sideline.
In villages like Caneries, Anse la Raye and Labourie, you'll also see much smaller stalls by the roadside selling fruit. Typically each stall might have just two or three items of fruit and veg that the vendors have grown in their back garden, supplemented by extras that were grown by neighbours. As we were self catering for part of the time we spent in Saint Lucia, we really enjoyed buying from these stalls and having a chat with the local vendors.
If you want to see the fish markets in action, head to the main fishing villages of Dennery, Choiseul and Anse la Raye in the morning, to see the open sided, covered fish stalls where the catch is being gutted and prepared for sale. Generally they are selling whole fish to restaurants or wholesalers, but if you are self catering they may be able to sell you some super fresh fish directly.
Spices and sauces in Saint Lucia
There's a plentiful supply of spices that are produced in Saint Lucia, and if you'd like to buy some to take home the best selection is on sale in Castries market. Look out for nutmeg, cinnamon and ginger as well as some herbs and spices that will probably be new to you.
In the Caribbean, spices and plants are used as much for their medicinal as their culinary value, being seen as 'nature's medicine chest'. If you care to ask, anyone will tell you about the remedies and herbal teas that their grandparents would prepare for various ailments. On plantation tours it seemed that every other plant was known for its aphrodisiac effect or as a 'natural viagra'!
Home made condiments are also on sale in Castries Market, and you'll find plenty of hot sauce to serve with BBQ meats. Look out for home made versions of the hot sauce made with scotch bonnet peppers, as well as Saint Lucia's popular brand of Baron hot sauce that's made on island.
Drinks in St Lucia
While many international drinks brands are available in resort style hotels, the most popular St Lucia drinks are Piton beer and local rum based mixes, with fruit juices and coconut water on offer for natural non-alcoholic refreshment.
Beer in Saint Lucia
Every Caribbean island seems to have a local brewery producing its own beer and in Saint Lucia the refreshment of choice is Piton beer, named after the famous volcanic twin peaks. It's a light, lager style beer that makes easy drinking in the tropical heat. You'll find it in every bar around the island, along with other brands such as Amstel, Guinness and Heineken, which are brewed at the Heineken brewery near the airport. Being something of a real ale aficionado, Piton beer didn't impress my husband, so we went in search of something with a bit more flavour.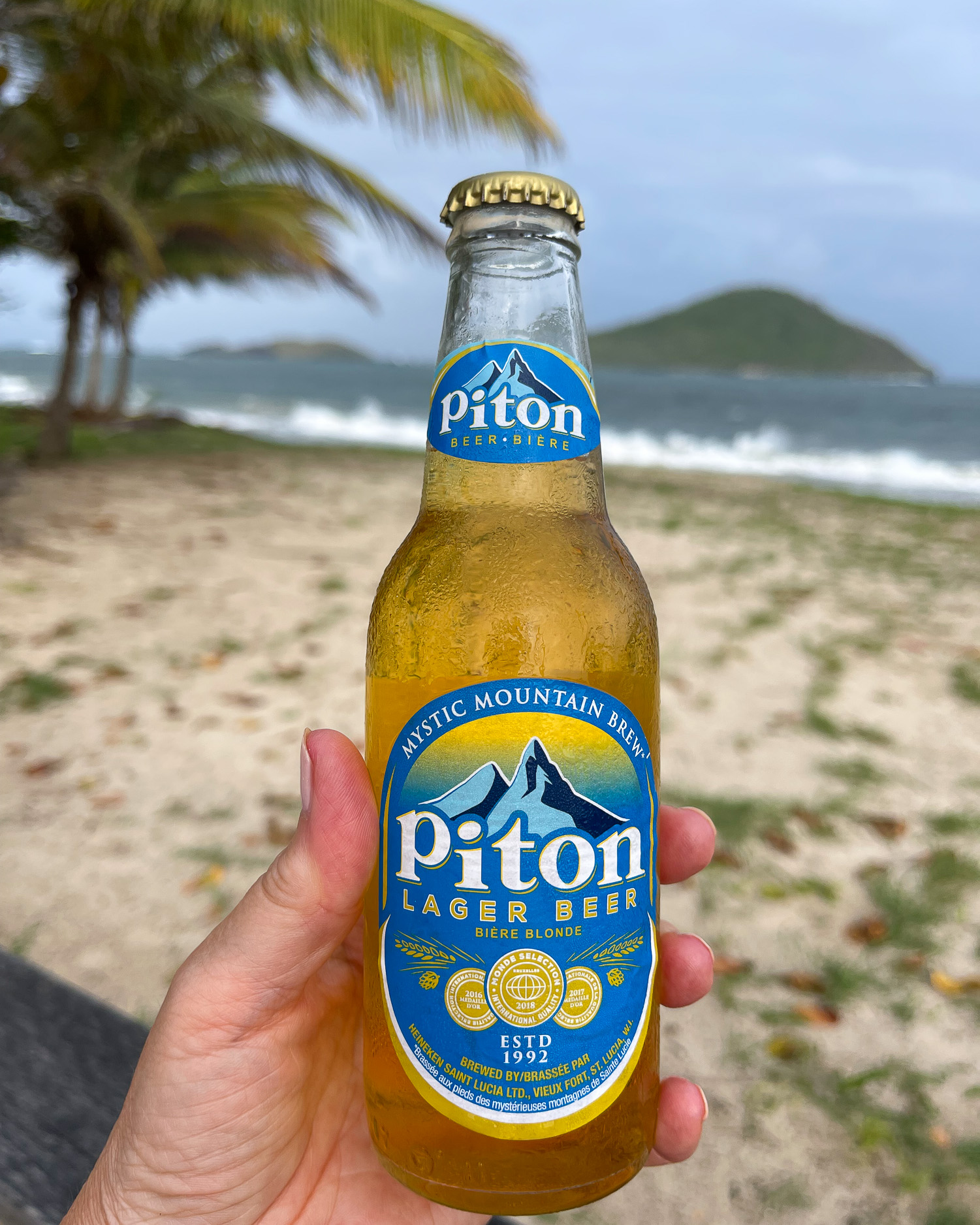 Antillia Brewing Company Saint Lucia
The only other locally brewed beer we could find in Saint Lucia is from Antillia Brewing Company, which is doing a good job at introducing craft beer to the island. The draught and canned beers, are made at their brewery on Anse Chastanet's Emerald Estate, near Soufriere. The range includes The Naked Fisherman, a citrus infused India Pale Ale, Formidable, a hoppy India Pale Ale and Passionfruit Ale, a lighter beer flavoured with passionfruit.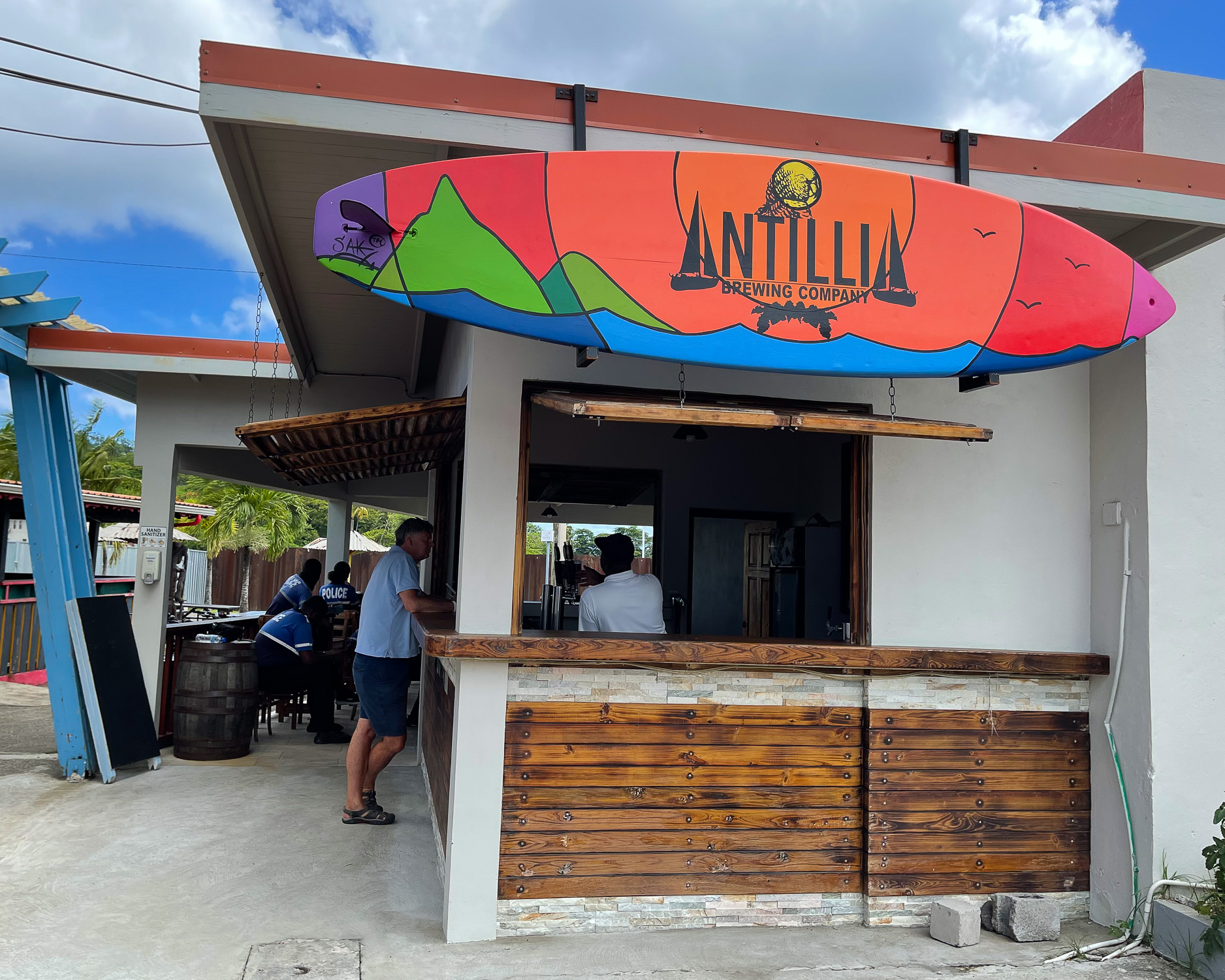 Other seasonal beers such as mango, soursop and chocolate stout are produced on draught, to sell in at their beer shacks at Port Seraphine cruise port and on Anse Chastanet beach. Look out for Antillia Beer at some of the top hotels on the island such as Anse Chastanet, Jade Mountain, Cap Maison and Body Holiday.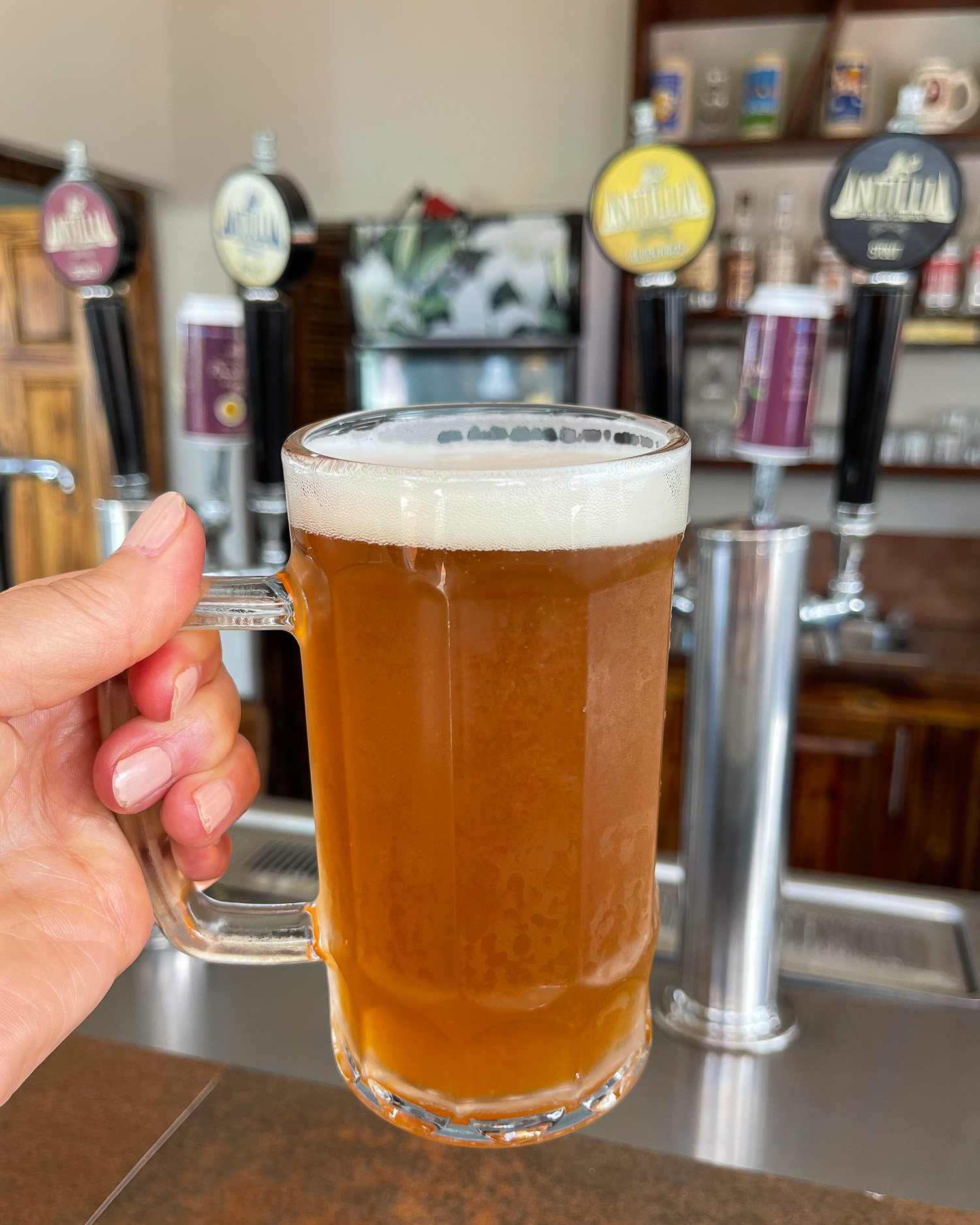 Rum in St Lucia
Like most of the Caribbean, the traditional spirit of Saint Lucia is rum, which is made from locally produced sugar cane and molasses. Most of the St Lucia rum you'll see on sale comes from the Saint Lucia rum distillery which operates from the Roseau Valley south of Castries. To find out how rum is made you can visit the distillery on their Rhythm of Rum tour.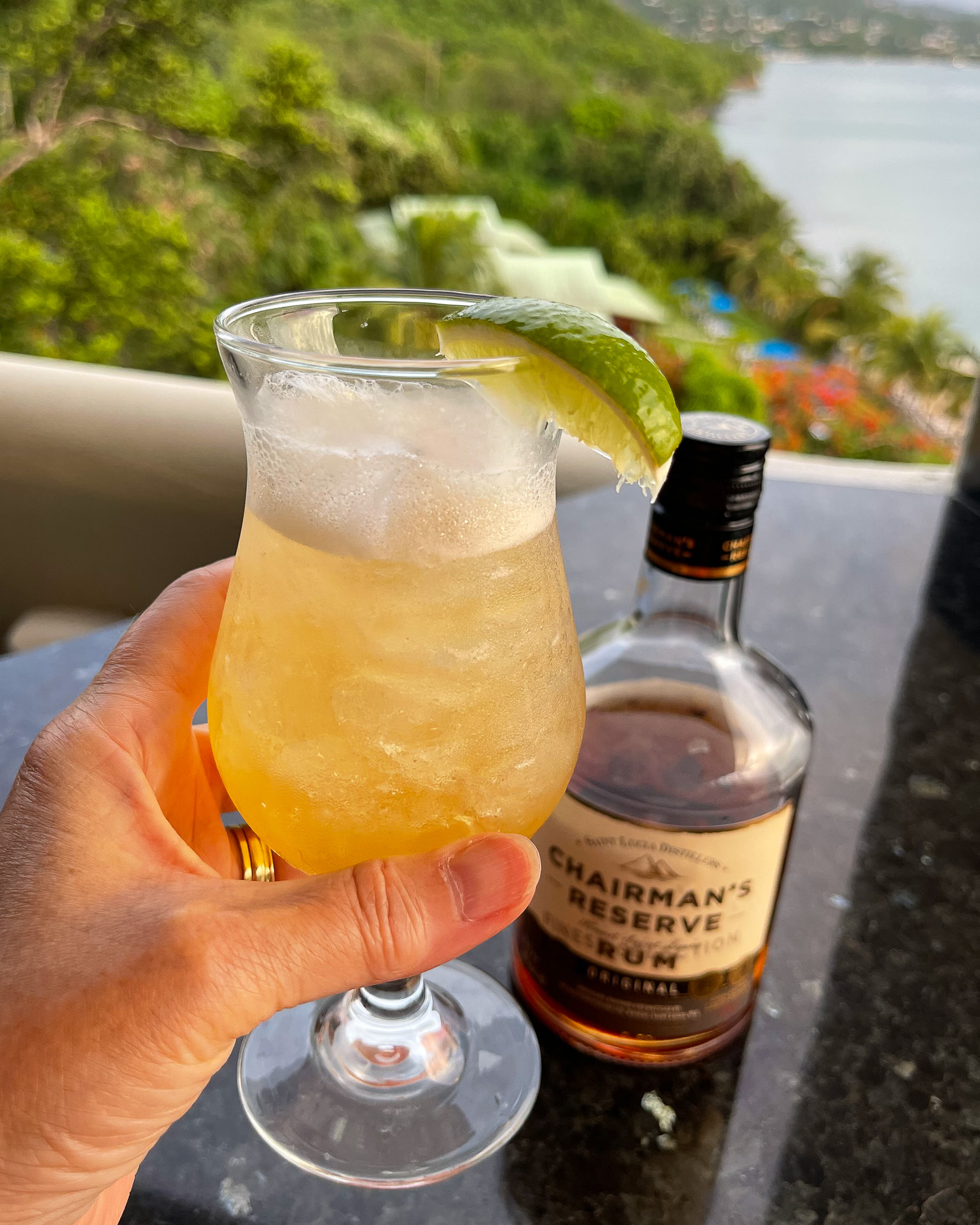 In bars and hotels around Saint Lucia you'll see their leading brands of Bounty Rum, the premium Chairman's Reserve and the oak aged Admiral Rodney rum, as well as a range of Marigot Bay liqueurs. Rum based cocktails are very popular and if you're offered a complimentary alcoholic drink, it's likely to be a Rum Punch, a mix of local rum and fruit juice with spices and grenadine. Treat the Rum Punch with caution as it slips down a treat, but is often a lot stronger than it appears!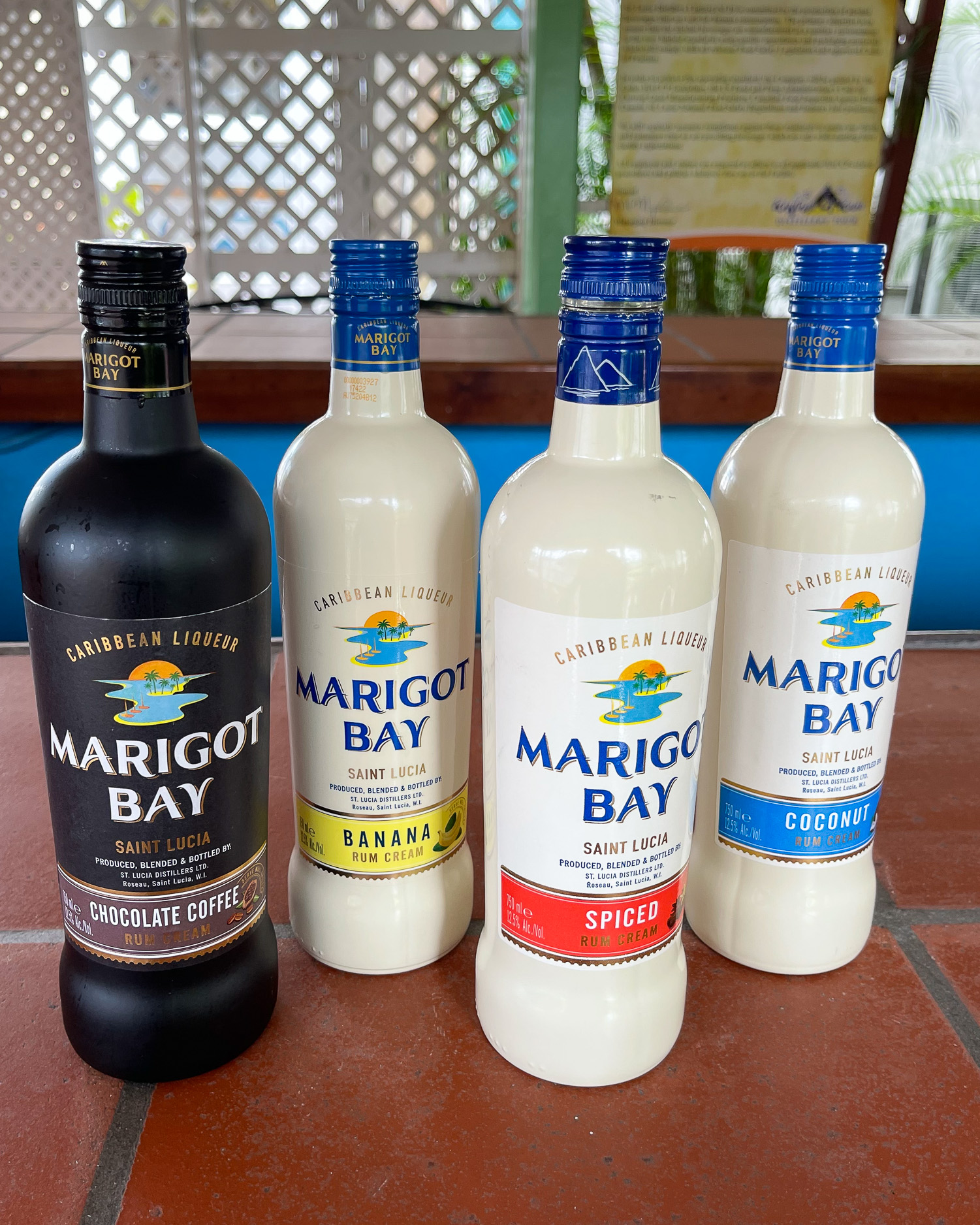 Along the side of the road throughout the island you'll spot rum shacks, the equivalent of our pubs, where older men gather for a drink. They sometimes also offer home made spiced rum, local rum infused with whatever local spices you care to throw into the bottle, which we saw on sale at roadside stalls.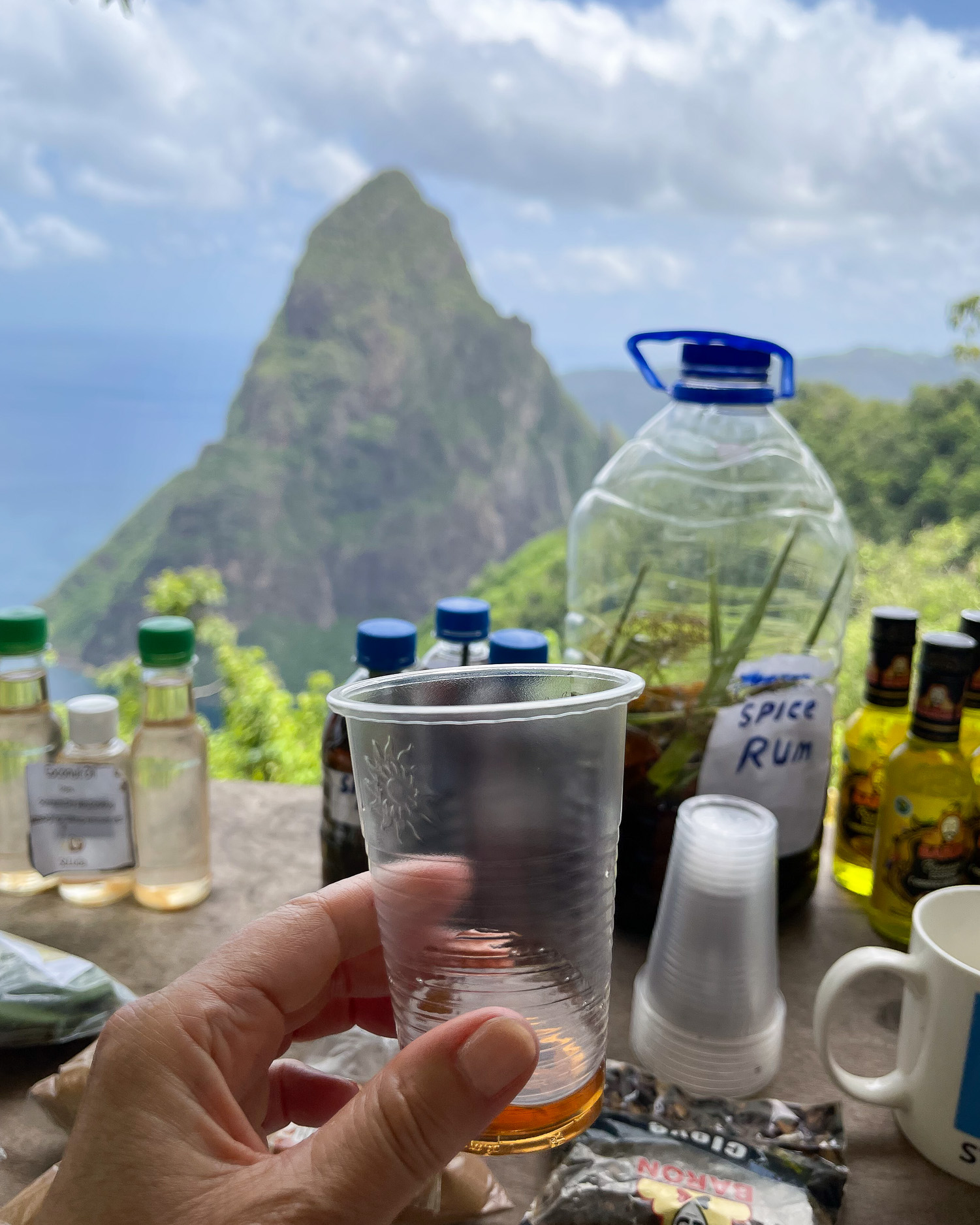 Fresh juices in Saint Lucia
While I'm not averse to a Rum Cocktail, my drink of choice in Saint Lucia was the locally made tropical fruit juices that are sold in cafes, markets and roadside stalls. Look out for vendors with a cool box and ask them what flavours they have inside – we found there was a wide choice at Castries market.
The juices are made with blended fresh fruit, sometimes with water and sugar added depending on the natural sweetness of the fruit. We enjoyed trying different juices that we might not come across at home; tamarind, soursop, sugar apple, golden apple, passionfruit, as well as the more usual lime, mango or pineapple.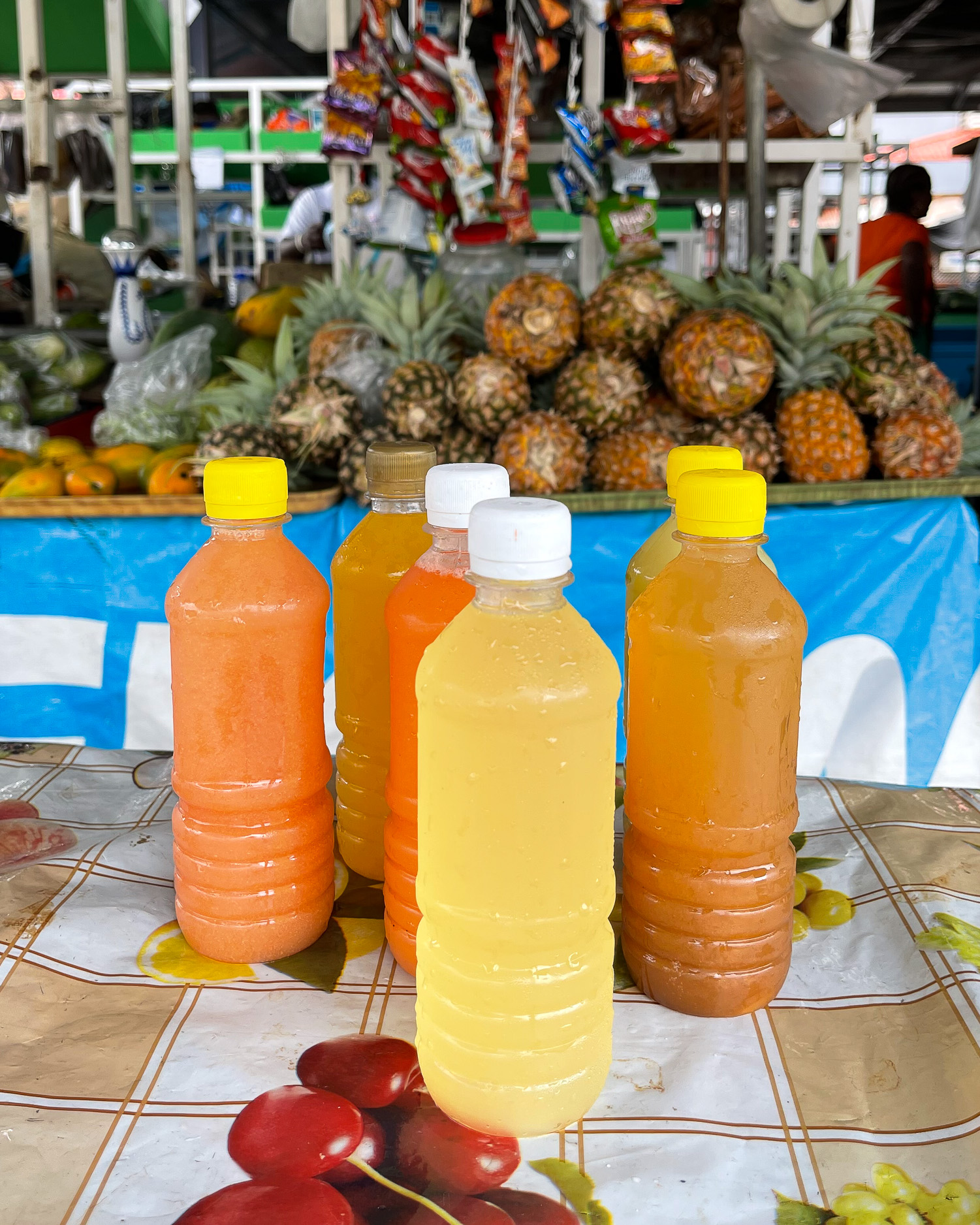 Another refreshing natural juice is coconut water, sold from green coconuts in markets and roadside stall. Watching the vendors expertly slice off the top of the coconut with a machete, while narrowly missing their fingers, is one of those 'don't try this at home' moments. While relaxing or swimming on the beach you may also find coconut vendors who will sell you a drink from their canoes – with prices by negotiation!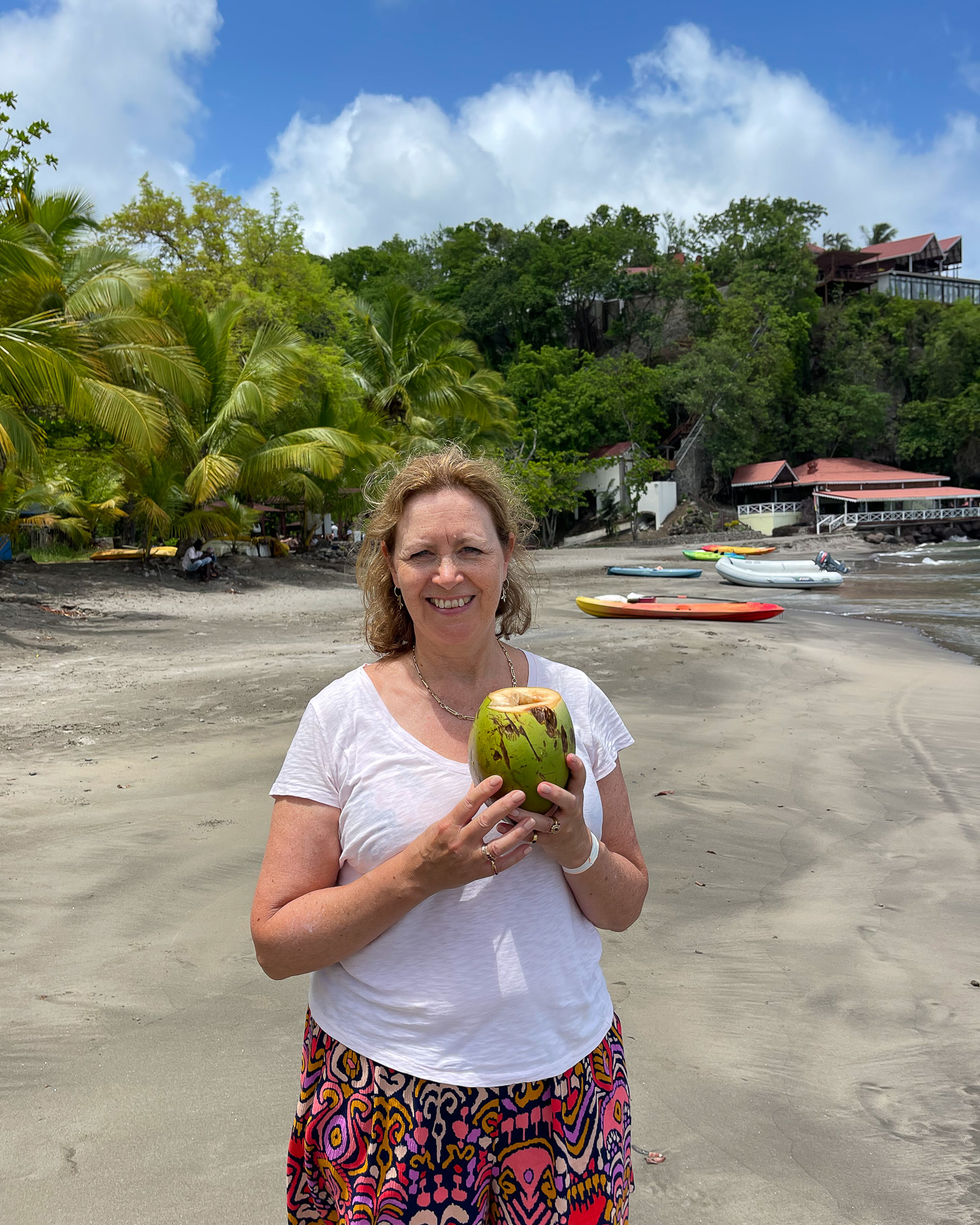 Cocoa tea
My other favourite Caribbean drink is cocoa tea, which is surprisingly energising. You'll see it on sale in the markets as a stick of ground cocoa beans, that you grate when required and boil with hot water. This can be drunk with or without milk, but I've developed the taste for it with no milk and a little sugar, a bit like black coffee. Drinking cocoa tea or even nibbling on roasted cocoa nibs, gives a natural energy lift like coffee, but without the caffeine.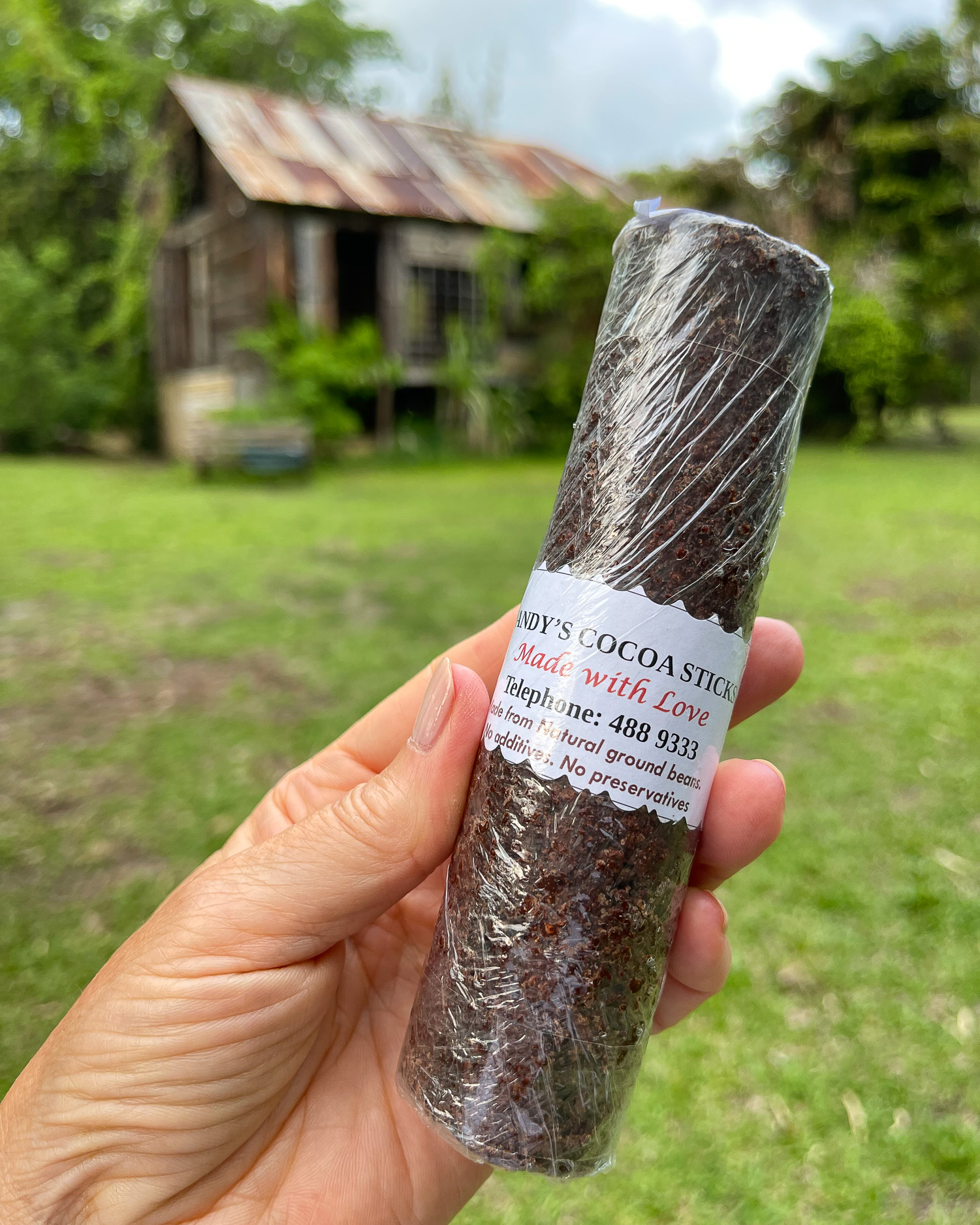 Soft drinks in Saint Lucia
If you like drinking fizzy sodas, we found a few that were new to us sold in cans, like Angostura chill, Peardrax and Mauby fizz which is made with Mauby Bark, reputed to have many health benefits. While we are not big consumers of fizzy drinks it was fun to experiment and taste a few of the local drinks on offer.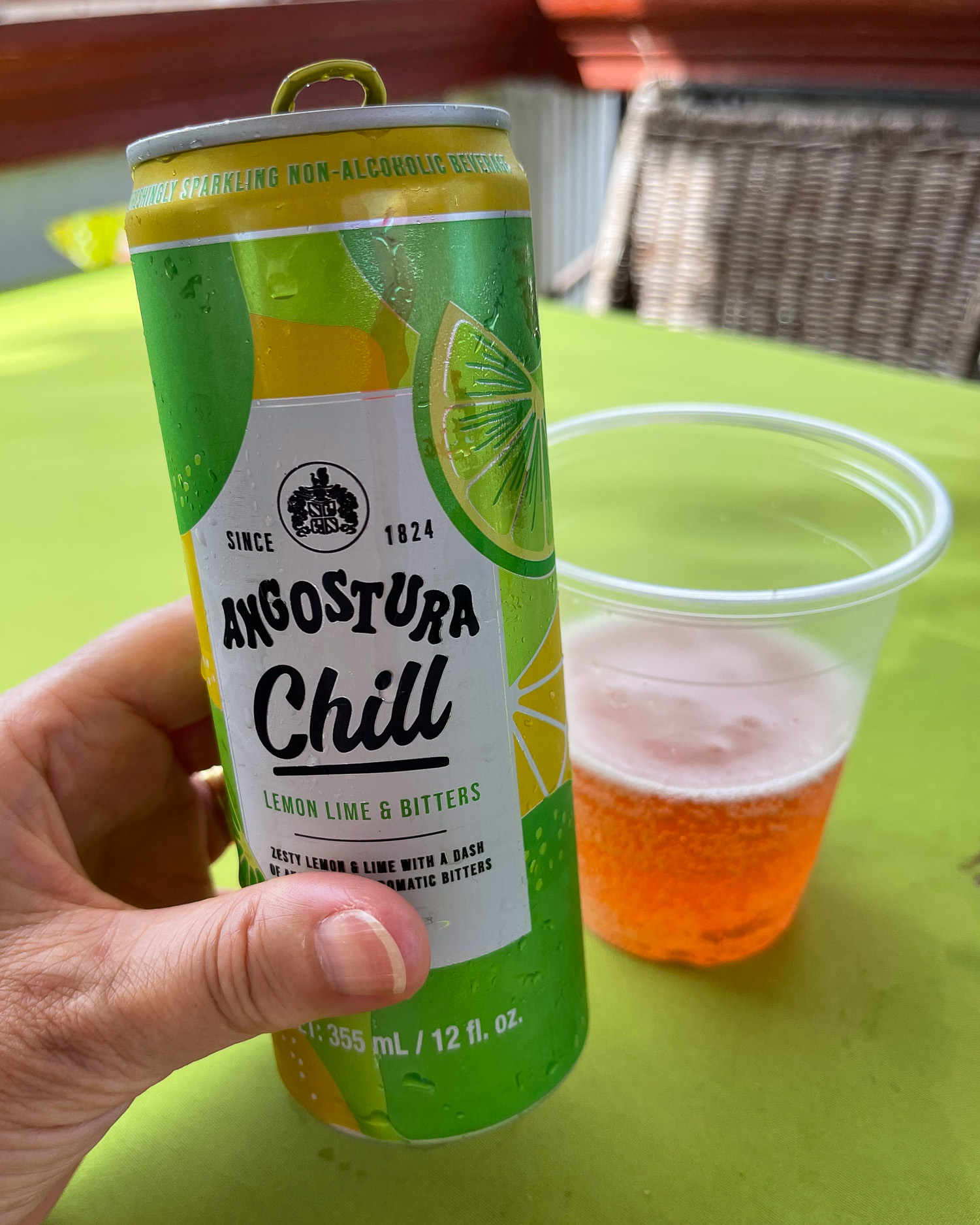 Restaurants in Saint Lucia
Many visitors to Saint Lucia are looking for a relaxing sunshine break and tend to stay in an all inclusive resort, with not much inclination or incentive to seek restaurants outside the hotel. However we found that the resorts we stayed in, like Jade Mountain and Calabash Cove, did a great job of showcasing St Lucia's culinary traditions and local produce.
Other visitors are independent travellers who stay in self catering accommodation, hire a car and eat local style food, perhaps with some treats in a few upscale restaurants. We've tried this way of travelling too and it allowed us to discover the best restaurants in St Lucia, recommendations that I'd like to share with you.
Most of the places we tried were less expensive places to eat in St Lucia. If you are veggie or vegan, look out for 'Ital' or rastafarian owned restaurants and food trucks (often showing the red, yellow and green colours), since the rastafarian diet is mainly plant based. There are excellent restaurants in the resort hotels that are open to non-residents, but be warned they can be very expensive if you're not staying in the hotel.
Bear in mind that most locals eat their main meal at lunchtime, so St Lucia restaurants serving traditional dishes tend to be open for lunch but closed for the evening. When eating in Saint Lucia restaurants, there's normally a 10% tax and 10% service charge added to the menu prices unless otherwise stated. You also need to be clear whether menu prices are shown in $US (typical for international style restaurants) or $EC (for local style restaurants)
I've given an indication of price levels – $ = local prices $$ = mid range prices $$$ = upscale or special occasion prices.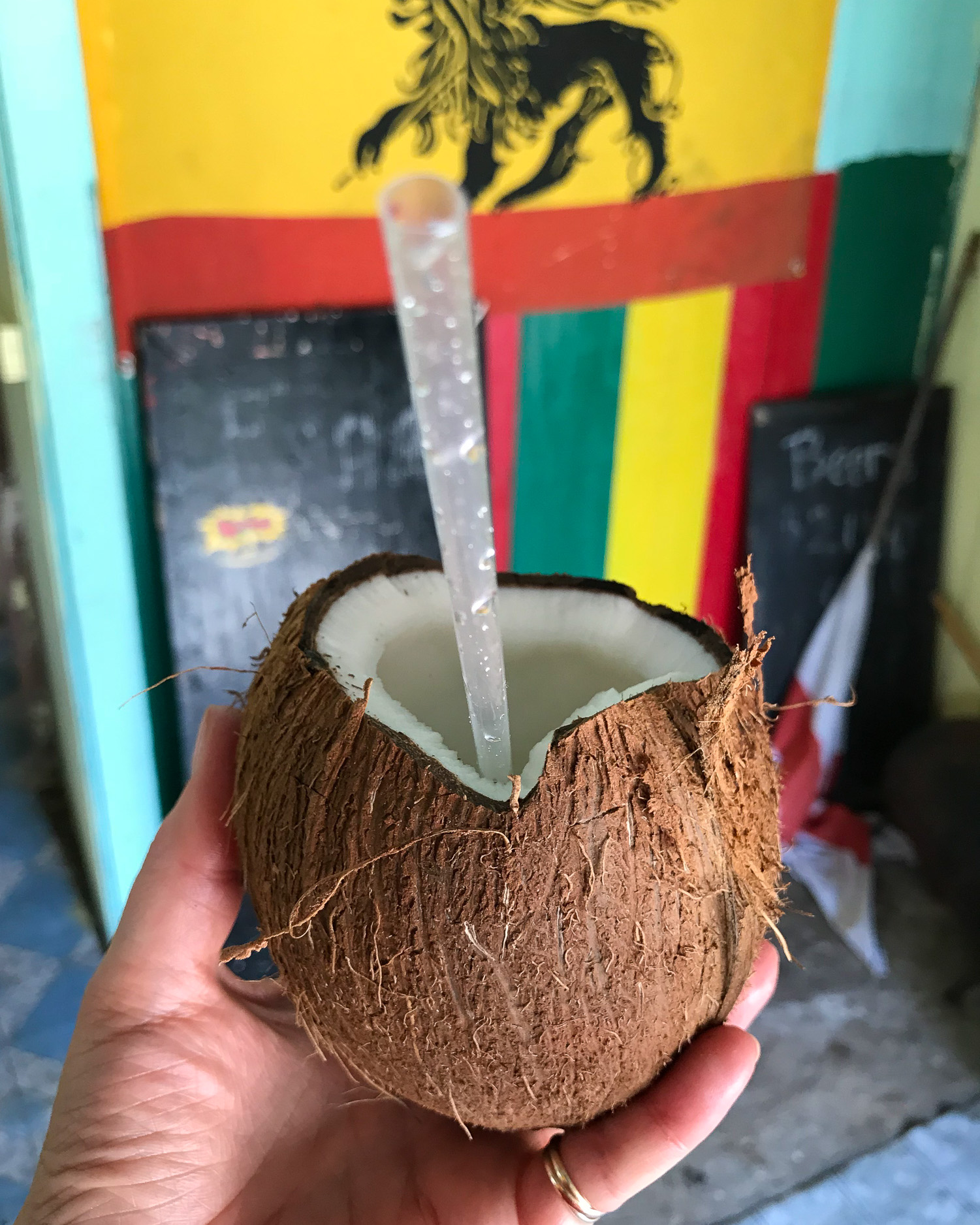 Restaurants in Castries
Pink Plantation $$ – Set in a beautiful old wooden house on Morne Fortune, the hill overlooking Castries, this is just a short taxi ride from the centre of Castries. It's a great place for lunch in stylish and artistic surroundings, furnished by artist Michelle Elliot who has her ceramics gallery there. The menu is based on local dishes and flavours, which are beautifully presented on Michelle's decorative plates. We ate on the verandah overlooking the gardens with views of Castries.
The Coal Pot $$$ – an upscale waterside restaurant from the same owners as Pink Plantation, we did not eat here but it has a strong reputation. The menu features Caribbean produce and flavours with a French influence and this is a good choice for a special occasion or romantic lunch or dinner. It's conveniently close Port Seraphine Cruise port, if you are arriving by cruise ship.
Castries Market $ – find the section of the market where there are numerous small booths or kitchens, each with their dishes written up on the menu outside. This is a good place to try some of the local dishes or snacks I've described, but only open for breakfast and lunch. Many have tables outside where you can sit and eat lunch.
Rodney Bay and Gros Islet
As a major tourist hub that's easily accessible from the cruise port, Rodney Bay has a wide choice of restaurants and bars and is a lively place to eat in the evening. On the north side of Rodney Bay is the neighbourhood of Gros Islet, which is famous for its Friday night street party. We preferred the more local places, to the grill bars and restaurants aimed at an international clientele – here are a few to try.
Island Mix $ – This art centre with small cafe is an oasis of calm with a lovely location overlooking a quiet part of the marina. The lunchtime menu is moderately priced and features Caribbean and world dishes. They also open on some evenings for themed events such as their Fish and Chips Thursdays.
Food trucks – we were told that there were some food trucks in the area of Bella Rosa Road, Rodney Bay, although we didn't have a chance to check these out. Typically food trucks in Saint Lucia serve local style Creole dishes and BBQ.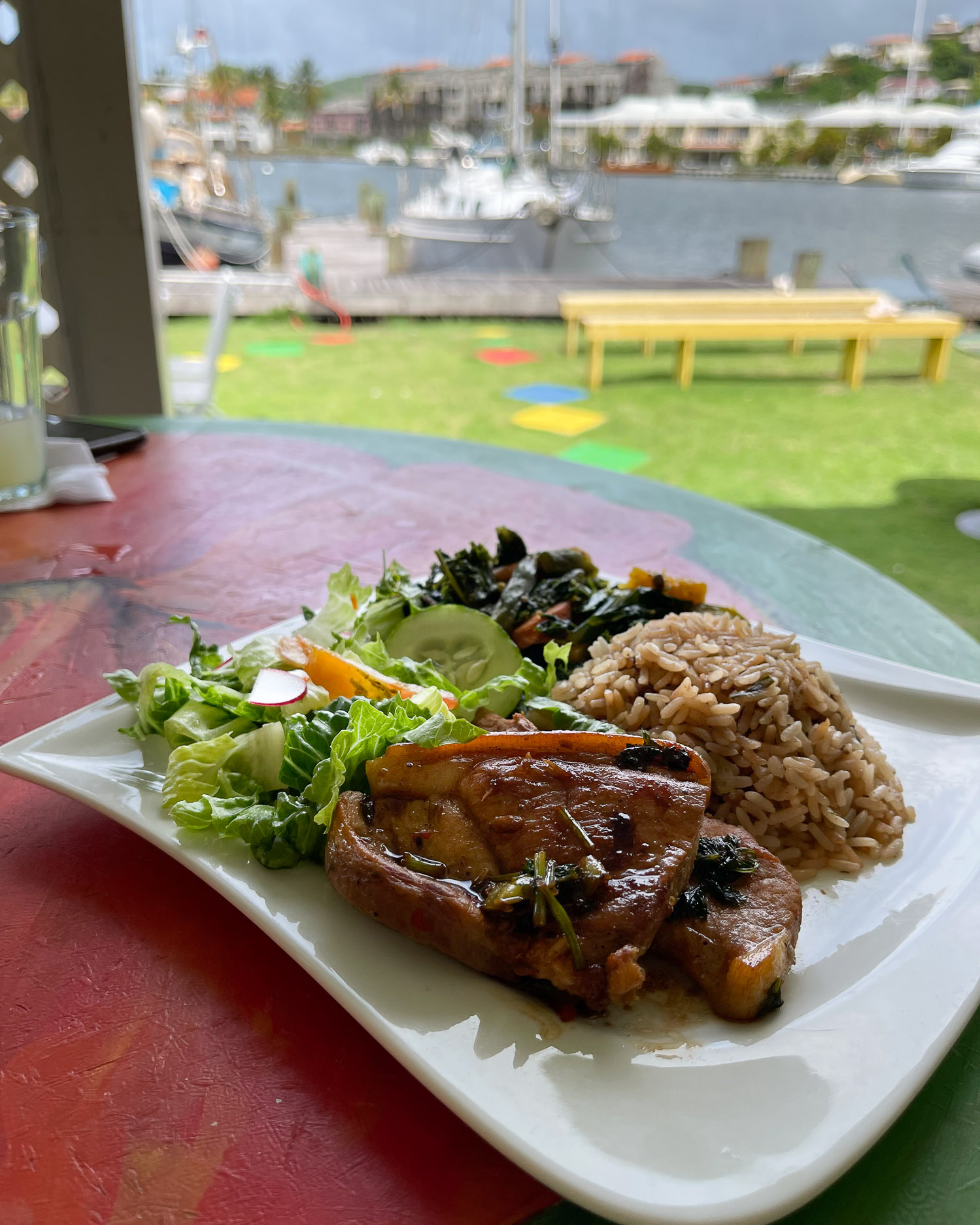 Lucian Cuisine $ – we did not visit but heard good things about Lucian Cuisine, an inexpensive local style cafe in Rodney Bay serving local style dishes and juices for breakfast, brunch and lunch.
Golden Taste Restaurant $ – we heard good things about this restaurant and bar in Gros Islet that serves reasonably priced local style dishes. Other places to try in Gros Islet that serve local food are Wingz-n-tingz which is known for grills and BBQ or Duke's Place for grilled seafood at reasonable prices. Bear in mind that the atmosphere will be much more lively in Gros Islet on a Friday night during the street party.
Pigeon Island
Jambe de Bois $$- although we didn't visit the north on this trip to Saint Lucia, I remember Jambe de Bois from a previous trip and thought it was a fun place to eat. It's set within the Pigeon Island national park, so you may need to pay an entrance fee, but the beachfront location and deck of this wooden restaurant is very appealing. The food is Caribbean style but the ambiance is a little more international.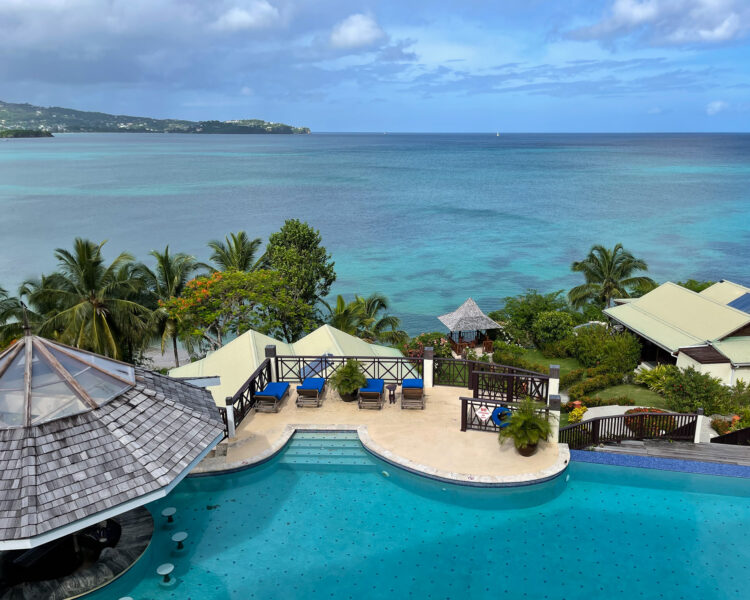 Soufriere
Soufriere is a bustling town that was formerly the capital of Saint Lucia. It's surrounded by some of the best hotels of the island, including Anse Chastanet and Jade Mountain where we stayed. There's a slightly edgy feel to the waterfront, since this is where touts seem to hang out to try to extract money from tourists who arrive here on catamaran trips. As we moved away from the landing stage towards the market, the atmosphere became a bit more relaxed, with less likelihood of unwelcome approaches. In the town itself we found a few places that we'd recommend to eat.
Island Chef $$ – if you walk along the waterfront to the covered market, there's a small painted kiosk called Island Chef that serves local drinks and food. We came across it by chance and really enjoyed the grilled fish we tried there, which was a presented and tasty meal with the typical sides of ground provision, salad and macaroni. They also offer some good vegan options, as the chef is Rastafarian.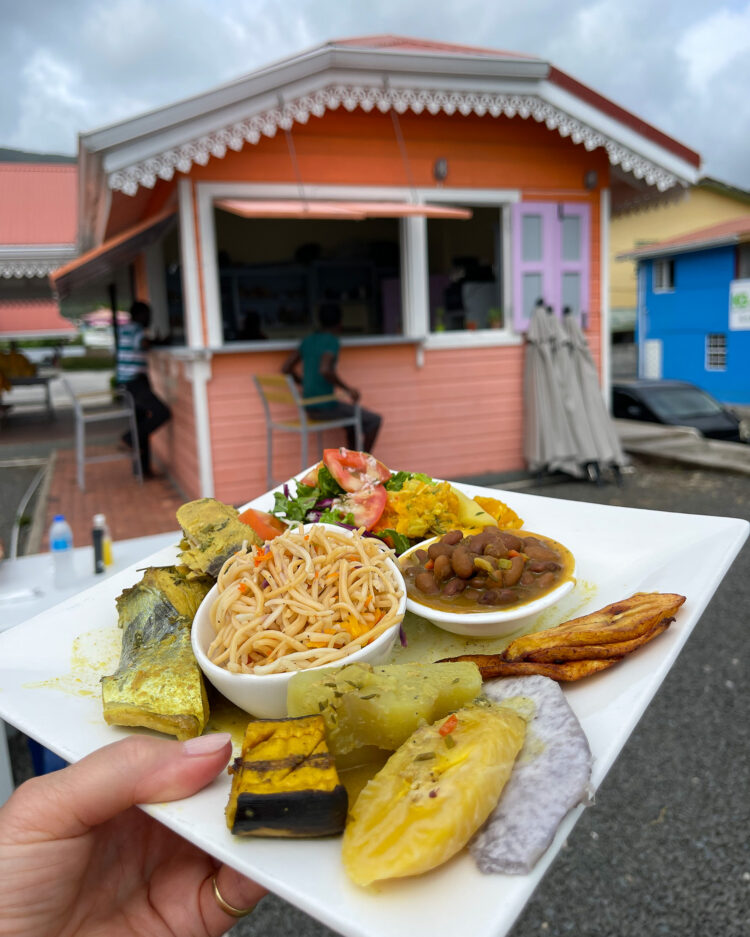 Big Yard $- Another place we heard recommended was Big Yard, in the centre of Soufriere close to the waterfront, a bar and restaurant that's very popular with locals. It serves grills and local food with large portions and reasonable prices.
Fedo's $ – This is a very popular local's restaurant which has just a few eat in tables and a busy take away business. We heard that it's where all the taxi drivers and tour guides go for lunch, although the location is some way from the waterfront, so it may be a place to visit if you are passing through with a hire car.
Orlando's restaurant in Soufriere
Orlando's restaurant $$$ is one of the few fine dining restaurants in St Lucia that's not located in one of the upscale resort hotels. Chef Orlando Satchell is originally from the UK and after many years as consultant executive chef at the 5 star Ladera Resort, he opened his own restaurant on the edge of Soufriere, in the courtyard of his own house.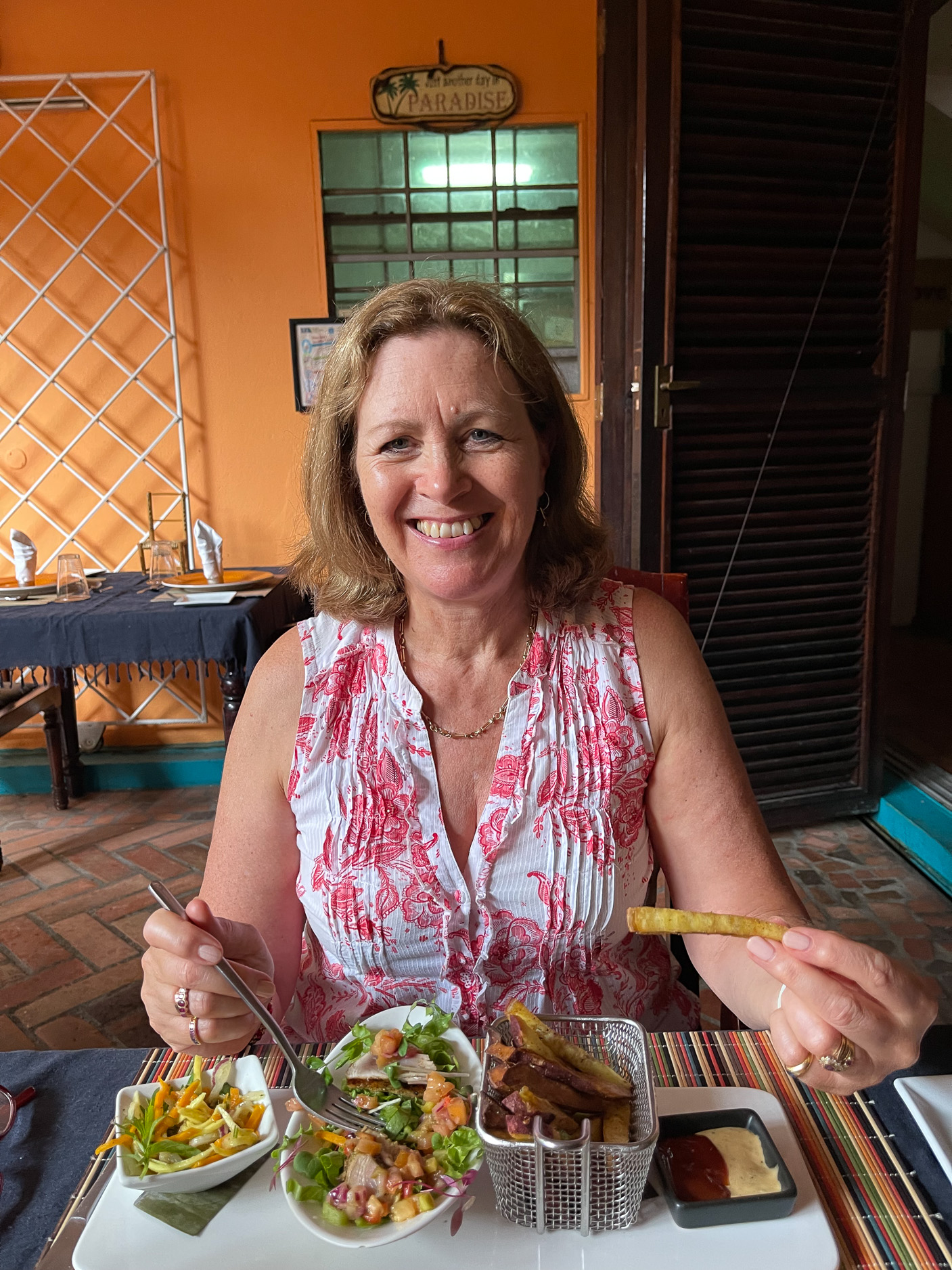 We tried out the lunchtime set menu as a birthday treat and despite the torrential rain that day, received a warm welcome. Chef Orlando himself came to our table between courses to chat to us and explain the dishes. On the day we visited, these included love apple cooked with a spicy chicken filling, breadfuit soup and seared tuna with sweet potato chips and a mango and pumpkin salad – Chef Orlando's answer to 'Fish & Chips'
The menu is not written down, but changes daily depending on what Chef Orlando decides to cook, with local Caribbean produce and flavours elevated to refined and delicious dishes. If you are travelling independently, this is the place for a special occasion lunch or dinner for a delicious taste of the Caribbean.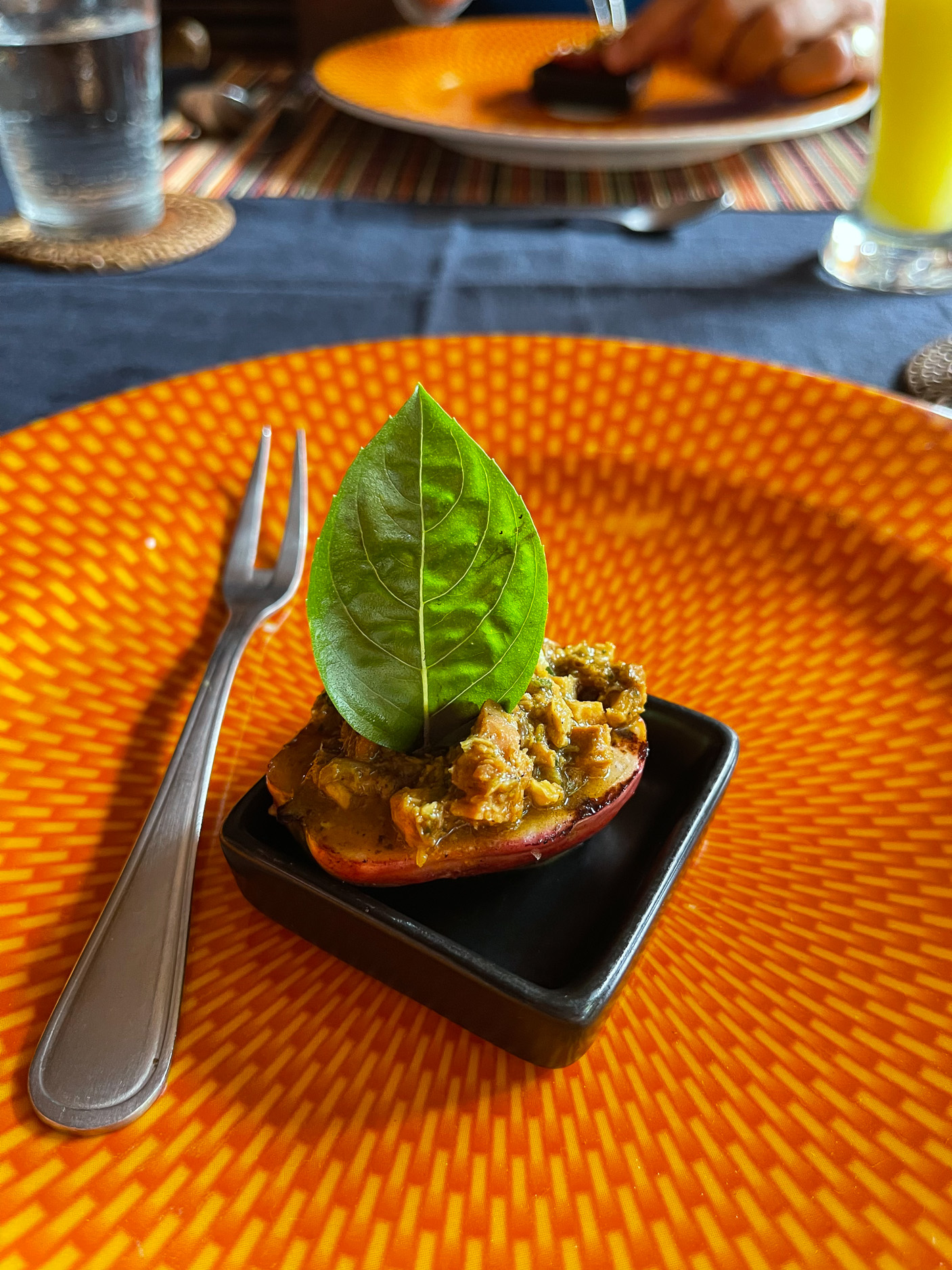 Restaurants in the south and east of St Lucia
Labourie – Mama Rose $ is right in the centre of Labourie Village, serving Creole cuisine, especially grilled fish plates, since Labourie is one of the main fishing villages on the island.
Vieux Fort – The nicest places to eat in the southern tip of the island are the beach cafes on Sandy Beach outside Vieux Fort. Just 5 minutes drive from the airport, these are a great place to stop and soak up those beach views before the flight home. We tried The Reef Cafe $$ and Island Breeze $$ who both serve tasty, casual food that's reasonably priced but has a more international style to it. The beach here can be quite windy and is popular with kite surfers and wind surfers – with boards for hire at The Reef Cafe.
Dennery – At the viewpoint beside the road overlooking Dennery, there are a few different food kiosks serving food and drink at Nicki's Bar and grill $. When we stopped by, they all had their charcoal BBQ grills going, so we tried some BBQ chicken kebabs which were very tasty. You can sit and eat at the wooden tables with a nice sea view over Dennery and the bay.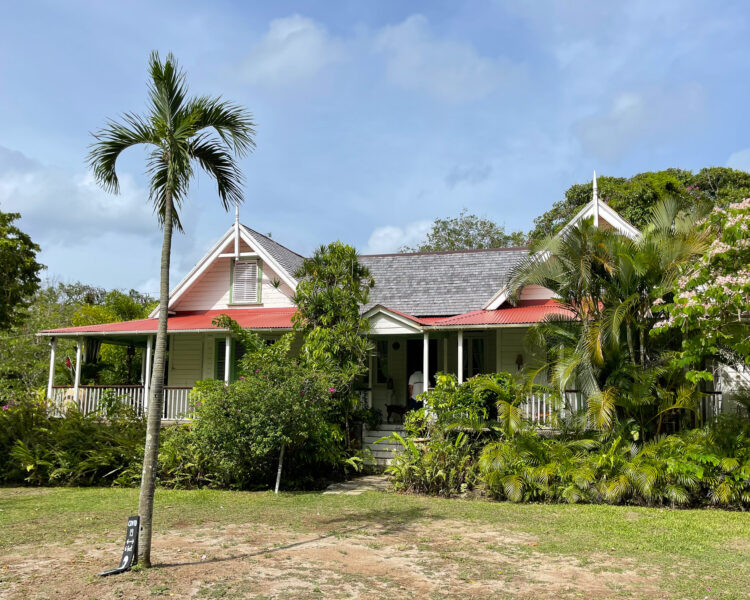 Food Tours in St Lucia
I love taking food tours when I travel, as they provide an instant gateway to the local culture. On Saint Lucia most tours and excursions are arranged either by resort hotels or by cruise ships. Sometimes these include food elements such as lunch at a Creole style restaurant or a bean to bar chocolate experience. But we also found some food tours in St Lucia that you can book independently – here are the ones that we recommend.
Castries Market Tour
We tried the 2 hour Castries food tour run by City Walkers, (instagram @citywalkers_st.lucia )who also offer shopping and history themed tours. The walking tour around St Lucia's capital of Castries centres around the amazing Castries market, which was named by National Geographic as one of the Top 10 food markets in the world.
We visited a number of different fruit and veg stalls to find out about the island's produce and taste a range of fresh fruit and local juices. On the edge of the market you see the coconut vendors expertly wielding their machete to offer you fresh coconut water to drink, while nearby are carts of fish so fresh they are almost wriggling. In the section of the market where spices and condiments were on sale, our guide Ricardo explained the different herbs, that often have medicinal and health giving properties as well as being used in the cuisine.
Part of the market is filled with stalls selling cooked food where we tried a number of local Creole specialties, such as Bouillon and a plate of fried fish with all the sides. The tour finished with a stop at a local bakery and a walk by some of the major landmarks of Castries. This food tour was $50 US per person and we felt it was great value, leaving us with full tummies and a great insight into the local food in Saint Lucia.
Food and rum – full day round the island tour
If we'd had more time we would have liked to try the round the island Food n Rum tour offered by The Other Tour. This full day tour starts at 8am in Castries and you not only get to taste a wide range of food and drink but also see some beautiful viewpoints and scenery of St Lucia.
At different spots around the island you'll try local dishes like green fig and salt fish or black pudding, taste sweet treats like cassava bread and try local drinks like cocoa tea and spiced rum. Although we didn't try the tour ourselves, we think it would be an excellent way for foodies to explore the island while tasting the best of the local food in St Lucia. Cost is from $120 US per person.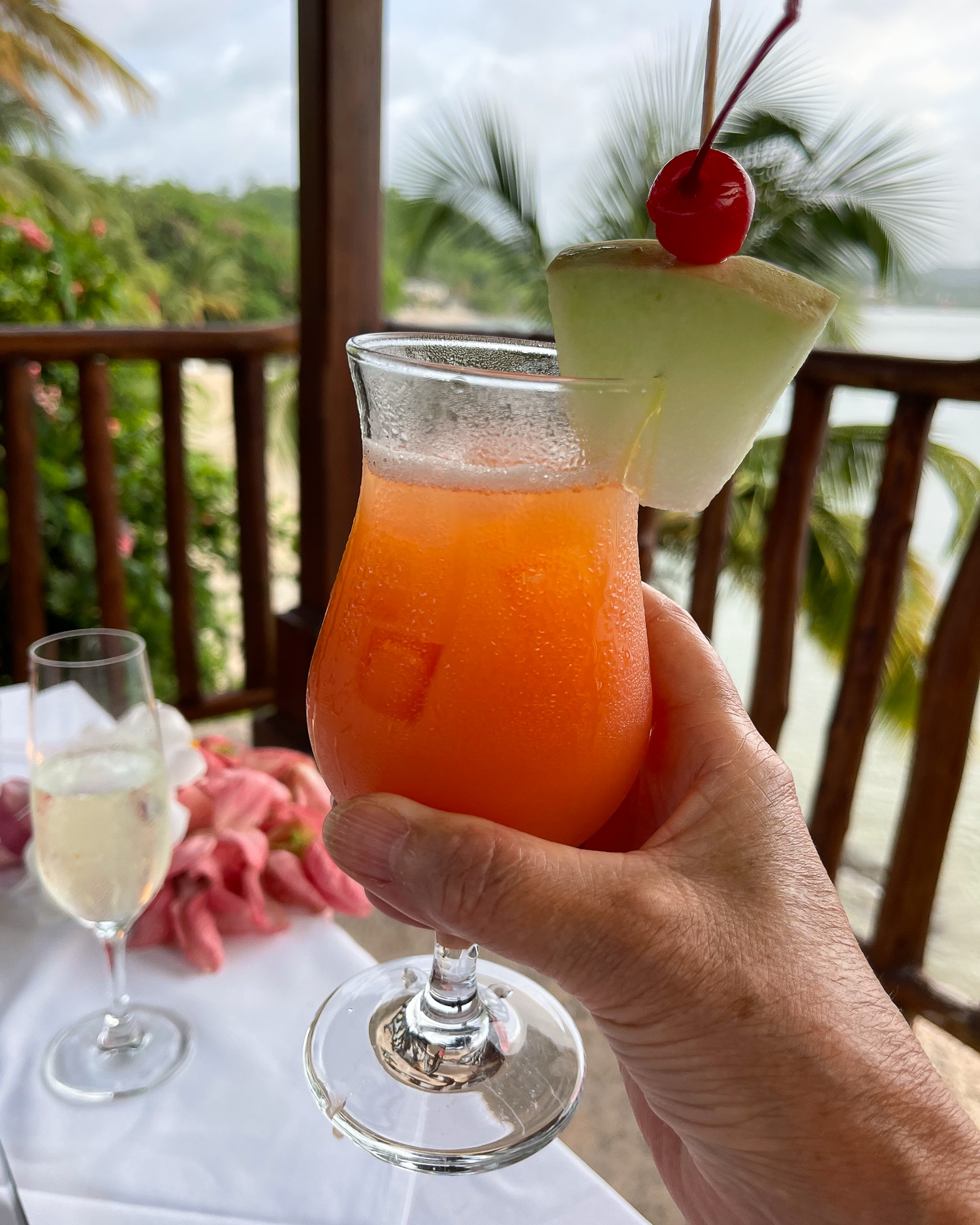 Rhythm of Rum tour
A popular excursion offered by many resort hotels is a guided tour around the Saint Lucia Distillery in the Roseau Valley, but you can also take their 'Rhythm of Rum' tour as an independent traveller (cost $10 US per person). A short video at the start of the tour introduced us to the history of rum making, with the French planters who introduced sugar cane and other plantation crops to the island, and the buccaneers who attacked the Spanish vessels that exported rum, sugar, spices and other Caribbean produce.
Check out this half day market and rum distillery tour
Our tour continued through the distillery, where we saw the molasses being fermented and then distilled in copper or stainless steel vats, before being matured in oak barrels to give it the rich, rounded flavour. A colourful exhibition showed us how Carnival is celebrated in Saint Lucia, with steel bands, accompanied by dancers in Carnival costumes and of course plenty of rum being consumed!
The visit finished in the tasting room, where we had the opportunity to pour a taste of any of the whole range of rums and liqueurs produced at the distillery, including the fine aged Admiral Rodney Rums that mature for up to 15 years in oak barrels. There's also a shop where you can buy the rums, but if you are worried about fitting it in your luggage, there's also a duty free shop at the airport.
Check out this half day market and rum distillery tour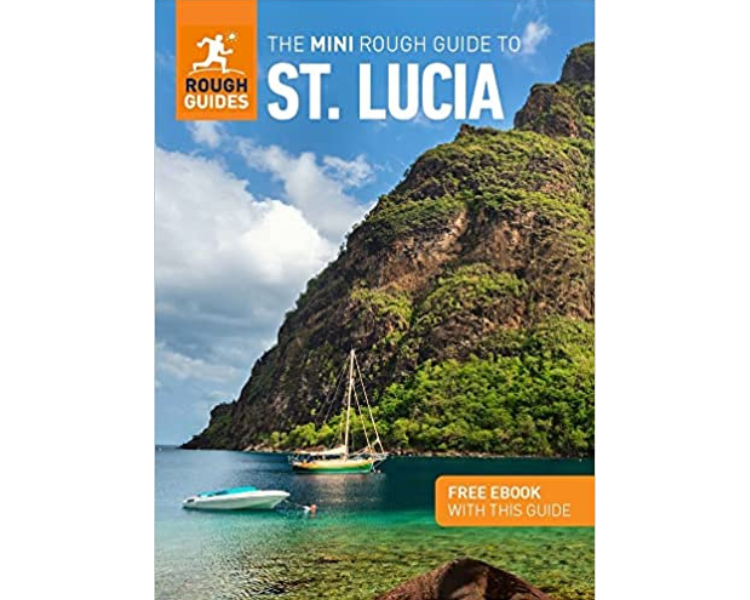 Chocolate and Plantation tours
While sugar cane was a major crop in the days of slavery, plantations of bananas, cocoa, spices and fruit have largely replaced the cane on Saint Lucia. Plantation tours that have a chocolate theme are popular, with visitors learning how cocoa beans are transformed into chocolate bars.
Project Chocolat – tree to bar tour
Project Chocolat offers one of the most comprehensive and polished chocolate themed tours that we tried. Part of the British owned Hotel Chocolat brand, Project Chocolat has its own purpose built centre on the Rabot Estate that also includes a luxury hotel and restaurant. From the car park, we walked through the herb garden past the murals by local artist Sakey and up to the Project Chocolat bar and street food cafe area.
Our tree to bar tour (around £100 per person) took us down to the Seederie, where the young cocoa plants are propagated and we had a chance to graft our own seedling and give it a name. Then we wandered through the plantation area, learning about all the different botanical plants and crops, although a rain storm meant that we had to seek shelter rather than explore the full area.
On returning to the centre the "bean to bar' part of the tour began as we ground the cocoa nibs by hand in a pestle and mortar, then added sugar and cocoa butter with lots more mixing before our rather grainy mixture was deemed ready to pour into moulds and make the chocolate bar. The Tree to Bar tour ended with an excellent lunch, from the street food style cafe where lots of the dishes were flavoured with cacao, including the delicious cocoa infused ice cream.
After the tree to bar experience there's plenty of chance to linger, do some shopping at the booths stocking cocoa themed products and local souvenirs, or have a cocoa flavoured cocktail at the bar. The bean to bar experience (around £55 per person) is cheaper and covers similar activities, but does not include the lunch. Although this was one of the most expensive cacao tours we tried, the surroundings were very stylish and it provided an entertaining and relaxing few hours. Book your Project Chocolat tour here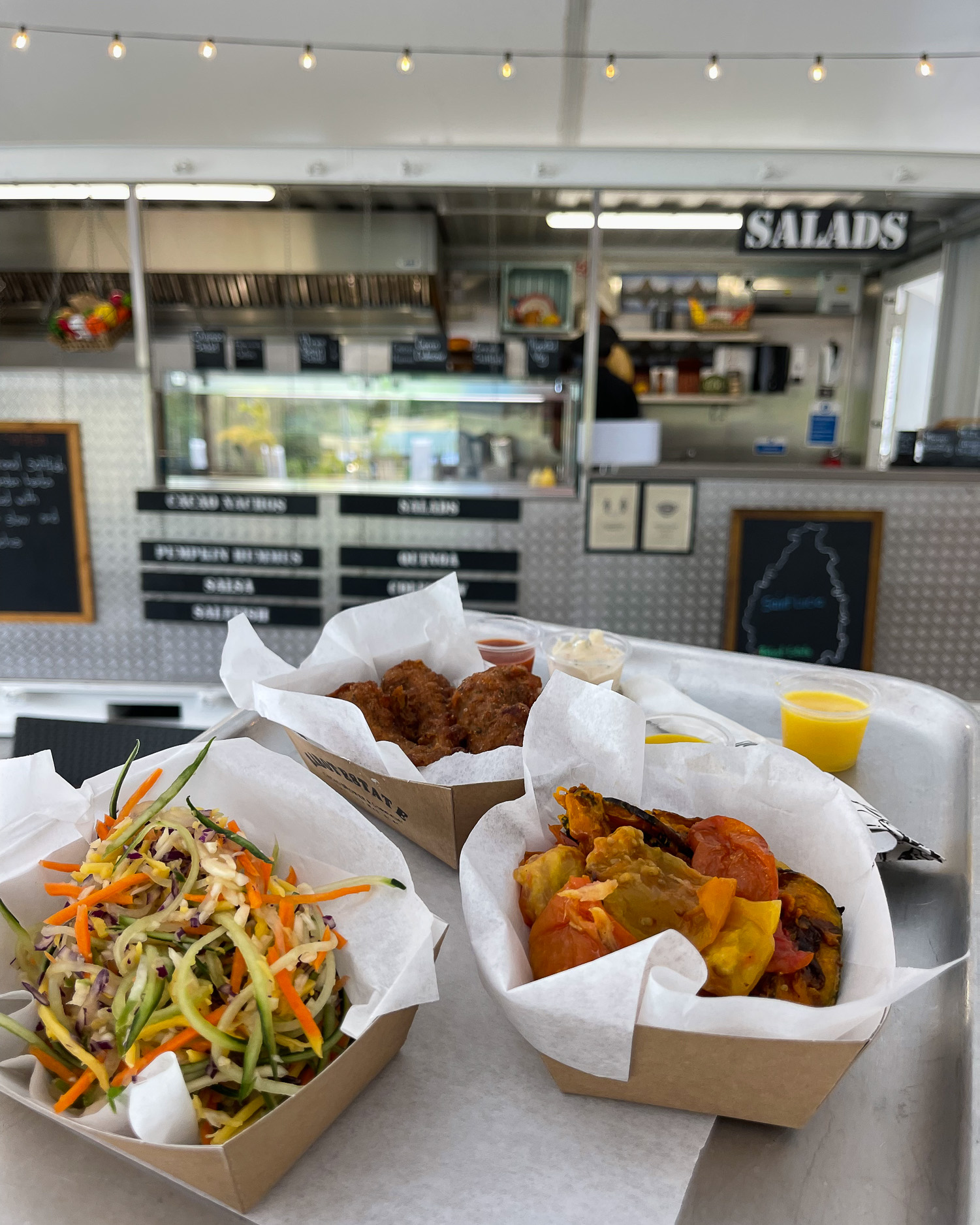 Fond Doux – Heritage Tour
Fond Doux is an old plantation that's been converted to an eco-resort with pretty wooden cottages scattered throughout the grounds. We took the Fond Doux Heritage tour, which costs $25 US per person including snacks of fruit or $40 US including lunch. The tour lasted around 1.5 hours and we were guided through the plantation, learning about the different fruit trees, spices and medicinal plants that can be found in Saint Lucia.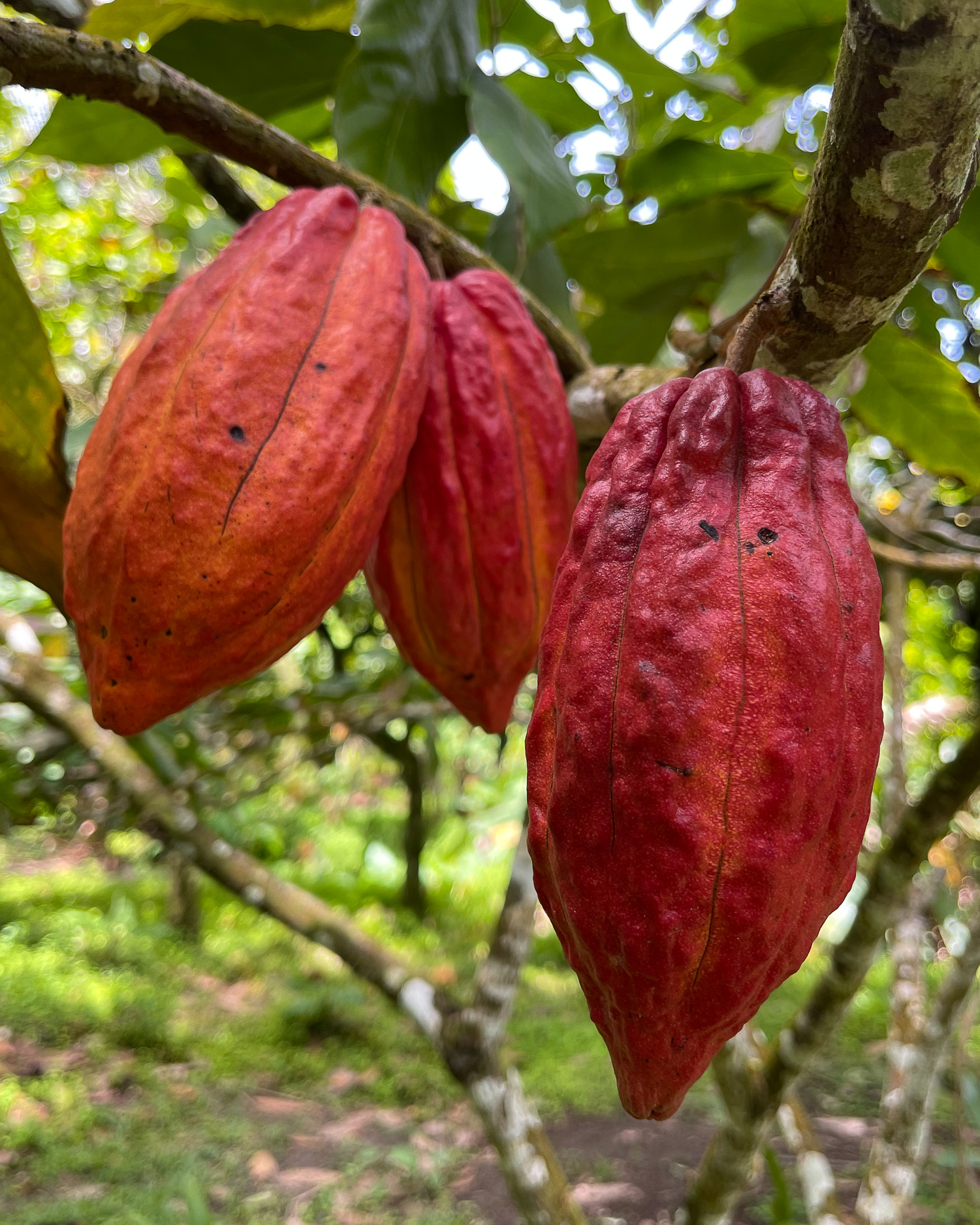 We explored the cocoa plantation where the trees are mixed in with other varieties and had a chance to see the pods cut open, so we could suck on the sweet flesh around the beans. Circling back to the cocoa house we saw the beans being fermented and dried and had a demonstration of the 'cocoa dance' where the beans are polished by stirring them around with bare feet.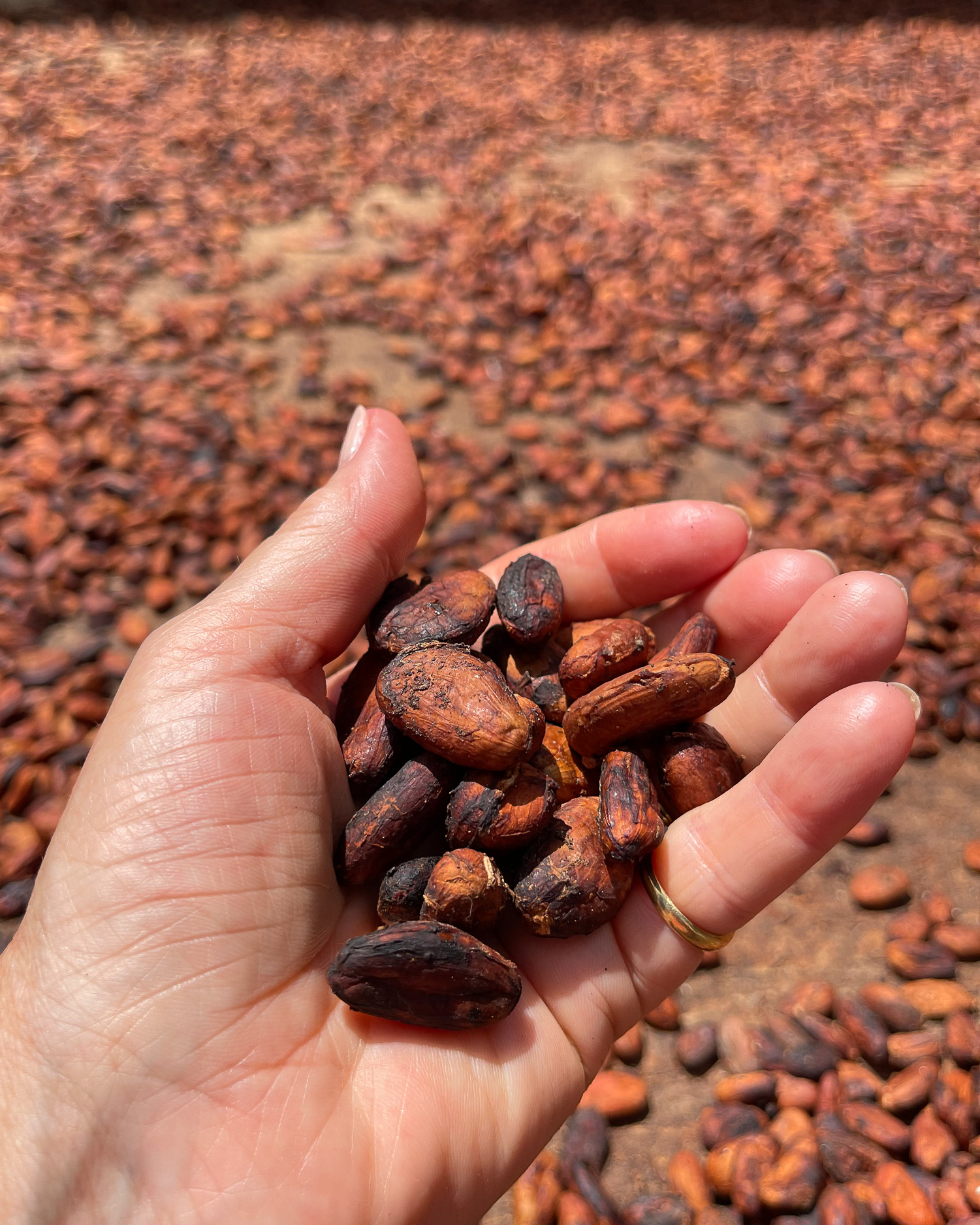 In the old plantation house, we moved up to the gift shop and the cocoa lab, where we saw the machines working to mix the chocolate mixture. Our tour ended with lunch in the Creole Pot restaurant, that specialises in Saint Lucian cuisine, where we tried a tasty Roti with plantain fries. Fond Doux also offers a Chocolate Heritage tour, where you spend more time making the chocolate into your own bars to take home.
Morne Coubaril – Historical Estate Tour
This old plantation estate owned by the Monplaisir family offers zip lining, a Historical Estate tour and a Rum and Chocolate tour. We tried the Historical Estate Tour (cost $11 US per person ) which gave us a good overview of life on a Saint Lucia Plantation. The guide took us through a small village area where buildings have been reconstructed in traditional style to show how slaves and workers on the plantation would have lived.
We learned about plants in the medicinal herb garden, saw how coconuts were de-husked and watched Noel the donkey crushing the sugar cane using one of the old cane presses. In the cocoa house, we followed the process of cocoa beans being fermented, dried and polished in the 'cocoa dance'. This was a good value tour and Morne Coubaril also offer a Rum and Chocolate tour ($35 US per person) which covers the same things that we saw but includes chocolate and rum tastings.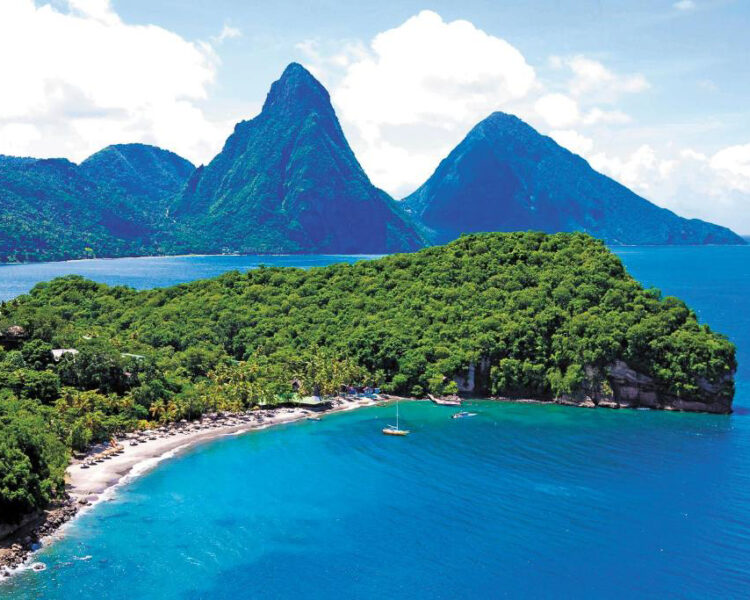 Anse Chastanet Chocolate making experience
Many hotels offer their own version of the 'bean to bar' chocolate experience, allowing guests to taste and make their own chocolate. A unique example of this is at Anse Chastanet / Jade Mountain resorts, where they run a number of different chocolate experiences.
One of these includes a visit to the resort's own Emerald Estate where the cocoa beans and other crops are grown for use in the hotel kitchens. Guests return to the Chocolate Lab located in Jade Mountain, where they experience the chocolate being made and take away their own chocolate bar. This experience is only for resort guests, but if you are staying at other hotels, they may offer something similar or arrange tours to the other plantations mentioned.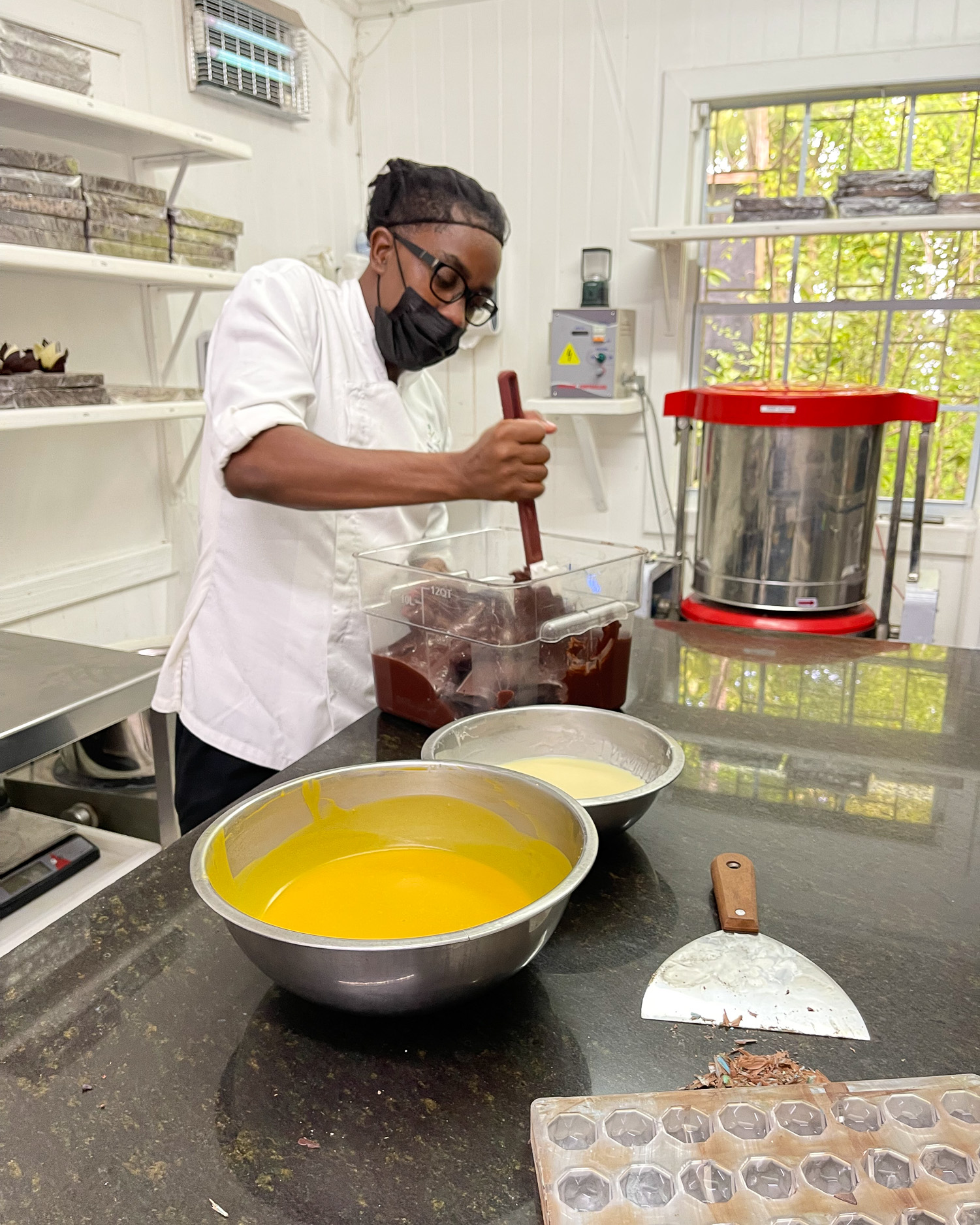 Howelton Estate – Chocolate Making Experience
Howelton Estate is a craft and heritage centre located in a beautiful old house on Morne Hill, with views over Castries. Among their activities, they offer a chocolate making experience in partnership with Cocoa Carib. You can learn how the Cocoa beans are prepared and then make your own chocolate bars in their kitchen.
Balenbouche Plantation tour
One of the most authentic and uncommercial plantation tours we came across was at Balenbouche Plantation, where we stayed in one of the old sugar plantation's wooden cottages. As guests we had the free run of the plantation grounds, but you can also visit independently and pay a fee of $10 US per person to wander around and explore the grounds.
It's a popular spot for wedding photos and we were amazed to discover the atmospheric remains of a ruined sugar mill, as well as being able to walk to two hidden coves. If you stop by at the Plantation House where the owners live, they can provide you with a plantation map, or if you call ahead, they may be able to guide you around in person.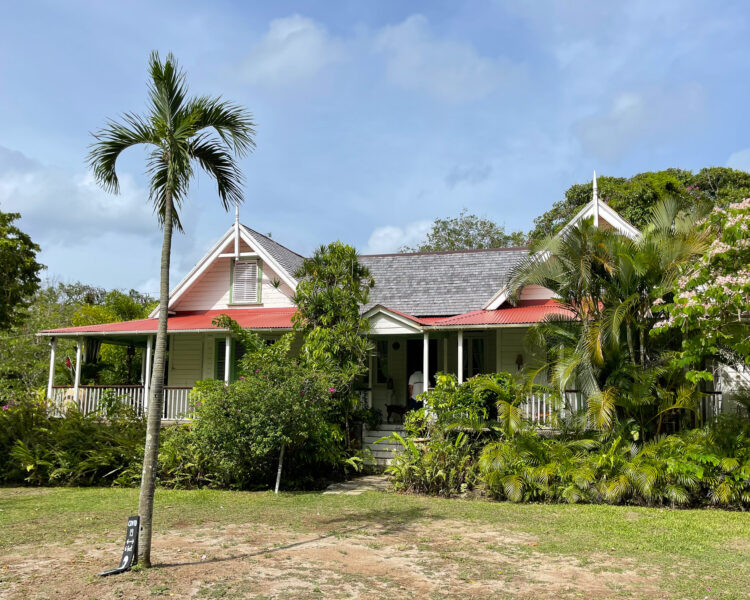 Food experiences in Saint Lucia
Most of the resort hotels in Saint Lucia organise excursions and special experiences for their guests, some of which are food and drink related. On this trip we stayed at Jade Mountain / Anse Chastanet and Calabash Cove, both of which offer lots of foodie experiences, but wherever you stay you may find something similar.
Lionfish dinner at Anse Chastanet
One special food experience that we enjoyed was at Anse Chastanet, where they offer a weekly lionfish dinner for guests. Normally this would take place at tables set up on the beach, but due to rain showers during our visit it was held in the resort's Treehouse restaurant. Lionfish is an invasive species of fish that has a voracious appetite and can easily clear the reef of young fish. It has a colourful appearance, with venomous spines, meaning that there are no natural predators to keep numbers under control.
Lionfish are an increasing problem in the Caribbean and by offering special menus, hotels and restaurants are creating a market to incentivise fishermen to catch it, while guests are encouraged to 'eat it to beat it'. The executive chef at Anse Chastenet has created a tasting menu using the lionfish in different ways and we were served a series of delicious dishes, including lionfish and pickled green mango salad, pangrilled coconut spiced lionfish, lionfish pot stew and lionfish and shrimp skewers.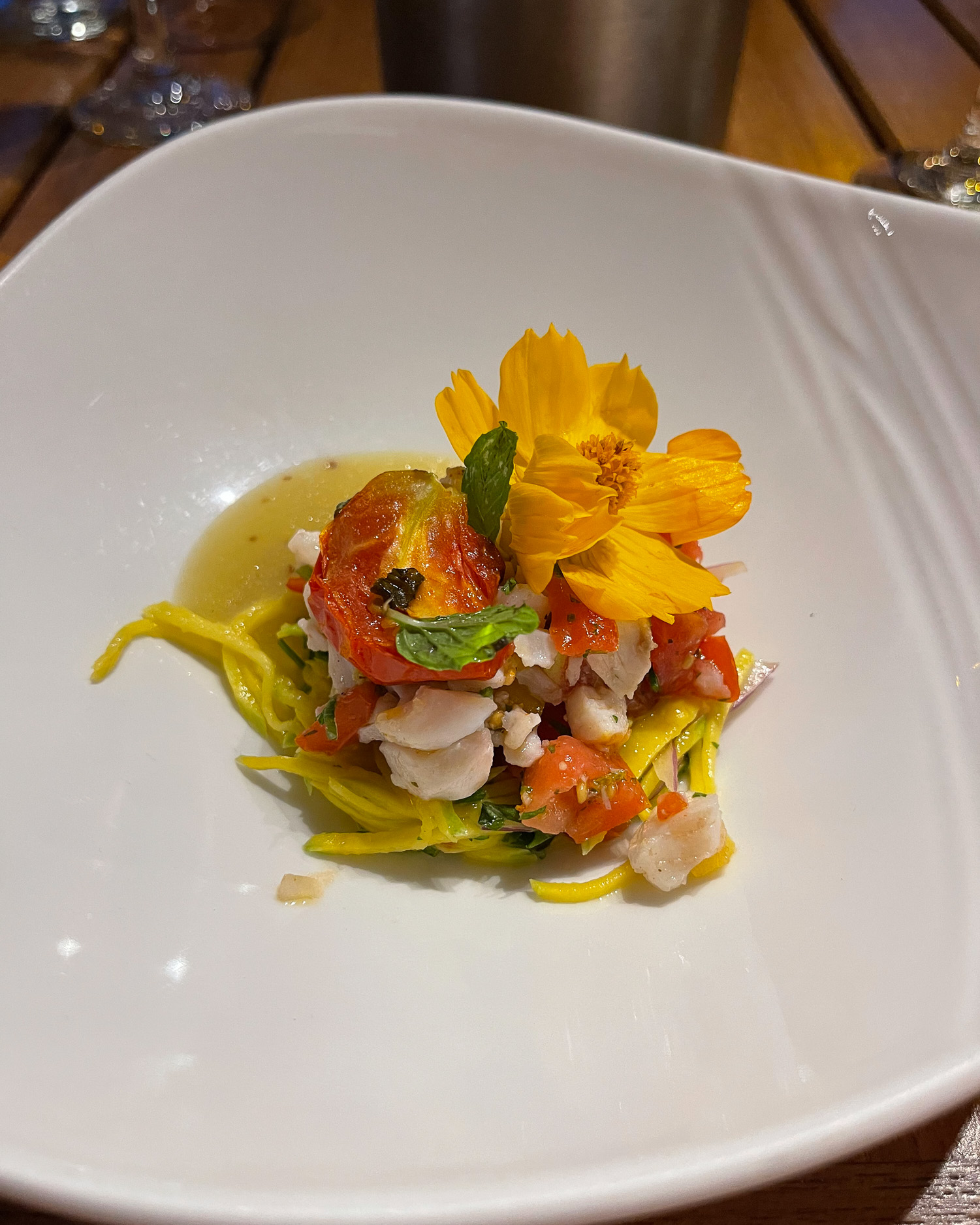 The fish has a delicate flavour and firm flesh, but outside hotels who know how to prepare it, you may not find it widely available. At the end of the dinner we were given a cookery book full of lionfish recipes, and of course you can substitute other firm white fish if you want to cook these at home.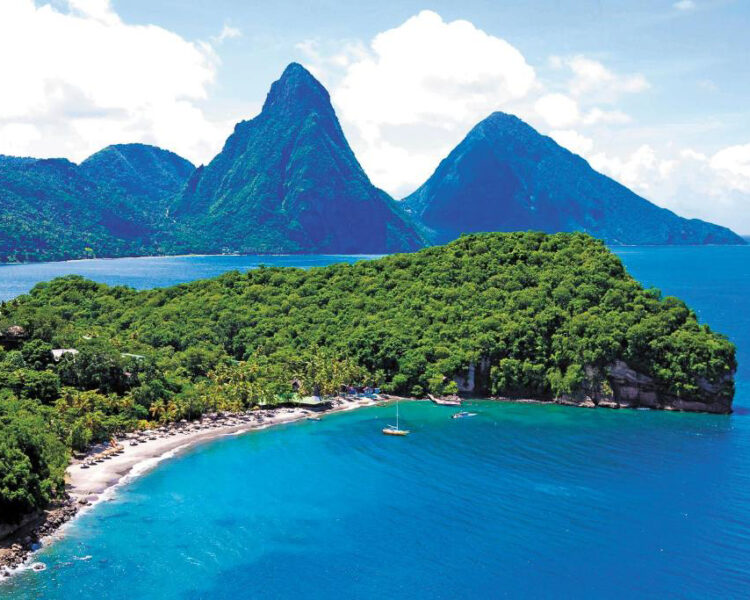 Sunset dinner at Calabash Cove
Another special dining experience that we enjoyed at Calabash Cove was a beachside private dinner to celebrate my birthday. Many resorts offer their own variation of a romantic private dinner on the beach and at Calabash Cove you can choose to dine either on their jetty by the beach, or as we did in the small covered pavilion overlooking the beach.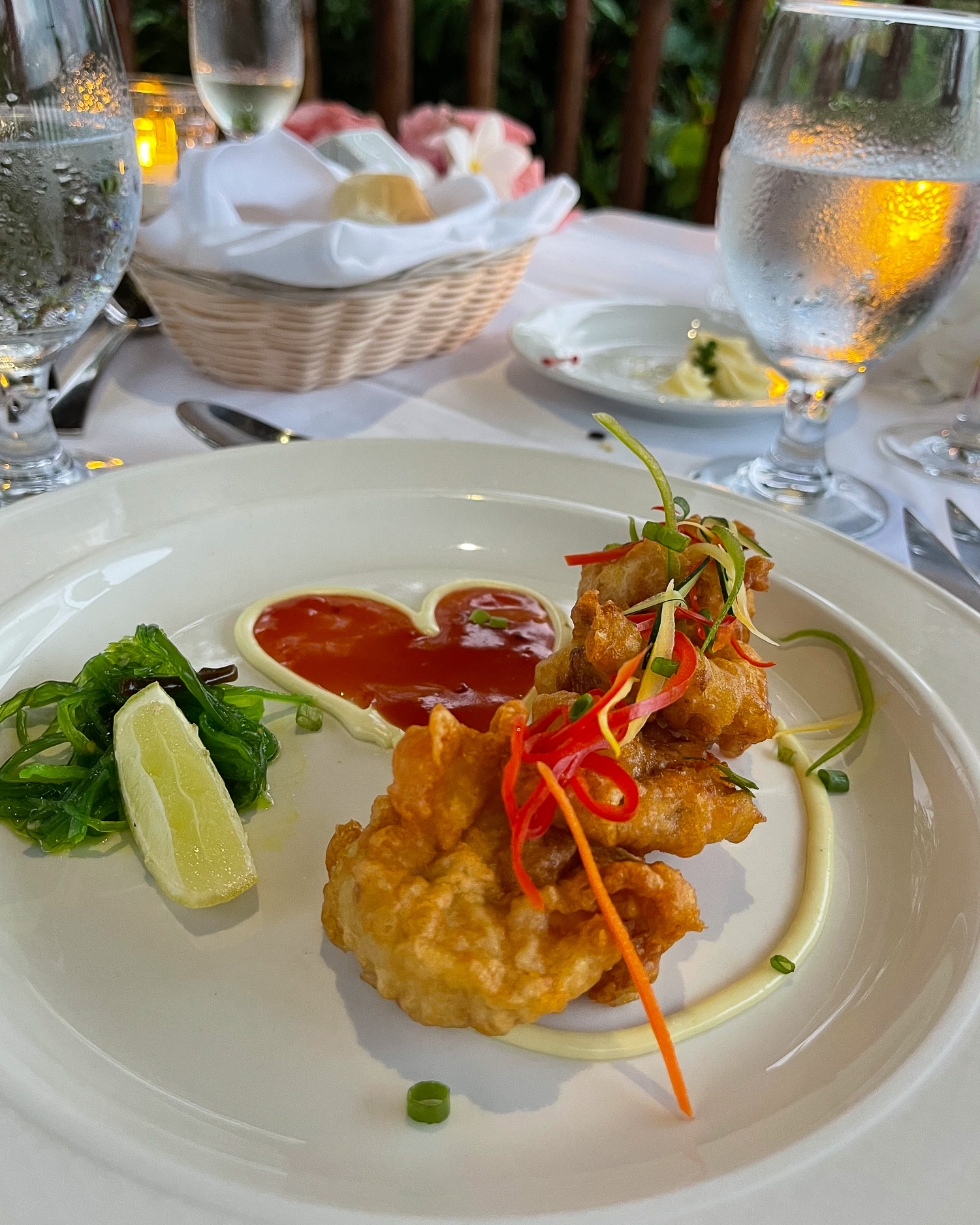 We preselected from a delicious celebration menu and had it served by our own personal butler to the sounds of the waves washing below us and the sun setting over the Caribbean sea. Complete with rum cocktails, a bottle of bubbly and a desert plate decorated with my own birthday candle, I felt thoroughly spoiled on my birthday. I'd recommend a private beach dining experience like this to create special memories for any romantic or celebration occasion, or just to treat yourself on holiday!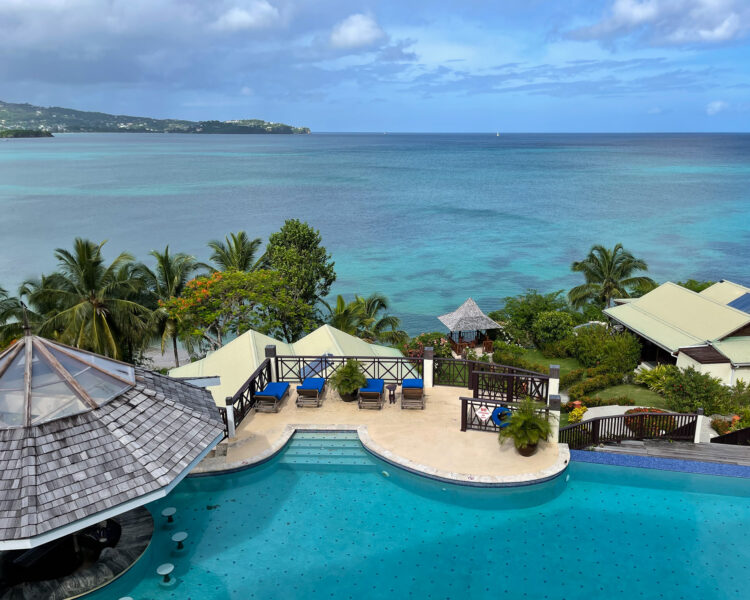 Cookery class at East Winds
Another food experience that I tried on a previous visit to Saint Lucia was the cookery class at East Winds hotel. The class was run by Chef Harry, who showed us how to make one of the dishes that is served in the restaurant, an entree of pan fried barracuda, with a green sauce flavoured with local spices.
We heard how the restaurant uses locally caught fish, supplied by the fisherman who go out at dawn and are back by lunchtime to bring fresh fish such as dorado, red snapper and marlin to the hotels and restaurants. It was mesmerising to watch Chef Harry as he made a sauce with sautéed onion and garlic, adding lemon juice, fish stock, nutmeg and cream and then the lettuce in the blender to make a creamy and vibrant green sauce to accompany the pan-fried barracuda.
The dish demonstrated how dishes are made with a fusion of international and Caribbean cuisine, with local flavours such as lime, garlic, hot sauce and spices such as nutmeg, bayleaf, cloves and cinnamon. As Chef Harry put it "Wherever we go with the cooking we always try to bring it back home". While this was an experience that East Winds offers for its own guests, many hotels have something similar, or can arrange cookery classes to showcase Caribbean cuisine on request.
Rum tasting at East Winds
While you may choose to join an excursion to the Saint Lucia rum distillery, some hotels offer a private rum tasting experience, such as the one I enjoyed at East Winds Hotel. Under the guidance of barman Junius, I was able to taste a number of the different rums made locally, such as the Bounty which is most often used in cocktails and the Chairman's Reserve, which is aged for a smoother taste.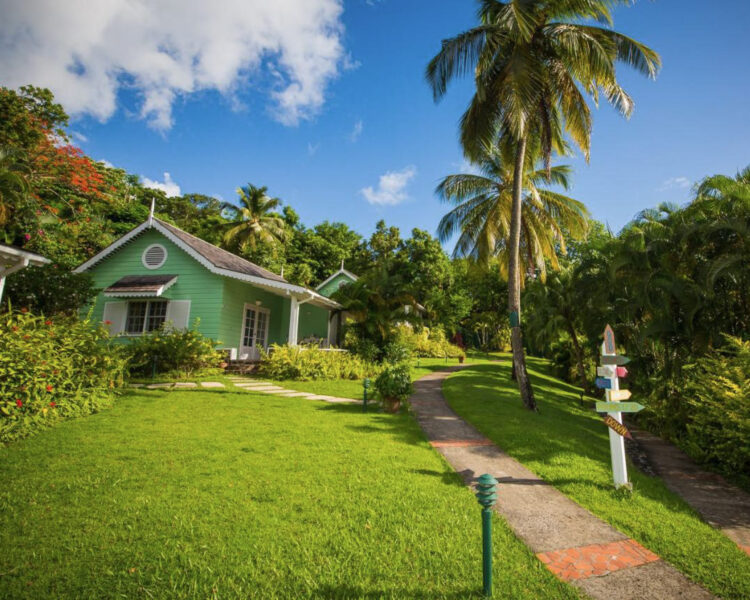 Gros Islet Street Party
Away from the resort hotels, a more local rum infused experience can be found at the weekly Gros Islet Street Party. Every Friday evening, this neighbourhood on the northern edge of Rodney Bay turns into an outdoor street party, with restaurants serving BBQ and other street food and stalls setting up to serve rum punch and other drinks.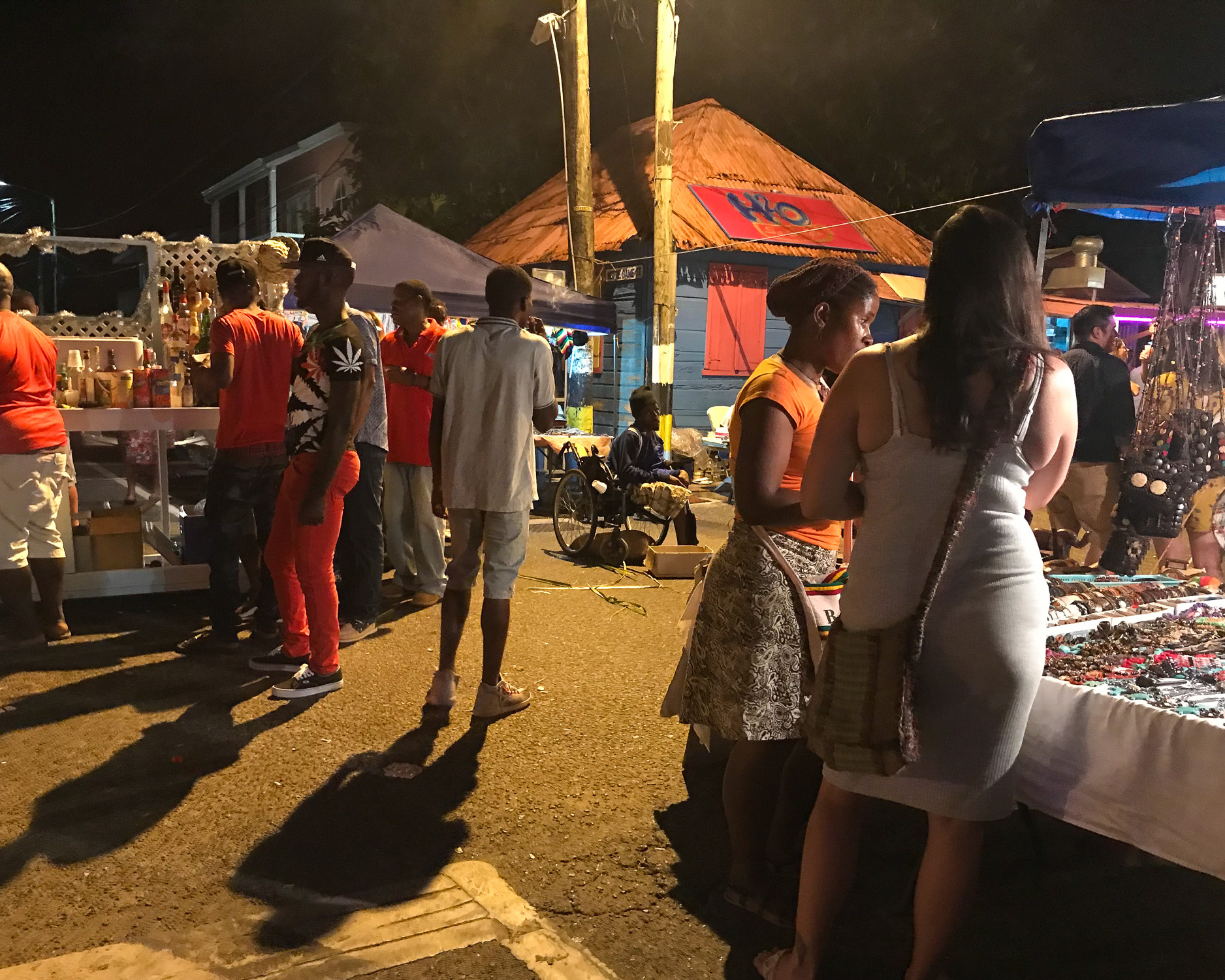 Tourists tend to go earlier when the atmosphere is still quite calm, but as the night wears on the locals turn the music up loud and the atmosphere can be quite raucous. Although the atmosphere is generally relaxed and friendly, as with any area crowded with tourists, you need to keep an eye on your valuables and be aware of what you are drinking, as the rum punch can be super-strong!
A similar party atmosphere is to be found at Anse la Raye or Dennery where they also host a 'Fish-Fry" on Fridays for the start of the weekend. A Fish Fry is a community event that's also popular with tourists, where stalls are set up close to the beachfront, to sell frilled fish and other street food, with music, drinks on sale and a festive atmosphere.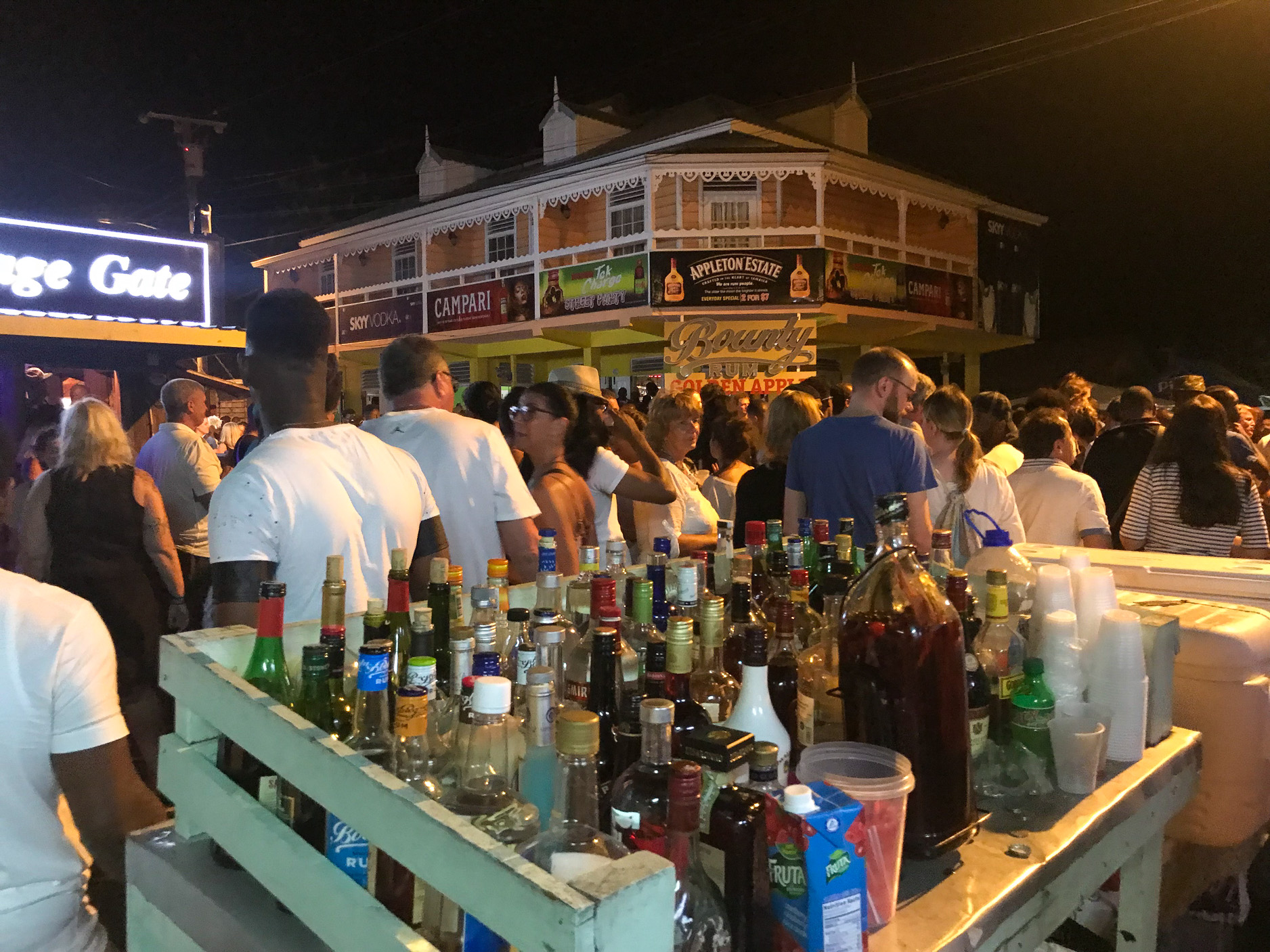 Where to stay in Saint Lucia
Here are some of the hotels in St Lucia that we stayed in and can personally recommend – you can also search for other hotels in Saint Lucia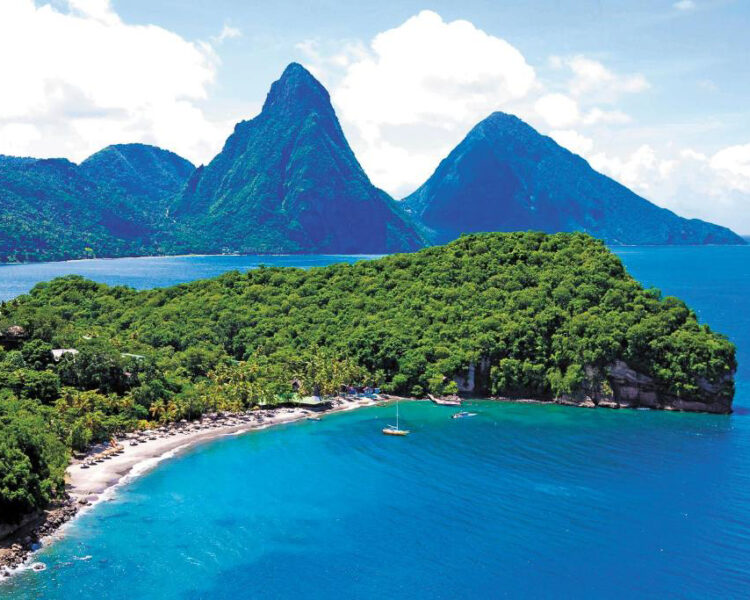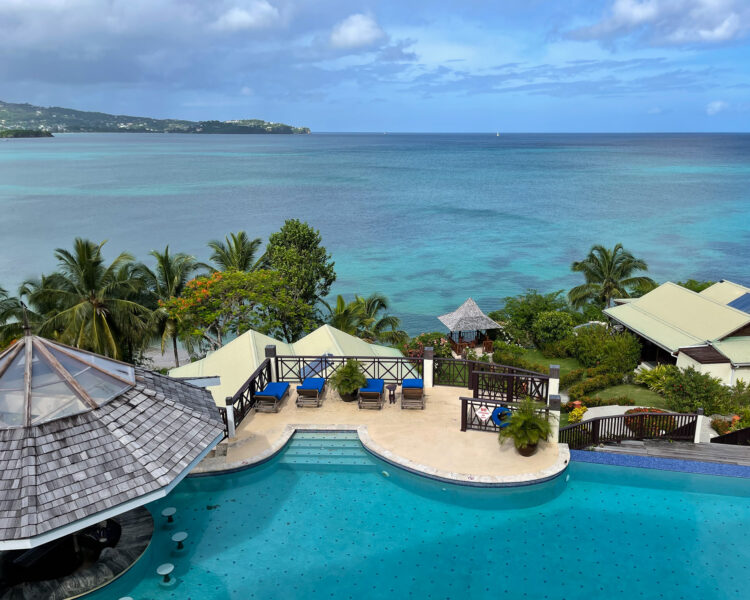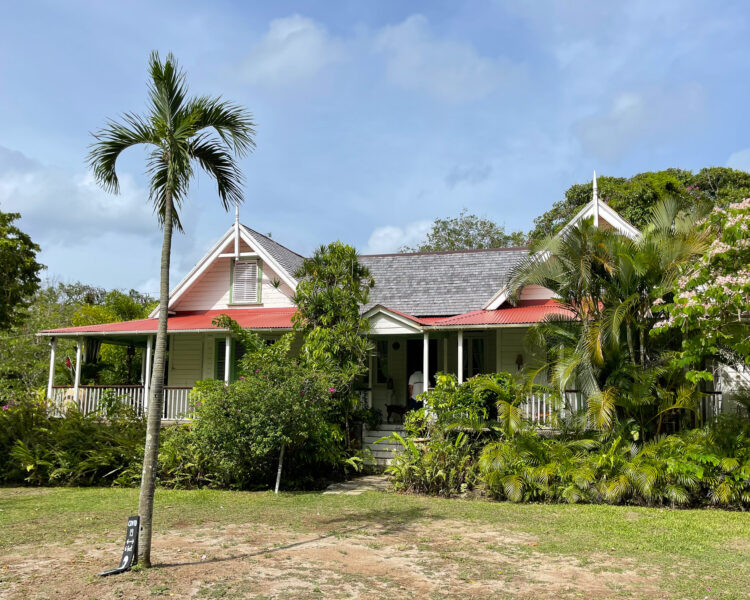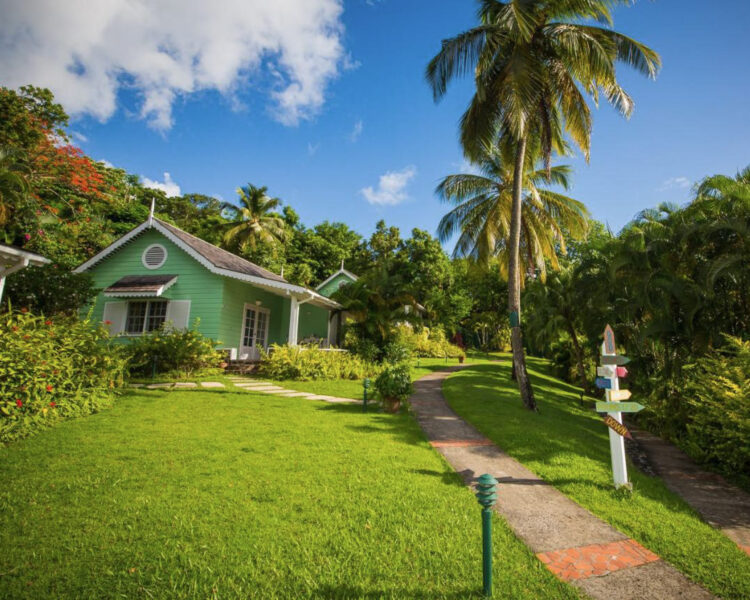 Plan your trip
You'll find more information to plan your trip including accommodation, things to do and last minute deals at Travel Saint Lucia
If you are looking for less expensive, local accommodation that's great for independent travellers, check out the Saint Lucia Collection de Pepites, with listings of smaller scale properties, apartments, villas, guest houses, B&Bs.
If you need a transfer from the airport to your hotel check out this Private transfer to/ from Hewanorra Airport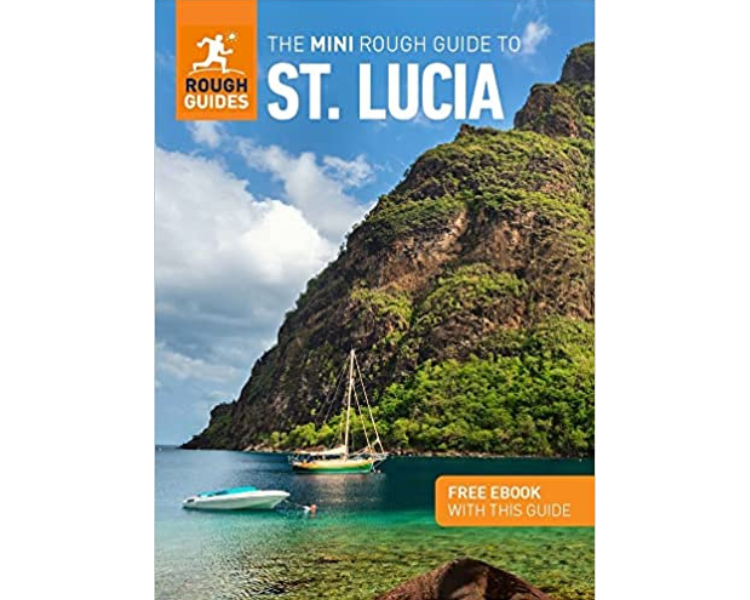 Pin It
Read Next
Read about art in Saint Lucia in my article – Saint Lucia artists, where to find murals, galleries and artists in St Lucia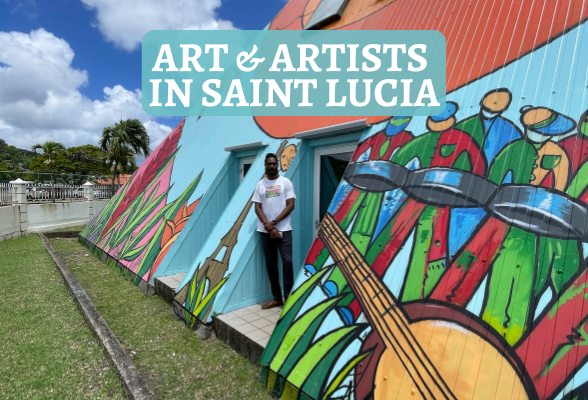 Heather's press trip to Saint Lucia was hosted* by Saint Lucia Tourism, who provided some of the experiences mentioned.
* More info on my policies page
This article is originally published at Heatheronhertravels.com